UL Solutions has launched Solar Bay, a new graphics benchmark for measuring the performance of hardware ray tracing on Windows and Android devices. This benchmark is based on the Vulkan API.
UL Solutions Launches 3DMark Solar Bay, New Cross-Platform Ray Tracing Benchmark

We're excited to announce the launch of 3DMark Solar Bay, a new cross-platform benchmark for testing ray traced graphics performance on Windows PCs and high-end Android devices. This benchmark measures games-related graphics performance by rendering a demanding, ray-traced scene in real time.

Solar Bay is available now for Android on the Google Play Store and for Windows on Steam, Epic Games or directly from UL Solutions.

Compare ray tracing performance across platforms

Ray tracing is the showcase technology for Solar Bay, simulating real-time reflections. Compared to traditional rasterization, ray-traced scenes produce far more realistic lighting. While dedicated desktop and laptop graphics processing units (GPUs) have supported ray tracing for several years, it's only recently that integrated GPUs and Android devices have been capable of running real-time ray-traced games at frame rates acceptable to gamers.

Built using the Vulkan 1.1 API, Solar Bay offers two new tests for ray tracing- capable hardware: a quick-to-run benchmark measuring immediate performance and a stress test that measures how device performance changes over extended periods of heavy load.

Solar Bay's ray-traced workload increases over three stages, with each section increasing linearly by 100%. Solar Bay complements our heavier ray tracing benchmarks, Port Royal and Speed Way, on PC. With Solar Bay, 3DMark has a great range of ray tracing workloads, making it an excellent way to measure how your Windows or Android device's ray tracing performance scales.

Solar Bay benchmark
Run the 3DMark Solar Bay benchmark to measure a device''s ability to provide instant performance for a short period of time. This test mirrors mobile games in which the gameplay loop is a series of short bursts of activity.

Solar Bay produces four scores on completion: an overall score and three sub-scores for each ray tracing section. These scores reflect your device''s frame rate in Solar Bay; the higher the frame rate, the better the score.

Solar Bay stress test
The Solar Bay stress test is a longer test that shows how a device will perform over extended periods of ray-traced gaming. It mirrors a longer session of ray-traced gaming.

This test runs the Solar Bay workload in a loop for 20 minutes, producing a chart showing how performance varies over the test. An ideal outcome is a steady set of results showing that performance is not throttled.
Complete press release is available here.
Quick Test
I tested Solar Bay on an Intel Arc A750 with latest v4644 driver.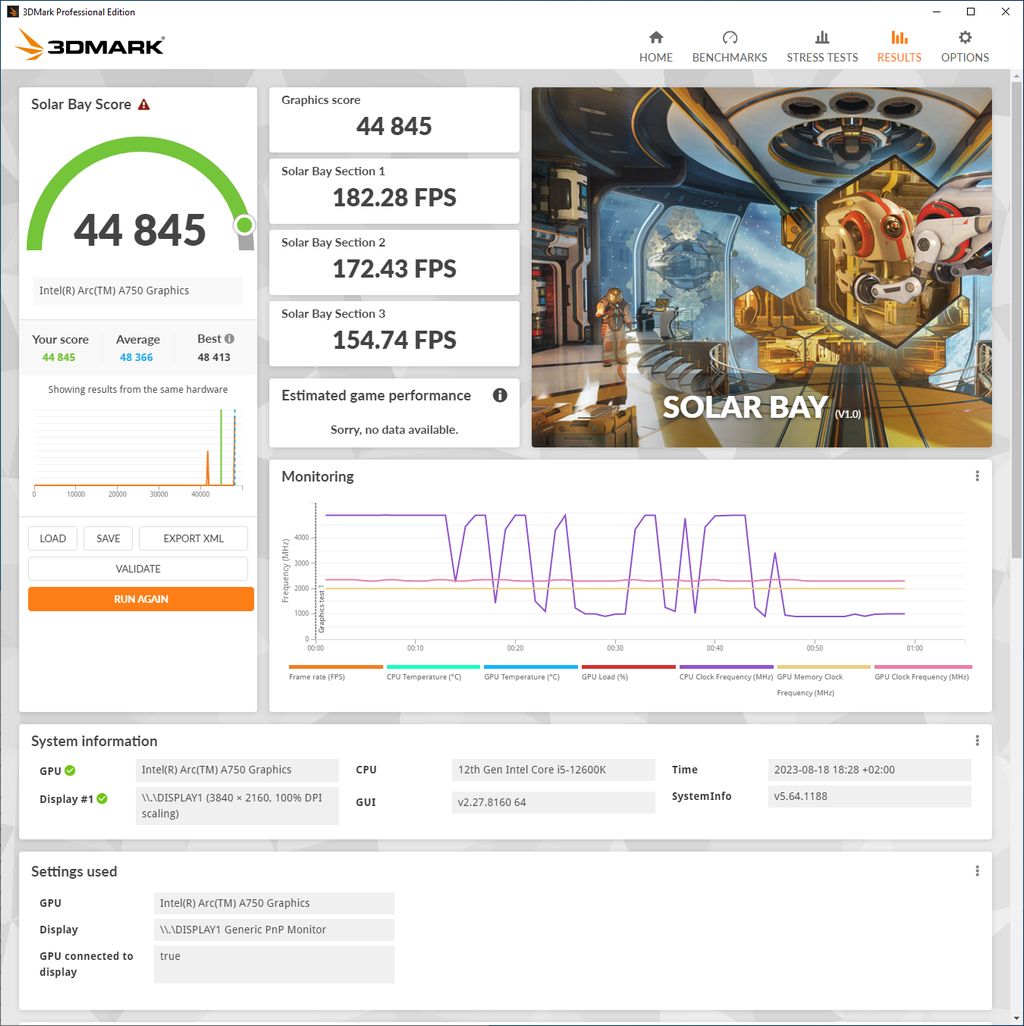 UPDATE (2023.08.19): GeForce RTX 4070 Ti
Solar Bay tested on a GeForce RTX 4070 Ti + driver 537.09 (CPU: Ryzen 7 5800X).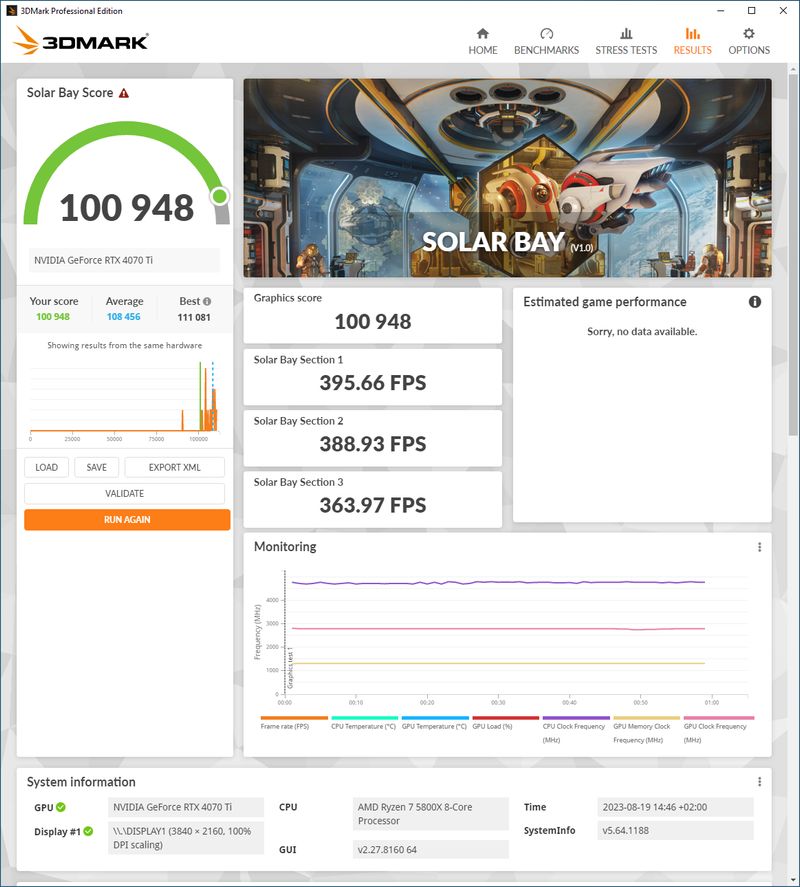 UPDATE (2023.08.22): Radeon RX 7900 XT
Solar Bay tested on a Radeon RX 7900 XT + Adrenalin 23.8.1 (CPU: Ryzen 7 5800X).