NVIDIA has released a new WHQL (Windows Hardware Quality Labs) gaming driver for Windows 10 and Windows 11. This driver belongs to the R530 family (530.xx to 534.xx) and brings the following changes:
Game Ready for RTX 4060 Ti
This new Game Ready Driver provides the best gaming experience for the latest new games featuring DLSS 3 technology including The Lord of the Rings: Gollum. Additionally, this Game Ready Driver introduces significant performance optimizations to deliver up to 2x inference performance on popular AI models and applications such as Stable Diffusion.

Gaming Technology
– Introduces support for the GeForce RTX 4060 Ti (8GB)

Fixed Issues
– [Age of Wonders 4] Application stability issues
– [Bus Simulator 31] Ansel & Freestyle not working
Downloads
GeForce 532.03 quick test
GPU Caps Viewer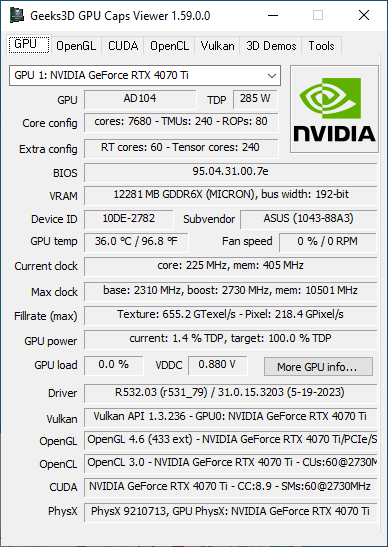 OpenGL support
GeForce 532.03
GeForce 532.03 exposes OpenGL 4.6 and 433 extensions for a GeForce RTX 3060 Ti or a RTX 4070 Ti on Windows 10 (v22H2). Same support than R528.xx.

GL_RENDERER: NVIDIA GeForce RTX 4070 Ti/PCIe/SSE2
GL_VENDOR: NVIDIA Corporation
GL_VERSION: 4.6.0 NVIDIA 532.03
OpenGL extensions: 433 

Vulkan support
GeForce 532.03
This driver exposes Vulkan 1.3.236 and 183 device extensions for a GeForce RTX 4070 Ti on Windows 10 22H2. This is the same support than previous GeForce 531.xx driver.

- Device 1
  - name: NVIDIA GeForce RTX 4070 Ti
  - device type: VK_PHYSICAL_DEVICE_TYPE_DISCRETE_GPU
  - device ID: 10DE-2782
  - API version: 1.3.236
  - NVIDIA driver version: 532.3.0.0
  - # of extensions: 183

OpenCL support

- Num OpenCL platforms: 1
- CL_PLATFORM_NAME: NVIDIA CUDA
- CL_PLATFORM_VENDOR: NVIDIA Corporation
- CL_PLATFORM_VERSION: OpenCL 3.0 CUDA 12.1.112
- CL_PLATFORM_PROFILE: FULL_PROFILE
- Num devices: 1
  - CL_DEVICE_NAME: NVIDIA GeForce RTX 4070 Ti
  - CL_DEVICE_VENDOR: NVIDIA Corporation
  - CL_DRIVER_VERSION: 532.03
  - CL_DEVICE_PROFILE: FULL_PROFILE
  - CL_DEVICE_VERSION: OpenCL 3.0 CUDA
  - CL_DEVICE_TYPE: GPU
  - CL_DEVICE_VENDOR_ID: 0x10DE
  - CL_DEVICE_MAX_COMPUTE_UNITS: 60
  - CL_DEVICE_MAX_CLOCK_FREQUENCY: 2730MHz
  - CL_NV_DEVICE_COMPUTE_CAPABILITY_MAJOR: 8
  - CL_NV_DEVICE_COMPUTE_CAPABILITY_MINOR: 9
  - CL_NV_DEVICE_REGISTERS_PER_BLOCK: 65536
  - CL_NV_DEVICE_WARP_SIZE: 32
  - CL_NV_DEVICE_GPU_OVERLAP: 1
  - CL_NV_DEVICE_KERNEL_EXEC_TIMEOUT: 1
  - CL_NV_DEVICE_INTEGRATED_MEMORY: 0
  - CL_DEVICE_ADDRESS_BITS: 32
  - CL_DEVICE_MAX_MEM_ALLOC_SIZE: 3144064KB
  - CL_DEVICE_GLOBAL_MEM_SIZE: 12281MB
  - CL_DEVICE_MAX_PARAMETER_SIZE: 32764
  - CL_DEVICE_GLOBAL_MEM_CACHELINE_SIZE: 128 Bytes
  - CL_DEVICE_GLOBAL_MEM_CACHE_SIZE: 1680KB
  - CL_DEVICE_ERROR_CORRECTION_SUPPORT: NO
  - CL_DEVICE_LOCAL_MEM_TYPE: Local (scratchpad)
  - CL_DEVICE_LOCAL_MEM_SIZE: 48KB
  - CL_DEVICE_MAX_CONSTANT_BUFFER_SIZE: 64KB
  - CL_DEVICE_MAX_WORK_ITEM_DIMENSIONS: 3
  - CL_DEVICE_MAX_WORK_ITEM_SIZES: [1024 ; 1024 ; 64]
  - CL_DEVICE_MAX_WORK_GROUP_SIZE: 1024
  - CL_EXEC_NATIVE_KERNEL: 1438500
  - CL_DEVICE_IMAGE_SUPPORT: YES
  - CL_DEVICE_MAX_READ_IMAGE_ARGS: 256
  - CL_DEVICE_MAX_WRITE_IMAGE_ARGS: 32
  - CL_DEVICE_IMAGE2D_MAX_WIDTH: 32768
  - CL_DEVICE_IMAGE2D_MAX_HEIGHT: 32768
  - CL_DEVICE_IMAGE3D_MAX_WIDTH: 16384
  - CL_DEVICE_IMAGE3D_MAX_HEIGHT: 16384
  - CL_DEVICE_IMAGE3D_MAX_DEPTH: 16384
  - CL_DEVICE_MAX_SAMPLERS: 32
  - CL_DEVICE_PREFERRED_VECTOR_WIDTH_CHAR: 1
  - CL_DEVICE_PREFERRED_VECTOR_WIDTH_SHORT: 1
  - CL_DEVICE_PREFERRED_VECTOR_WIDTH_INT: 1
  - CL_DEVICE_PREFERRED_VECTOR_WIDTH_LONG: 1
  - CL_DEVICE_PREFERRED_VECTOR_WIDTH_FLOAT: 1
  - CL_DEVICE_PREFERRED_VECTOR_WIDTH_DOUBLE: 1
  - CL_DEVICE_EXTENSIONS: 24
  - Extensions:
    - cl_khr_global_int32_base_atomics
    - cl_khr_global_int32_extended_atomics
    - cl_khr_local_int32_base_atomics
    - cl_khr_local_int32_extended_atomics
    - cl_khr_fp64
    - cl_khr_3d_image_writes
    - cl_khr_byte_addressable_store
    - cl_khr_icd
    - cl_khr_gl_sharing
    - cl_nv_compiler_options
    - cl_nv_device_attribute_query
    - cl_nv_pragma_unroll
    - cl_nv_d3d10_sharing
    - cl_khr_d3d10_sharing
    - cl_nv_d3d11_sharing
    - cl_nv_copy_opts
    - cl_nv_create_buffer
    - cl_khr_int64_base_atomics
    - cl_khr_int64_extended_atomics
    - cl_khr_device_uuid
    - cl_khr_pci_bus_info
    - cl_khr_external_semaphore
    - cl_khr_external_memory
    - cl_khr_external_semaphore_win32