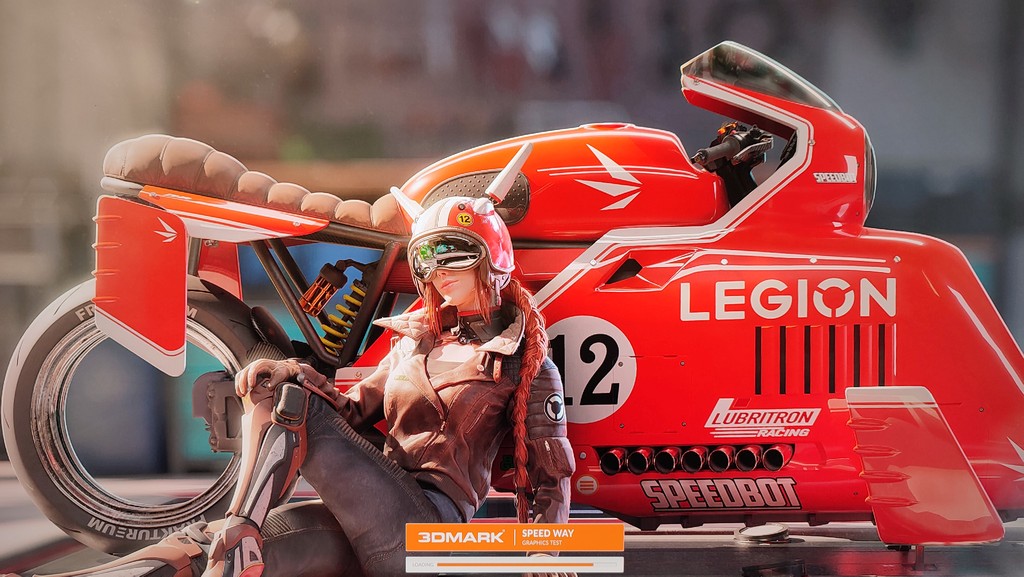 Speed Way is the latest graphics benchmark added to 3DMark. Speed Way is a gaming benchmark based on DirectX 12 Ultimate. DX12 Ultimate is the latest iteration of DirectX and includes modern hardware features such as ray tracing, variable rate shading or mesh shaders.
Speed Way measures GPU performance with a combination of real-time ray tracing and traditional rendering techniques. The scene features ray traced reflections, real time global illumination, mesh shaders, volumetric lighting, particles and post-processing effects. The rendering resolution is 2560 × 1440.
Developed with input from AMD, Intel, NVIDIA, and other leading technology companies, Speed Way is an ideal benchmark for comparing the DirectX 12 Ultimate performance of the latest graphics cards.

DirectX 12 Ultimate is the next-generation application programming interface (API) for gaming graphics. It adds powerful new capabilities to DirectX 12, helping game developers improve visual quality, boost frame rates, reduce loading times and create vast, detailed worlds.

3DMark Speed Way's engine demonstrates what the latest DirectX API brings to ray-traced gaming, using DirectX Raytracing tier 1.1 for real-time global illumination and real-time ray-traced reflections, coupled with new performance optimizations like mesh shaders.
The benchmark has nice visuals and is pleasant to see.
To run Speed Way, the graphics card must have 6GB or more of graphics memory. I tested the benchmark with the following graphics cards:
– GeForce RTX 3060 Ti (8GB)
– Radeon RX 6800 XT (16GB)
– GeForce RTX 2080 (8GB)
– Arc A380 (6GB)
| | |
| --- | --- |
| CPU | AMD Ryzen 7 5800X |
| Motherboard | ASUS TUF X570-Plus |
| Memory | 16GB DDR4 Corsair Vengeance LED @ 3200MHz |
| PSU | Corsair RM1000x |
| Storage | Samsung 860 EVO 1TB SSD |
| OS | Windows 10 22H2 64-bit |
| Graphics drivers | Intel v31.0.101.3491, GeForce R522.25, Adrenalin 22.10.1 |
3433 (avg FPS: 34)
ASUS TUF Radeon RX 6800 XT OC 16GB – Adrenalin 22.10.1


2970 (avg FPS: 29)
GIGABYTE GeForce RTX 3060 Ti Gaming OC 8G – GeForce 522.25


2168 (avg FPS: 21)
ASUS ROG Strix GeForce RTX 2080 OC 8GB – GeForce 522.25


434 (avg FPS: 4)
ASRock Arc A380 6GB – Resizable BAR: ON – Intel 31.0.101.3491


375 (avg FPS: 3)
ASRock Arc A380 6GB – Resizable BAR: OFF – Intel 31.0.101.3491


The resizable BAR option brings a boost of 16% with the Arc A380. Resizable BAR is a feature of the motherboard and has to be enabled in the BIOS.
Screenshots