Moore Threads is a new Chinese GPU maker (founded in 2020). This new brand has unveiled two days ago the MTT S60, its first desktop graphics card. This graphics card supports all 3D APIs available on PC: Direct3D (12?), Vulkan and OpenGL (4.6?), including OpenGL ES.
The GPU is built with a 12nm manufacturing process and is based on the MUSA architecture (Moore Threads Unified System Architecture). The GPU packs 2048 MUSA cores allowing to reach 6 TFLOPS in FP32 (the FP32 performance is more of less the same than the GeForce GTX 1070). The card embarks 8GB of LPDDR4X graphics memory.
MUSA is an unified system architecture adopted by the Moore threading product family, including a unified programming model, software runtime, driver framework, instruction set architecture, and chip architecture: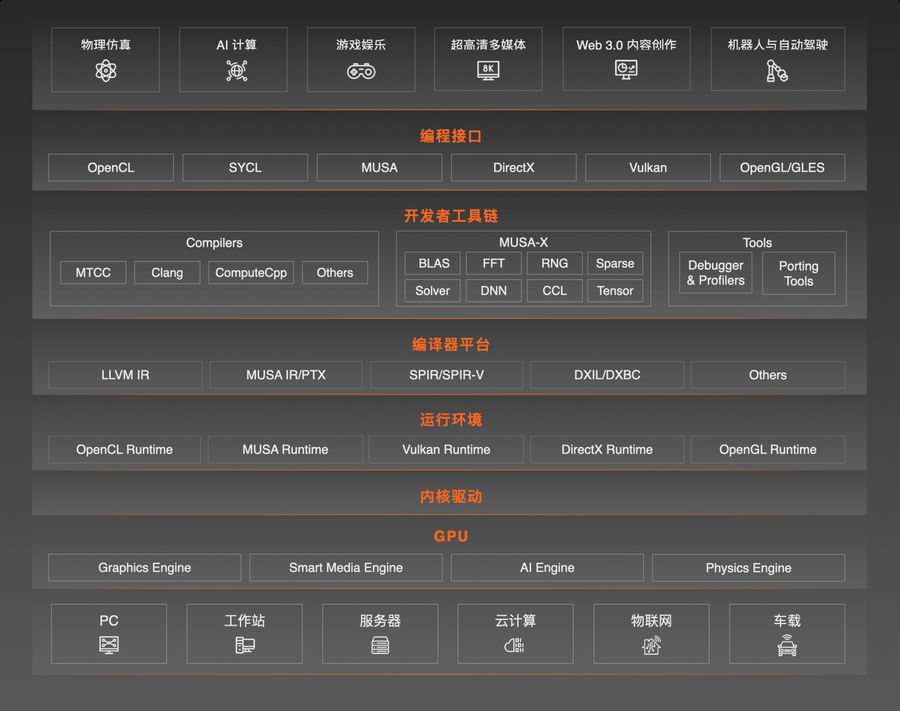 Some data is missing like the power consumption or the price…

Here is the complete press release:
Beijing, March 30, 2022 – Moore Thread today officially released its first multifunctional smart graphics card, the MTT S60. This is Moore Thread's first desktop-grade graphics card based on its MUSA (Moore Threads Unified System Architecture) unified system architecture. With excellent graphics capabilities, extensive AI algorithm support, breakthrough video processing capabilities, and unique green energy efficiency technology, the MTT S60 graphics card enables PCs and workstations with the graphics card to provide strong computing power support for graphics rendering, digital office, audio-visual entertainment, smart manufacturing CAD/CAE, geographic information GIS, architectural design BIM, video editing, artificial intelligence application development, and mainstream games.

MUSA IS A UNIFIED SYSTEM ARCHITECTURE FOR THE MOORE THREADING PRODUCT FAMILY, INCLUDING A UNIFIED PROGRAMMING MODEL, SOFTWARE RUNTIME, DRIVER FRAMEWORK, INSTRUCTION SET ARCHITECTURE, AND CHIP ARCHITECTURE. APPLICATIONS DEVELOPED ON MUSA WILL BE WIDELY PORTABLE AND CAN RUN ON A WIDE RANGE OF COMPUTING PLATFORMS IN THE CLOUD AND AT THE EDGE, INCLUDING A VARIETY OF PRODUCT LINES FOR GRAPHICS, COMPUTING, MULTIMEDIA, AND ARTIFICIAL INTELLIGENCE.

MTT S60 graphics card is based on MUSA unified system architecture GPU Sudi core chip made, using 12nm process, including 2048 MUSA cores, single precision computing power up to 6TFlops, configuration of 8GB of video memory, based on MUSA software runtime library and drivers and other software tools, MTT S60 graphics card can show multiple advantages in different application scenarios:

Extensive ecosystem platform support: MTT S60 graphics supports various CPU platforms including Intel, AMD, Feiteng, Loongson, Mega core, Haiguang, etc., and supports Windows 10, Kirin, Tongxin and a variety of Linux operating systems. With its leading modern GPU architecture, platform versatility and support for emerging CPUs and operating systems, MTT S60 graphics cards will greatly promote China's digital infrastructure.

Rich graphical API interface: The MTT S60 graphics card supports many graphics API interfaces such as DirectX, Vulkan, OpenGL, and OpenGL ES, which can meet the graphics performance needs of GIS, BIM, design, mainstream gaming, native Android, 3D rendering, and other applications.

General AI function support: Based on the universal computing power of the full-stack function GPU, the MTT S60 graphics card can accelerate a wide range of AI model inference calculations such as DBNet, CRNN, Yolo, Restnet50/101, and support a variety of complex artificial intelligence scenarios such as OCR, image processing, and video enhancement. As a result, it can release powerful AI capabilities and accelerate the popularization of PC-level AI applications.

Leading hardware video codec capabilities: MTT S60 graphics card not only supports the mainstream H.264 and H.265 encoding formats, but also leads the industry similar products, providing hardware encoding support for AV1 video formats, which can help enterprises and institutions reduce video processing costs; in terms of hardware decoding, MTT S60 graphics cards support AV1, H.264, H.265 and many other formats of hardware decoding. With powerful video encoding and decoding capabilities, computers equipped with Moore Thread MTT S60 graphics cards can reduce CPU load in applications such as audio-visual entertainment, video surveillance, and video editing, improving the overall performance and performance of the computer.

High specification display output up to 8K: The MTT S60 graphics card provides three DisplayPort 1.4 interfaces and supports 8K/4K screen display, which can meet the entertainment and work needs of large screens and high resolution.

8GB of high-capacity video memory: The MTT S60 graphics card is equipped with 8GB of low-power LPDDR4x video memory, and the utilization of video memory bandwidth is also significantly improved due to the support for multiple texture compression algorithms, which enables the MTT S60 graphics card to provide higher video memory bandwidth utilization and greater efficiency in high-load applications such as complex model design, high-definition video processing, and large AI models.

PES Control Center: MTT S60 graphics card provides users with a one-stop graphical management control center. With this tool, users can not only monitor the GPU operating status and make relevant 2D/3D image output settings, but also provide functions such as graphics driver updates without human intervention, enabling graphics cards to obtain continuous optimization and compatibility improvements in different application environments.

MTT S60 graphics card fully supports X86, ARM, LoongArch and other CPU architectures as well as Windows, Unified Trust, Kirin and many other operating systems. Among the many high-load graphics applications, the MTT S60 excels with its powerful graphics capabilities.

IN GIS-RELATED APPLICATIONS, THE ADVANCED HARDWARE FEATURES OF THE MOORE THREAD MTT S60 GRAPHICS CARD CAN SHORTEN THE LOADING TIME OF GIS APPLICATION BIG DATA, PROVIDE SMOOTH HIGH-PRECISION REAL-TIME SCREEN RENDERING, AND GREATLY IMPROVE THE WORK EFFICIENCY AND EXPERIENCE OF GIS APPLICATIONS. IN 2D/3D CAD AND ARCHITECTURAL DESIGN BIM APPLICATIONS, THE MTT S60 GRAPHICS CARD CAN PROVIDE DESIGNERS WITH A SMOOTH DESIGN EXPERIENCE IN 2D AND 3D ENVIRONMENTS, HELPING ENTERPRISES TO EFFICIENTLY COMPLETE VARIOUS DESIGN TASKS. IN VIDEO CONFERENCING AND ONLINE LEARNING, WE IMPROVE THE REAL-TIME INTERACTIVE EXPERIENCE OF USERS BY ACCELERATING VIDEO CODEC PROCESSING AND OPTIMIZING THE RENDERING AND ENCODING INTEGRATION SCHEME.

At the same time, the graphics performance of the MTT S60 graphics card can also meet the needs of e-sports games. Graphics cards can not only provide a smooth gaming experience for "League of Legends" e-sports players in the Windows 10 operating system, 1080P resolution, and the highest picture quality environment, but also complete the smooth operation of many popular games such as "Counter-Strike: Global Offensive" and "Dota 2" in the domestic Linux operating system environment.

AT PRESENT, THE MOORE THREAD MTT S60 GRAPHICS CARD HAS BEEN WIDELY RECOGNIZED AND PRAISED BY EARLY USERS.