Intel has released a new graphics driver for its GPUs from Intel 6th to latest 12th Gen (Alder Lake) on Windows 10 and Windows 11. This driver also supports Xe Dedicated GPUs.
This new driver (version 30.0.101.1631) brings the following changes:
HIGHLIGHTS:
– Launch driver for 12th Generation Intel Core Processors with Intel Iris Xe Graphics and Intel UHD Graphics (Codename Alder Lake-P, Alder Lake-U).

ISSUES FIXED:
– Intermittent crash or hang seen in Red Dead Redemption 2 (Vulkan) when running in borderless window mode on 10th Generation Intel Core processors with Intel Iris Plus graphics.
Downloads
v30.0.101.1631
Quick test of this driver on an Intel Core i5-12600K (with an UHD Graphics 770 GPU):
– GL-Z: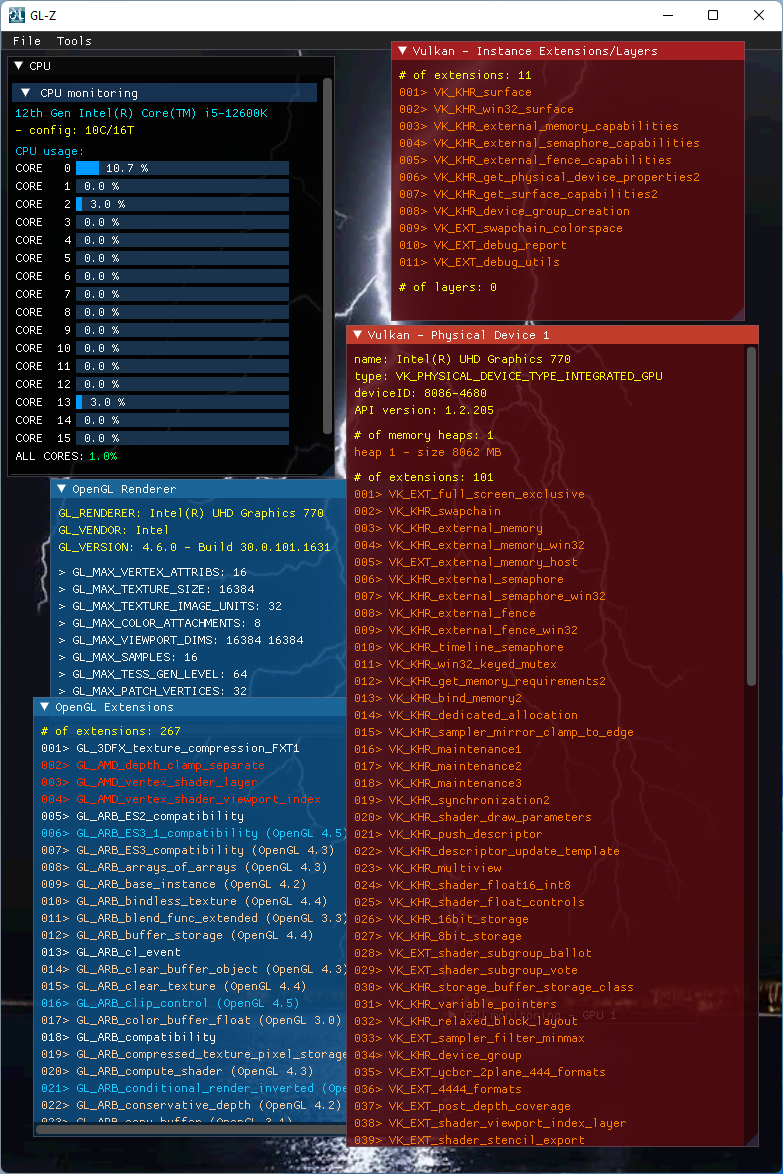 OpenGL support
This driver exposes OpenGL 4.6 with 267 OpenGL extensions for an UHD Graphics 770. Same support than previous driver (v101.1404).

- GL_VENDOR: Intel
- GL_RENDERER: Intel(R) UHD Graphics 770
- GL_VERSION: 4.6.0 - Build 30.0.101.1631
- GL_SHADING_LANGUAGE_VERSION: 4.60 - Build 30.0.101.1631
- OpenGL Extensions: 267 extensions (GL=245 and WGL=22)

Vulkan support
This driver exposes Vulkan 1.2.205. Actually Vulkan 1.2.205 does not exist, the correct version should be 1.3.205…

- Instance extensions: 11
  - VK_KHR_surface (version: 25)
  - VK_KHR_win32_surface (version: 5)
  - VK_KHR_external_memory_capabilities (version: 1)
  - VK_KHR_external_semaphore_capabilities (version: 1)
  - VK_KHR_external_fence_capabilities (version: 1)
  - VK_KHR_get_physical_device_properties2 (version: 2)
  - VK_KHR_get_surface_capabilities2 (version: 1)
  - VK_KHR_device_group_creation (version: 1)
  - VK_EXT_swapchain_colorspace (version: 4)
  - VK_EXT_debug_report (version: 10)
  - VK_EXT_debug_utils (version: 2)
- Instance layers: 0
- Physical devices: 1
  - [Vulkan device 0]: Intel(R) UHD Graphics 770 ------------------
    - API version: 1.2.205
    - vendorID: 32902
    - deviceID: 18048
    - driver version: 1656415
    - driver properties (VK_KHR_driver_properties):
      -> driver name: Intel Corporation
      -> driver ID: VK_DRIVER_ID_INTEL_PROPRIETARY_WINDOWS_KHR (5)
      -> driver conformance version: 1.2.1.6:
      -> driver info: Intel driver
  - memory heap count: 1
    - heap1: 8062MB
  - memory type count: 3
    - mem type 0 - heap index : 0 - property flag : 1
      > mem property: VK_MEMORY_PROPERTY_DEVICE_LOCAL_BIT
    - mem type 1 - heap index : 0 - property flag : 7
      > mem property: VK_MEMORY_PROPERTY_DEVICE_LOCAL_BIT
      > mem property: VK_MEMORY_PROPERTY_HOST_VISIBLE_BIT
      > mem property: VK_MEMORY_PROPERTY_HOST_COHERENT_BIT
    - mem type 2 - heap index : 0 - property flag : 15
      > mem property: VK_MEMORY_PROPERTY_DEVICE_LOCAL_BIT
      > mem property: VK_MEMORY_PROPERTY_HOST_VISIBLE_BIT
      > mem property: VK_MEMORY_PROPERTY_HOST_COHERENT_BIT
      > mem property: VK_MEMORY_PROPERTY_HOST_CACHED_BIT
  - extensions: 101
    - VK_EXT_full_screen_exclusive (version: 4)
    - VK_KHR_swapchain (version: 70)
    - VK_KHR_external_memory (version: 1)
    - VK_KHR_external_memory_win32 (version: 1)
    - VK_EXT_external_memory_host (version: 1)
    - VK_KHR_external_semaphore (version: 1)
    - VK_KHR_external_semaphore_win32 (version: 1)
    - VK_KHR_external_fence (version: 1)
    - VK_KHR_external_fence_win32 (version: 1)
    - VK_KHR_timeline_semaphore (version: 2)
    - VK_KHR_win32_keyed_mutex (version: 1)
    - VK_KHR_get_memory_requirements2 (version: 1)
    - VK_KHR_bind_memory2 (version: 1)
    - VK_KHR_dedicated_allocation (version: 1)
    - VK_KHR_sampler_mirror_clamp_to_edge (version: 3)
    - VK_KHR_maintenance1 (version: 1)
    - VK_KHR_maintenance2 (version: 1)
    - VK_KHR_maintenance3 (version: 1)
    - VK_KHR_synchronization2 (version: 1)
    - VK_KHR_shader_draw_parameters (version: 1)
    - VK_KHR_push_descriptor (version: 1)
    - VK_KHR_descriptor_update_template (version: 1)
    - VK_KHR_multiview (version: 1)
    - VK_KHR_shader_float16_int8 (version: 1)
    - VK_KHR_shader_float_controls (version: 4)
    - VK_KHR_16bit_storage (version: 1)
    - VK_KHR_8bit_storage (version: 1)
    - VK_EXT_shader_subgroup_ballot (version: 1)
    - VK_EXT_shader_subgroup_vote (version: 1)
    - VK_KHR_storage_buffer_storage_class (version: 1)
    - VK_KHR_variable_pointers (version: 1)
    - VK_KHR_relaxed_block_layout (version: 1)
    - VK_EXT_sampler_filter_minmax (version: 2)
    - VK_KHR_device_group (version: 4)
    - VK_EXT_ycbcr_2plane_444_formats (version: 1)
    - VK_EXT_4444_formats (version: 1)
    - VK_EXT_post_depth_coverage (version: 1)
    - VK_EXT_shader_viewport_index_layer (version: 1)
    - VK_EXT_shader_stencil_export (version: 1)
    - VK_EXT_conservative_rasterization (version: 1)
    - VK_EXT_sample_locations (version: 1)
    - VK_KHR_draw_indirect_count (version: 1)
    - VK_EXT_multi_draw (version: 1)
    - VK_KHR_image_format_list (version: 1)
    - VK_EXT_vertex_attribute_divisor (version: 3)
    - VK_EXT_descriptor_indexing (version: 2)
    - VK_EXT_inline_uniform_block (version: 1)
    - VK_KHR_create_renderpass2 (version: 1)
    - VK_KHR_swapchain_mutable_format (version: 1)
    - VK_KHR_depth_stencil_resolve (version: 1)
    - VK_KHR_driver_properties (version: 1)
    - VK_KHR_vulkan_memory_model (version: 3)
    - VK_EXT_conditional_rendering (version: 2)
    - VK_EXT_hdr_metadata (version: 2)
    - VK_KHR_fragment_shading_rate (version: 2)
    - VK_EXT_depth_clip_enable (version: 1)
    - VK_EXT_scalar_block_layout (version: 1)
    - VK_KHR_imageless_framebuffer (version: 1)
    - VK_KHR_buffer_device_address (version: 1)
    - VK_EXT_buffer_device_address (version: 2)
    - VK_EXT_host_query_reset (version: 1)
    - VK_KHR_performance_query (version: 1)
    - VK_NV_device_diagnostic_checkpoints (version: 2)
    - VK_KHR_separate_depth_stencil_layouts (version: 1)
    - VK_KHR_shader_clock (version: 1)
    - VK_KHR_spirv_1_4 (version: 1)
    - VK_KHR_uniform_buffer_standard_layout (version: 1)
    - VK_EXT_separate_stencil_usage (version: 1)
    - VK_EXT_fragment_shader_interlock (version: 1)
    - VK_EXT_index_type_uint8 (version: 1)
    - VK_KHR_shader_subgroup_extended_types (version: 1)
    - VK_EXT_line_rasterization (version: 1)
    - VK_EXT_memory_budget (version: 1)
    - VK_EXT_memory_priority (version: 1)
    - VK_EXT_texel_buffer_alignment (version: 1)
    - VK_INTEL_performance_query (version: 2)
    - VK_EXT_subgroup_size_control (version: 2)
    - VK_EXT_shader_demote_to_helper_invocation (version: 1)
    - VK_EXT_pipeline_creation_feedback (version: 1)
    - VK_EXT_pipeline_creation_cache_control (version: 3)
    - VK_KHR_pipeline_executable_properties (version: 1)
    - VK_EXT_transform_feedback (version: 1)
    - VK_EXT_provoking_vertex (version: 1)
    - VK_EXT_extended_dynamic_state (version: 1)
    - VK_EXT_extended_dynamic_state2 (version: 1)
    - VK_EXT_vertex_input_dynamic_state (version: 2)
    - VK_EXT_custom_border_color (version: 12)
    - VK_EXT_robustness2 (version: 1)
    - VK_EXT_image_robustness (version: 1)
    - VK_EXT_calibrated_timestamps (version: 1)
    - VK_KHR_shader_integer_dot_product (version: 1)
    - VK_KHR_shader_subgroup_uniform_control_flow (version: 1)
    - VK_KHR_shader_terminate_invocation (version: 1)
    - VK_KHR_workgroup_memory_explicit_layout (version: 1)
    - VK_EXT_shader_atomic_float (version: 1)
    - VK_KHR_copy_commands2 (version: 1)
    - VK_KHR_shader_non_semantic_info (version: 1)
    - VK_KHR_zero_initialize_workgroup_memory (version: 1)
    - VK_EXT_shader_atomic_float2 (version: 1)
    - VK_EXT_global_priority (version: 2)
    - VK_EXT_private_data (version: 1)
  - device layers: 0
  - device features:
    - robustBufferAccess: true
    - fullDrawIndexUint32: true
    - imageCubeArray: true
    - independentBlend: true
    - geometryShader: true
    - tessellationShader: true
    - sampleRateShading: true
    - dualSrcBlend: true
    - logicOp: true
    - multiDrawIndirect: true
    - drawIndirectFirstInstance: true
    - depthClamp: true
    - depthBiasClamp: true
    - fillModeNonSolid: true
    - depthBounds: true
    - wideLines: true
    - largePoints: true
    - alphaToOne: true
    - multiViewport: true
    - samplerAnisotropy: true
    - textureCompressionETC2: true
    - textureCompressionASTC_LDR: true
    - textureCompressionBC: true
    - occlusionQueryPrecise: true
    - pipelineStatisticsQuery: true
    - vertexPipelineStoresAndAtomics: true
    - fragmentStoresAndAtomics: true
    - shaderTessellationAndGeometryPointSize: true
    - shaderImageGatherExtended: true
    - shaderStorageImageExtendedFormats: true
    - shaderStorageImageMultisample: true
    - shaderStorageImageReadWithoutFormat: false
    - shaderStorageImageWriteWithoutFormat: true
    - shaderUniformBufferArrayDynamicIndexing: true
    - shaderSampledImageArrayDynamicIndexing: true
    - shaderStorageBufferArrayDynamicIndexing: true
    - shaderStorageImageArrayDynamicIndexing: true
    - shaderClipDistance: true
    - shaderCullDistance: true
    - shaderFloat64: false
    - shaderInt64: false
    - shaderInt16: true
    - shaderResourceResidency: true
    - shaderResourceMinLod: false
    - sparseBinding: true
    - sparseResidencyBuffer: true
    - sparseResidencyImage2D: true
    - sparseResidencyImage3D: true
    - sparseResidency2Samples: true
    - sparseResidency4Samples: true
    - sparseResidency8Samples: true
    - sparseResidency16Samples: true
    - sparseResidencyAliased: true
    - variableMultisampleRate: true
    - inheritedQueries: true
  - device limits
    - maxImageDimension1D: 16384
    - maxImageDimension2D: 16384
    - maxImageDimension3D: 2048
    - maxImageDimensionCube: 16384
    - maxImageArrayLayers: 2048
    - maxTexelBufferElements: 134217728
    - maxUniformBufferRange: 134217724
    - maxStorageBufferRange: 1073741820
    - maxPushConstantsSize: 256
    - maxMemoryAllocationCount: 2096822
    - maxSamplerAllocationCount: 4000
    - bufferImageGranularity: 1
    - sparseAddressSpaceSize: 17523466567680
    - maxBoundDescriptorSets: 8
    - maxPerStageDescriptorSamplers: 64
    - maxPerStageDescriptorUniformBuffers: 200
    - maxPerStageDescriptorSampledImages: 200
    - maxPerStageDescriptorStorageImages: 16
    - maxPerStageDescriptorInputAttachments: 7
    - maxPerStageResources: 200
    - maxDescriptorSetSamplers: 576
    - maxDescriptorSetUniformBuffers: 1800
    - maxDescriptorSetUniformBuffersDynamic: 16
    - maxDescriptorSetStorageBuffers: 1800
    - maxDescriptorSetStorageBuffersDynamic: 16
    - maxDescriptorSetSampledImages: 1800
    - maxDescriptorSetStorageImages: 144
    - maxDescriptorSetInputAttachments: 7
    - maxVertexInputAttributes: 32
    - maxVertexInputBindings: 32
    - maxVertexInputAttributeOffset: 2047
    - maxVertexInputBindingStride: 4095
    - maxVertexOutputComponents: 128
    - maxTessellationGenerationLevel: 64
    - maxTessellationPatchSize: 32
    - maxTessellationControlPerVertexInputComponents: 128
    - maxTessellationControlPerVertexOutputComponents: 128
    - maxTessellationControlPerPatchOutputComponents: 120
    - maxTessellationControlTotalOutputComponents: 4096
    - maxTessellationEvaluationInputComponents: 128
    - maxTessellationEvaluationOutputComponents: 128
    - maxGeometryShaderInvocations: 32
    - maxGeometryInputComponents: 128
    - maxGeometryOutputComponents: 128
    - maxGeometryOutputVertices: 256
    - maxGeometryTotalOutputComponents: 1024
    - maxFragmentInputComponents: 128
    - maxFragmentOutputAttachments: 8
    - maxFragmentDualSrcAttachments: 1
    - maxFragmentCombinedOutputResources: 16
    - maxComputeSharedMemorySize: 32768
    - maxComputeWorkGroupCount: [65536; 65536; 65536]
    - maxComputeWorkGroupInvocations: 1024
    - maxComputeWorkGroupSize: [1024; 1024; 64]
    - subPixelPrecisionBits: 8
    - subTexelPrecisionBits: 8
    - mipmapPrecisionBits: 8
    - maxDrawIndexedIndexValue: 4294967295
    - maxDrawIndirectCount: 4294967295
    - maxSamplerLodBias: 16.000000
    - maxSamplerAnisotropy: 16.000000
    - maxViewports: 16
    - maxViewportDimensions: [32768; 32768]
    - viewportBoundsRange: [-65536.000000 ; 65535.000000]
    - viewportSubPixelBits: 8
    - minMemoryMapAlignment: 64
    - minTexelBufferOffsetAlignment: 64
    - minUniformBufferOffsetAlignment: 64
    - minStorageBufferOffsetAlignment: 64
    - minTexelOffset: 4294967288
    - maxTexelOffset: 7
    - minTexelGatherOffset: 4294967264
    - maxTexelGatherOffset: 31
    - minInterpolationOffset: -0.500000
    - maxInterpolationOffset: 0.437500
    - subPixelInterpolationOffsetBits: 4
    - maxFramebufferWidth: 16384
    - maxFramebufferHeight: 16384
    - maxFramebufferLayers: 2048
    - framebufferColorSampleCounts: 31
    - framebufferDepthSampleCounts: 31
    - framebufferStencilSampleCounts: 31
    - framebufferNoAttachmentsSampleCounts: 31
    - maxColorAttachments: 8
    - sampledImageColorSampleCounts: 31
    - sampledImageIntegerSampleCounts: 31
    - sampledImageDepthSampleCounts: 31
    - sampledImageStencilSampleCounts: 31
    - storageImageSampleCounts: 31
    - maxSampleMaskWords: 1
    - timestampComputeAndGraphics: 1
    - timestampPeriod: 52.083332
    - maxClipDistances: 8
    - maxCullDistances: 8
    - maxCombinedClipAndCullDistances: 8
    - discreteQueuePriorities: 2
    - pointSizeRange: [0.125000 ; 255.875000]
    - lineWidthRange: [0.000000 ; 7.992188]
    - pointSizeGranularity: 0.125000
    - lineWidthGranularity: 0.007812
    - strictLines: 0
    - standardSampleLocations: 1
    - optimalBufferCopyOffsetAlignment: 64
    - optimalBufferCopyRowPitchAlignment: 64
    - nonCoherentAtomSize: 1

OpenCL support

- Num OpenCL platforms: 1
- CL_PLATFORM_NAME: Intel(R) OpenCL HD Graphics
- CL_PLATFORM_VENDOR: Intel(R) Corporation
- CL_PLATFORM_VERSION: OpenCL 3.0 
- CL_PLATFORM_PROFILE: FULL_PROFILE
- Num devices: 1

  - CL_DEVICE_NAME: Intel(R) UHD Graphics 770
  - CL_DEVICE_VENDOR: Intel(R) Corporation
  - CL_DRIVER_VERSION: 30.0.101.1631
  - CL_DEVICE_PROFILE: FULL_PROFILE
  - CL_DEVICE_VERSION: OpenCL 3.0 NEO 
  - CL_DEVICE_TYPE: GPU
  - CL_DEVICE_VENDOR_ID: 0x8086
  - CL_DEVICE_MAX_COMPUTE_UNITS: 32
  - CL_DEVICE_MAX_CLOCK_FREQUENCY: 1450MHz
  - CL_DEVICE_ADDRESS_BITS: 32
  - CL_DEVICE_MAX_MEM_ALLOC_SIZE: 838860KB
  - CL_DEVICE_GLOBAL_MEM_SIZE: 1638MB
  - CL_DEVICE_MAX_PARAMETER_SIZE: 2048
  - CL_DEVICE_GLOBAL_MEM_CACHELINE_SIZE: 64 Bytes
  - CL_DEVICE_GLOBAL_MEM_CACHE_SIZE: 512KB
  - CL_DEVICE_ERROR_CORRECTION_SUPPORT: NO
  - CL_DEVICE_LOCAL_MEM_TYPE: Local (scratchpad)
  - CL_DEVICE_LOCAL_MEM_SIZE: 64KB
  - CL_DEVICE_MAX_CONSTANT_BUFFER_SIZE: 838860KB
  - CL_DEVICE_MAX_WORK_ITEM_DIMENSIONS: 3
  - CL_DEVICE_MAX_WORK_ITEM_SIZES: [256 ; 256 ; 256]
  - CL_DEVICE_MAX_WORK_GROUP_SIZE: 256
  - CL_EXEC_NATIVE_KERNEL: 14410484
  - CL_DEVICE_IMAGE_SUPPORT: YES
  - CL_DEVICE_MAX_READ_IMAGE_ARGS: 128
  - CL_DEVICE_MAX_WRITE_IMAGE_ARGS: 128
  - CL_DEVICE_IMAGE2D_MAX_WIDTH: 16384
  - CL_DEVICE_IMAGE2D_MAX_HEIGHT: 16384
  - CL_DEVICE_IMAGE3D_MAX_WIDTH: 2048
  - CL_DEVICE_IMAGE3D_MAX_HEIGHT: 2048
  - CL_DEVICE_IMAGE3D_MAX_DEPTH: 2048
  - CL_DEVICE_MAX_SAMPLERS: 16
  - CL_DEVICE_PREFERRED_VECTOR_WIDTH_CHAR: 16
  - CL_DEVICE_PREFERRED_VECTOR_WIDTH_SHORT: 8
  - CL_DEVICE_PREFERRED_VECTOR_WIDTH_INT: 4
  - CL_DEVICE_PREFERRED_VECTOR_WIDTH_LONG: 1
  - CL_DEVICE_PREFERRED_VECTOR_WIDTH_FLOAT: 1
  - CL_DEVICE_PREFERRED_VECTOR_WIDTH_DOUBLE: 1
  - CL_DEVICE_EXTENSIONS: 55
  - Extensions:
    - cl_khr_byte_addressable_store
    - cl_khr_fp16
    - cl_khr_global_int32_base_atomics
    - cl_khr_global_int32_extended_atomics
    - cl_khr_icd
    - cl_khr_local_int32_base_atomics
    - cl_khr_local_int32_extended_atomics
    - cl_intel_command_queue_families
    - cl_intel_subgroups
    - cl_intel_required_subgroup_size
    - cl_intel_subgroups_short
    - cl_khr_spir
    - cl_intel_accelerator
    - cl_intel_driver_diagnostics
    - cl_khr_priority_hints
    - cl_khr_throttle_hints
    - cl_khr_create_command_queue
    - cl_intel_subgroups_char
    - cl_intel_subgroups_long
    - cl_khr_il_program
    - cl_intel_mem_force_host_memory
    - cl_khr_subgroup_extended_types
    - cl_khr_subgroup_non_uniform_vote
    - cl_khr_subgroup_ballot
    - cl_khr_subgroup_non_uniform_arithmetic
    - cl_khr_subgroup_shuffle
    - cl_khr_subgroup_shuffle_relative
    - cl_khr_subgroup_clustered_reduce
    - cl_intel_device_attribute_query
    - cl_khr_suggested_local_work_size
    - cl_intel_spirv_media_block_io
    - cl_intel_spirv_subgroups
    - cl_khr_spirv_no_integer_wrap_decoration
    - cl_intel_unified_shared_memory_preview
    - cl_khr_mipmap_image
    - cl_khr_mipmap_image_writes
    - cl_intel_planar_yuv
    - cl_intel_packed_yuv
    - cl_khr_int64_base_atomics
    - cl_khr_int64_extended_atomics
    - cl_khr_image2d_from_buffer
    - cl_khr_depth_images
    - cl_khr_3d_image_writes
    - cl_intel_media_block_io
    - cl_khr_gl_sharing
    - cl_khr_gl_depth_images
    - cl_khr_gl_event
    - cl_khr_gl_msaa_sharing
    - cl_khr_d3d10_sharing
    - cl_khr_d3d11_sharing
    - cl_intel_d3d11_nv12_media_sharing
    - cl_intel_sharing_format_query
    - cl_khr_pci_bus_info
    - cl_intel_subgroup_local_block_io
    - cl_intel_simultaneous_sharing