GravityMark is a graphics benchmark for Windows, Linux and macOS. It supports the three major 3D APIs: OpenGL, Vulkan and Direct3D 12. GravityMark tries to push the limits of your GPU by rendering a large number of asteroids:
GravityMark GPU Benchmark demonstrates the capabilities of modern GPUs by rendering an enormous quantity of objects in real-time, utilizing GPU acceleration. Easily stress test any GPU by increasing the number of rendered objects. Even relatively older GPUs like Nvidia's GTX 1060 and mobile GPUs show excellent performance, which would be impossible to achieve by using CPU-based draw call submission. We avoid typical CPU-based performance bottlenecks by delegating the entirety of scene management and rendering steps exclusively to the GPU.
I did a quick test (GravityMark 1.3) with two graphics cards: the Radeon RX 6800 XT and the GeForce RTX 3060 Ti.
| | |
| --- | --- |
| CPU | AMD Ryzen 7 5800X @ 3.7GHz |
| Motherboard | ASUS TUF Gaming X570 Plus |
| Memory | 16GB DDR4 Corsair Vengeance LED @ 3200MHz |
| PSU | Corsair RM1000x |
| Storage | Samsung 840 Pro 256GB SSD |
| OS | Windows 10 v20H2 64-bit |
Settings: 3840×2160 fullscreen, temporal aliasing, 200'000 asteroids.
Vulkan
28318 (157 FPS)
ASUS TUF Radeon RX 6800 XT OC 16GB – Adrenalin 21.7.1


21387 (128 FPS)
GIGABYTE GeForce RTX 3060 Ti Gaming OC 8G – GeForce 471.41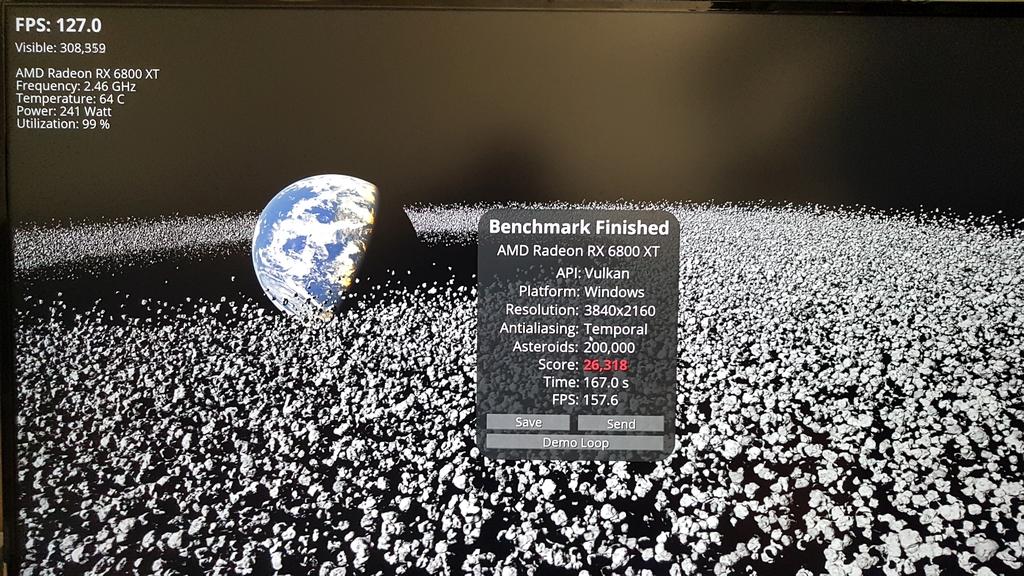 OpenGL
19183 (114 FPS)
ASUS TUF Radeon RX 6800 XT OC 16GB – Adrenalin 21.7.1


15268 (91 FPS)
GIGABYTE GeForce RTX 3060 Ti Gaming OC 8G – GeForce 471.41


Direct3D 12
25422 (152 FPS)
ASUS TUF Radeon RX 6800 XT OC 16GB – Adrenalin 21.7.1


19425 (116 FPS)
GIGABYTE GeForce RTX 3060 Ti Gaming OC 8G – GeForce 471.41



The rendering of the asteroids shadow on Earth is a bit strange…