Downloads

GPU_Caps_Viewer_1.51.0.0.zip hash codes:

– file size : 15830126 bytes

– MD5 : 421f4aa3d4b27172a15c84defb17b71a

– SHA1 : 1d9f70b22e2d538452ef80082d2ad9c2f5f5805b

– SHA256 : 5373639aae7055675a4d5711256bfa58817a4a63eb4fe42839ec997a034112be

GPU_Caps_Viewer_Setup_v1.51.0.0.exe hash codes:

– file size : 12352006 bytes

– MD5 : d81b52b6fb5c73639d565c5e9afa9764

– SHA1 : 2a9e75ac1bfc7845265726388f2571a56330496b

– SHA256 : 158a04f221d5e82edbc06c034f27f3c484793cf197378b09cb9ef7aa55e94ab1

Forum thread (EN) for feedbacks or bug-reports
A new version of GPU Caps Viewer is available. GPU Caps Viewer is a graphics card / GPU information and monitoring utility that quickly describes the essential capabilities of your GPU including GPU type, amount of VRAM , OpenGL, Vulkan, OpenCL and CUDA API support level.
Release Notes
GPU Caps Viewer 1.51.0
GPU Caps Viewer 1.51.0 comes with the (preliminary) support of NVIDIA GeForce RTX 3080 Ti, RTX 3070 Ti and RTX 3050. The detection of Radeon RX 6900 XT and RX 6700 has been improved and the detection of Intel UHD Graphics P750 GPU has been added. GPU Shark and GeeXLab libs have been updated to their latest versions.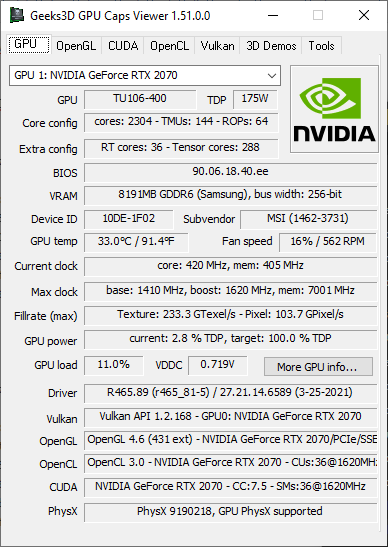 Changelog

Version 1.51.0.0 - 2021.03.17
+ added support of NVIDIA GeForce RTX 3080 Ti
+ added support of NVIDIA GeForce RTX 3070 Ti
+ added support of NVIDIA GeForce RTX 3050
+ added support of NVIDIA GeForce RTX 3060 12GB
+ added support of NVIDIA GeForce RTX 3060 (id: 2504)
+ added support of NVIDIA A6000, A5000 and A4000.
+ added support of NVIDIA T1000, T600 and T400.
+ added detection of Intel UHD Graphics P750.
! improved Radeon RX 6900 XT and RX 6700 XT detection.
* fixed ROP count for Radeon RX 6700 XT.
! updated: GeeXLab libs version 0.42.2
! updated: GPU Shark 0.22.2.0
! updated with NVAPI R465.
! updated: ZoomGPU 1.30.0 (GPU monitoring library)