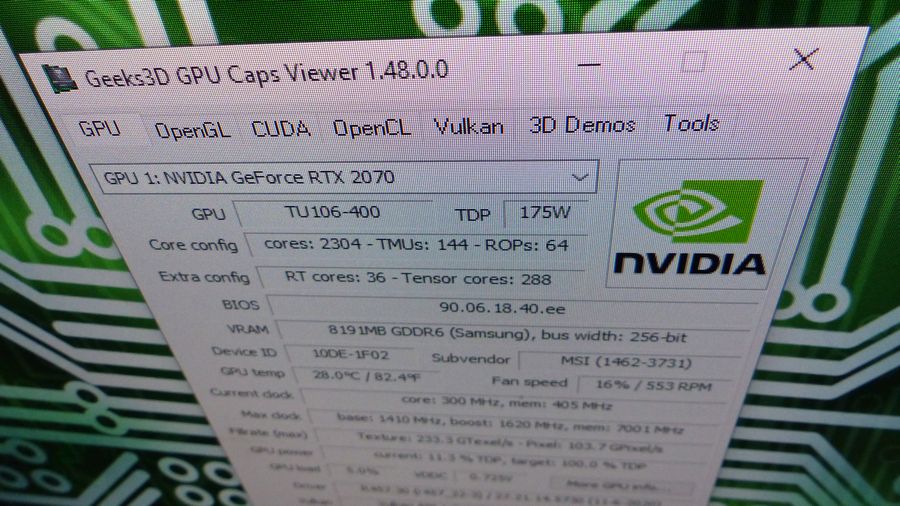 Downloads

GPU_Caps_Viewer_1.48.0.0.zip hash codes:

– file size => 15653082 bytes

– MD5 => 1f60c99415b37e5a7b2ce5c80398191a

– SHA1 => 6a7f0c38379e513922cd115d1c56e0b5755391fb

– SHA256 => fcb644ae2ac15c5a9806ea8e2bc317c3c58200446f8e7fca4aec540f2de4cf06

GPU_Caps_Viewer_Setup_v1.48.0.0.exe hash codes:

– file size => 12198976 bytes

– MD5 => e09d827a8889f348f36106140c2c006f

– SHA1 => 2d269d8b122274d4789dae4eef43f0598195b320

– SHA256 => 0eeef4804bc27cb55d97a3ff3505256663c04d363334687621ddf533e04d42cb

Forum thread (EN) for feedbacks or bug-reports
A new version of GPU Caps Viewer is available. GPU Caps Viewer is a graphics card / GPU information and monitoring utility that quickly describes the essential capabilities of your GPU including GPU type, amount of VRAM , OpenGL, Vulkan, OpenCL and CUDA API support level.
Release Notes
GPU Caps Viewer 1.48.0 comes with the support of AMD Radeon RX 6800 and RX 6800 XT (RDNA2 architecture). On Radeon GPUs, the number of shader cores is now computed from the number of compute units (when this info is available) otherwise it's fetched from an internal database.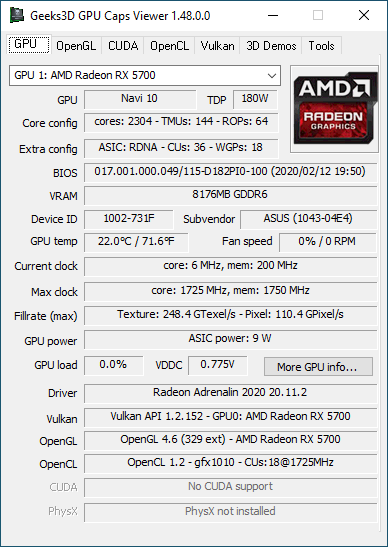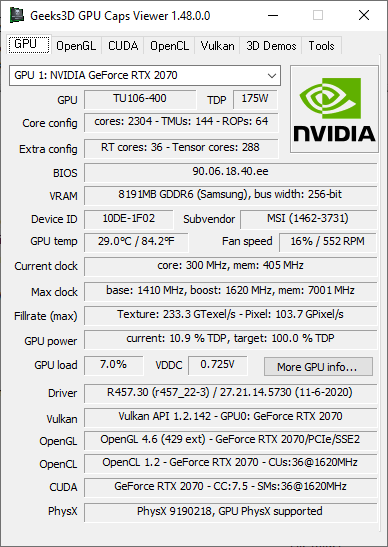 Changelog

Version 1.48.0.0 - 2020.11.23
+ added support of AMD Radeon RX 6800 XT and RX 6800.
! updated: for AMD Radeon GPUs, the number of cores is now computed 
  from the number of compute units.
+ added more info for some Intel Xe Graphics GPUs.
+ added more AMD Radeon RX 5700 / RX 5600.
+ added support of AMD Radeon RX 640, Radeon 630, Radeon 540X, Radeon 550X.
+ added support of AMD Radeon Pro WX 3200, Radeon Pro WX 3100 and Radeon Pro WX 2100.
+ added new AMD Polaris 12/23 GPUs with device ID 699F and 6987.
+ added new AMD Navi 10 GPUs with device ID 731f.
+ added new AMD Navi 14 GPUs with device ID 7340.
+ added AMD Radeon Pro W5500 and Pro W5700.
! updated: GPU Shark 0.20.0.0
! updated: ZoomGPU 1.28.0 (GPU monitoring library)