A new graphics driver has been published by Intel for its GPUs (Intel 6th, 7th, 8th, 9th, 10th and 11th Gen processors) on Windows 10. This new driver (version 27.20.100.8935) brings with the following changes:
IMPROVEMENTS:
– Performance improvements when using Chrome YouTube Media Playback.

KEY ISSUES FIXED:
– Crysis Remastered may crash to desktop while loading to gameplay.
– Minor graphic anomalies seen on PGA tour 2K21, Doom Eternal (Vulkan), World of Warcraft: Shadowlands (DX12).
– Intermittent crash or hang seen in Red Dead Redemption 2 (Vulkan), Civilization 6: Gathering Storm (DX12) benchmark, Serious Sam 4: Planet Badass (DX12), Forza Horizon 4 on Iris Xe Graphics.
Downloads
v27.20.100.8935
Quick test of this driver on an Intel Core i7-8700K (with an UHD 630 GPU):
– Intel control panel information: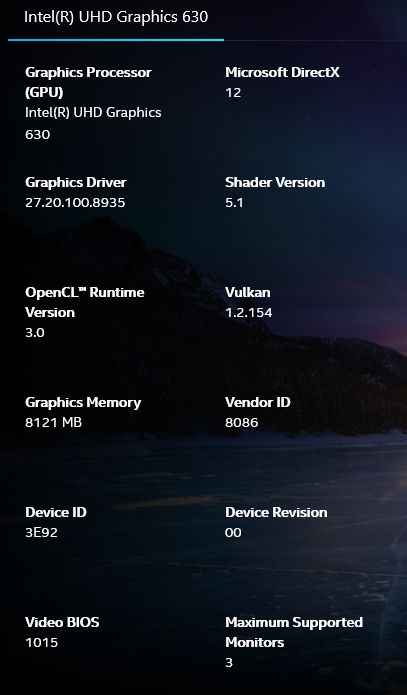 – GL-Z: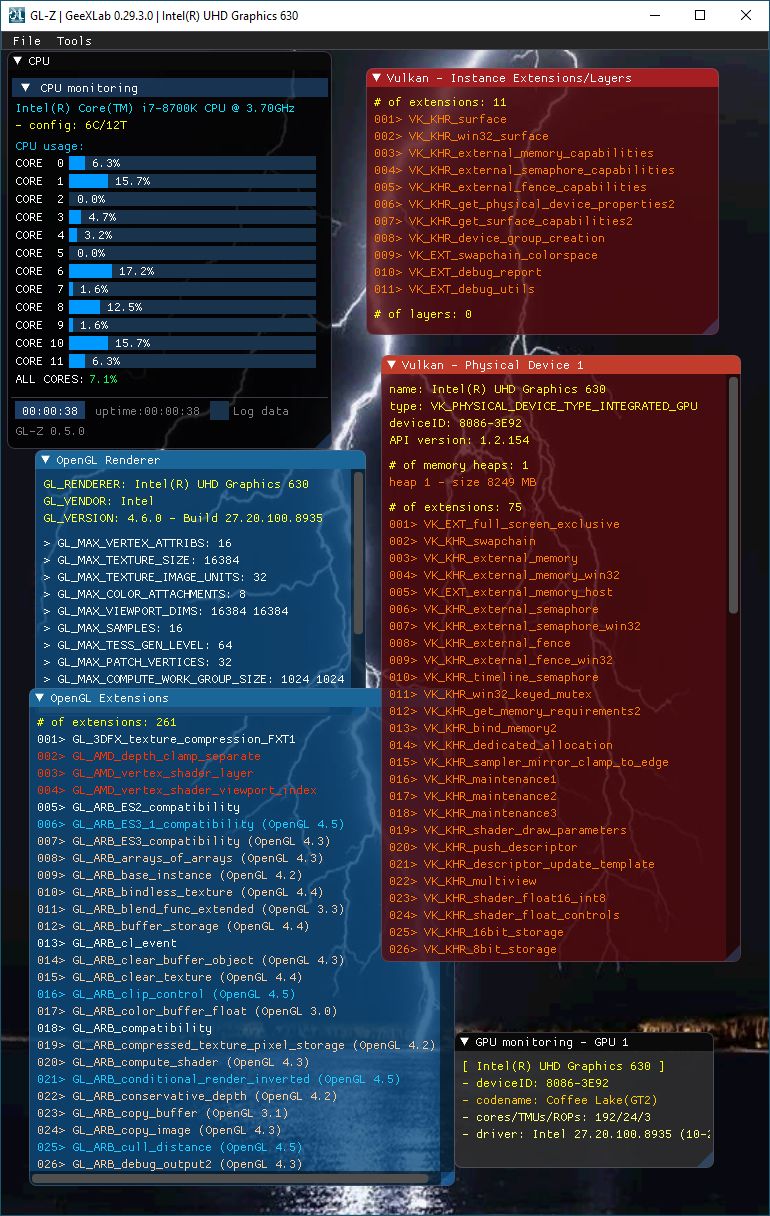 OpenGL support
v27.20.100.8935
This driver exposes OpenGL 4.6 with 261 OpenGL extensions. Same support than previous v8783.

- GL_VENDOR: Intel
- GL_RENDERER: Intel(R) UHD Graphics 630
- GL_VERSION: 4.6.0 - Build 27.20.100.8935
- GL_SHADING_LANGUAGE_VERSION: 4.60 - Build 27.20.100.8935
- OpenGL Extensions: 261 extensions (GL=239 and WGL=22)

Vulkan support
v27.20.100.8935
This driver exposes Vulkan 1.2.154. No major change compared to previous v8853 (same features and extensions).

- [Vulkan device 0]: Intel(R) UHD Graphics 630 ------------------
    - API version: 1.2.154
    - vendorID: 32902
    - deviceID: 16018
    - driver version: 1647335
    - driver properties (VK_KHR_driver_properties):
      - driver name: Intel Corporation
      - driver ID: VK_DRIVER_ID_INTEL_PROPRIETARY_WINDOWS_KHR (5)
      - driver conformance version: 1.2.2.3:
      - driver info: Intel driver
    - device extensions: 75

—
via