Few hours before the official announcement of Radeon RX 6000 Series, NVIDIA releases a new Ampere-based graphics card. After the RTX 3080 and RTX 3090, the GeForce RTX 3070 is the third graphics card from the RTX 30 Series.
The GeForce RTX 3070 is based on a GA104 GPU (but not the full GA104 which has 48 SMs), is 50% faster than previous gen RTX 2070 and offers the RTX 2080 Ti levels of performance! The RTX 3070 targets the 1440p resolution (4K is more the realm of RTX 3080/3090).
RTX 3070 homepage can be found HERE.
GeForce RTX 3070 main specifications
GPU: Ampere GA104 @ 1500 MHz (base) / 1725 MHz (boost), 17-billion transistor, Samsung 8nm
CUDA cores: 5888
SMs: 46
RT cores: 46
Tensor cores: 184
ROPs: 96
Texture units: 184
FP32 performance: 20.3 TFLOPS
Memory: 8GB GDDR6 @ 1750 MHz real speed (7000 MHz effective speed), 256-bit, 448 GB/s
TGP: 220W
Power connector: 12-pin
Price: starts at USD $499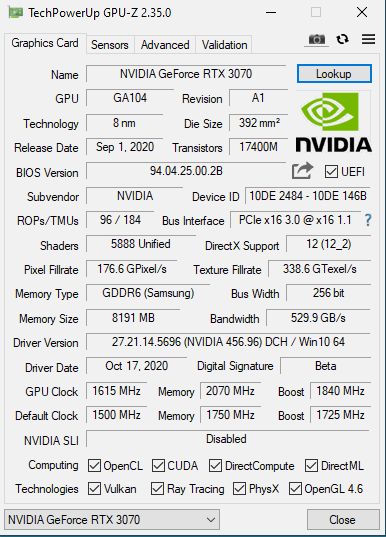 GeForce RTX 3070 Founders Edition Reviews