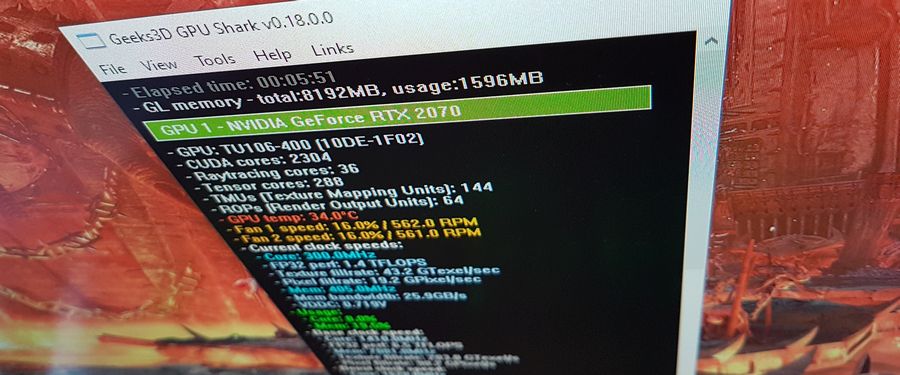 Downloads

GPUShark-0.18.0.0.zip hash codes:

– file size => 591233 bytes

– MD5 => 704932417162d5c9e17f55abd09eeaf2

– SHA1 => 3fa7844b0a60ba1e09c05aeced6164eccf023b8a

– SHA256 => 09ff92d8e855c25789487f39d67259af8504b3ecb55fba4fa789083fdd0356d6

Forum thread (EN) for feedbacks or bug-reports
A new version of GPU Shark, a tiny GPU monitoring utility (Windows 32-bit) for NVIDIA GeForce and AMD Radeon graphics cards, is available. GPU Shark offers a global view of all your graphics cards in a single window.
Release Notes
GPU Shark 0.18.0 adds the support of NVIDIA GeForce RTX 3080 and RTX 3090 (Ampere architecture) as well the new AMD Radeon RX 5300.
GPUs are now sorted by bus ID (this feature is very useful with NVIDIA drivers that, sometimes, decide to reverse the order of GPUs…). FP32 performance in TFLOPS is now displayed right under the core clock speed.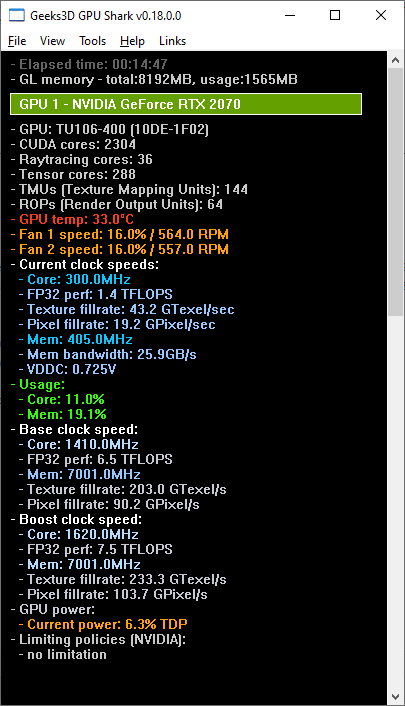 Changelog

Version 0.18.0.0 - 2020.09.23
+ added support of NVIDIA GeForce RTX 3080 and RTX 3090.
+ added support of AMD Radeon RX 5300.
+ added partial support of ATI Radeon 3000 Graphics (IGP from 2009).
+ added FP32 performance in TFLOPS.
! updated: all GPUs are sorted by busID. 
! updated: ZoomGPU 1.27.0 (GPU monitoring library)
  with NVAPI R450.