NVIDIA has released the first driver of the new R450 family (version 450.xx to 454.xx). The GeForce 450 family supports the following GPU architecture: Turing, Volta, Pascal, Kepler and Maxwell.
Main changes:
Game Ready for DirectX 12 Ultimate
The new Game Ready Driver provides full support for the new DirectX 12 Ultimate graphics API.
This includes support for DirectX Raytracing (DXR) version 1.1 as well as support for mesh
shaders, sampler feedback, and variable-rate shading (VRS). Additionally, this driver supports
Hardware-accelerated GPU Scheduling when used with the Windows 10 May 2020 Update.

New Features and Other Changes
– Supports DirectX 12 Ultimate
– Supports Vulkan 1.2
– Supports hardware-accelerated GPU Scheduling
– Supports CUDA 11.0

Fixed Issues
– [Just Cause 2]: The game does not detect CUDA files which results in missing "GPU Water Simulation" and "Bokeh Filter" settings. [2994570]
– [Sea of Thieves]: Issues with game rendering occur. [200614095]
– [Resident Evil 2 Remake]: The game may display random object and menu flickering. [2997880]
– [Devil May Cry 5]: The game may display random object flickering. [2997814]
– [Divinity Original Sin 2 – Definitive Edition]: The game experiences low performance when hardware accelerated GPU scheduling is enabled. [3009631]
– [Notebook]: Windows Mixed Reality headsets may display jitter when connected to the HDMI port linked to the NVIDIA Optimus notebook integrated graphics. [2971312]
– [G-SYNC]: G-SYNC does not work with DirectX 9 games if "Disable full screen optimizations" is selected. [2969897]
– Display brightness increases while enabling GPU scaling. [200612966]
– NVIDIA HD Audio may disappear after display goes to sleep. [2807732]
– The cursor turns into a grey rectangle when playing YouTube 4K HDR videos. [3009602]
Hardware-accelerated GPU scheduling in Windows Graphics Settings
This new feature can potentially improve performance and reduce latency by allowing the video card to directly manage its own memory.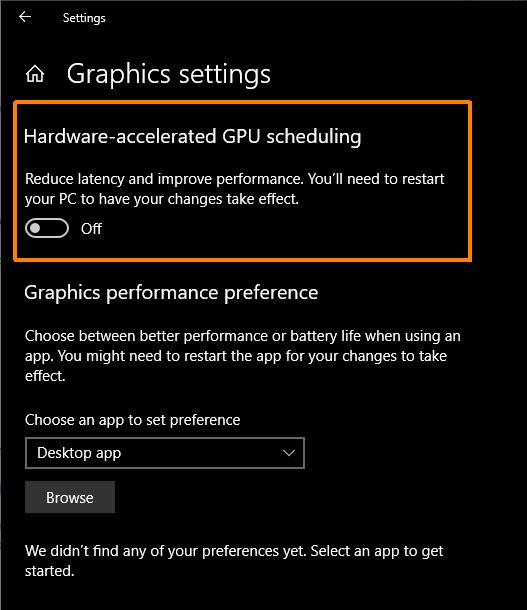 More info:
– DirectX 12 Ultimate Game Ready Driver Released; Also Includes Support For 9 New G-SYNC Compatible Gaming Monitors
– 451.48 release notes
Downloads
GeForce 451.48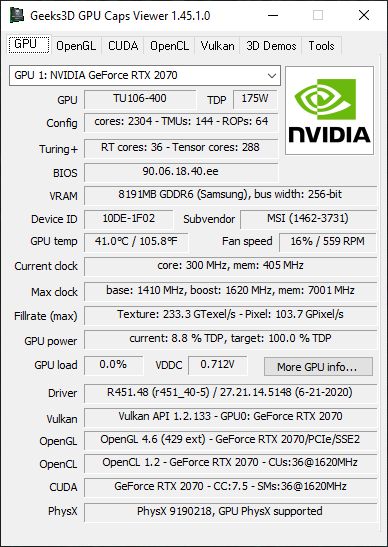 OpenGL support
GeForce 451.48
GeForce 451.48 exposes OpenGL 4.6 and 429 extensions for a GeForce RTX 2070 on Windows 10 (v2004). It's the same OpenGL support than in 440.97.

- GL_VENDOR: NVIDIA Corporation
- GL_RENDERER: GeForce RTX 2070/PCIe/SSE2
- GL_VERSION: 4.6.0 NVIDIA 451.48
- GL_SHADING_LANGUAGE_VERSION: 4.60 NVIDIA
- OpenGL Extensions: 429 extensions (GL=397 and WGL=32)

Vulkan support
GeForce 451.48
GeForce 451.48 exposes Vulkan 1.2.133 and 115 device extensions for a GeForce RTX 2070 on Windows 10 (v2004).

- Device 1
  - name: GeForce RTX 2070
  - device type: VK_PHYSICAL_DEVICE_TYPE_DISCRETE_GPU
  - device ID: 10DE-1F02
  - API version: 1.2.133
  - NVIDIA driver version: 451.48.0.0
  - VK_KHR_driver_properties information:
    - driverName: NVIDIA
    - driverID_str: VK_DRIVER_ID_NVIDIA_PROPRIETARY_KHR
    - driverID: 4
    - conformanceVersion: 1.2.0.2
    - driverInfo: 451.48

  - # of extensions => 115
  - 001/ VK_KHR_16bit_storage
  - 002/ VK_KHR_8bit_storage
  - 003/ VK_KHR_bind_memory2
  - 004/ VK_KHR_buffer_device_address
  - 005/ VK_KHR_create_renderpass2
  - 006/ VK_KHR_dedicated_allocation
  - 007/ VK_KHR_depth_stencil_resolve
  - 008/ VK_KHR_descriptor_update_template
  - 009/ VK_KHR_device_group
  - 010/ VK_KHR_draw_indirect_count
  - 011/ VK_KHR_driver_properties
  - 012/ VK_KHR_external_fence
  - 013/ VK_KHR_external_fence_win32
  - 014/ VK_KHR_external_memory
  - 015/ VK_KHR_external_memory_win32
  - 016/ VK_KHR_external_semaphore
  - 017/ VK_KHR_external_semaphore_win32
  - 018/ VK_KHR_get_memory_requirements2
  - 019/ VK_KHR_image_format_list
  - 020/ VK_KHR_imageless_framebuffer
  - 021/ VK_KHR_maintenance1
  - 022/ VK_KHR_maintenance2
  - 023/ VK_KHR_maintenance3
  - 024/ VK_KHR_multiview
  - 025/ VK_KHR_pipeline_executable_properties
  - 026/ VK_KHR_push_descriptor
  - 027/ VK_KHR_relaxed_block_layout
  - 028/ VK_KHR_sampler_mirror_clamp_to_edge
  - 029/ VK_KHR_sampler_ycbcr_conversion
  - 030/ VK_KHR_separate_depth_stencil_layouts
  - 031/ VK_KHR_shader_atomic_int64
  - 032/ VK_KHR_shader_clock
  - 033/ VK_KHR_shader_draw_parameters
  - 034/ VK_KHR_shader_float16_int8
  - 035/ VK_KHR_shader_float_controls
  - 036/ VK_KHR_shader_non_semantic_info
  - 037/ VK_KHR_shader_subgroup_extended_types
  - 038/ VK_KHR_spirv_1_4
  - 039/ VK_KHR_storage_buffer_storage_class
  - 040/ VK_KHR_swapchain
  - 041/ VK_KHR_swapchain_mutable_format
  - 042/ VK_KHR_timeline_semaphore
  - 043/ VK_KHR_uniform_buffer_standard_layout
  - 044/ VK_KHR_variable_pointers
  - 045/ VK_KHR_vulkan_memory_model
  - 046/ VK_KHR_win32_keyed_mutex
  - 047/ VK_EXT_blend_operation_advanced
  - 048/ VK_EXT_buffer_device_address
  - 049/ VK_EXT_calibrated_timestamps
  - 050/ VK_EXT_conditional_rendering
  - 051/ VK_EXT_conservative_rasterization
  - 052/ VK_EXT_custom_border_color
  - 053/ VK_EXT_depth_clip_enable
  - 054/ VK_EXT_depth_range_unrestricted
  - 055/ VK_EXT_descriptor_indexing
  - 056/ VK_EXT_discard_rectangles
  - 057/ VK_EXT_external_memory_host
  - 058/ VK_EXT_fragment_shader_interlock
  - 059/ VK_EXT_full_screen_exclusive
  - 060/ VK_EXT_hdr_metadata
  - 061/ VK_EXT_host_query_reset
  - 062/ VK_EXT_index_type_uint8
  - 063/ VK_EXT_inline_uniform_block
  - 064/ VK_EXT_line_rasterization
  - 065/ VK_EXT_memory_budget
  - 066/ VK_EXT_memory_priority
  - 067/ VK_EXT_pci_bus_info
  - 068/ VK_EXT_pipeline_creation_feedback
  - 069/ VK_EXT_post_depth_coverage
  - 070/ VK_EXT_sample_locations
  - 071/ VK_EXT_sampler_filter_minmax
  - 072/ VK_EXT_scalar_block_layout
  - 073/ VK_EXT_separate_stencil_usage
  - 074/ VK_EXT_shader_demote_to_helper_invocation
  - 075/ VK_EXT_shader_subgroup_ballot
  - 076/ VK_EXT_shader_subgroup_vote
  - 077/ VK_EXT_shader_viewport_index_layer
  - 078/ VK_EXT_subgroup_size_control
  - 079/ VK_EXT_texel_buffer_alignment
  - 080/ VK_EXT_tooling_info
  - 081/ VK_EXT_transform_feedback
  - 082/ VK_EXT_vertex_attribute_divisor
  - 083/ VK_EXT_ycbcr_image_arrays
  - 084/ VK_NV_clip_space_w_scaling
  - 085/ VK_NV_compute_shader_derivatives
  - 086/ VK_NV_cooperative_matrix
  - 087/ VK_NV_corner_sampled_image
  - 088/ VK_NV_coverage_reduction_mode
  - 089/ VK_NV_dedicated_allocation
  - 090/ VK_NV_dedicated_allocation_image_aliasing
  - 091/ VK_NV_device_diagnostic_checkpoints
  - 092/ VK_NV_device_diagnostics_config
  - 093/ VK_NV_external_memory
  - 094/ VK_NV_external_memory_win32
  - 095/ VK_NV_fill_rectangle
  - 096/ VK_NV_fragment_coverage_to_color
  - 097/ VK_NV_fragment_shader_barycentric
  - 098/ VK_NV_framebuffer_mixed_samples
  - 099/ VK_NV_geometry_shader_passthrough
  - 100/ VK_NV_mesh_shader
  - 101/ VK_NV_ray_tracing
  - 102/ VK_NV_representative_fragment_test
  - 103/ VK_NV_sample_mask_override_coverage
  - 104/ VK_NV_scissor_exclusive
  - 105/ VK_NV_shader_image_footprint
  - 106/ VK_NV_shader_sm_builtins
  - 107/ VK_NV_shader_subgroup_partitioned
  - 108/ VK_NV_shading_rate_image
  - 109/ VK_NV_viewport_array2
  - 110/ VK_NV_viewport_swizzle
  - 111/ VK_NV_win32_keyed_mutex
  - 112/ VK_NVX_binary_import
  - 113/ VK_NVX_device_generated_commands
  - 114/ VK_NVX_image_view_handle
  - 115/ VK_NVX_multiview_per_view_attributes

  - # of layers => 1
  - 001/ VK_LAYER_NV_optimus

  - # of memory heaps => 3
  - heap 1 => 8031 MB
  - heap 2 => 16352 MB
  - heap 3 => 246 MB

  - # of features => 55
  - 001/ robustBufferAccess => 1
  - 002/ fullDrawIndexUint32 => 1
  - 003/ imageCubeArray => 1
  - 004/ independentBlend => 1
  - 005/ geometryShader => 1
  - 006/ tessellationShader => 1
  - 007/ sampleRateShading => 1
  - 008/ dualSrcBlend => 1
  - 009/ logicOp => 1
  - 010/ multiDrawIndirect => 1
  - 011/ drawIndirectFirstInstance => 1
  - 012/ depthClamp => 1
  - 013/ depthBiasClamp => 1
  - 014/ fillModeNonSolid => 1
  - 015/ depthBounds => 1
  - 016/ wideLines => 1
  - 017/ largePoints => 1
  - 018/ alphaToOne => 1
  - 019/ multiViewport => 1
  - 020/ samplerAnisotropy => 1
  - 021/ textureCompressionETC2 => 0
  - 022/ textureCompressionASTC_LDR => 0
  - 023/ textureCompressionBC => 1
  - 024/ occlusionQueryPrecise => 1
  - 025/ pipelineStatisticsQuery => 1
  - 026/ vertexPipelineStoresAndAtomics => 1
  - 027/ fragmentStoresAndAtomics => 1
  - 028/ shaderTessellationAndGeometryPointSize => 1
  - 029/ shaderImageGatherExtended => 1
  - 030/ shaderStorageImageExtendedFormats => 1
  - 031/ shaderStorageImageMultisample => 1
  - 032/ shaderStorageImageReadWithoutFormat => 1
  - 033/ shaderStorageImageWriteWithoutFormat => 1
  - 034/ shaderUniformBufferArrayDynamicIndexing => 1
  - 035/ shaderSampledImageArrayDynamicIndexing => 1
  - 036/ shaderStorageBufferArrayDynamicIndexing => 1
  - 037/ shaderStorageImageArrayDynamicIndexing => 1
  - 038/ shaderClipDistance => 1
  - 039/ shaderCullDistance => 1
  - 040/ shaderFloat64 => 1
  - 041/ shaderInt64 => 1
  - 042/ shaderInt16 => 1
  - 043/ shaderResourceResidency => 1
  - 044/ shaderResourceMinLod => 1
  - 045/ sparseBinding => 1
  - 046/ sparseResidencyBuffer => 1
  - 047/ sparseResidencyImage2D => 1
  - 048/ sparseResidencyImage3D => 1
  - 049/ sparseResidency2Samples => 1
  - 050/ sparseResidency4Samples => 1
  - 051/ sparseResidency8Samples => 1
  - 052/ sparseResidency16Samples => 1
  - 053/ sparseResidencyAliased => 1
  - 054/ variableMultisampleRate => 1
  - 055/ inheritedQueries => 1

  - # of hardware limits => 106
    - 001/ maxImageDimension1D => 32768
    - 002/ maxImageDimension2D => 32768
    - 003/ maxImageDimension3D => 16384
    - 004/ maxImageDimensionCube => 32768
    - 005/ maxImageArrayLayers => 2048
    - 006/ maxTexelBufferElements => 134217728
    - 007/ maxUniformBufferRange => 65536
    - 008/ maxStorageBufferRange => 4294967295
    - 009/ maxPushConstantsSize => 256
    - 010/ maxMemoryAllocationCount => 4096
    - 011/ maxSamplerAllocationCount => 4000
    - 012/ bufferImageGranularity => 1024
    - 013/ sparseAddressSpaceSize => 1099511627775
    - 014/ maxBoundDescriptorSets => 32
    - 015/ maxPerStageDescriptorSamplers => 1048576
    - 016/ maxSamplerAllocationCount => 1048576
    - 017/ maxPerStageDescriptorStorageBuffers => 1048576
    - 018/ maxPerStageDescriptorSampledImages => 1048576
    - 019/ maxPerStageDescriptorStorageImages => 1048576
    - 020/ maxPerStageDescriptorInputAttachments => 1048576
    - 021/ maxPerStageResources => 4294967295
    - 022/ maxDescriptorSetSamplers => 1048576
    - 023/ maxDescriptorSetUniformBuffers => 1048576
    - 024/ maxDescriptorSetUniformBuffersDynamic => 15
    - 025/ maxDescriptorSetStorageBuffers => 1048576
    - 026/ maxDescriptorSetStorageBuffersDynamic => 16
    - 027/ maxDescriptorSetSampledImages => 1048576
    - 028/ maxDescriptorSetStorageImages => 1048576
    - 029/ maxDescriptorSetInputAttachments => 1048576
    - 030/ maxVertexInputAttributes => 32
    - 031/ maxVertexInputBindings => 32
    - 032/ maxVertexInputAttributeOffset => 2047
    - 033/ maxVertexInputBindingStride => 2048
    - 034/ maxVertexOutputComponents => 128
    - 035/ maxTessellationGenerationLevel => 64
    - 036/ maxTessellationPatchSize => 32
    - 037/ maxTessellationControlPerVertexInputComponents => 128
    - 038/ maxTessellationControlPerVertexOutputComponents => 128
    - 039/ maxTessellationControlPerPatchOutputComponents => 120
    - 040/ maxTessellationControlTotalOutputComponents => 4216
    - 041/ maxTessellationEvaluationInputComponents => 128
    - 042/ maxTessellationEvaluationOutputComponents => 128
    - 043/ maxGeometryShaderInvocations => 32
    - 044/ maxGeometryInputComponents => 128
    - 045/ maxGeometryOutputComponents => 128
    - 046/ maxGeometryOutputVertices => 1024
    - 047/ maxGeometryTotalOutputComponents => 1024
    - 048/ maxFragmentInputComponents => 128
    - 049/ maxFragmentOutputAttachments => 8
    - 050/ maxFragmentDualSrcAttachments => 1
    - 051/ maxFragmentCombinedOutputResources => 16
    - 052/ maxComputeSharedMemorySize => 49152
    - 053/ maxComputeSharedMemorySize => 2147483647 x 65535 x 65535
    - 054/ maxComputeWorkGroupInvocations => 1024
    - 055/ maxComputeWorkGroupSize => 1024 x 1024 x 64
    - 056/ subPixelPrecisionBits => 8
    - 057/ subTexelPrecisionBits => 8
    - 058/ mipmapPrecisionBits => 8
    - 059/ maxDrawIndexedIndexValue => 4294967295
    - 060/ maxDrawIndirectCount => 4294967295
    - 061/ maxSamplerLodBias => 15.000000
    - 062/ maxSamplerAnisotropy => 16.000000
    - 063/ maxViewports => 16
    - 064/ maxViewportDimensions => 32768 x 32768
    - 065/ viewportBoundsRange => -65536.000000 x 65536.000000
    - 066/ viewportSubPixelBits => 8
    - 067/ minMemoryMapAlignment => 64
    - 068/ minTexelBufferOffsetAlignment => 16
    - 069/ minUniformBufferOffsetAlignment => 64
    - 070/ minStorageBufferOffsetAlignment => 16
    - 071/ minTexelOffset => -8
    - 072/ maxTexelOffset => 7
    - 073/ minTexelGatherOffset => -32
    - 074/ maxTexelGatherOffset => 31
    - 075/ minInterpolationOffset => -0.500000
    - 076/ maxInterpolationOffset => 0.437500
    - 077/ subPixelInterpolationOffsetBits => 4
    - 078/ maxFramebufferWidth => 32768
    - 079/ maxFramebufferHeight => 32768
    - 080/ maxFramebufferLayers => 2048
    - 081/ framebufferColorSampleCounts => 15
    - 082/ framebufferDepthSampleCounts => 15
    - 083/ framebufferStencilSampleCounts => 31
    - 084/ framebufferNoAttachmentsSampleCounts => 31
    - 085/ maxColorAttachments => 8
    - 086/ sampledImageColorSampleCounts => 15
    - 087/ sampledImageIntegerSampleCounts => 15
    - 088/ sampledImageDepthSampleCounts => 15
    - 089/ sampledImageStencilSampleCounts => 31
    - 090/ storageImageSampleCounts => 15
    - 091/ maxSampleMaskWords => 1
    - 092/ timestampComputeAndGraphics => 1
    - 093/ timestampPeriod => 1.000000
    - 094/ maxClipDistances => 8
    - 095/ maxCullDistances => 8
    - 096/ maxCombinedClipAndCullDistances => 8
    - 097/ discreteQueuePriorities => 2
    - 098/ pointSizeRange => 1.000000 x 2047.937500
    - 099/ lineWidthRange => 1.000000 x 64.000000
    - 100/ pointSizeGranularity => 0.062500
    - 101/ lineWidthGranularity => 0.062500
    - 102/ strictLines => 1
    - 103/ standardSampleLocations => 1
    - 104/ optimalBufferCopyOffsetAlignment => 1
    - 105/ optimalBufferCopyRowPitchAlignment => 1
    - 106/ nonCoherentAtomSize => 64