A new graphics driver has been published by Intel for its GPUs (Intel 6th, 7th, 8th, 9th and 10th Gen processors) on Windows 10. This new driver (version 27.20.100.8280) comes with the following changes:
GAMING HIGHLIGHTS
Gear up to experience the pulse-pounding action of Minecraft Dungeons, explore Western Skyrim and engage in a thrilling new adventure in The Elder Scrolls Online – Greymoor, battle until you are the last one standing in Shadow Arena, become a fearsome shark in Maneater, get ready for a legendary multiplayer experience on Halo 2: Anniversary, and fight hordes of aliens by yourself or with friends across destructible environments in Deep Rock Galactic on Intel Iris Plus graphics or better.

Enjoy remastered graphics, music, cinematics and more in Command & Conquer Remastered Collection, make bold, strategic plays and leverage hypernatural powers to emerge victorious in Valorant* and experience a blend of action and strategy in a sci-fi setting in Disintegration* on Intel® UHD Graphics or better.

ISSUES FIXED:
– Intermittent hang may be seen when playing Halo 2: Anniversary Multiplayer, Star Control: Origins on 10th Generation Intel Core processors with Intel Iris Plus graphics.
– Intermittent crashes may be seen in BeamNG.drive, Bright Memory (DX12), Doom Eternal (Vulkan) on 6th Generation Intel Core processors and higher.
– Screen may flicker for 1 to 3 seconds when resizing the Netflix video playback in Microsoft Edge browser on 10th Generation Intel Core processors with Intel UHD graphics.
Downloads
v27.20.100.8280
Quick test of this driver on an Intel Core i7-8700K (with an UHD 630 GPU):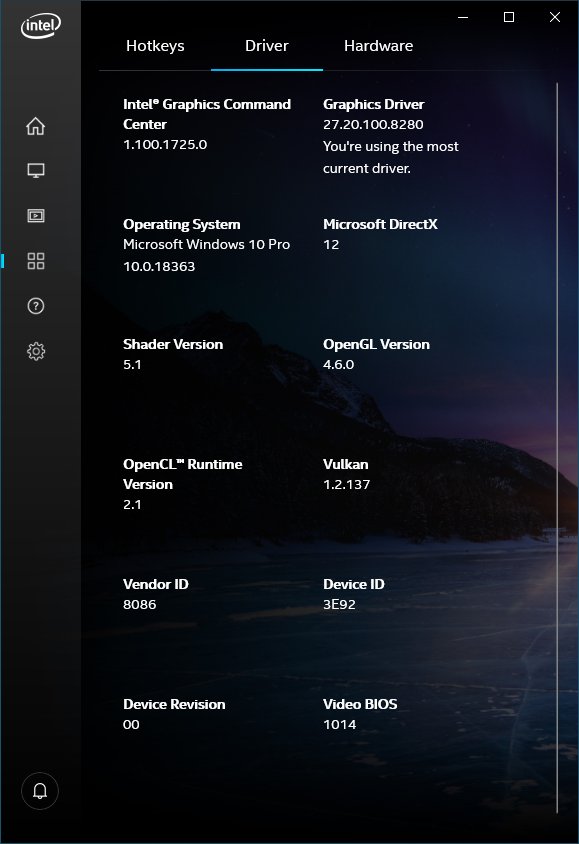 OpenGL support
v27.20.100.8280
The OpenGL support is the same than v7755 / 7985:

- GL_VENDOR: Intel
- GL_RENDERER: Intel(R) UHD Graphics 630
- GL_VERSION: 4.6.0 - Build 27.20.100.8280
- GL_SHADING_LANGUAGE_VERSION: 4.60 - Build 27.20.100.8280
- OpenGL Extensions: 250 extensions (GL=230 and WGL=20)
- OpenGL SPIR-V Extensions: 4

Vulkan support
v27.20.100.8280
This driver exposes Vulkan 1.2.137.
Here is the report from GPU Caps Viewer 1.44:

  - [Vulkan device 0]: Intel(R) UHD Graphics 630 ------------------
    - API version: 1.2.137
    - vendorID: 32902
    - deviceID: 16018
    - driver version: 1646680
    - driver properties (VK_KHR_driver_properties):
      -> driver name: Intel Corporation
      -> driver ID: VK_DRIVER_ID_INTEL_PROPRIETARY_WINDOWS_KHR (5)
      -> driver conformance version: 1.2.2.0:
      -> driver info: Intel driver
  - memory heap count: 2
    - heap1: 4124MB
    - heap2: 4124MB
  - memory type count: 4
    - mem type 0 - heap index : 0 - property flag : 1
      > mem property: VK_MEMORY_PROPERTY_DEVICE_LOCAL_BIT
    - mem type 1 - heap index : 1 - property flag : 7
      > mem property: VK_MEMORY_PROPERTY_DEVICE_LOCAL_BIT
      > mem property: VK_MEMORY_PROPERTY_HOST_VISIBLE_BIT
      > mem property: VK_MEMORY_PROPERTY_HOST_COHERENT_BIT
    - mem type 2 - heap index : 1 - property flag : 15
      > mem property: VK_MEMORY_PROPERTY_DEVICE_LOCAL_BIT
      > mem property: VK_MEMORY_PROPERTY_HOST_VISIBLE_BIT
      > mem property: VK_MEMORY_PROPERTY_HOST_COHERENT_BIT
      > mem property: VK_MEMORY_PROPERTY_HOST_CACHED_BIT
    - mem type 3 - heap index : 1 - property flag : 1
      > mem property: VK_MEMORY_PROPERTY_DEVICE_LOCAL_BIT

  - extensions: 74
    - VK_EXT_full_screen_exclusive (version: 4)
    - VK_KHR_swapchain (version: 70)
    - VK_KHR_external_memory (version: 1)
    - VK_KHR_external_memory_win32 (version: 1)
    - VK_EXT_external_memory_host (version: 1)
    - VK_KHR_external_semaphore (version: 1)
    - VK_KHR_external_semaphore_win32 (version: 1)
    - VK_KHR_external_fence (version: 1)
    - VK_KHR_external_fence_win32 (version: 1)
    - VK_KHR_timeline_semaphore (version: 2)
    - VK_KHR_win32_keyed_mutex (version: 1)
    - VK_KHR_get_memory_requirements2 (version: 1)
    - VK_KHR_bind_memory2 (version: 1)
    - VK_KHR_dedicated_allocation (version: 1)
    - VK_KHR_sampler_mirror_clamp_to_edge (version: 3)
    - VK_KHR_maintenance1 (version: 1)
    - VK_KHR_maintenance2 (version: 1)
    - VK_KHR_maintenance3 (version: 1)
    - VK_KHR_shader_draw_parameters (version: 1)
    - VK_KHR_push_descriptor (version: 1)
    - VK_KHR_descriptor_update_template (version: 1)
    - VK_KHR_multiview (version: 1)
    - VK_KHR_shader_float16_int8 (version: 1)
    - VK_KHR_shader_float_controls (version: 4)
    - VK_KHR_16bit_storage (version: 1)
    - VK_KHR_8bit_storage (version: 1)
    - VK_EXT_shader_subgroup_ballot (version: 1)
    - VK_EXT_shader_subgroup_vote (version: 1)
    - VK_KHR_storage_buffer_storage_class (version: 1)
    - VK_KHR_variable_pointers (version: 1)
    - VK_KHR_relaxed_block_layout (version: 1)
    - VK_EXT_sampler_filter_minmax (version: 2)
    - VK_KHR_device_group (version: 4)
    - VK_KHR_sampler_ycbcr_conversion (version: 14)
    - VK_EXT_post_depth_coverage (version: 1)
    - VK_EXT_shader_viewport_index_layer (version: 1)
    - VK_EXT_shader_stencil_export (version: 1)
    - VK_EXT_conservative_rasterization (version: 1)
    - VK_EXT_sample_locations (version: 1)
    - VK_KHR_draw_indirect_count (version: 1)
    - VK_KHR_image_format_list (version: 1)
    - VK_EXT_vertex_attribute_divisor (version: 3)
    - VK_EXT_descriptor_indexing (version: 2)
    - VK_EXT_inline_uniform_block (version: 1)
    - VK_KHR_create_renderpass2 (version: 1)
    - VK_KHR_swapchain_mutable_format (version: 1)
    - VK_KHR_depth_stencil_resolve (version: 1)
    - VK_KHR_driver_properties (version: 1)
    - VK_KHR_vulkan_memory_model (version: 3)
    - VK_EXT_conditional_rendering (version: 2)
    - VK_EXT_depth_clip_enable (version: 1)
    - VK_EXT_scalar_block_layout (version: 1)
    - VK_KHR_imageless_framebuffer (version: 1)
    - VK_KHR_buffer_device_address (version: 1)
    - VK_EXT_buffer_device_address (version: 2)
    - VK_EXT_host_query_reset (version: 1)
    - VK_NV_device_diagnostic_checkpoints (version: 2)
    - VK_KHR_separate_depth_stencil_layouts (version: 1)
    - VK_KHR_shader_clock (version: 1)
    - VK_KHR_spirv_1_4 (version: 1)
    - VK_KHR_uniform_buffer_standard_layout (version: 1)
    - VK_EXT_separate_stencil_usage (version: 1)
    - VK_EXT_fragment_shader_interlock (version: 1)
    - VK_EXT_index_type_uint8 (version: 1)
    - VK_KHR_shader_subgroup_extended_types (version: 1)
    - VK_EXT_line_rasterization (version: 1)
    - VK_EXT_memory_budget (version: 1)
    - VK_EXT_texel_buffer_alignment (version: 1)
    - VK_INTEL_performance_query (version: 2)
    - VK_EXT_subgroup_size_control (version: 2)
    - VK_EXT_shader_demote_to_helper_invocation (version: 1)
    - VK_EXT_pipeline_creation_feedback (version: 1)
    - VK_KHR_pipeline_executable_properties (version: 1)
    - VK_EXT_transform_feedback (version: 1)

  - device layers: 0

  - device features:
    - robustBufferAccess: true
    - fullDrawIndexUint32: true
    - imageCubeArray: true
    - independentBlend: true
    - geometryShader: true
    - tessellationShader: true
    - sampleRateShading: true
    - dualSrcBlend: true
    - logicOp: true
    - multiDrawIndirect: true
    - drawIndirectFirstInstance: true
    - depthClamp: true
    - depthBiasClamp: true
    - fillModeNonSolid: true
    - depthBounds: false
    - wideLines: true
    - largePoints: true
    - alphaToOne: true
    - multiViewport: true
    - samplerAnisotropy: true
    - textureCompressionETC2: true
    - textureCompressionASTC_LDR: true
    - textureCompressionBC: true
    - occlusionQueryPrecise: true
    - pipelineStatisticsQuery: true
    - vertexPipelineStoresAndAtomics: true
    - fragmentStoresAndAtomics: true
    - shaderTessellationAndGeometryPointSize: true
    - shaderImageGatherExtended: true
    - shaderStorageImageExtendedFormats: true
    - shaderStorageImageMultisample: true
    - shaderStorageImageReadWithoutFormat: false
    - shaderStorageImageWriteWithoutFormat: true
    - shaderUniformBufferArrayDynamicIndexing: true
    - shaderSampledImageArrayDynamicIndexing: true
    - shaderStorageBufferArrayDynamicIndexing: true
    - shaderStorageImageArrayDynamicIndexing: true
    - shaderClipDistance: true
    - shaderCullDistance: true
    - shaderFloat64: true
    - shaderInt64: true
    - shaderInt16: true
    - shaderResourceResidency: true
    - shaderResourceMinLod: false
    - sparseBinding: true
    - sparseResidencyBuffer: true
    - sparseResidencyImage2D: true
    - sparseResidencyImage3D: true
    - sparseResidency2Samples: true
    - sparseResidency4Samples: true
    - sparseResidency8Samples: true
    - sparseResidency16Samples: true
    - sparseResidencyAliased: true
    - variableMultisampleRate: true
    - inheritedQueries: true

  - device limits
    - maxImageDimension1D: 16384
    - maxImageDimension2D: 16384
    - maxImageDimension3D: 2048
    - maxImageDimensionCube: 16384
    - maxImageArrayLayers: 2048
    - maxTexelBufferElements: 134217728
    - maxUniformBufferRange: 4294967295
    - maxStorageBufferRange: 4294967295
    - maxPushConstantsSize: 256
    - maxMemoryAllocationCount: 2111906
    - maxSamplerAllocationCount: 4000
    - bufferImageGranularity: 1
    - sparseAddressSpaceSize: 17592186044416
    - maxBoundDescriptorSets: 8
    - maxPerStageDescriptorSamplers: 64
    - maxPerStageDescriptorUniformBuffers: 200
    - maxPerStageDescriptorSampledImages: 200
    - maxPerStageDescriptorStorageImages: 16
    - maxPerStageDescriptorInputAttachments: 8
    - maxPerStageResources: 200
    - maxDescriptorSetSamplers: 576
    - maxDescriptorSetUniformBuffers: 1800
    - maxDescriptorSetUniformBuffersDynamic: 16
    - maxDescriptorSetStorageBuffers: 1800
    - maxDescriptorSetStorageBuffersDynamic: 16
    - maxDescriptorSetSampledImages: 1800
    - maxDescriptorSetStorageImages: 144
    - maxDescriptorSetInputAttachments: 8
    - maxVertexInputAttributes: 32
    - maxVertexInputBindings: 32
    - maxVertexInputAttributeOffset: 2047
    - maxVertexInputBindingStride: 4095
    - maxVertexOutputComponents: 128
    - maxTessellationGenerationLevel: 64
    - maxTessellationPatchSize: 32
    - maxTessellationControlPerVertexInputComponents: 128
    - maxTessellationControlPerVertexOutputComponents: 128
    - maxTessellationControlPerPatchOutputComponents: 120
    - maxTessellationControlTotalOutputComponents: 4096
    - maxTessellationEvaluationInputComponents: 128
    - maxTessellationEvaluationOutputComponents: 128
    - maxGeometryShaderInvocations: 32
    - maxGeometryInputComponents: 128
    - maxGeometryOutputComponents: 128
    - maxGeometryOutputVertices: 256
    - maxGeometryTotalOutputComponents: 1024
    - maxFragmentInputComponents: 128
    - maxFragmentOutputAttachments: 8
    - maxFragmentDualSrcAttachments: 1
    - maxFragmentCombinedOutputResources: 16
    - maxComputeSharedMemorySize: 32768
    - maxComputeWorkGroupCount: [65536; 65536; 65536]
    - maxComputeWorkGroupInvocations: 1024
    - maxComputeWorkGroupSize: [1024; 1024; 64]
    - subPixelPrecisionBits: 8
    - subTexelPrecisionBits: 8
    - mipmapPrecisionBits: 8
    - maxDrawIndexedIndexValue: 4294967295
    - maxDrawIndirectCount: 4294967295
    - maxSamplerLodBias: 16.000000
    - maxSamplerAnisotropy: 16.000000
    - maxViewports: 16
    - maxViewportDimensions: [32768; 32768]
    - viewportBoundsRange: [-65536.000000 ; 65535.000000]
    - viewportSubPixelBits: 8
    - minMemoryMapAlignment: 64
    - minTexelBufferOffsetAlignment: 64
    - minUniformBufferOffsetAlignment: 64
    - minStorageBufferOffsetAlignment: 64
    - minTexelOffset: 4294967288
    - maxTexelOffset: 7
    - minTexelGatherOffset: 4294967264
    - maxTexelGatherOffset: 31
    - minInterpolationOffset: -0.500000
    - maxInterpolationOffset: 0.437500
    - subPixelInterpolationOffsetBits: 4
    - maxFramebufferWidth: 16384
    - maxFramebufferHeight: 16384
    - maxFramebufferLayers: 2048
    - framebufferColorSampleCounts: 31
    - framebufferDepthSampleCounts: 31
    - framebufferStencilSampleCounts: 31
    - framebufferNoAttachmentsSampleCounts: 31
    - maxColorAttachments: 8
    - sampledImageColorSampleCounts: 31
    - sampledImageIntegerSampleCounts: 31
    - sampledImageDepthSampleCounts: 31
    - sampledImageStencilSampleCounts: 31
    - storageImageSampleCounts: 31
    - maxSampleMaskWords: 1
    - timestampComputeAndGraphics: 1
    - timestampPeriod: 83.333000
    - maxClipDistances: 8
    - maxCullDistances: 8
    - maxCombinedClipAndCullDistances: 8
    - discreteQueuePriorities: 2
    - pointSizeRange: [0.125000 ; 255.875000]
    - lineWidthRange: [0.000000 ; 7.992188]
    - pointSizeGranularity: 0.125000
    - lineWidthGranularity: 0.007813
    - strictLines: 0
    - standardSampleLocations: 1
    - optimalBufferCopyOffsetAlignment: 64
    - optimalBufferCopyRowPitchAlignment: 64
    - nonCoherentAtomSize: 1

—
via