A new graphics driver has been published by Intel for its GPUs (Intel 6th, 7th, 8th, 9th and 10th Gen processors) on Windows 10. This new driver (version 26.20.100.8141) comes with the following changes:
GAMING HIGHLIGHTS
Support for:
– Gears Tactics
– XCOM: Chimera Squad

DEVELOPER HIGHLIGHTS
OneAPI Level Zero Runtime pre-production release is now included. Please refer to the specification below.
– oneAPI Specification
– oneAPI Level Zero Specification

oneAPI is an open, free, and standards-based programming system that provides portability and performance across accelerators and generations of hardware. oneAPI consists of a language and libraries for creating parallel applications. oneAPI simplifies software development by providing the same languages and programming models across accelerator architectures.

HIGHLIGHTS
Unlocked Driver

We heard how much our users want the freedom to upgrade their systems to our regularly released
generic graphics drivers and enable our latest game optimizations, feature updates and fixes. Well, as of this release, Intel Graphics DCH drivers are now unlocked to upgrade freely between Computer Manufacturer (OEM) drivers and the Intel Generic graphics drivers on Download Center. Simply use the exe and enjoy the update on your 6th Generation Intel Processor platform or higher, and don't worry about your OEM customizations, they remain intact with each upgrade and the OEMs can maintain customizations separately via Microsoft* Windows Update. Intel Drivers and Support Assistant will also be unlocked starting April 28th, 2020.

KEY ISSUES FIXED
– Intermittent crashes may be seen in DOOM: Eternal* (Vulkan), The Surge 2* (Vulkan), Spark AR Studio* on 6th Generation Intel Core processors and higher.
– Black Desert Online* may exit upon loading the game on10th Generation Intel Core processors with Intel Iris Plus graphics.
– Minor graphics anomalies may be observed in Tom Clancy's Rainbow Six Siege* (Vulkan) on 10th Generation
Intel Core processors with Intel Iris® Plus graphics.
– Display Color may be observed when changing Saturation in Intel Graphics Command Center on 10th
Generation Intel Core processors with Intel Iris® Plus graphics.
– Corruption observed followed by TDR while trying to maximize and minimize the content in Power DVD
application.
v27.20.100.8187
Highlights

– Windows 10 May 2020 Update Ready

– Intel Graphics Installer Changes

This driver is WDDM 2.7 compliant and ready for the Windows 10 May 2020 Update. It introduces support for Dolby Vision and the new DirectX 12 Shader Model 6.5 compiler on 7th Generation Intel Core processors or higher (Intel HD Graphics 610 or higher).

KEY ISSUES FIXED:
– The color and brightness of the desktop may change with mouse movement when Display Power Saving
Technology is enabled and set to maximum in the Intel Graphics Command Center.
WDDM 2.7 is the new Windows Display Driver Model introduced with Windows 10 May 2020 Update (Version 2004).
v27.20.100.8190
The version 27.20.100.8190 has been released with this bugfix (according to videocardz, don't know where they found this info!):
KEY ISSUES FIXED:
Video playback issues when playing Netflix 4K video content sometimes on HDMI 2.0.
Downloads
v26.20.100.8141
Quick test of this driver on an Intel Core i7-8700K (with an UHD 630 GPU):

– GL-Z: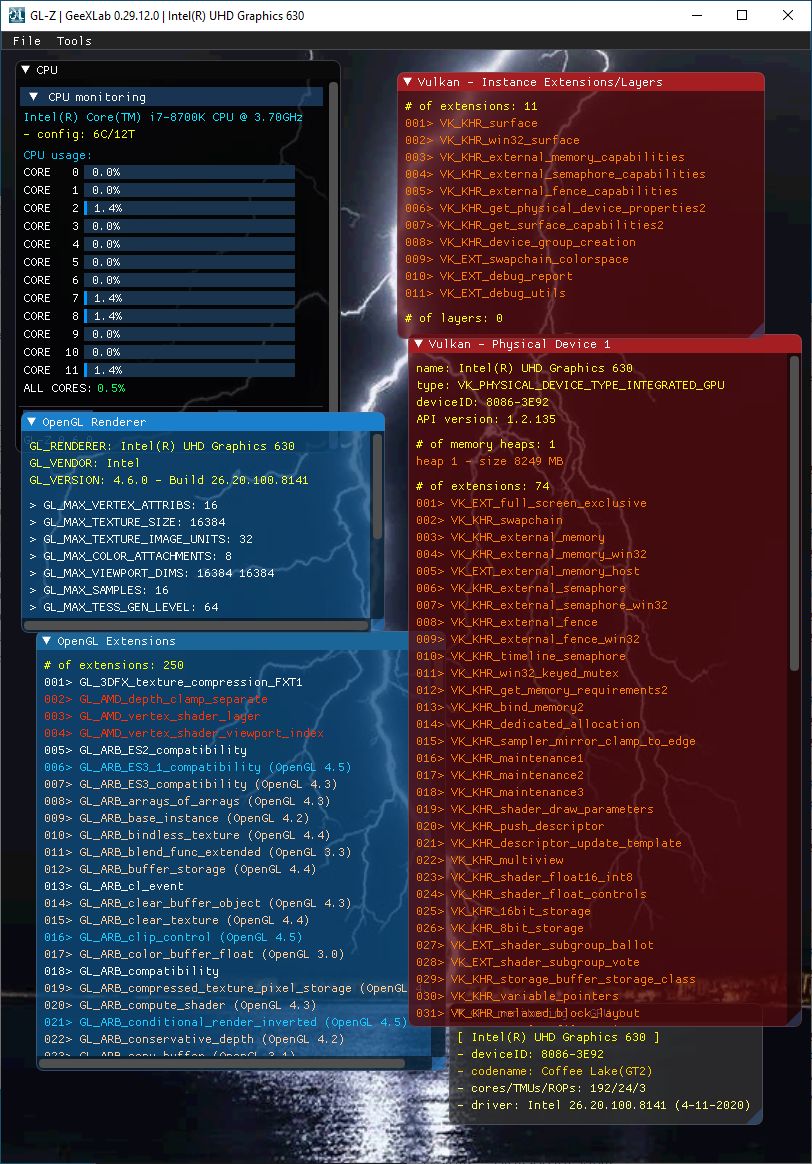 v27.20.100.8187
Quick test of this driver on an Intel Core i7-8700K (with an UHD 630 GPU):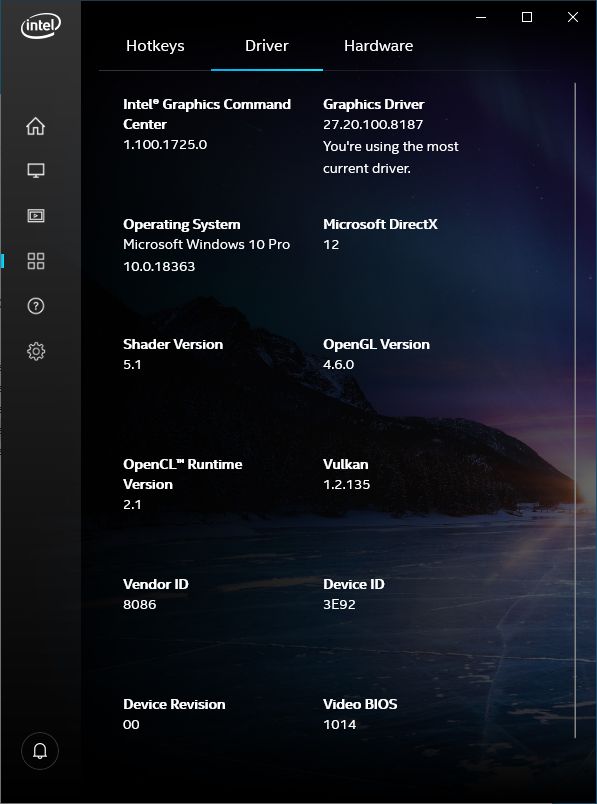 v27.20.100.8190
Quick test of this driver on an Intel Core i7-8700K (with an UHD 630 GPU):

OpenGL support
v26.20.100.8141
The OpenGL support is the same than previous v7755 / 7985:

- GL_VENDOR: Intel
- GL_RENDERER: Intel(R) UHD Graphics 630
- GL_VERSION: 4.6.0 - Build 26.20.100.8141
- GL_SHADING_LANGUAGE_VERSION: 4.60 - Build 26.20.100.8141
- OpenGL Extensions: 250 extensions (GL=230 and WGL=20)
- OpenGL SPIR-V Extensions: 4

v27.20.100.8187
The OpenGL support is the same than previous v7755 / 7985:

- GL_VENDOR: Intel
- GL_RENDERER: Intel(R) UHD Graphics 630
- GL_VERSION: 4.6.0 - Build 27.20.100.8187
- GL_SHADING_LANGUAGE_VERSION: 4.60 - Build 27.20.100.8187
- OpenGL Extensions: 250 extensions (GL=230 and WGL=20)
- OpenGL SPIR-V Extensions: 4

v27.20.100.8190
The OpenGL support is the same than previous v7755 / 7985:

- GL_VENDOR: Intel
- GL_RENDERER: Intel(R) UHD Graphics 630
- GL_VERSION: 4.6.0 - Build 27.20.100.8190
- GL_SHADING_LANGUAGE_VERSION: 4.60 - Build 27.20.100.8190
- OpenGL Extensions: 250 extensions (GL=230 and WGL=20)
- OpenGL SPIR-V Extensions: 4

Vulkan support
v26.20.100.8141
This driver exposes Vulkan 1.2.135 and adds one new device extension compared to previous v7755 / 7985:
Here is the report from latest GPU Caps Viewer 1.44:

- Physical devices: 1
  - [Vulkan device 0]: Intel(R) UHD Graphics 630 
    - API version: 1.2.135
    - vendorID: 32902
    - deviceID: 16018
    - driver version: 1646541
    - driver properties (VK_KHR_driver_properties):
      -> driver name: Intel Corporation
      -> driver ID: VK_DRIVER_ID_INTEL_PROPRIETARY_WINDOWS_KHR (5)
      -> driver conformance version: 1.2.2.0:
      -> driver info: Intel driver

  - memory heap count: 2
    - heap1: 4124MB
    - heap2: 4124MB

  - memory type count: 4
    - mem type 0 - heap index : 0 - property flag : 1
      > mem property: VK_MEMORY_PROPERTY_DEVICE_LOCAL_BIT
    - mem type 1 - heap index : 1 - property flag : 7
      > mem property: VK_MEMORY_PROPERTY_DEVICE_LOCAL_BIT
      > mem property: VK_MEMORY_PROPERTY_HOST_VISIBLE_BIT
      > mem property: VK_MEMORY_PROPERTY_HOST_COHERENT_BIT
    - mem type 2 - heap index : 1 - property flag : 15
      > mem property: VK_MEMORY_PROPERTY_DEVICE_LOCAL_BIT
      > mem property: VK_MEMORY_PROPERTY_HOST_VISIBLE_BIT
      > mem property: VK_MEMORY_PROPERTY_HOST_COHERENT_BIT
      > mem property: VK_MEMORY_PROPERTY_HOST_CACHED_BIT
    - mem type 3 - heap index : 1 - property flag : 1
      > mem property: VK_MEMORY_PROPERTY_DEVICE_LOCAL_BIT

  - extensions: 74
    - VK_EXT_full_screen_exclusive (version: 4)
    - VK_KHR_swapchain (version: 70)
    - VK_KHR_external_memory (version: 1)
    - VK_KHR_external_memory_win32 (version: 1)
    - VK_EXT_external_memory_host (version: 1)
    - VK_KHR_external_semaphore (version: 1)
    - VK_KHR_external_semaphore_win32 (version: 1)
    - VK_KHR_external_fence (version: 1)
    - VK_KHR_external_fence_win32 (version: 1)
    - VK_KHR_timeline_semaphore (version: 2)
    - VK_KHR_win32_keyed_mutex (version: 1)
    - VK_KHR_get_memory_requirements2 (version: 1)
    - VK_KHR_bind_memory2 (version: 1)
    - VK_KHR_dedicated_allocation (version: 1)
    - VK_KHR_sampler_mirror_clamp_to_edge (version: 3)
    - VK_KHR_maintenance1 (version: 1)
    - VK_KHR_maintenance2 (version: 1)
    - VK_KHR_maintenance3 (version: 1)
    - VK_KHR_shader_draw_parameters (version: 1)
    - VK_KHR_push_descriptor (version: 1)
    - VK_KHR_descriptor_update_template (version: 1)
    - VK_KHR_multiview (version: 1)
    - VK_KHR_shader_float16_int8 (version: 1)
    - VK_KHR_shader_float_controls (version: 4)
    - VK_KHR_16bit_storage (version: 1)
    - VK_KHR_8bit_storage (version: 1)
    - VK_EXT_shader_subgroup_ballot (version: 1)
    - VK_EXT_shader_subgroup_vote (version: 1)
    - VK_KHR_storage_buffer_storage_class (version: 1)
    - VK_KHR_variable_pointers (version: 1)
    - VK_KHR_relaxed_block_layout (version: 1)
    - VK_EXT_sampler_filter_minmax (version: 2)
    - VK_KHR_device_group (version: 4)
    - VK_KHR_sampler_ycbcr_conversion (version: 14)
    - VK_EXT_post_depth_coverage (version: 1)
    - VK_EXT_shader_viewport_index_layer (version: 1)
    - VK_EXT_shader_stencil_export (version: 1)
    - VK_EXT_conservative_rasterization (version: 1)
    - VK_EXT_sample_locations (version: 1)
    - VK_KHR_draw_indirect_count (version: 1)
    - VK_KHR_image_format_list (version: 1)
    - VK_EXT_vertex_attribute_divisor (version: 3)
    - VK_EXT_descriptor_indexing (version: 2)
    - VK_EXT_inline_uniform_block (version: 1)
    - VK_KHR_create_renderpass2 (version: 1)
    - VK_KHR_swapchain_mutable_format (version: 1)
    - VK_KHR_depth_stencil_resolve (version: 1)
    - VK_KHR_driver_properties (version: 1)
    - VK_KHR_vulkan_memory_model (version: 3)
    - VK_EXT_conditional_rendering (version: 2)
    - VK_EXT_depth_clip_enable (version: 1)
    - VK_EXT_scalar_block_layout (version: 1)
    - VK_KHR_imageless_framebuffer (version: 1)
    - VK_KHR_buffer_device_address (version: 1)
    - VK_EXT_buffer_device_address (version: 2)
    - VK_EXT_host_query_reset (version: 1)
    - VK_NV_device_diagnostic_checkpoints (version: 2)
    - VK_KHR_separate_depth_stencil_layouts (version: 1)
    - VK_KHR_shader_clock (version: 1)
    - VK_KHR_spirv_1_4 (version: 1)
    - VK_KHR_uniform_buffer_standard_layout (version: 1)
    - VK_EXT_separate_stencil_usage (version: 1)
    - VK_EXT_fragment_shader_interlock (version: 1)
    - VK_EXT_index_type_uint8 (version: 1)
    - VK_KHR_shader_subgroup_extended_types (version: 1)
    - VK_EXT_line_rasterization (version: 1)
    - VK_EXT_memory_budget (version: 1)
    - VK_EXT_texel_buffer_alignment (version: 1)
    - VK_INTEL_performance_query (version: 2)
    - VK_EXT_subgroup_size_control (version: 2)
    - VK_EXT_shader_demote_to_helper_invocation (version: 1)
    - VK_EXT_pipeline_creation_feedback (version: 1)
    - VK_KHR_pipeline_executable_properties (version: 1)
    - VK_EXT_transform_feedback (version: 1)

  - device layers: 0

  - device features:
    - robustBufferAccess: true
    - fullDrawIndexUint32: true
    - imageCubeArray: true
    - independentBlend: true
    - geometryShader: true
    - tessellationShader: true
    - sampleRateShading: true
    - dualSrcBlend: true
    - logicOp: true
    - multiDrawIndirect: true
    - drawIndirectFirstInstance: true
    - depthClamp: true
    - depthBiasClamp: true
    - fillModeNonSolid: true
    - depthBounds: false
    - wideLines: true
    - largePoints: true
    - alphaToOne: true
    - multiViewport: true
    - samplerAnisotropy: true
    - textureCompressionETC2: true
    - textureCompressionASTC_LDR: true
    - textureCompressionBC: true
    - occlusionQueryPrecise: true
    - pipelineStatisticsQuery: true
    - vertexPipelineStoresAndAtomics: true
    - fragmentStoresAndAtomics: true
    - shaderTessellationAndGeometryPointSize: true
    - shaderImageGatherExtended: true
    - shaderStorageImageExtendedFormats: true
    - shaderStorageImageMultisample: true
    - shaderStorageImageReadWithoutFormat: false
    - shaderStorageImageWriteWithoutFormat: true
    - shaderUniformBufferArrayDynamicIndexing: true
    - shaderSampledImageArrayDynamicIndexing: true
    - shaderStorageBufferArrayDynamicIndexing: true
    - shaderStorageImageArrayDynamicIndexing: true
    - shaderClipDistance: true
    - shaderCullDistance: true
    - shaderFloat64: true
    - shaderInt64: true
    - shaderInt16: true
    - shaderResourceResidency: true
    - shaderResourceMinLod: false
    - sparseBinding: true
    - sparseResidencyBuffer: true
    - sparseResidencyImage2D: true
    - sparseResidencyImage3D: true
    - sparseResidency2Samples: true
    - sparseResidency4Samples: true
    - sparseResidency8Samples: true
    - sparseResidency16Samples: true
    - sparseResidencyAliased: true
    - variableMultisampleRate: true
    - inheritedQueries: true

  - device limits
    - maxImageDimension1D: 16384
    - maxImageDimension2D: 16384
    - maxImageDimension3D: 2048
    - maxImageDimensionCube: 16384
    - maxImageArrayLayers: 2048
    - maxTexelBufferElements: 134217728
    - maxUniformBufferRange: 4294967295
    - maxStorageBufferRange: 4294967295
    - maxPushConstantsSize: 256
    - maxMemoryAllocationCount: 2111906
    - maxSamplerAllocationCount: 4000
    - bufferImageGranularity: 1
    - sparseAddressSpaceSize: 17592186044416
    - maxBoundDescriptorSets: 8
    - maxPerStageDescriptorSamplers: 64
    - maxPerStageDescriptorUniformBuffers: 200
    - maxPerStageDescriptorSampledImages: 200
    - maxPerStageDescriptorStorageImages: 16
    - maxPerStageDescriptorInputAttachments: 8
    - maxPerStageResources: 200
    - maxDescriptorSetSamplers: 576
    - maxDescriptorSetUniformBuffers: 1800
    - maxDescriptorSetUniformBuffersDynamic: 16
    - maxDescriptorSetStorageBuffers: 1800
    - maxDescriptorSetStorageBuffersDynamic: 16
    - maxDescriptorSetSampledImages: 1800
    - maxDescriptorSetStorageImages: 144
    - maxDescriptorSetInputAttachments: 8
    - maxVertexInputAttributes: 32
    - maxVertexInputBindings: 32
    - maxVertexInputAttributeOffset: 2047
    - maxVertexInputBindingStride: 4095
    - maxVertexOutputComponents: 128
    - maxTessellationGenerationLevel: 64
    - maxTessellationPatchSize: 32
    - maxTessellationControlPerVertexInputComponents: 128
    - maxTessellationControlPerVertexOutputComponents: 128
    - maxTessellationControlPerPatchOutputComponents: 120
    - maxTessellationControlTotalOutputComponents: 4096
    - maxTessellationEvaluationInputComponents: 128
    - maxTessellationEvaluationOutputComponents: 128
    - maxGeometryShaderInvocations: 32
    - maxGeometryInputComponents: 128
    - maxGeometryOutputComponents: 128
    - maxGeometryOutputVertices: 256
    - maxGeometryTotalOutputComponents: 1024
    - maxFragmentInputComponents: 128
    - maxFragmentOutputAttachments: 8
    - maxFragmentDualSrcAttachments: 1
    - maxFragmentCombinedOutputResources: 16
    - maxComputeSharedMemorySize: 32768
    - maxComputeWorkGroupCount: [65536; 65536; 65536]
    - maxComputeWorkGroupInvocations: 1024
    - maxComputeWorkGroupSize: [1024; 1024; 64]
    - subPixelPrecisionBits: 8
    - subTexelPrecisionBits: 8
    - mipmapPrecisionBits: 8
    - maxDrawIndexedIndexValue: 4294967295
    - maxDrawIndirectCount: 4294967295
    - maxSamplerLodBias: 16.000000
    - maxSamplerAnisotropy: 16.000000
    - maxViewports: 16
    - maxViewportDimensions: [32768; 32768]
    - viewportBoundsRange: [-65536.000000 ; 65535.000000]
    - viewportSubPixelBits: 8
    - minMemoryMapAlignment: 64
    - minTexelBufferOffsetAlignment: 64
    - minUniformBufferOffsetAlignment: 64
    - minStorageBufferOffsetAlignment: 64
    - minTexelOffset: 4294967288
    - maxTexelOffset: 7
    - minTexelGatherOffset: 4294967264
    - maxTexelGatherOffset: 31
    - minInterpolationOffset: -0.500000
    - maxInterpolationOffset: 0.437500
    - subPixelInterpolationOffsetBits: 4
    - maxFramebufferWidth: 16384
    - maxFramebufferHeight: 16384
    - maxFramebufferLayers: 2048
    - framebufferColorSampleCounts: 31
    - framebufferDepthSampleCounts: 31
    - framebufferStencilSampleCounts: 31
    - framebufferNoAttachmentsSampleCounts: 31
    - maxColorAttachments: 8
    - sampledImageColorSampleCounts: 31
    - sampledImageIntegerSampleCounts: 31
    - sampledImageDepthSampleCounts: 31
    - sampledImageStencilSampleCounts: 31
    - storageImageSampleCounts: 31
    - maxSampleMaskWords: 1
    - timestampComputeAndGraphics: 1
    - timestampPeriod: 83.333000
    - maxClipDistances: 8
    - maxCullDistances: 8
    - maxCombinedClipAndCullDistances: 8
    - discreteQueuePriorities: 2
    - pointSizeRange: [0.125000 ; 255.875000]
    - lineWidthRange: [0.000000 ; 7.992188]
    - pointSizeGranularity: 0.125000
    - lineWidthGranularity: 0.007813
    - strictLines: 0
    - standardSampleLocations: 1
    - optimalBufferCopyOffsetAlignment: 64
    - optimalBufferCopyRowPitchAlignment: 64
    - nonCoherentAtomSize: 1

—
via
v27.20.100.8187
This driver exposes Vulkan 1.2.135 like previous v8141:

- [Vulkan device 0]: Intel(R) UHD Graphics 630 ------------------
    - API version: 1.2.135
    - vendorID: 32902
    - deviceID: 16018
    - driver version: 1646587
    - driver properties (VK_KHR_driver_properties):
      -> driver name: Intel Corporation
      -> driver ID: VK_DRIVER_ID_INTEL_PROPRIETARY_WINDOWS_KHR (5)
      -> driver conformance version: 1.2.2.0:
      -> driver info: Intel driver
    - extensions: 74

v27.20.100.8190
This driver exposes Vulkan 1.2.135 like previous v8141:

  - [Vulkan device 0]: Intel(R) UHD Graphics 630 ------------------
    - API version: 1.2.135
    - vendorID: 32902
    - deviceID: 16018
    - driver version: 1646590
    - driver properties (VK_KHR_driver_properties):
      -> driver name: Intel Corporation
      -> driver ID: VK_DRIVER_ID_INTEL_PROPRIETARY_WINDOWS_KHR (5)
      -> driver conformance version: 1.2.2.0:
      -> driver info: Intel driver
    - extensions: 74