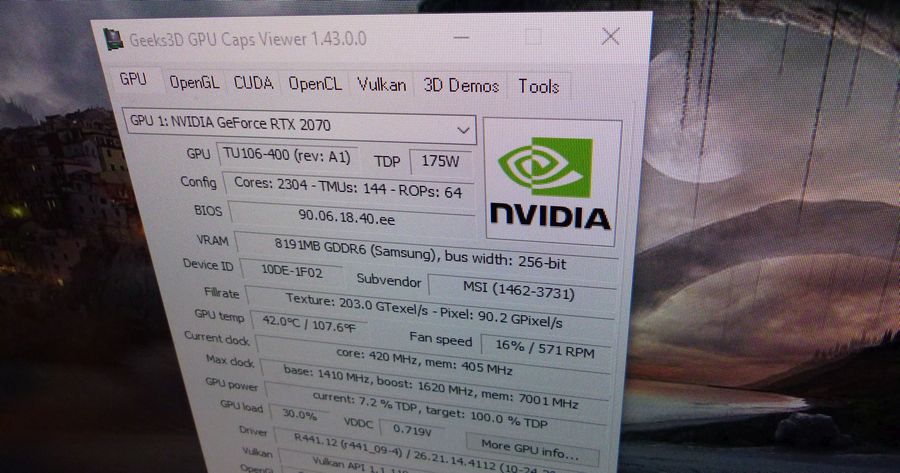 A new version of GPU Caps Viewer, a graphics card / GPU information and monitoring utility, is available.
1 – Download

To ensure the integrity of your download, you can verify the following checksum values (a tool like H4shG3n can help you):

GPU_Caps_Viewer_1.43.1.0.zip hash codes:
- file size => 13037582 bytes
- MD5       => f25c56cd7d05065c462a2bea8eebbf7e
- SHA1      => 163a3b33468456119dcacfa665971c63a9740964
- SHA256    => ac5a344ded6dd9932709b16370a2c47ffb3d4c550681f331279984a353799501

GPU_Caps_Viewer_Setup_v1.43.1.0.exe hash codes:
- file size => 11216404 bytes
- MD5       => 644c53c23df0ffed98bd1e033bcdc48a
- SHA1      => 23b2e3ea1e35e281a7091b5debf52c56016422ff
- SHA256    => d6b7538b2f33282e9c5e137f80225fbc779eadcae2a4fcb61f87565cc5bffda4

For feedbacks and bug-reports, you can use the comment section of this post or a forum thread available HERE.
2 – Release Notes
This new version of GPU Caps Viewer comes with the support of NVIDIA GeForce GTX 1660 SUPER. Two old bugs have been fixed: 1/ the reading of the GPU core voltage is fixed for recent GeForce and Radeon GPUs, 2/ on GeForce GPUs, the fan speed reading is fixed.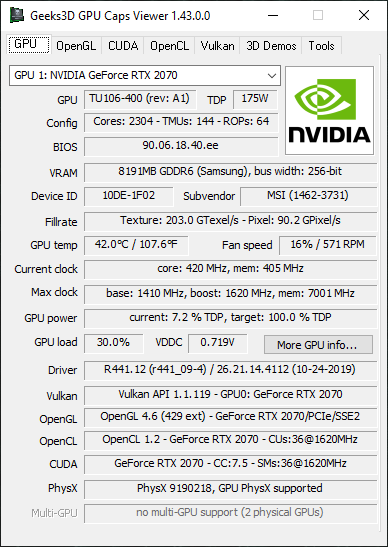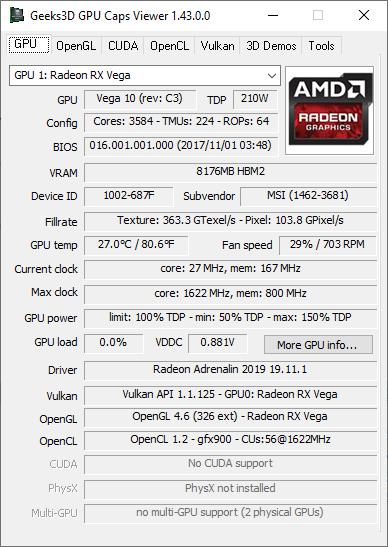 3 – Changelog

Version 1.43.1.0 - 2019.11.19
+ added support of NVIDIA Quadro RTX 3000/4000/5000 Mobile, 
  GeForce GTX 1650 Mobile, GeForce GTX 1660 Ti Mobile,
  GeForce RTX 2060/2070/2080 Mobile, Quadro T1000/T2000 Mobile,
  and AMD Radeon RX 5500.
* fixed a crash in Vulkan renderer (swapchain reset after a window resizing).
! updated Vulkan triangle v2 demo in GPU_Caps_Viewer/gxldemos/vk-triangle-v2/ folder.
! updated: GPU Shark 0.15.1.0
! updated with latest GeeXLab SDK libs (GeeXLab 0.29.6.0).
! updated: ZoomGPU 1.24.1 (GPU monitoring library)


Version 1.43.0.0 - 2019.11.05
+ added support of NVIDIA GeForce GTX 1660 SUPER.
* fixed reading of GPU core voltage on recent NVIDIA GPUs.
* fixed reading of GPU core voltage on AMD RX 400/Vega GPUs.
* fixed reading of GPU fan speed fixed on recent NVIDIA GPUs.
! updated: GPU Shark 0.15.0.0
! updated with latest GeeXLab SDK libs (GeeXLab 0.29.5.0).
! updated: ZoomGPU 1.24.0 (GPU monitoring library)