Intel has published a new graphics driver for its GPUs (Intel 6th, 7th, 8th, 9th and 10th Gen processors) on Windows 10. This new driver (version 26.20.100.7212) comes with the following new features and changes:
Launch driver for:
– FIFA 20
– 10th Generation Intel® Core™ processors with Intel® Iris® Plus Graphics

Improvements
– Enabling driver for FIFA 20* with Intel® Iris Plus graphics or better and Ni no Kuni: Wrath of the White Witch Remastered* and Hot Lava* with Intel UHD Graphics 620 or better.
– Reduced latency for remote gaming scenarios.
– Performance Optimizations for Gears of War 5.
– Support for HDCP 2.3 on DisplayPort panels with 7th Gen or better processors.

New features on 10th Generation Intel Core processors with Intel Iris Plus graphics
– Support for DirectX 12 Variable Rate Shading (VRS) Tier 1
– Beta support for Retro Scaling
– Support for Adaptive Sync (variable refresh rate)
– Support for Half Refresh Rate to improve battery life during full-screen 24Hz video playback.
– Support for VESA Display ID 2.0 compatibility enables an enhanced plug & play experience for 4K and higher resolution displays, HDR, and Adaptive Sync.

Developer highlights
– Support for the following Vulkan extensions: VK_KHR_imageless_framebuffer
Downloads

Quick test of this driver on an Intel Core i7-8700K (with an UHD 630 GPU):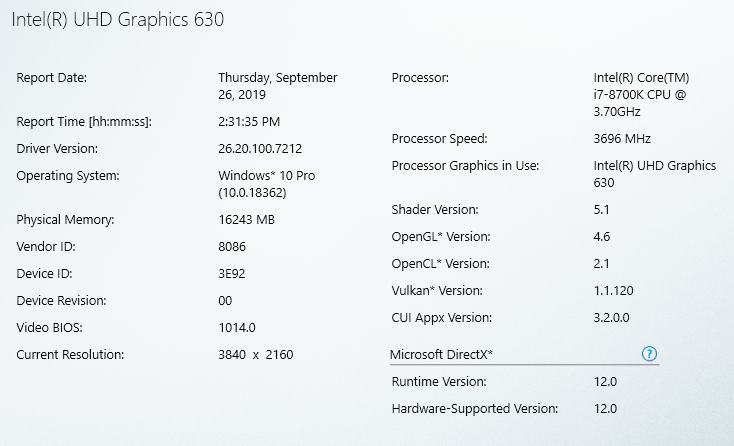 OpenGL support

- GL_VENDOR: Intel
- GL_RENDERER: Intel(R) UHD Graphics 630
- GL_VERSION: 4.6.0 - Build 26.20.100.7212
- GL_SHADING_LANGUAGE_VERSION: 4.60 - Build 26.20.100.7212
- OpenGL extensions: 250 extensions (GL=230 and WGL=20)
- OpenGL SPIRV extensions: 4 extensions

The complete list of all OpenGL/SPIRV extensions is the same than v7158 and is available HERE.
Vulkan support
Intel v7212 exposes Vulkan 1.1.120. Intel release notes say VK_KHR_imageless_framebuffer has been added but this extension was already exposed in previous version 7158.
Here is the report from GPU Caps Viewer 1.42:

- Instance extensions: 11
  - VK_KHR_surface (version: 25)
  - VK_KHR_win32_surface (version: 5)
  - VK_KHR_external_memory_capabilities (version: 1)
  - VK_KHR_external_semaphore_capabilities (version: 1)
  - VK_KHR_external_fence_capabilities (version: 1)
  - VK_KHR_get_physical_device_properties2 (version: 1)
  - VK_KHR_get_surface_capabilities2 (version: 1)
  - VK_KHR_device_group_creation (version: 1)
  - VK_EXT_swapchain_colorspace (version: 3)
  - VK_EXT_debug_report (version: 9)
  - VK_EXT_debug_utils (version: 1)
- Instance layers: 13
  - VK_LAYER_LUNARG_api_dump (version: 1.1.106, impl: 2)
  - VK_LAYER_LUNARG_assistant_layer (version: 1.1.106, impl: 1)
  - VK_LAYER_LUNARG_core_validation (version: 1.1.106, impl: 1)
  - VK_LAYER_LUNARG_device_simulation (version: 1.1.106, impl: 1)
  - VK_LAYER_KHRONOS_validation (version: 1.1.106, impl: 1)
  - VK_LAYER_LUNARG_monitor (version: 1.1.106, impl: 1)
  - VK_LAYER_LUNARG_object_tracker (version: 1.1.106, impl: 1)
  - VK_LAYER_LUNARG_screenshot (version: 1.1.106, impl: 1)
  - VK_LAYER_LUNARG_standard_validation (version: 1.1.106, impl: 1)
  - VK_LAYER_LUNARG_parameter_validation (version: 1.1.106, impl: 1)
  - VK_LAYER_GOOGLE_threading (version: 1.1.106, impl: 1)
  - VK_LAYER_GOOGLE_unique_objects (version: 1.1.106, impl: 1)
  - VK_LAYER_LUNARG_vktrace (version: 1.1.106, impl: 1)
- Physical devices: 1
  - [Vulkan device 0]: Intel(R) UHD Graphics 630 ------------------
    - API version: 1.1.120
    - vendorID: 32902
    - deviceID: 16018
    - driver version: 1645612
  - memory heap count: 2
    - heap1: 4124MB
    - heap2: 4124MB
  - memory type count: 4
    - mem type 0 - heap index : 0 - property flag : 1
      > mem property: VK_MEMORY_PROPERTY_DEVICE_LOCAL_BIT
    - mem type 1 - heap index : 1 - property flag : 7
      > mem property: VK_MEMORY_PROPERTY_DEVICE_LOCAL_BIT
      > mem property: VK_MEMORY_PROPERTY_HOST_VISIBLE_BIT
      > mem property: VK_MEMORY_PROPERTY_HOST_COHERENT_BIT
    - mem type 2 - heap index : 1 - property flag : 15
      > mem property: VK_MEMORY_PROPERTY_DEVICE_LOCAL_BIT
      > mem property: VK_MEMORY_PROPERTY_HOST_VISIBLE_BIT
      > mem property: VK_MEMORY_PROPERTY_HOST_COHERENT_BIT
      > mem property: VK_MEMORY_PROPERTY_HOST_CACHED_BIT
    - mem type 3 - heap index : 1 - property flag : 1
      > mem property: VK_MEMORY_PROPERTY_DEVICE_LOCAL_BIT
  - extensions: 56
    - VK_KHR_swapchain (version: 70)
    - VK_KHR_external_memory (version: 1)
    - VK_KHR_external_memory_win32 (version: 1)
    - VK_EXT_external_memory_host (version: 1)
    - VK_KHR_external_semaphore (version: 1)
    - VK_KHR_external_semaphore_win32 (version: 1)
    - VK_KHR_external_fence (version: 1)
    - VK_KHR_external_fence_win32 (version: 1)
    - VK_KHR_win32_keyed_mutex (version: 1)
    - VK_KHR_get_memory_requirements2 (version: 1)
    - VK_KHR_bind_memory2 (version: 1)
    - VK_KHR_dedicated_allocation (version: 1)
    - VK_KHR_sampler_mirror_clamp_to_edge (version: 1)
    - VK_KHR_maintenance1 (version: 1)
    - VK_KHR_maintenance2 (version: 1)
    - VK_KHR_maintenance3 (version: 1)
    - VK_KHR_shader_draw_parameters (version: 1)
    - VK_KHR_push_descriptor (version: 1)
    - VK_KHR_descriptor_update_template (version: 1)
    - VK_KHR_multiview (version: 1)
    - VK_KHR_shader_float16_int8 (version: 1)
    - VK_KHR_16bit_storage (version: 1)
    - VK_KHR_8bit_storage (version: 1)
    - VK_EXT_shader_subgroup_ballot (version: 1)
    - VK_EXT_shader_subgroup_vote (version: 1)
    - VK_KHR_storage_buffer_storage_class (version: 1)
    - VK_KHR_variable_pointers (version: 1)
    - VK_KHR_relaxed_block_layout (version: 1)
    - VK_EXT_sampler_filter_minmax (version: 1)
    - VK_KHR_device_group (version: 1)
    - VK_KHR_sampler_ycbcr_conversion (version: 1)
    - VK_EXT_post_depth_coverage (version: 1)
    - VK_EXT_shader_viewport_index_layer (version: 1)
    - VK_EXT_shader_stencil_export (version: 1)
    - VK_EXT_conservative_rasterization (version: 1)
    - VK_EXT_sample_locations (version: 1)
    - VK_KHR_draw_indirect_count (version: 1)
    - VK_KHR_image_format_list (version: 1)
    - VK_EXT_vertex_attribute_divisor (version: 3)
    - VK_EXT_descriptor_indexing (version: 2)
    - VK_EXT_inline_uniform_block (version: 1)
    - VK_KHR_create_renderpass2 (version: 1)
    - VK_KHR_swapchain_mutable_format (version: 1)
    - VK_KHR_driver_properties (version: 1)
    - VK_KHR_vulkan_memory_model (version: 3)
    - VK_EXT_conditional_rendering (version: 1)
    - VK_EXT_depth_clip_enable (version: 1)
    - VK_EXT_scalar_block_layout (version: 1)
    - VK_KHR_imageless_framebuffer (version: 1)
    - VK_EXT_buffer_device_address (version: 2)
    - VK_EXT_host_query_reset (version: 1)
    - VK_KHR_uniform_buffer_standard_layout (version: 1)
    - VK_EXT_separate_stencil_usage (version: 1)
    - VK_EXT_fragment_shader_interlock (version: 1)
    - VK_EXT_memory_budget (version: 1)
    - VK_INTEL_performance_query (version: 1)
  - device layers: 0
  - device features:
    - robustBufferAccess: true
    - fullDrawIndexUint32: true
    - imageCubeArray: true
    - independentBlend: true
    - geometryShader: true
    - tessellationShader: true
    - sampleRateShading: true
    - dualSrcBlend: true
    - logicOp: true
    - multiDrawIndirect: true
    - drawIndirectFirstInstance: true
    - depthClamp: true
    - depthBiasClamp: true
    - fillModeNonSolid: true
    - depthBounds: false
    - wideLines: true
    - largePoints: true
    - alphaToOne: true
    - multiViewport: true
    - samplerAnisotropy: true
    - textureCompressionETC2: true
    - textureCompressionASTC_LDR: true
    - textureCompressionBC: true
    - occlusionQueryPrecise: true
    - pipelineStatisticsQuery: true
    - vertexPipelineStoresAndAtomics: true
    - fragmentStoresAndAtomics: true
    - shaderTessellationAndGeometryPointSize: true
    - shaderImageGatherExtended: true
    - shaderStorageImageExtendedFormats: true
    - shaderStorageImageMultisample: true
    - shaderStorageImageReadWithoutFormat: false
    - shaderStorageImageWriteWithoutFormat: true
    - shaderUniformBufferArrayDynamicIndexing: true
    - shaderSampledImageArrayDynamicIndexing: true
    - shaderStorageBufferArrayDynamicIndexing: true
    - shaderStorageImageArrayDynamicIndexing: true
    - shaderClipDistance: true
    - shaderCullDistance: true
    - shaderFloat64: true
    - shaderInt64: true
    - shaderInt16: true
    - shaderResourceResidency: true
    - shaderResourceMinLod: false
    - sparseBinding: true
    - sparseResidencyBuffer: true
    - sparseResidencyImage2D: true
    - sparseResidencyImage3D: true
    - sparseResidency2Samples: true
    - sparseResidency4Samples: true
    - sparseResidency8Samples: true
    - sparseResidency16Samples: true
    - sparseResidencyAliased: true
    - variableMultisampleRate: true
    - inheritedQueries: true
  - device limits
    - maxImageDimension1D: 16384
    - maxImageDimension2D: 16384
    - maxImageDimension3D: 2048
    - maxImageDimensionCube: 16384
    - maxImageArrayLayers: 2048
    - maxTexelBufferElements: 134217728
    - maxUniformBufferRange: 65536
    - maxStorageBufferRange: 134217728
    - maxPushConstantsSize: 256
    - maxMemoryAllocationCount: 2111925
    - maxSamplerAllocationCount: 4000
    - bufferImageGranularity: 1
    - sparseAddressSpaceSize: 17592186044416
    - maxBoundDescriptorSets: 8
    - maxPerStageDescriptorSamplers: 64
    - maxPerStageDescriptorUniformBuffers: 200
    - maxPerStageDescriptorSampledImages: 200
    - maxPerStageDescriptorStorageImages: 16
    - maxPerStageDescriptorInputAttachments: 8
    - maxPerStageResources: 200
    - maxDescriptorSetSamplers: 576
    - maxDescriptorSetUniformBuffers: 1800
    - maxDescriptorSetUniformBuffersDynamic: 16
    - maxDescriptorSetStorageBuffers: 1800
    - maxDescriptorSetStorageBuffersDynamic: 16
    - maxDescriptorSetSampledImages: 1800
    - maxDescriptorSetStorageImages: 144
    - maxDescriptorSetInputAttachments: 8
    - maxVertexInputAttributes: 32
    - maxVertexInputBindings: 32
    - maxVertexInputAttributeOffset: 2047
    - maxVertexInputBindingStride: 4095
    - maxVertexOutputComponents: 128
    - maxTessellationGenerationLevel: 64
    - maxTessellationPatchSize: 32
    - maxTessellationControlPerVertexInputComponents: 128
    - maxTessellationControlPerVertexOutputComponents: 128
    - maxTessellationControlPerPatchOutputComponents: 120
    - maxTessellationControlTotalOutputComponents: 4096
    - maxTessellationEvaluationInputComponents: 128
    - maxTessellationEvaluationOutputComponents: 128
    - maxGeometryShaderInvocations: 32
    - maxGeometryInputComponents: 128
    - maxGeometryOutputComponents: 128
    - maxGeometryOutputVertices: 256
    - maxGeometryTotalOutputComponents: 1024
    - maxFragmentInputComponents: 128
    - maxFragmentOutputAttachments: 8
    - maxFragmentDualSrcAttachments: 1
    - maxFragmentCombinedOutputResources: 16
    - maxComputeSharedMemorySize: 32768
    - maxComputeWorkGroupCount: [65536; 65536; 65536]
    - maxComputeWorkGroupInvocations: 1024
    - maxComputeWorkGroupSize: [1024; 1024; 64]
    - subPixelPrecisionBits: 8
    - subTexelPrecisionBits: 8
    - mipmapPrecisionBits: 8
    - maxDrawIndexedIndexValue: 4294967295
    - maxDrawIndirectCount: 4294967295
    - maxSamplerLodBias: 16.000000
    - maxSamplerAnisotropy: 16.000000
    - maxViewports: 16
    - maxViewportDimensions: [32768; 32768]
    - viewportBoundsRange: [-65536.000000 ; 65535.000000]
    - viewportSubPixelBits: 8
    - minMemoryMapAlignment: 64
    - minTexelBufferOffsetAlignment: 16
    - minUniformBufferOffsetAlignment: 32
    - minStorageBufferOffsetAlignment: 16
    - minTexelOffset: 4294967288
    - maxTexelOffset: 7
    - minTexelGatherOffset: 4294967264
    - maxTexelGatherOffset: 31
    - minInterpolationOffset: -0.500000
    - maxInterpolationOffset: 0.437500
    - subPixelInterpolationOffsetBits: 4
    - maxFramebufferWidth: 16384
    - maxFramebufferHeight: 16384
    - maxFramebufferLayers: 2048
    - framebufferColorSampleCounts: 31
    - framebufferDepthSampleCounts: 31
    - framebufferStencilSampleCounts: 31
    - framebufferNoAttachmentsSampleCounts: 31
    - maxColorAttachments: 8
    - sampledImageColorSampleCounts: 31
    - sampledImageIntegerSampleCounts: 31
    - sampledImageDepthSampleCounts: 31
    - sampledImageStencilSampleCounts: 31
    - storageImageSampleCounts: 31
    - maxSampleMaskWords: 1
    - timestampComputeAndGraphics: 1
    - timestampPeriod: 83.333000
    - maxClipDistances: 8
    - maxCullDistances: 8
    - maxCombinedClipAndCullDistances: 8
    - discreteQueuePriorities: 2
    - pointSizeRange: [0.125000 ; 255.875000]
    - lineWidthRange: [0.000000 ; 7.992188]
    - pointSizeGranularity: 0.125000
    - lineWidthGranularity: 0.007813
    - strictLines: 0
    - standardSampleLocations: 1
    - optimalBufferCopyOffsetAlignment: 16
    - optimalBufferCopyRowPitchAlignment: 16
    - nonCoherentAtomSize: 1

—
via