AMD has released a new set of graphics drivers for Windows 10 and Windows 7/8 users. Adrenalin 19.6.2 seems to be a Vulkan-focused update:
– Vulkan 1.1.108
– 5 new Vulkan device extensions:
– VK_EXT_host_query_reset
Allows resets of queries from the host, rather than on the GPU.

– VK_EXT_full_screen_exclusive
Gives applications explicit control over exclusive full-screen modes (this is for instance useful for HDR support).

– VK_AMD_display_native_hdr
Exposes FreeSync2 capabilities for improved HDR support.

– VK_EXT_separate_stencil_usage
Separates the usage flags for depth/stencil aspects of a depth/stencil image making it possible to restrict/expand the
usage relative to the depth aspect.

– VK_KHR_uniform_buffer_standard_layout
Provides more flexible alignment for uniform buffers, enabling among other things, the usage of std430 layouts in
Vulkan.

The following issues have been fixed:
– Wireless VR may experience performance drops across multiple game titles on some Radeon RX 400 and Radeon RX 500 series graphics products.
– Performance Metrics Overlay may fail to enable or may be disabled when toggling Radeon Overlay while in game.
– A TDR may occur when exiting some gaming applications that are using DirectX®12 API when multiple displays are connected and in clone mode.
– Microsoft PIX tool may fail when a GPU is connected using AMD XConnect Technology.
– Crackdown 3 may experience an application or game hang on Radeon R7 370 series graphics products.
Adrenalin 2019 Edition 19.6.2 Downloads
Quick driver information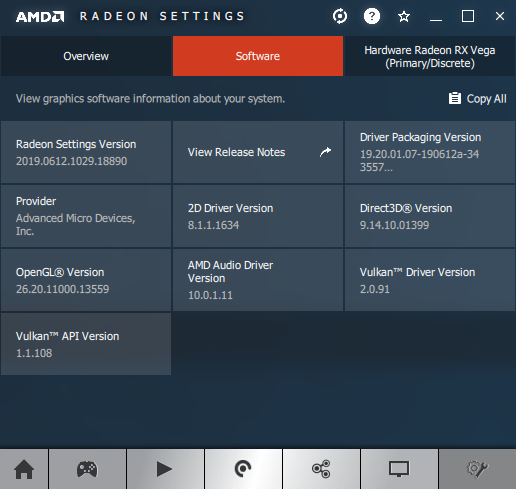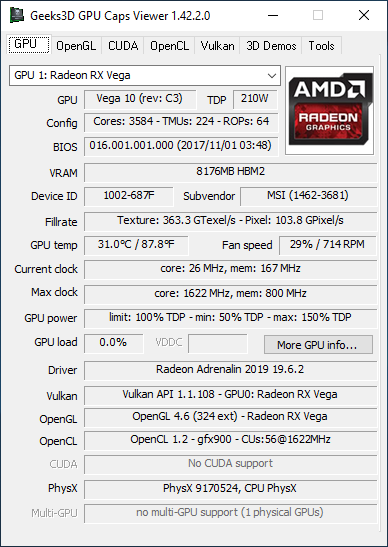 OpenGL support
This driver exposes OpenGL 4.6 and 324 extensions for a Radeon RX Vega 56. Same support than in v19.5.1:

- GL_VENDOR: ATI Technologies Inc.
- GL_RENDERER: Radeon RX Vega
- GL_VERSION: 4.6.13559 Compatibility Profile/Debug Context 26.20.12001.7006
- GL_SHADING_LANGUAGE_VERSION: 4.60
- OpenGL Extensions: 324 extensions (GL=300 and WGL=24)

Vulkan support
This new version of Adrenalin brings the support of Vulkan 1.1.108. Here is the complete report from GPU Caps Viewer for a Radeon RX Vega 56:

- Instance extensions: 11
  - VK_KHR_surface (version: 25)
  - VK_KHR_win32_surface (version: 6)
  - VK_KHR_get_physical_device_properties2 (version: 1)
  - VK_KHR_get_surface_capabilities2 (version: 1)
  - VK_KHR_external_memory_capabilities (version: 1)
  - VK_KHR_device_group_creation (version: 1)
  - VK_KHR_external_semaphore_capabilities (version: 1)
  - VK_KHR_external_fence_capabilities (version: 1)
  - VK_EXT_debug_report (version: 9)
  - VK_EXT_debug_utils (version: 1)
  - VK_EXT_swapchain_colorspace (version: 4)
- Instance layers: 3
  - VK_LAYER_AMD_switchable_graphics (version: 1.1.108, impl: 1)
  - VK_LAYER_VALVE_steam_overlay (version: 1.1.73, impl: 1)
  - VK_LAYER_LUNARG_standard_validation (version: 1.0.106, impl: 1)
- Physical devices: 1
  - [Vulkan device 0]: Radeon RX Vega ------------------
    - API version: 1.1.108
    - vendorID: 4098
    - deviceID: 26751
    - driver version: 8388699
  - memory heap count: 3
    - heap1: 7920MB
    - heap2: 7908MB
    - heap3: 256MB
  - memory type count: 4
    - mem type 0 - heap index : 0 - property flag : 1
      > mem property: VK_MEMORY_PROPERTY_DEVICE_LOCAL_BIT
    - mem type 1 - heap index : 1 - property flag : 6
      > mem property: VK_MEMORY_PROPERTY_HOST_VISIBLE_BIT
      > mem property: VK_MEMORY_PROPERTY_HOST_COHERENT_BIT
    - mem type 2 - heap index : 2 - property flag : 7
      > mem property: VK_MEMORY_PROPERTY_DEVICE_LOCAL_BIT
      > mem property: VK_MEMORY_PROPERTY_HOST_VISIBLE_BIT
      > mem property: VK_MEMORY_PROPERTY_HOST_COHERENT_BIT
    - mem type 3 - heap index : 1 - property flag : 14
      > mem property: VK_MEMORY_PROPERTY_HOST_VISIBLE_BIT
      > mem property: VK_MEMORY_PROPERTY_HOST_COHERENT_BIT
      > mem property: VK_MEMORY_PROPERTY_HOST_CACHED_BIT
  - extensions: 80
    - VK_KHR_sampler_mirror_clamp_to_edge (version: 1)
    - VK_KHR_shader_draw_parameters (version: 1)
    - VK_KHR_swapchain (version: 70)
    - VK_KHR_maintenance1 (version: 2)
    - VK_KHR_maintenance2 (version: 1)
    - VK_KHR_maintenance3 (version: 1)
    - VK_KHR_relaxed_block_layout (version: 1)
    - VK_KHR_dedicated_allocation (version: 3)
    - VK_KHR_descriptor_update_template (version: 1)
    - VK_KHR_external_memory (version: 1)
    - VK_KHR_external_memory_win32 (version: 1)
    - VK_KHR_device_group (version: 3)
    - VK_AMD_calibrated_timestamps (version: 1)
    - VK_KHR_bind_memory2 (version: 1)
    - VK_KHR_external_semaphore (version: 1)
    - VK_KHR_external_semaphore_win32 (version: 1)
    - VK_AMD_rasterization_order (version: 1)
    - VK_AMD_shader_ballot (version: 1)
    - VK_AMD_shader_trinary_minmax (version: 1)
    - VK_AMD_shader_explicit_vertex_parameter (version: 1)
    - VK_AMD_gcn_shader (version: 1)
    - VK_AMD_draw_indirect_count (version: 1)
    - VK_KHR_draw_indirect_count (version: 1)
    - VK_AMD_negative_viewport_height (version: 1)
    - VK_AMD_gpu_shader_half_float (version: 2)
    - VK_AMD_shader_info (version: 1)
    - VK_EXT_sampler_filter_minmax (version: 1)
    - VK_AMD_shader_fragment_mask (version: 1)
    - VK_EXT_hdr_metadata (version: 1)
    - VK_AMD_wave_limits (version: 1)
    - VK_AMD_texture_gather_bias_lod (version: 1)
    - VK_AMD_mixed_attachment_samples (version: 1)
    - VK_EXT_sample_locations (version: 1)
    - VK_AMD_gpu_shader_int16 (version: 2)
    - VK_EXT_shader_subgroup_vote (version: 1)
    - VK_KHR_16bit_storage (version: 1)
    - VK_KHR_storage_buffer_storage_class (version: 1)
    - VK_AMD_gpa_interface (version: 1)
    - VK_KHR_depth_stencil_resolve (version: 1)
    - VK_EXT_shader_subgroup_ballot (version: 1)
    - VK_EXT_shader_stencil_export (version: 1)
    - VK_EXT_shader_viewport_index_layer (version: 1)
    - VK_KHR_get_memory_requirements2 (version: 1)
    - VK_KHR_image_format_list (version: 1)
    - VK_KHR_swapchain_mutable_format (version: 1)
    - VK_EXT_inline_uniform_block (version: 1)
    - VK_KHR_shader_atomic_int64 (version: 1)
    - VK_KHR_driver_properties (version: 1)
    - VK_KHR_create_renderpass2 (version: 1)
    - VK_KHR_8bit_storage (version: 1)
    - VK_KHR_multiview (version: 1)
    - VK_KHR_shader_float16_int8 (version: 1)
    - VK_KHR_external_fence (version: 1)
    - VK_KHR_external_fence_win32 (version: 1)
    - VK_KHR_win32_keyed_mutex (version: 1)
    - VK_EXT_global_priority (version: 2)
    - VK_AMD_buffer_marker (version: 1)
    - VK_AMD_shader_image_load_store_lod (version: 1)
    - VK_EXT_external_memory_host (version: 1)
    - VK_EXT_depth_clip_enable (version: 1)
    - VK_EXT_depth_range_unrestricted (version: 1)
    - VK_AMD_shader_core_properties (version: 1)
    - VK_EXT_queue_family_foreign (version: 1)
    - VK_EXT_descriptor_indexing (version: 2)
    - VK_KHR_variable_pointers (version: 1)
    - VK_EXT_vertex_attribute_divisor (version: 3)
    - VK_EXT_conservative_rasterization (version: 1)
    - VK_GOOGLE_hlsl_functionality1 (version: 1)
    - VK_GOOGLE_decorate_string (version: 1)
    - VK_EXT_scalar_block_layout (version: 1)
    - VK_AMD_memory_overallocation_behavior (version: 1)
    - VK_EXT_transform_feedback (version: 1)
    - VK_EXT_separate_stencil_usage (version: 1)
    - VK_KHR_vulkan_memory_model (version: 3)
    - VK_EXT_memory_priority (version: 1)
    - VK_AMD_display_native_hdr (version: 1)
    - VK_EXT_full_screen_exclusive (version: 3)
    - VK_EXT_memory_budget (version: 1)
    - VK_EXT_host_query_reset (version: 1)
    - VK_KHR_uniform_buffer_standard_layout (version: 1)
  - device layers: 1
    - VK_LAYER_AMD_switchable_graphics (version: 1.1.108, impl: 1)
  - device features:
    - robustBufferAccess: true
    - fullDrawIndexUint32: true
    - imageCubeArray: true
    - independentBlend: true
    - geometryShader: true
    - tessellationShader: true
    - sampleRateShading: true
    - dualSrcBlend: true
    - logicOp: true
    - multiDrawIndirect: true
    - drawIndirectFirstInstance: true
    - depthClamp: true
    - depthBiasClamp: true
    - fillModeNonSolid: true
    - depthBounds: true
    - wideLines: true
    - largePoints: true
    - alphaToOne: false
    - multiViewport: true
    - samplerAnisotropy: true
    - textureCompressionETC2: false
    - textureCompressionASTC_LDR: false
    - textureCompressionBC: true
    - occlusionQueryPrecise: true
    - pipelineStatisticsQuery: true
    - vertexPipelineStoresAndAtomics: true
    - fragmentStoresAndAtomics: true
    - shaderTessellationAndGeometryPointSize: true
    - shaderImageGatherExtended: true
    - shaderStorageImageExtendedFormats: true
    - shaderStorageImageMultisample: true
    - shaderStorageImageReadWithoutFormat: true
    - shaderStorageImageWriteWithoutFormat: true
    - shaderUniformBufferArrayDynamicIndexing: true
    - shaderSampledImageArrayDynamicIndexing: true
    - shaderStorageBufferArrayDynamicIndexing: true
    - shaderStorageImageArrayDynamicIndexing: true
    - shaderClipDistance: true
    - shaderCullDistance: true
    - shaderFloat64: true
    - shaderInt64: true
    - shaderInt16: true
    - shaderResourceResidency: true
    - shaderResourceMinLod: true
    - sparseBinding: true
    - sparseResidencyBuffer: true
    - sparseResidencyImage2D: true
    - sparseResidencyImage3D: true
    - sparseResidency2Samples: false
    - sparseResidency4Samples: true
    - sparseResidency8Samples: false
    - sparseResidency16Samples: false
    - sparseResidencyAliased: true
    - variableMultisampleRate: true
    - inheritedQueries: true
  - device limits
    - maxImageDimension1D: 16384
    - maxImageDimension2D: 16384
    - maxImageDimension3D: 2048
    - maxImageDimensionCube: 16384
    - maxImageArrayLayers: 2048
    - maxTexelBufferElements: 4294967295
    - maxUniformBufferRange: 4294967295
    - maxStorageBufferRange: 4294967295
    - maxPushConstantsSize: 128
    - maxMemoryAllocationCount: 4096
    - maxSamplerAllocationCount: 1048576
    - bufferImageGranularity: 1
    - sparseAddressSpaceSize: 17579301142528
    - maxBoundDescriptorSets: 32
    - maxPerStageDescriptorSamplers: 4294967295
    - maxPerStageDescriptorUniformBuffers: 4294967295
    - maxPerStageDescriptorSampledImages: 4294967295
    - maxPerStageDescriptorStorageImages: 4294967295
    - maxPerStageDescriptorInputAttachments: 4294967295
    - maxPerStageResources: 4294967295
    - maxDescriptorSetSamplers: 4294967295
    - maxDescriptorSetUniformBuffers: 4294967295
    - maxDescriptorSetUniformBuffersDynamic: 8
    - maxDescriptorSetStorageBuffers: 4294967295
    - maxDescriptorSetStorageBuffersDynamic: 8
    - maxDescriptorSetSampledImages: 4294967295
    - maxDescriptorSetStorageImages: 4294967295
    - maxDescriptorSetInputAttachments: 4294967295
    - maxVertexInputAttributes: 64
    - maxVertexInputBindings: 32
    - maxVertexInputAttributeOffset: 4294967295
    - maxVertexInputBindingStride: 16383
    - maxVertexOutputComponents: 128
    - maxTessellationGenerationLevel: 64
    - maxTessellationPatchSize: 32
    - maxTessellationControlPerVertexInputComponents: 128
    - maxTessellationControlPerVertexOutputComponents: 128
    - maxTessellationControlPerPatchOutputComponents: 120
    - maxTessellationControlTotalOutputComponents: 4096
    - maxTessellationEvaluationInputComponents: 128
    - maxTessellationEvaluationOutputComponents: 128
    - maxGeometryShaderInvocations: 127
    - maxGeometryInputComponents: 128
    - maxGeometryOutputComponents: 128
    - maxGeometryOutputVertices: 1024
    - maxGeometryTotalOutputComponents: 16384
    - maxFragmentInputComponents: 128
    - maxFragmentOutputAttachments: 8
    - maxFragmentDualSrcAttachments: 1
    - maxFragmentCombinedOutputResources: 4294967295
    - maxComputeSharedMemorySize: 32768
    - maxComputeWorkGroupCount: [65535; 65535; 65535]
    - maxComputeWorkGroupInvocations: 1024
    - maxComputeWorkGroupSize: [1024; 1024; 1024]
    - subPixelPrecisionBits: 8
    - subTexelPrecisionBits: 8
    - mipmapPrecisionBits: 8
    - maxDrawIndexedIndexValue: 4294967295
    - maxDrawIndirectCount: 4294967295
    - maxSamplerLodBias: 15.996094
    - maxSamplerAnisotropy: 16.000000
    - maxViewports: 16
    - maxViewportDimensions: [16384; 16384]
    - viewportBoundsRange: [-32768.000000 ; 32767.000000]
    - viewportSubPixelBits: 8
    - minMemoryMapAlignment: 64
    - minTexelBufferOffsetAlignment: 1
    - minUniformBufferOffsetAlignment: 16
    - minStorageBufferOffsetAlignment: 4
    - minTexelOffset: 4294967232
    - maxTexelOffset: 63
    - minTexelGatherOffset: 4294967264
    - maxTexelGatherOffset: 31
    - minInterpolationOffset: -2.000000
    - maxInterpolationOffset: 2.000000
    - subPixelInterpolationOffsetBits: 8
    - maxFramebufferWidth: 16384
    - maxFramebufferHeight: 16384
    - maxFramebufferLayers: 2048
    - framebufferColorSampleCounts: 15
    - framebufferDepthSampleCounts: 15
    - framebufferStencilSampleCounts: 15
    - framebufferNoAttachmentsSampleCounts: 15
    - maxColorAttachments: 8
    - sampledImageColorSampleCounts: 15
    - sampledImageIntegerSampleCounts: 15
    - sampledImageDepthSampleCounts: 15
    - sampledImageStencilSampleCounts: 15
    - storageImageSampleCounts: 15
    - maxSampleMaskWords: 1
    - timestampComputeAndGraphics: 1
    - timestampPeriod: 37.037037
    - maxClipDistances: 8
    - maxCullDistances: 8
    - maxCombinedClipAndCullDistances: 8
    - discreteQueuePriorities: 2
    - pointSizeRange: [0.000000 ; 8191.875000]
    - lineWidthRange: [0.000000 ; 8191.875000]
    - pointSizeGranularity: 0.125000
    - lineWidthGranularity: 0.125000
    - strictLines: 0
    - standardSampleLocations: 1
    - optimalBufferCopyOffsetAlignment: 1
    - optimalBufferCopyRowPitchAlignment: 1
    - nonCoherentAtomSize: 128