Intel has published a new graphics driver for its GPUs (Intel 6th, 7th, 8th and 9th Gen processors) on Windows 10. This new driver (version 25.20.100.6861) comes with the following new features:
GAMING HIGHLIGHTS:
Launch Driver for:
– A Plague Tale: Innocence
– Total War: Three Kingdoms
– Conan Unconquered

Dive into the medieval era this month, with intricate swordsmanship battles in Mordhau, or relive the horrors of the time in A Plague Tale: Innocence. Real-time strategy fans have a chance to double dip in the action, right on the release days of Total War: Three Kingdoms and Conan Unconquered, all on Intel UHD Graphics 620 or better.

DEVELOPER HIGHLIGHTS:
– Support for OpenGL 4.6 API
– Various additions to D3D12 MetaCommand support in DirectML.
– The Intel® Graphics Control Panel SDK now allows for control of Local Adaptive Contrast Enhancement (LACE)
sensitivity (low/med/high) on platforms where available
– Vulkan 1.1.103 + new Vulkan extensions

PERFORMANCE IMPROVEMENTS:
– Improved performance and image quality when Conservative Morphological Anti-Aliasing (CMAA) is enabled for
DX12 games and 3D applications.
– Reduced compilation time on OpenCL shaders
– Playability improvements and performance optimizations for Total War: Three Kingdoms*, Totally Accurate
Battle Simulator*, and Risk of Rain 2

This driver fixes the following issues:
– Intermittent crashes or hangs may occur in World War Z* (Vulkan), Rocket Arena*, World of Warships*, Maxon
Cinema 4D*
– Minor graphics anomalies may be observed in Apex Legends* (low settings with TSAA disabled on 6th
generation Intel® Core Processors only), Generation Zero*, Imperator Rome*, Devotion* (when anti-aliasing
enabled), Maxon Cinema 4D*, Creo View* while hovering mouse over objects
– Content protection may be disabled when hotplugging a display by DisplayPort, in connected standby mode,
with monitors turned off
– A display hotplugged to a type-c DisplayPort hub may not be detected
– Video output may not update while changing the input range from 'Full' to 'Limited' in the Intel® Graphics
Command Center
– Miracast display may show black screen when connected over an HDCP 2.3 dongle
– Intermittent hangs may occur when using Media SDK to encode MPEG2 on 7th Generation Intel® Core
processors or higher
– Aniostropic filtering and CMAA Anti-aliasing settings may not apply to games and 3D applications in Intel
Graphics Command Center (IGCC)
Downloads

A thread is available HERE for any feedback about this driver.

Quick test of this driver on an Intel Core i7-8700K (with an UHD 630 GPU):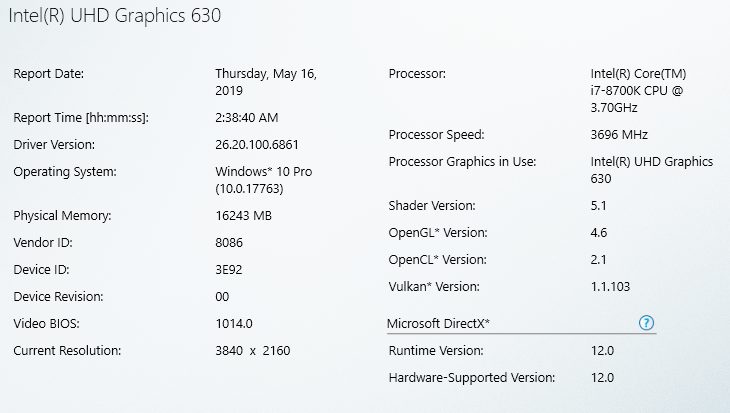 GL-Z
OpenGL support
Finally Intel has decided to add the old (nearly 2-year old) OpenGL 4.6 support to its driver! Better late than never. Intel v6709 is an OpenGL 4.5 driver and exposes 251 OpenGL extensions. It's the same OpenGL support than previous v6519.

- GL_VENDOR: Intel
- GL_RENDERER: Intel(R) UHD Graphics 630
- GL_VERSION: 4.6.0 - Build 26.20.100.6861
- GL_SHADING_LANGUAGE_VERSION: 4.60 - Build 26.20.100.6861
- OpenGL Extensions: 250 extensions (GL=230 and WGL=20)

The complete list of all 250 extensions exposed for an UHD 630 GPU on Windows 10 64-bit:

  - GL_3DFX_texture_compression_FXT1
  - GL_AMD_depth_clamp_separate
  - GL_AMD_vertex_shader_layer
  - GL_AMD_vertex_shader_viewport_index
  - GL_ARB_ES2_compatibility
  - GL_ARB_ES3_1_compatibility
  - GL_ARB_ES3_compatibility
  - GL_ARB_arrays_of_arrays
  - GL_ARB_base_instance
  - GL_ARB_bindless_texture
  - GL_ARB_blend_func_extended
  - GL_ARB_buffer_storage
  - GL_ARB_cl_event
  - GL_ARB_clear_buffer_object
  - GL_ARB_clear_texture
  - GL_ARB_clip_control
  - GL_ARB_color_buffer_float
  - GL_ARB_compatibility
  - GL_ARB_compressed_texture_pixel_storage
  - GL_ARB_compute_shader
  - GL_ARB_conditional_render_inverted
  - GL_ARB_conservative_depth
  - GL_ARB_copy_buffer
  - GL_ARB_copy_image
  - GL_ARB_cull_distance
  - GL_ARB_debug_output
  - GL_ARB_depth_buffer_float
  - GL_ARB_depth_clamp
  - GL_ARB_depth_texture
  - GL_ARB_derivative_control
  - GL_ARB_direct_state_access
  - GL_ARB_draw_buffers
  - GL_ARB_draw_buffers_blend
  - GL_ARB_draw_elements_base_vertex
  - GL_ARB_draw_indirect
  - GL_ARB_draw_instanced
  - GL_ARB_enhanced_layouts
  - GL_ARB_explicit_attrib_location
  - GL_ARB_explicit_uniform_location
  - GL_ARB_fragment_coord_conventions
  - GL_ARB_fragment_layer_viewport
  - GL_ARB_fragment_program
  - GL_ARB_fragment_program_shadow
  - GL_ARB_fragment_shader
  - GL_ARB_fragment_shader_interlock
  - GL_ARB_framebuffer_no_attachments
  - GL_ARB_framebuffer_object
  - GL_ARB_framebuffer_sRGB
  - GL_ARB_geometry_shader4
  - GL_ARB_get_program_binary
  - GL_ARB_get_texture_sub_image
  - GL_ARB_gl_spirv
  - GL_ARB_gpu_shader5
  - GL_ARB_gpu_shader_fp64
  - GL_ARB_half_float_pixel
  - GL_ARB_half_float_vertex
  - GL_ARB_indirect_parameters
  - GL_ARB_instanced_arrays
  - GL_ARB_internalformat_query
  - GL_ARB_internalformat_query2
  - GL_ARB_invalidate_subdata
  - GL_ARB_map_buffer_alignment
  - GL_ARB_map_buffer_range
  - GL_ARB_multi_bind
  - GL_ARB_multi_draw_indirect
  - GL_ARB_multisample
  - GL_ARB_multitexture
  - GL_ARB_occlusion_query
  - GL_ARB_occlusion_query2
  - GL_ARB_pipeline_statistics_query
  - GL_ARB_pixel_buffer_object
  - GL_ARB_point_parameters
  - GL_ARB_point_sprite
  - GL_ARB_polygon_offset_clamp
  - GL_ARB_post_depth_coverage
  - GL_ARB_program_interface_query
  - GL_ARB_provoking_vertex
  - GL_ARB_query_buffer_object
  - GL_ARB_robust_buffer_access_behavior
  - GL_ARB_robustness
  - GL_ARB_robustness_isolation
  - GL_ARB_sample_shading
  - GL_ARB_sampler_objects
  - GL_ARB_seamless_cube_map
  - GL_ARB_seamless_cubemap_per_texture
  - GL_ARB_separate_shader_objects
  - GL_ARB_shader_atomic_counter_ops
  - GL_ARB_shader_atomic_counters
  - GL_ARB_shader_bit_encoding
  - GL_ARB_shader_draw_parameters
  - GL_ARB_shader_group_vote
  - GL_ARB_shader_image_load_store
  - GL_ARB_shader_image_size
  - GL_ARB_shader_objects
  - GL_ARB_shader_precision
  - GL_ARB_shader_stencil_export
  - GL_ARB_shader_storage_buffer_object
  - GL_ARB_shader_subroutine
  - GL_ARB_shader_texture_image_samples
  - GL_ARB_shading_language_100
  - GL_ARB_shading_language_420pack
  - GL_ARB_shading_language_packing
  - GL_ARB_shadow
  - GL_ARB_spirv_extensions
  - GL_ARB_stencil_texturing
  - GL_ARB_sync
  - GL_ARB_tessellation_shader
  - GL_ARB_texture_barrier
  - GL_ARB_texture_border_clamp
  - GL_ARB_texture_buffer_object
  - GL_ARB_texture_buffer_object_rgb32
  - GL_ARB_texture_buffer_range
  - GL_ARB_texture_compression
  - GL_ARB_texture_compression_bptc
  - GL_ARB_texture_compression_rgtc
  - GL_ARB_texture_cube_map
  - GL_ARB_texture_cube_map_array
  - GL_ARB_texture_env_add
  - GL_ARB_texture_env_combine
  - GL_ARB_texture_env_crossbar
  - GL_ARB_texture_env_dot3
  - GL_ARB_texture_filter_anisotropic
  - GL_ARB_texture_float
  - GL_ARB_texture_gather
  - GL_ARB_texture_mirror_clamp_to_edge
  - GL_ARB_texture_mirrored_repeat
  - GL_ARB_texture_multisample
  - GL_ARB_texture_non_power_of_two
  - GL_ARB_texture_query_levels
  - GL_ARB_texture_query_lod
  - GL_ARB_texture_rectangle
  - GL_ARB_texture_rg
  - GL_ARB_texture_rgb10_a2ui
  - GL_ARB_texture_stencil8
  - GL_ARB_texture_storage
  - GL_ARB_texture_storage_multisample
  - GL_ARB_texture_swizzle
  - GL_ARB_texture_view
  - GL_ARB_timer_query
  - GL_ARB_transform_feedback2
  - GL_ARB_transform_feedback3
  - GL_ARB_transform_feedback_instanced
  - GL_ARB_transform_feedback_overflow_query
  - GL_ARB_transpose_matrix
  - GL_ARB_uniform_buffer_object
  - GL_ARB_vertex_array_bgra
  - GL_ARB_vertex_array_object
  - GL_ARB_vertex_attrib_64bit
  - GL_ARB_vertex_attrib_binding
  - GL_ARB_vertex_buffer_object
  - GL_ARB_vertex_program
  - GL_ARB_vertex_shader
  - GL_ARB_vertex_type_10f_11f_11f_rev
  - GL_ARB_vertex_type_2_10_10_10_rev
  - GL_ARB_viewport_array
  - GL_ARB_window_pos
  - GL_ATI_separate_stencil
  - GL_EXT_abgr
  - GL_EXT_bgra
  - GL_EXT_blend_color
  - GL_EXT_blend_equation_separate
  - GL_EXT_blend_func_separate
  - GL_EXT_blend_minmax
  - GL_EXT_blend_subtract
  - GL_EXT_clip_volume_hint
  - GL_EXT_compiled_vertex_array
  - GL_EXT_direct_state_access
  - GL_EXT_draw_buffers2
  - GL_EXT_draw_range_elements
  - GL_EXT_fog_coord
  - GL_EXT_framebuffer_blit
  - GL_EXT_framebuffer_multisample
  - GL_EXT_framebuffer_object
  - GL_EXT_geometry_shader4
  - GL_EXT_gpu_program_parameters
  - GL_EXT_gpu_shader4
  - GL_EXT_multi_draw_arrays
  - GL_EXT_packed_depth_stencil
  - GL_EXT_packed_float
  - GL_EXT_packed_pixels
  - GL_EXT_polygon_offset_clamp
  - GL_EXT_rescale_normal
  - GL_EXT_secondary_color
  - GL_EXT_separate_specular_color
  - GL_EXT_shader_framebuffer_fetch
  - GL_EXT_shader_integer_mix
  - GL_EXT_shadow_funcs
  - GL_EXT_stencil_two_side
  - GL_EXT_stencil_wrap
  - GL_EXT_texture3D
  - GL_EXT_texture_array
  - GL_EXT_texture_compression_s3tc
  - GL_EXT_texture_edge_clamp
  - GL_EXT_texture_env_add
  - GL_EXT_texture_env_combine
  - GL_EXT_texture_filter_anisotropic
  - GL_EXT_texture_integer
  - GL_EXT_texture_lod_bias
  - GL_EXT_texture_rectangle
  - GL_EXT_texture_sRGB
  - GL_EXT_texture_sRGB_decode
  - GL_EXT_texture_shared_exponent
  - GL_EXT_texture_snorm
  - GL_EXT_texture_storage
  - GL_EXT_texture_swizzle
  - GL_EXT_timer_query
  - GL_EXT_transform_feedback
  - GL_IBM_texture_mirrored_repeat
  - GL_INTEL_conservative_rasterization
  - GL_INTEL_fragment_shader_ordering
  - GL_INTEL_framebuffer_CMAA
  - GL_INTEL_map_texture
  - GL_INTEL_multi_rate_fragment_shader
  - GL_INTEL_performance_query
  - GL_KHR_blend_equation_advanced
  - GL_KHR_blend_equation_advanced_coherent
  - GL_KHR_context_flush_control
  - GL_KHR_debug
  - GL_KHR_no_error
  - GL_KHR_texture_compression_astc_hdr
  - GL_KHR_texture_compression_astc_ldr
  - GL_NV_blend_square
  - GL_NV_conditional_render
  - GL_NV_primitive_restart
  - GL_NV_texgen_reflection
  - GL_SGIS_generate_mipmap
  - GL_SGIS_texture_edge_clamp
  - GL_SGIS_texture_lod
  - GL_SUN_multi_draw_arrays
  - GL_WIN_swap_hint
  - WGL_EXT_swap_control
  - WGL_EXT_depth_float
  - WGL_ARB_buffer_region
  - WGL_ARB_extensions_string
  - WGL_ARB_make_current_read
  - WGL_ARB_pixel_format
  - WGL_ARB_pbuffer
  - WGL_EXT_extensions_string
  - WGL_ARB_multisample
  - WGL_ARB_pixel_format_float
  - WGL_ARB_framebuffer_sRGB
  - WGL_ARB_create_context
  - WGL_ARB_create_context_profile
  - WGL_EXT_pixel_format_packed_float
  - WGL_EXT_create_context_es_profile
  - WGL_EXT_create_context_es2_profile
  - WGL_NV_DX_interop
  - WGL_NV_DX_interop2
  - WGL_ARB_create_context_robustness
  - WGL_ARB_context_flush_control

Vulkan support
Intel v6861 exposes Vulkan 1.1.103. This new driver adds four new device extensions:
– VK_EXT_depth_clip_enable : allows the explicitly control depth clipping operation
– VK_EXT_host_query_reset : adds a new function to reset queries from the host
– VK_EXT_scalar_block_layout : enables C-like structure layout for SPIR-V blocks
– VK_KHR_shader_float16_int8 : allows use of 16-bit floating-point types and 8-bit integer types in
shaders for arithmetic operations
Here is the report from GPU Caps Viewer 1.42.0:

- Instance extensions: 11
  - VK_KHR_surface (version: 25)
  - VK_KHR_win32_surface (version: 5)
  - VK_KHR_external_memory_capabilities (version: 1)
  - VK_KHR_external_semaphore_capabilities (version: 1)
  - VK_KHR_external_fence_capabilities (version: 1)
  - VK_KHR_get_physical_device_properties2 (version: 1)
  - VK_KHR_get_surface_capabilities2 (version: 1)
  - VK_KHR_device_group_creation (version: 1)
  - VK_EXT_swapchain_colorspace (version: 3)
  - VK_EXT_debug_report (version: 9)
  - VK_EXT_debug_utils (version: 1)
- Instance layers: 13
  - VK_LAYER_LUNARG_api_dump (version: 1.1.106, impl: 2)
  - VK_LAYER_LUNARG_assistant_layer (version: 1.1.106, impl: 1)
  - VK_LAYER_LUNARG_core_validation (version: 1.1.106, impl: 1)
  - VK_LAYER_LUNARG_device_simulation (version: 1.1.106, impl: 1)
  - VK_LAYER_KHRONOS_validation (version: 1.1.106, impl: 1)
  - VK_LAYER_LUNARG_monitor (version: 1.1.106, impl: 1)
  - VK_LAYER_LUNARG_object_tracker (version: 1.1.106, impl: 1)
  - VK_LAYER_LUNARG_screenshot (version: 1.1.106, impl: 1)
  - VK_LAYER_LUNARG_standard_validation (version: 1.1.106, impl: 1)
  - VK_LAYER_LUNARG_parameter_validation (version: 1.1.106, impl: 1)
  - VK_LAYER_GOOGLE_threading (version: 1.1.106, impl: 1)
  - VK_LAYER_GOOGLE_unique_objects (version: 1.1.106, impl: 1)
  - VK_LAYER_LUNARG_vktrace (version: 1.1.106, impl: 1)
- Physical devices: 1
  - [Vulkan device 0]: Intel(R) UHD Graphics 630 ------------------
    - API version: 1.1.103
    - vendorID: 32902
    - deviceID: 16018
    - driver version: 1645261
  - memory heap count: 2
    - heap1: 3654MB
    - heap2: 3654MB
  - memory type count: 3
    - mem type 0 - heap index : 0 - property flag : 1
      > mem property: VK_MEMORY_PROPERTY_DEVICE_LOCAL_BIT
    - mem type 1 - heap index : 1 - property flag : 7
      > mem property: VK_MEMORY_PROPERTY_DEVICE_LOCAL_BIT
      > mem property: VK_MEMORY_PROPERTY_HOST_VISIBLE_BIT
      > mem property: VK_MEMORY_PROPERTY_HOST_COHERENT_BIT
    - mem type 2 - heap index : 1 - property flag : 15
      > mem property: VK_MEMORY_PROPERTY_DEVICE_LOCAL_BIT
      > mem property: VK_MEMORY_PROPERTY_HOST_VISIBLE_BIT
      > mem property: VK_MEMORY_PROPERTY_HOST_COHERENT_BIT
      > mem property: VK_MEMORY_PROPERTY_HOST_CACHED_BIT
  - extensions: 48
    - VK_KHR_swapchain (version: 68)
    - VK_KHR_external_memory (version: 1)
    - VK_KHR_external_memory_win32 (version: 1)
    - VK_EXT_external_memory_host (version: 1)
    - VK_KHR_external_semaphore (version: 1)
    - VK_KHR_external_semaphore_win32 (version: 1)
    - VK_KHR_external_fence (version: 1)
    - VK_KHR_external_fence_win32 (version: 1)
    - VK_KHR_get_memory_requirements2 (version: 1)
    - VK_KHR_bind_memory2 (version: 1)
    - VK_KHR_dedicated_allocation (version: 1)
    - VK_KHR_sampler_mirror_clamp_to_edge (version: 1)
    - VK_KHR_maintenance1 (version: 1)
    - VK_KHR_maintenance2 (version: 1)
    - VK_KHR_maintenance3 (version: 1)
    - VK_KHR_shader_draw_parameters (version: 1)
    - VK_KHR_push_descriptor (version: 1)
    - VK_KHR_descriptor_update_template (version: 1)
    - VK_KHR_multiview (version: 1)
    - VK_KHR_shader_float16_int8 (version: 1)
    - VK_KHR_16bit_storage (version: 1)
    - VK_KHR_8bit_storage (version: 1)
    - VK_EXT_shader_subgroup_ballot (version: 1)
    - VK_EXT_shader_subgroup_vote (version: 1)
    - VK_KHR_storage_buffer_storage_class (version: 1)
    - VK_KHR_variable_pointers (version: 1)
    - VK_KHR_relaxed_block_layout (version: 1)
    - VK_EXT_sampler_filter_minmax (version: 1)
    - VK_KHR_device_group (version: 1)
    - VK_KHR_sampler_ycbcr_conversion (version: 1)
    - VK_EXT_post_depth_coverage (version: 1)
    - VK_EXT_shader_viewport_index_layer (version: 1)
    - VK_EXT_shader_stencil_export (version: 1)
    - VK_EXT_conservative_rasterization (version: 1)
    - VK_EXT_sample_locations (version: 1)
    - VK_KHR_draw_indirect_count (version: 1)
    - VK_KHR_image_format_list (version: 1)
    - VK_EXT_vertex_attribute_divisor (version: 3)
    - VK_EXT_descriptor_indexing (version: 2)
    - VK_EXT_inline_uniform_block (version: 1)
    - VK_KHR_create_renderpass2 (version: 1)
    - VK_KHR_swapchain_mutable_format (version: 1)
    - VK_KHR_driver_properties (version: 1)
    - VK_KHR_vulkan_memory_model (version: 3)
    - VK_EXT_conditional_rendering (version: 1)
    - VK_EXT_depth_clip_enable (version: 1)
    - VK_EXT_scalar_block_layout (version: 1)
    - VK_EXT_host_query_reset (version: 1)
  - device layers: 0
  - device features:
    - robustBufferAccess: true
    - fullDrawIndexUint32: true
    - imageCubeArray: true
    - independentBlend: true
    - geometryShader: true
    - tessellationShader: true
    - sampleRateShading: true
    - dualSrcBlend: true
    - logicOp: true
    - multiDrawIndirect: true
    - drawIndirectFirstInstance: true
    - depthClamp: true
    - depthBiasClamp: true
    - fillModeNonSolid: true
    - depthBounds: false
    - wideLines: true
    - largePoints: true
    - alphaToOne: true
    - multiViewport: true
    - samplerAnisotropy: true
    - textureCompressionETC2: true
    - textureCompressionASTC_LDR: true
    - textureCompressionBC: true
    - occlusionQueryPrecise: true
    - pipelineStatisticsQuery: true
    - vertexPipelineStoresAndAtomics: true
    - fragmentStoresAndAtomics: true
    - shaderTessellationAndGeometryPointSize: true
    - shaderImageGatherExtended: true
    - shaderStorageImageExtendedFormats: true
    - shaderStorageImageMultisample: true
    - shaderStorageImageReadWithoutFormat: false
    - shaderStorageImageWriteWithoutFormat: true
    - shaderUniformBufferArrayDynamicIndexing: true
    - shaderSampledImageArrayDynamicIndexing: true
    - shaderStorageBufferArrayDynamicIndexing: true
    - shaderStorageImageArrayDynamicIndexing: true
    - shaderClipDistance: true
    - shaderCullDistance: true
    - shaderFloat64: true
    - shaderInt64: true
    - shaderInt16: true
    - shaderResourceResidency: true
    - shaderResourceMinLod: false
    - sparseBinding: true
    - sparseResidencyBuffer: true
    - sparseResidencyImage2D: true
    - sparseResidencyImage3D: true
    - sparseResidency2Samples: true
    - sparseResidency4Samples: true
    - sparseResidency8Samples: true
    - sparseResidency16Samples: true
    - sparseResidencyAliased: true
    - variableMultisampleRate: true
    - inheritedQueries: true
  - device limits
    - maxImageDimension1D: 16384
    - maxImageDimension2D: 16384
    - maxImageDimension3D: 2048
    - maxImageDimensionCube: 16384
    - maxImageArrayLayers: 2048
    - maxTexelBufferElements: 134217728
    - maxUniformBufferRange: 65536
    - maxStorageBufferRange: 134217728
    - maxPushConstantsSize: 256
    - maxMemoryAllocationCount: 1871241
    - maxSamplerAllocationCount: 4000
    - bufferImageGranularity: 1
    - sparseAddressSpaceSize: 17592186044416
    - maxBoundDescriptorSets: 8
    - maxPerStageDescriptorSamplers: 64
    - maxPerStageDescriptorUniformBuffers: 200
    - maxPerStageDescriptorSampledImages: 200
    - maxPerStageDescriptorStorageImages: 16
    - maxPerStageDescriptorInputAttachments: 8
    - maxPerStageResources: 200
    - maxDescriptorSetSamplers: 512
    - maxDescriptorSetUniformBuffers: 1600
    - maxDescriptorSetUniformBuffersDynamic: 16
    - maxDescriptorSetStorageBuffers: 1600
    - maxDescriptorSetStorageBuffersDynamic: 16
    - maxDescriptorSetSampledImages: 1600
    - maxDescriptorSetStorageImages: 128
    - maxDescriptorSetInputAttachments: 8
    - maxVertexInputAttributes: 32
    - maxVertexInputBindings: 32
    - maxVertexInputAttributeOffset: 2047
    - maxVertexInputBindingStride: 4095
    - maxVertexOutputComponents: 128
    - maxTessellationGenerationLevel: 64
    - maxTessellationPatchSize: 32
    - maxTessellationControlPerVertexInputComponents: 128
    - maxTessellationControlPerVertexOutputComponents: 128
    - maxTessellationControlPerPatchOutputComponents: 120
    - maxTessellationControlTotalOutputComponents: 4096
    - maxTessellationEvaluationInputComponents: 128
    - maxTessellationEvaluationOutputComponents: 128
    - maxGeometryShaderInvocations: 32
    - maxGeometryInputComponents: 128
    - maxGeometryOutputComponents: 128
    - maxGeometryOutputVertices: 256
    - maxGeometryTotalOutputComponents: 1024
    - maxFragmentInputComponents: 128
    - maxFragmentOutputAttachments: 8
    - maxFragmentDualSrcAttachments: 1
    - maxFragmentCombinedOutputResources: 16
    - maxComputeSharedMemorySize: 32768
    - maxComputeWorkGroupCount: [65536; 65536; 65536]
    - maxComputeWorkGroupInvocations: 1024
    - maxComputeWorkGroupSize: [1024; 1024; 64]
    - subPixelPrecisionBits: 8
    - subTexelPrecisionBits: 8
    - mipmapPrecisionBits: 8
    - maxDrawIndexedIndexValue: 4294967295
    - maxDrawIndirectCount: 4294967295
    - maxSamplerLodBias: 16.000000
    - maxSamplerAnisotropy: 16.000000
    - maxViewports: 16
    - maxViewportDimensions: [32768; 32768]
    - viewportBoundsRange: [-65536.000000 ; 65535.000000]
    - viewportSubPixelBits: 8
    - minMemoryMapAlignment: 64
    - minTexelBufferOffsetAlignment: 16
    - minUniformBufferOffsetAlignment: 32
    - minStorageBufferOffsetAlignment: 16
    - minTexelOffset: 4294967288
    - maxTexelOffset: 7
    - minTexelGatherOffset: 4294967264
    - maxTexelGatherOffset: 31
    - minInterpolationOffset: -0.500000
    - maxInterpolationOffset: 0.437500
    - subPixelInterpolationOffsetBits: 4
    - maxFramebufferWidth: 16384
    - maxFramebufferHeight: 16384
    - maxFramebufferLayers: 2048
    - framebufferColorSampleCounts: 31
    - framebufferDepthSampleCounts: 31
    - framebufferStencilSampleCounts: 31
    - framebufferNoAttachmentsSampleCounts: 31
    - maxColorAttachments: 8
    - sampledImageColorSampleCounts: 31
    - sampledImageIntegerSampleCounts: 31
    - sampledImageDepthSampleCounts: 31
    - sampledImageStencilSampleCounts: 31
    - storageImageSampleCounts: 31
    - maxSampleMaskWords: 1
    - timestampComputeAndGraphics: 1
    - timestampPeriod: 83.333000
    - maxClipDistances: 8
    - maxCullDistances: 8
    - maxCombinedClipAndCullDistances: 8
    - discreteQueuePriorities: 2
    - pointSizeRange: [0.125000 ; 255.875000]
    - lineWidthRange: [0.000000 ; 7.992188]
    - pointSizeGranularity: 0.125000
    - lineWidthGranularity: 0.007813
    - strictLines: 0
    - standardSampleLocations: 1
    - optimalBufferCopyOffsetAlignment: 16
    - optimalBufferCopyRowPitchAlignment: 16
    - nonCoherentAtomSize: 1