Maxon has released Cinebench R20, a well-known CPU benchmark based on the Cinema4D engine.
Friedrichsdorf, Germany – March 5, 2019 – Maxon, the leading developer of professional 3D modeling, animation, and rendering solutions, today announced the availability of Cinebench Release 20 (Cinebench R20), a modernized version of its industry-standard, cross-platform tool to benchmark computer hardware capabilities. Cinebench R20 leverages the same powerful 3D engine in Cinema 4D Release 20 (Cinema 4D R20) to accurately evaluate CPU rendering performance capabilities across various systems and platforms. It is offered free-of-charge.

For over a decade, Cinebench has been the 'go-to' tool to evaluate hardware performance. Cinebench uses advanced algorithms to generate a three-dimensional scene on a computer. Cinebench scores are used by system administrators to help make purchase decisions, journalists to review hardware, hardware manufacturers to optimize their latest products, as well as computer owners to evaluate their individual system.

"Cinebench R20 reflects our engineering efforts to leverage the advancements to CPU and rendering technology in recent years," said David McGavran, Maxon Chief Executive Officer. "The updated tests in Cinebench R20 deliver more accurate benchmarking measurements to reflect the performance of today's CPUs in demanding rendering workloads."

Cinebench R20 feature highlights

Cinebench R20 uses a much larger and more complex test scene than R15 requiring about 8x the computational power needed to render it. The test also requires about 4x the memory.
Cinebench R20 and Cinema 4D R20 incorporate the latest rendering architectures, including integration of Intel's Embree raytracing technology and advanced features on modern CPUs from AMD and Intel that allow users to render the same scene on the same hardware twice as fast as previously.
Cinebench R20 provides improved benchmark accuracy for current and next generation CPUs to test if a machine runs stable on a high CPU load, if the cooling solution of a desktop or notebook is sufficient for longer running tasks to deliver the full potential of the CPU, and if a machine is able to handle demanding real-life 3D tasks.

Links:
---

UPDATE (2019.03.26): Maxon has finally decided to provide an official portable version of Cinebench R20 (source). Wise decision Maxon! The portable version can be downloaded directly from THIS LINK @ Maxon.

UPDATE (2019.03.11): the portable version is no longer available at TechPowerUp (nor at Guru3D). Why? Because the Maxon sent Legal Threats to PC Enthusiast Websites Hosting Portable Cinebench R20 Downloads. Maxon wants us to download the R20 from the kro$oft store. That triple-sucks!
---
You can download the portable version of Cinebench R20 from this page.

I tested this new version of Cinebench on the following systems:
– PC1: Intel Core i7 7700K + 32GB DDR4
– PC2: Intel Core i7 8700K + 16GB DDR4 (3000MHz)
– PC3: AMD Ryzen 7 1700 + 16GB DDR4 (3000MHz)

– Intel Core i7 7700K (default clock speeds): 2291 points


– Intel Core i7 8700K (default clock speeds): 3372 points


– AMD Ryzen 7 1700 (default clock speeds): 3063 points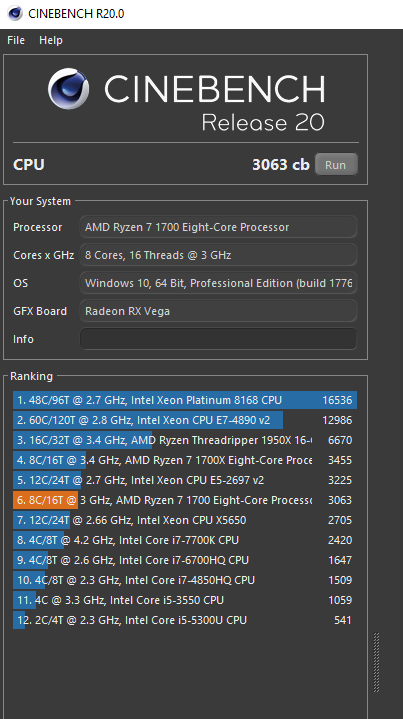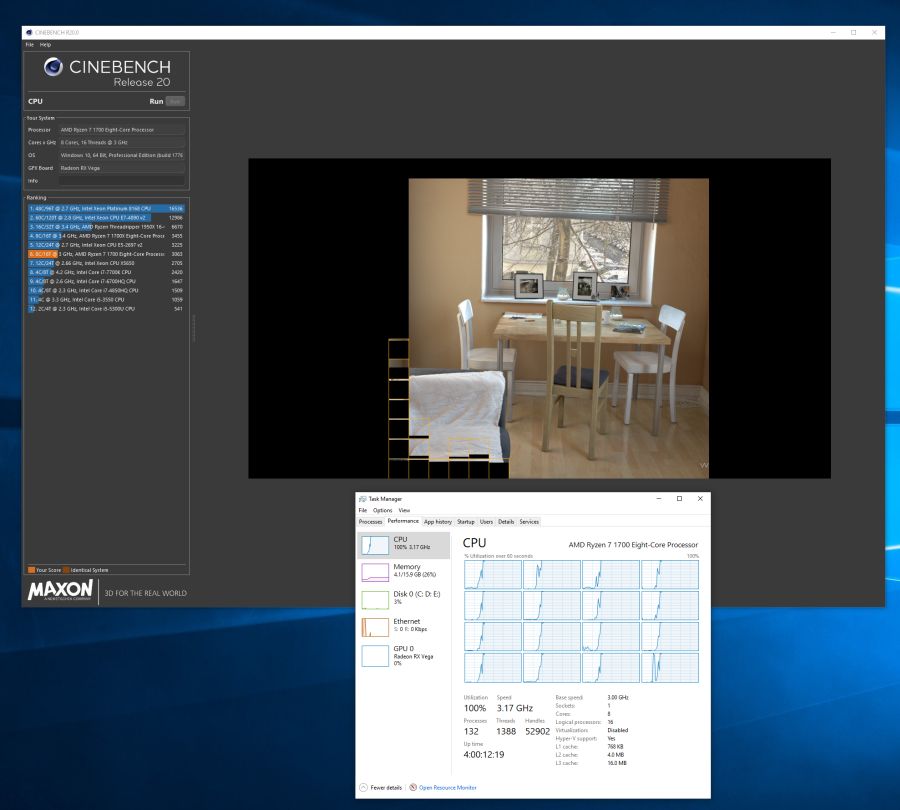 Cinebench R20 fully utilizes all CPU cores!