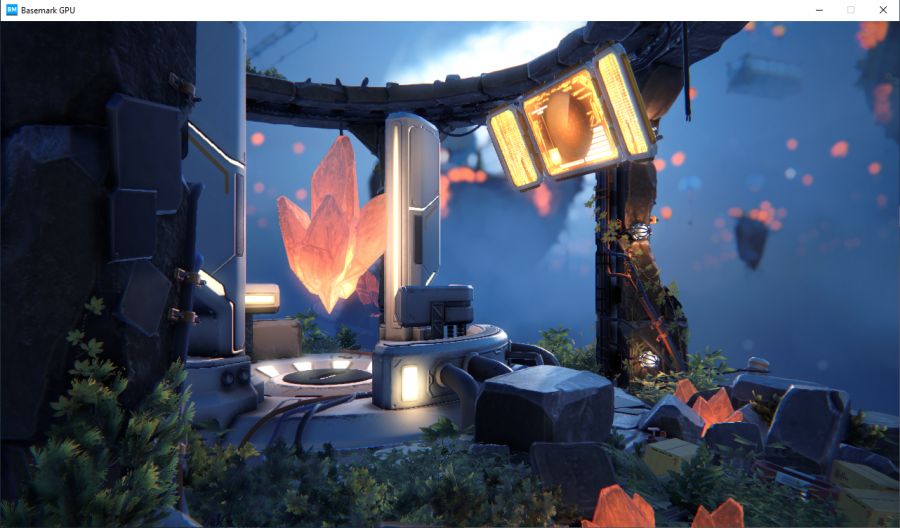 Few months ago, Basemark launched the version 1.0 of their ultimate graphics benchmarking tool. Yestderday, the version 1.1.0 has been released with Direct3D 12 support:
Updated Basemark GPU with DX12, OpenGL 4.5, Enhanced Linux Support

November 27th, 2018 Helsinki, Finland

Today Basemark releases version 1.1 of its multi-platform graphics hardware evaluation tool Basemark® GPU. Basemark GPU has been made available for free to download and use for personal users. Additionally, Basemark has provided professional versions for Benchmark Development Program members, corporate and commercial users.

Basemark® GPU 1.1 Benchmark offers unparalleled, objective comparisons between Vulkan, OpenGL, OpenGL ES and now DirectX 12 for graphics performance analysis across both mobile and desktop platforms. Our desktop Linux version of Basemark® GPU 1.1 will be available in the next few days utilizing the easily installable universal Flatpak delivery format.
You can download the 3GB benchmark from THIS PAGE (direct link).
I tested this new version on my new test bench based on an Intel Core i7-8700K. This time, I managed to run the benchmark on Radeon GPUs but I had some failures on NVIDIA GTX 1080 (the benchmark started up correctly but didn't finish the tests for an unknown reason, and this for all 3D APIs).
Here are the results.
| | |
| --- | --- |
| CPU | Intel Core i7-8700K @ 3.7GHz |
| Motherboard | GIGABYTE Z390 Gaming X |
| Memory | 16GB DDR4 Corsair Vengeance LED @ 3000MHz |
| PSU | Corsair AX860i |
| Storage | Samsung 840 Pro 256GB SSD |
| OS | Windows 10 v1809 64-bit |
Vulkan test – 3840×2160
9630 points – ASUS RTX 2080 Strix – GeForce 417.01


7430 points – MSI RTX 2070 Ventus – GeForce 417.01


4988 points – MSI Radeon RX Vega 56 AIR BOOST – Adrenalin 18.11.2


3356 points – MSI Radeon RX 470 Gaming 8GB – Adrenalin 18.11.2


409 points – Intel UHD Graphics 630 – driver: v6444


***FAILED*** – ASUS GTX 1080 Strix – GeForce 417.01


***FAILED*** – EVGA GTX 1070 FTW – GeForce 417.01


Direct3D 12 test – 3840×2160
9368 points – ASUS RTX 2080 Strix – GeForce 417.01


7120 points – MSI RTX 2070 Ventus – GeForce 417.01


5054 points – EVGA GTX 1070 FTW – GeForce 417.01


4999 points – MSI Radeon RX Vega 56 AIR BOOST – Adrenalin 18.11.2


3330 points – MSI Radeon RX 470 Gaming 8GB – Adrenalin 18.11.2


369 points – Intel UHD Graphics 630 – driver: v6444


***FAILED*** – ASUS GTX 1080 Strix – GeForce 417.01


OpenGL 4.5 test – 3840×2160
9260 points – ASUS RTX 2080 Strix – GeForce 417.01


7224 points – MSI RTX 2070 Ventus – GeForce 417.01


5278 points – EVGA GTX 1070 FTW – GeForce 417.01


2344 points – MSI Radeon RX Vega 56 AIR BOOST – Adrenalin 18.11.2


2378 points – MSI Radeon RX 470 Gaming 8GB – Adrenalin 18.11.2


*** FAILED *** – Intel UHD Graphics 630 – driver: v6444


***FAILED*** – ASUS GTX 1080 Strix – GeForce 417.01


Not easy to interpret these results. On GeForce, the scores are more or less similar no matter the 3D API. On Radeon GPUs, there is a clear difference between OpenGL and other APIs. But in OpenGL the RX Vega 56 has the same perfs than the RX 470, like if something has capped the performances. And the permanent crash of the GTX 1080 is really weird…