Article index
1 – Overview
I tested yesterday the ROG Strix GL703G SCAR Edition, a 17-inch gaming notebook released by ASUS few months ago. I tested the GL703G directly in a showroom so this article is not a detailed review (limited time and limited software installation options). This GL703 variant features an Intel hexa-core CPU (6C/12T), the Core i7-8750H and a Pascal-based GPU, the GeForce GTX 1060.
Features of the model tested:
– CPU: Intel Core i7-8750H @ 2.2GHz
– GPU: NVIDIA GeForce GTX 1060 with 6GB GDDR5
– Memory: 16GB DDR4 @ 2666MHz
– Storage: M2 NVMe PCIe 3.0 X4 256GB + 1TB 5400rpm SSHDD
– Display: 17.3-inch fullHD (1920×1080) Wide-View angle TN panel @ 120Hz, 3ms, 94%NTSC
– Audio: 2x4W speakers
– Input/ Output ports: 1 x USB 3.1 Gen2, 4 x USB 3.1 Gen1, 1 x mDP 1.2, 1 x HDMI 2.0 (4K @ 60Hz), 1 x RJ45 (gigabit LAN),
1 x SD card reader, 1 x 3.5mm headphone + micro combo jack
– Power unit supply: 180W
– WIFI: 802.11ac
– Bluetooth: 5.0
More information can be found on the homepage.
2 – Gallery
Let's start with the box that contains a ROG backpack and another box with the notebook:


The backpack is similar to the one shipped with the ROG Strix GL553VD.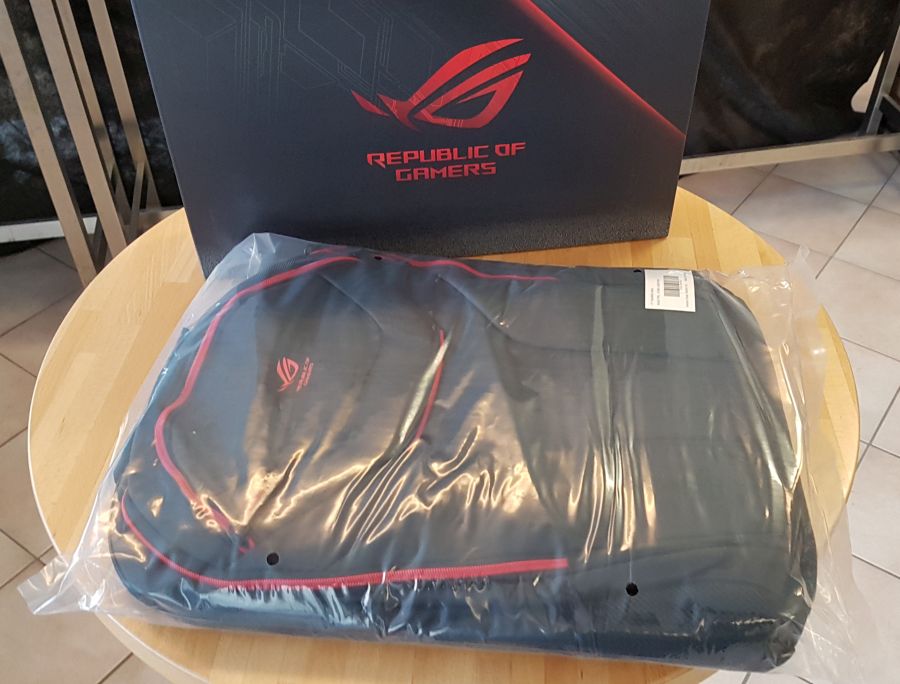 The content of the second box: a ROG key chain, some ROG stickers, paper docs, power supply unit and the notebook: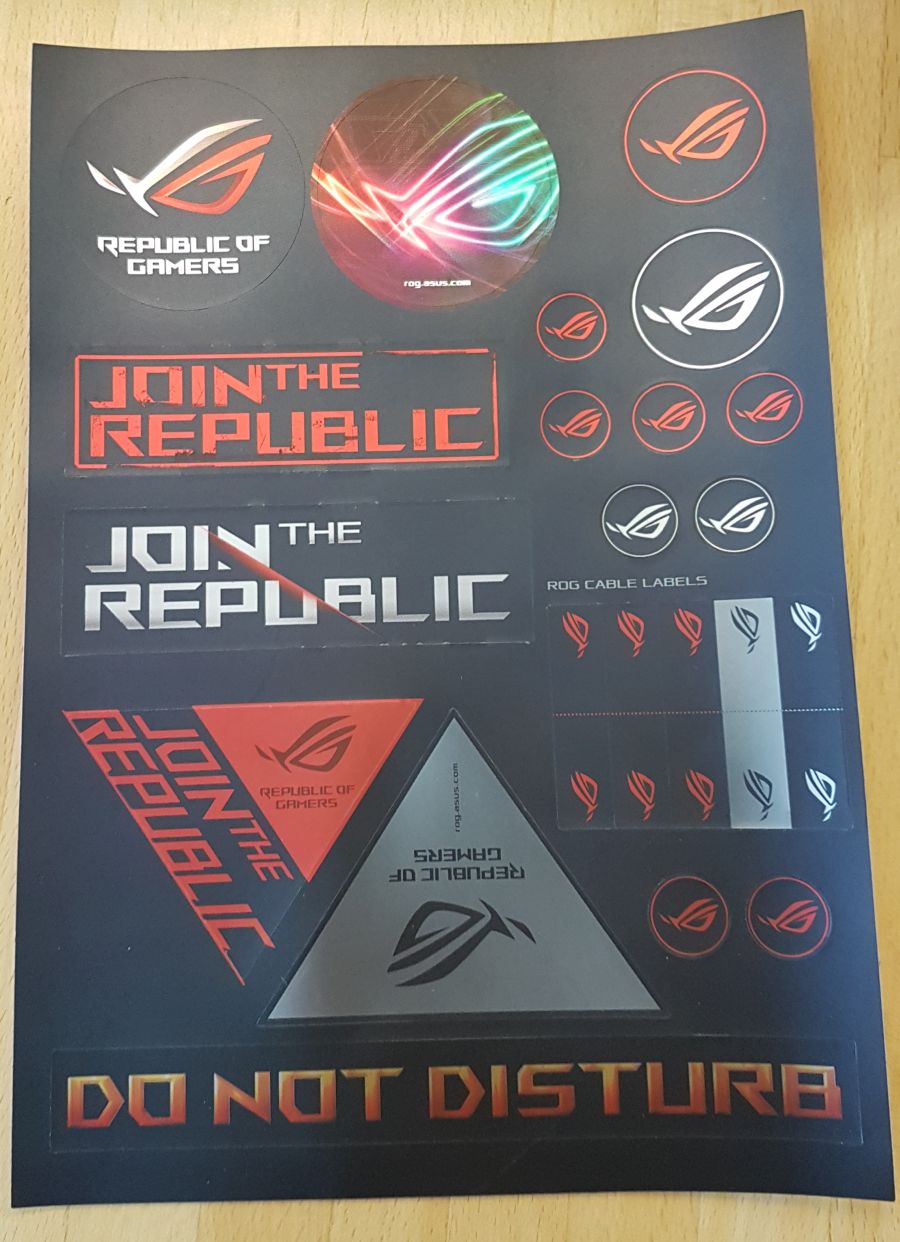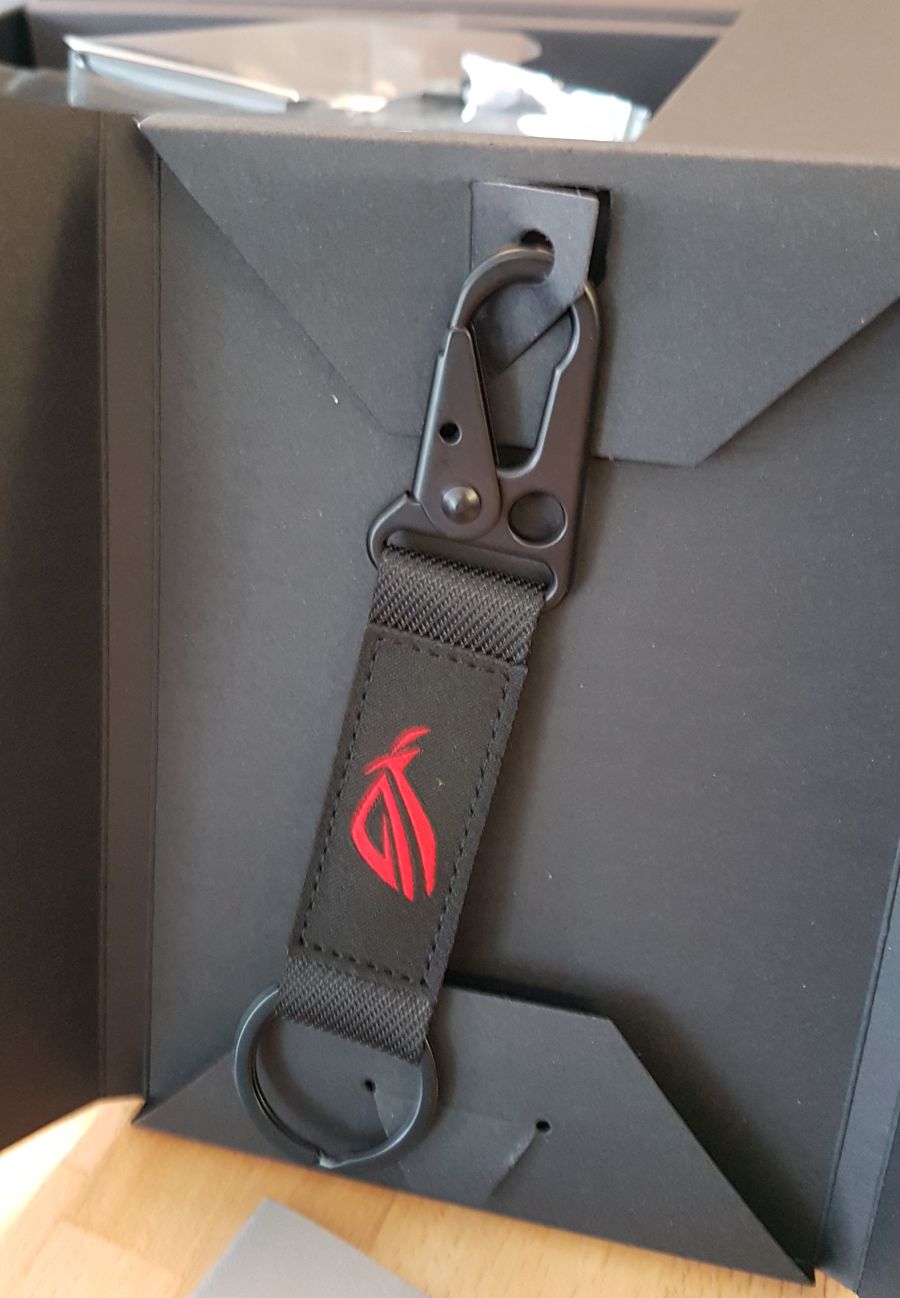 The notebook: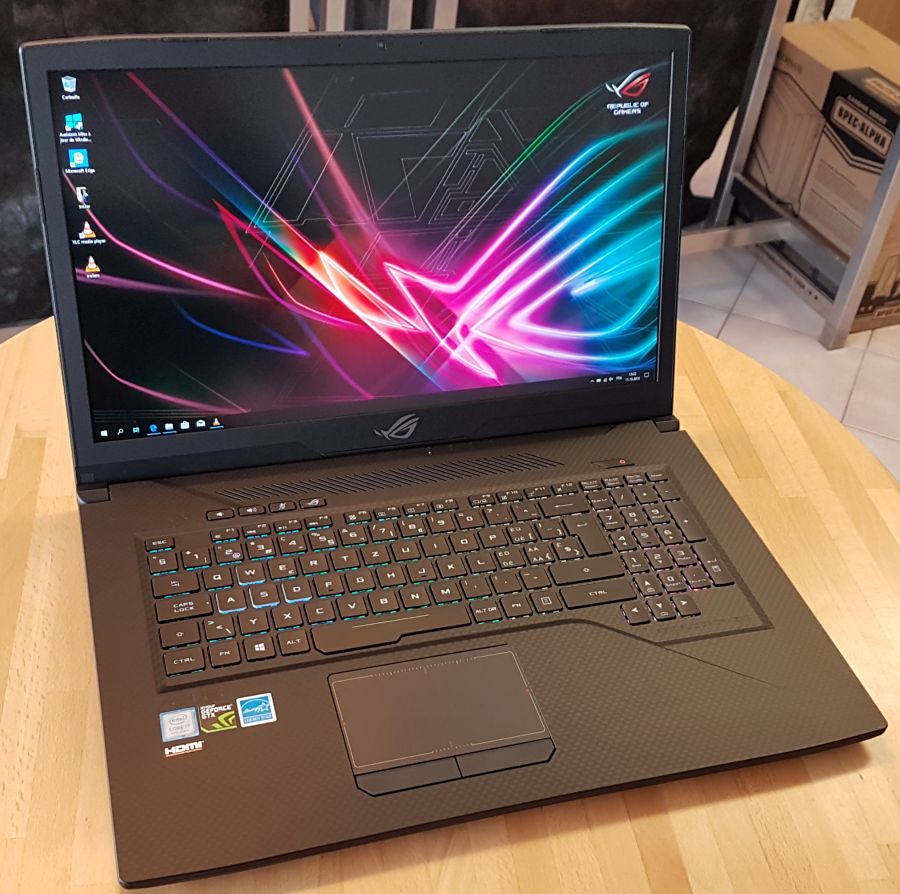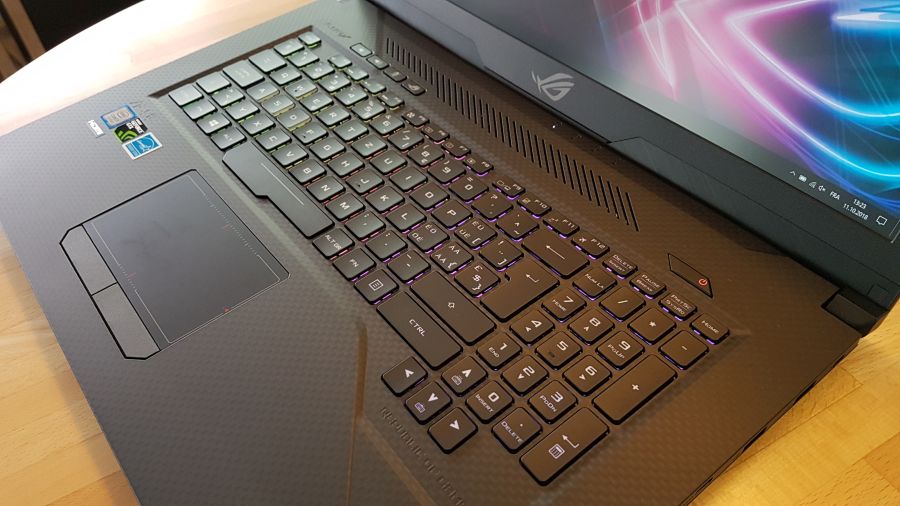 The touchpad: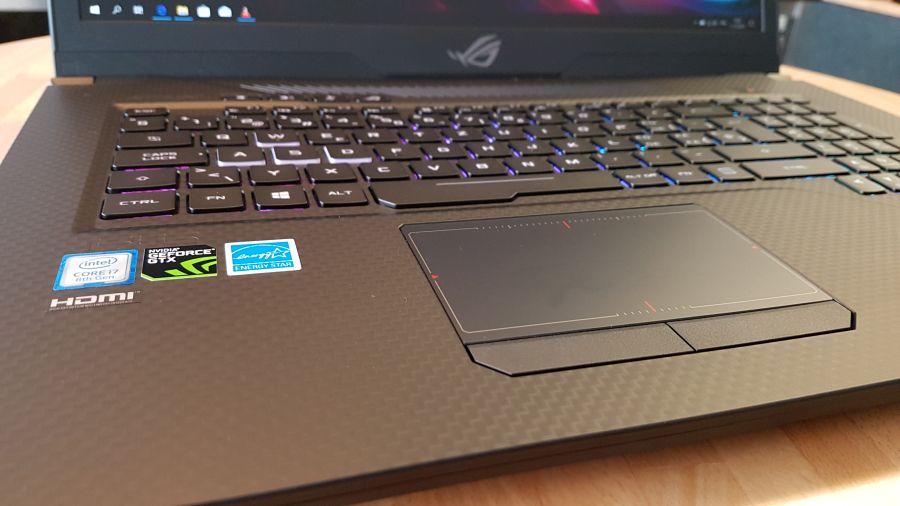 Input / output connectors
From left to right: power, RJ45, mDP 1.2 (mini-DisplayPort), HDMI 2.0, USB 3.1, USB 3.1 and 3.5mm audio jack.


From left to right: SD card reader, USB 3.1 Gen2, USB 3.1, USB 3.1, Kensington lock.


The chassis:
Strix SCAR Edition has an anodized Gunmetal Grey finish designed to mimic the cold, dark feel of an assault rifle. It's a true reflection of a warfighter's inner calm, focus, and precision. With such precise weaponry, it's up to you to take a slow deep breath, and squeeze the trigger.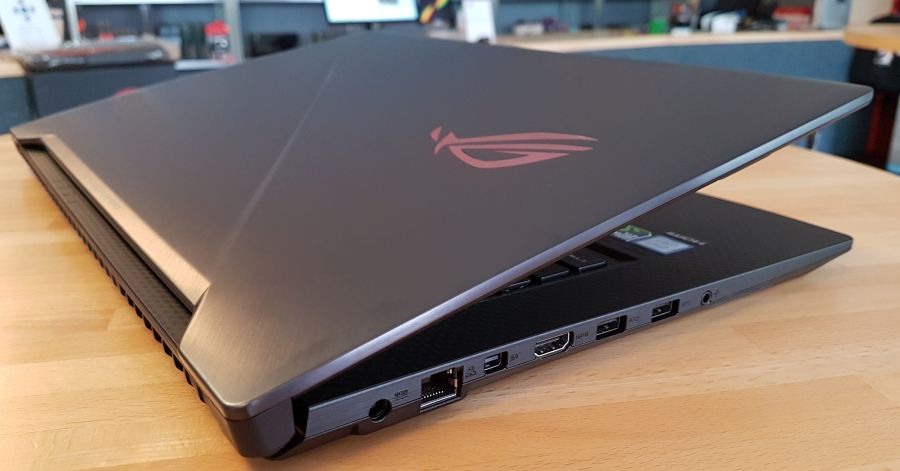 The keyboard:
Kevlar® is tougher than steel and is resistant to extreme temperatures. It's a material that epitomizes survival and pushing past limits. Strix SCAR Edition features a printed woven Kevlar design around its keyboard that changes when you view it from different angles. Its Gunmetal Grey lid represents a weapon of absolute precision; the Kevlar-like weave symbolizes unrivaled toughness.

Strix SCAR Edition puts decisive control at your fingertips, with a brand-new desktop-inspired keyboard layout featuring four hotkeys, four customizable RGB-backlit zones, and ergonomic 0.25mm keycap curves that are comfortable to the touch. ROG-exclusive Overstroke technology enables earlier actuation and a longer over-stroke distance, enabling fast, accurate and effortless keystrokes that increase your actions per minute. Specially highlighted WASD keys and N-key rollover further boost your precision, and with the action guaranteed for 20-million key presses your kill count will just keep on rising!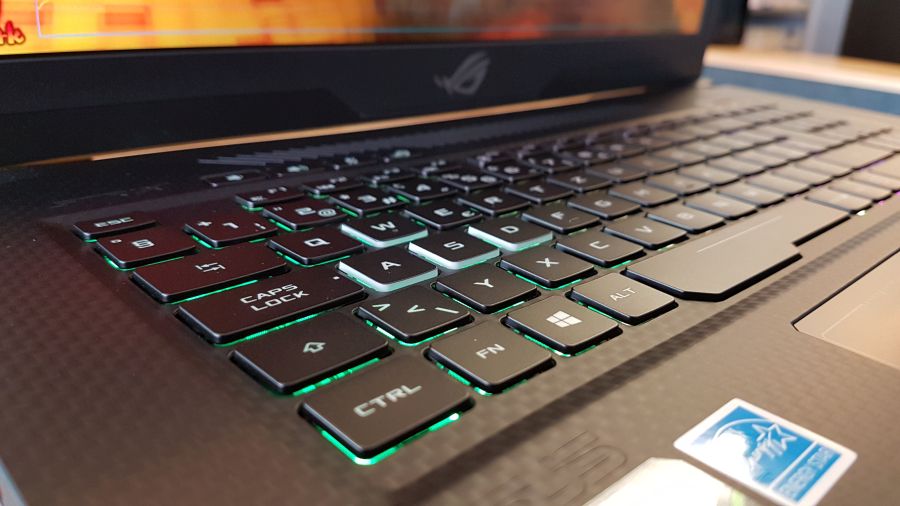 The bottom side of the notebook has a trap that lets you access to the storage units and memory modules. I didn't have the time to open this trap so no pictures of the inside…


The 180W power supply unit: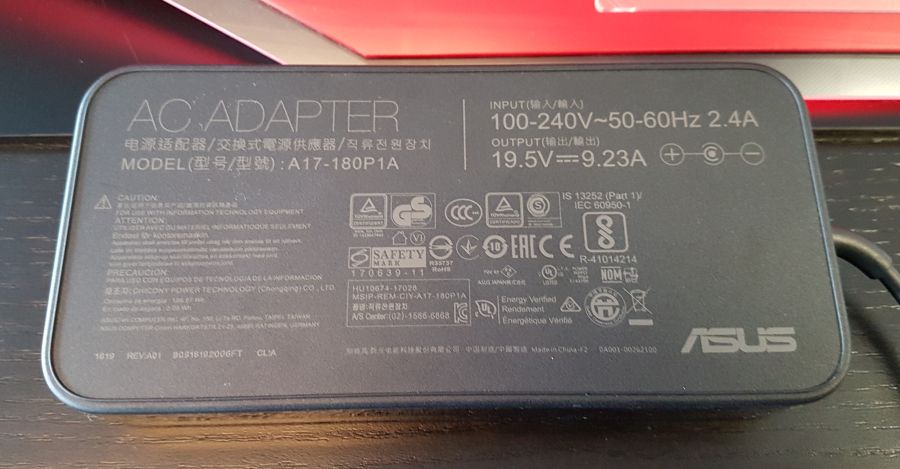 3 – Quick Test
The ROG Strix SCAR Edition is boosted by an Intel Core i7 8750H. It's an hexa core CPU (6 physical cores and 12 logical cores thanks to hyperthreading):


The graphics hardware is the notebook version of the GeForce GTX 1060. There are three versions of the GTX 1060:
for desktop: base clock: 1506MHz, boost clock: 1708MHz
for notebook: base clock: 1404MHz, boost clock: 1670MHz
for notebook with Max-Q design: base clock: 1063-1265MHz, boost clock: 1341-1480MHz
The following GPU-Z screenshot shows us that we have a regular GTX 1060 for notebook and not the Max-Q variant that offers less GPU performances:


The battery lifetime is more or less 3 hours. Hey, it's a gaming laptop, and it's designed for performance and performance requires energy. What's more when the notebbok is running on battery, the performance of the GPU are drastically reduced…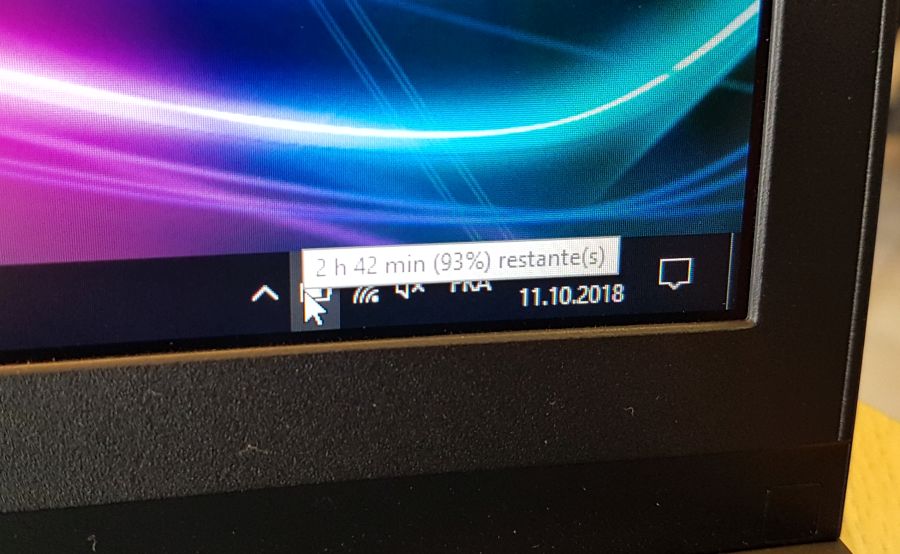 Quick FurMark Test
So with the power supply unit plugged, I launched FurMark 1.20.1. The P1080 benchmark score: 3998 points (67FPS). More or less 4000 points, this is less than a desktop GTX 1060 but is ok for a notebook GTX 1060 (see THIS PAGE for more average scores).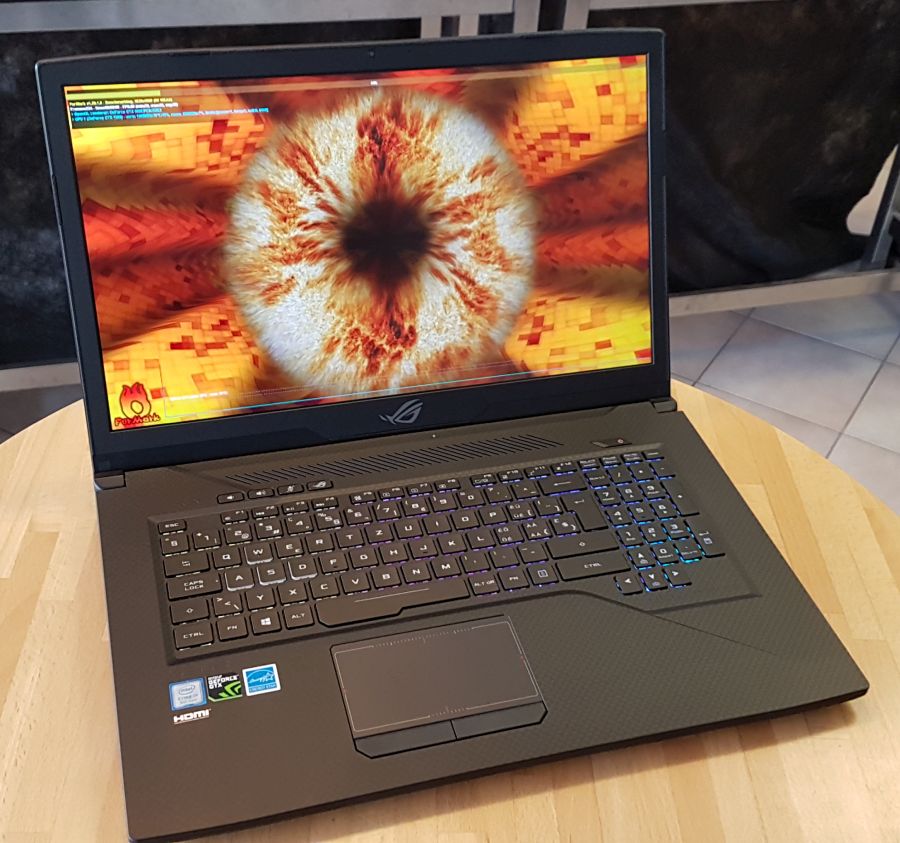 Right after the benchmark, I did a burn-in test to evaluate the GPU temperature and above all, the noise.


I was rather suprised. The notebook is noisy of course but it less noisy than the GL553VD. The noise in load is acceptable. At idle, the fans start up time to time but the notebook is globally quiet. Good!
After few minutes, the GPU temperature reached its max value: 70°C.

After the FurMark test, I launched a shadertoy test available in GPU Caps Viewer: Alien Corridor:

4 – Conclusion
I tested this gaming laptop very quickly. But this quick test was enough to give me a positive impression. The design and look of the chassis is very cool, I love it. The GL703G SCAR Edition packs all latest features such an 6C/12T CPU (Core i7-8750H), a Pascal-based GPU (GTX 1060), lot of system (16GB) and graphics (6GB) memory, several USB 3.1 ports, a real RJ45 port as well as an HDMI 2.0 and mini-Display 1.2 ports. ASUS has designed a non Max-Q notebook with, at the same time, a reasonable noise in load mixed with good 3D performances. And I'm sure that the part of the noise caused by the CPU cooler can be reduced a bit more using techniques described in this article: How to Disable Intel Turbo Boost Technology (on a notebook).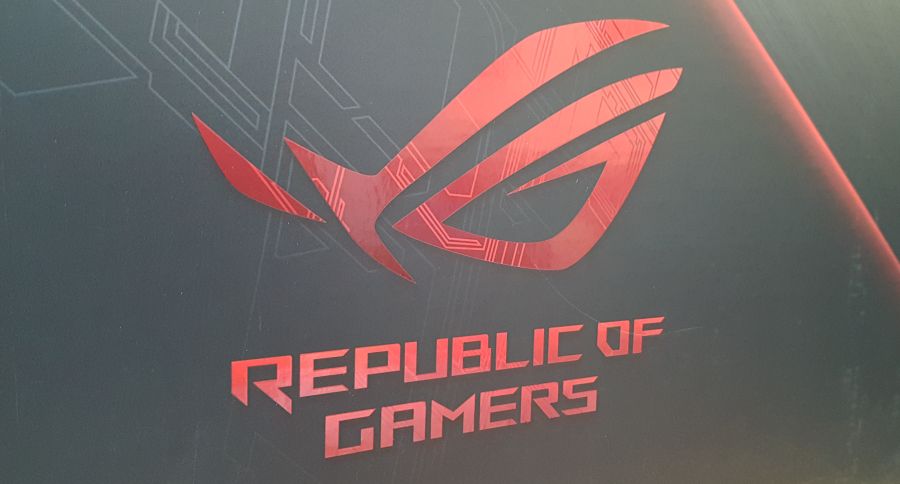 I tested this notebook in the nice showroom at Internex (here in Switzerland)! Merci les gars!