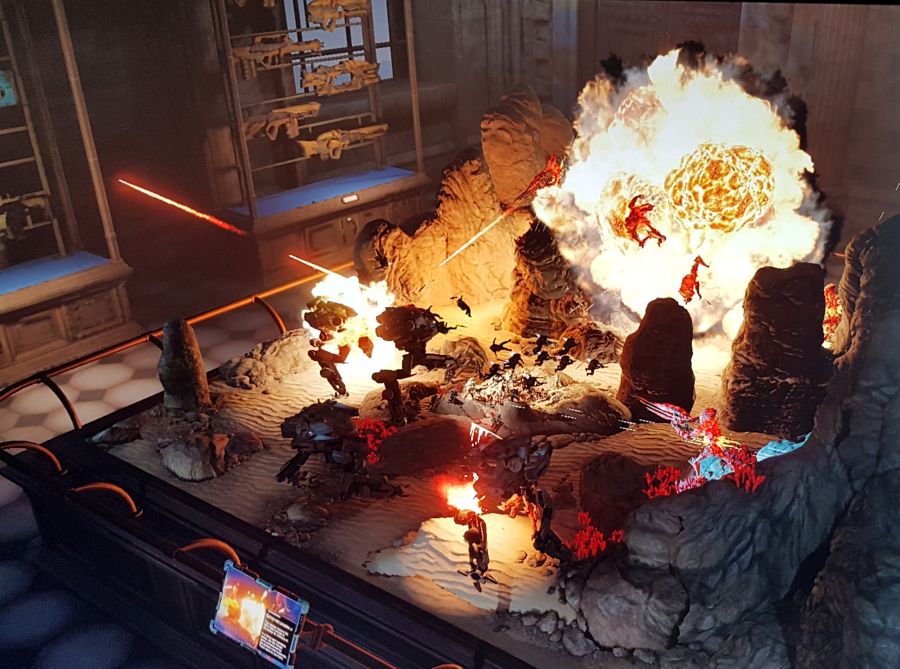 A new benchmark has been added in the latest version 2.6.6174 of 3DMark. This new benchmark, called Night Raid, is a Direct3D 12 benchmark for laptops, notebooks, tablets and other mobile computing devices with integrated graphics.
DirectX 12 benchmarking for mobile computing

3DMark Night Raid is a DirectX 12 benchmark for laptops, notebooks, tablets and other mobile computing devices with integrated graphics.

You can also use Night Raid to benchmark and compare the performance of Always Connected PCs, a new category of devices that aim to combine the performance and functionality of a PC, with the all-day battery life, and always-on connectivity of a smartphone.

3DMark Night Raid has native ARM support, which means you can benchmark and compare Always Connected PCs powered by Qualcomm Snapdragon processors such as the ASUS NovaGo, HP ENVY x2, Lenovo Miix 630 and Lenovo Yoga C630 WOS.

By design, Night Raid is a less demanding test than 3DMark Time Spy, our DirectX 12 benchmark for dedicated gaming PCs. So you might wonder what a Night Raid score can tell you about a device's gaming capabilities? We calibrate new 3DMark tests around a reference score of 5,000. In our testing, we found that a notebook PC that scored 5,000 in 3DMark Night Raid could run Counter-Strike: Global Offensive at 70 frames per second, Dota 2 at 70 FPS, and League of Legends at 80 FPS using low to medium quality settings at 1080p resolution.

3DMark Night Raid benchmark tests

3DMark Night Raid uses a DirectX 12 graphics engine that is optimized for integrated graphics hardware. It includes two Graphics tests, a CPU test, and a Demo. The Graphics tests feature dynamic reflections, ambient occlusion, tessellation, complex particle systems, and post-processing effects. The CPU test features physics simulation, occlusion culling, and procedural generation. The Demo is for entertainment only. It does not affect the score.

The update also adds a Night Raid Stress Test to 3DMark Advanced Edition and 3DMark Professional Edition. The Night Raid Stress Test runs in a loop without pausing for loading screens or other breaks. Stress testing is a good way to check the stability and cooling capabilities of low-power, lightweight mobile computing platforms.
The complete press release is available HERE.
The latest version of 3DMark for Windows can be downloaded from THIS PAGE.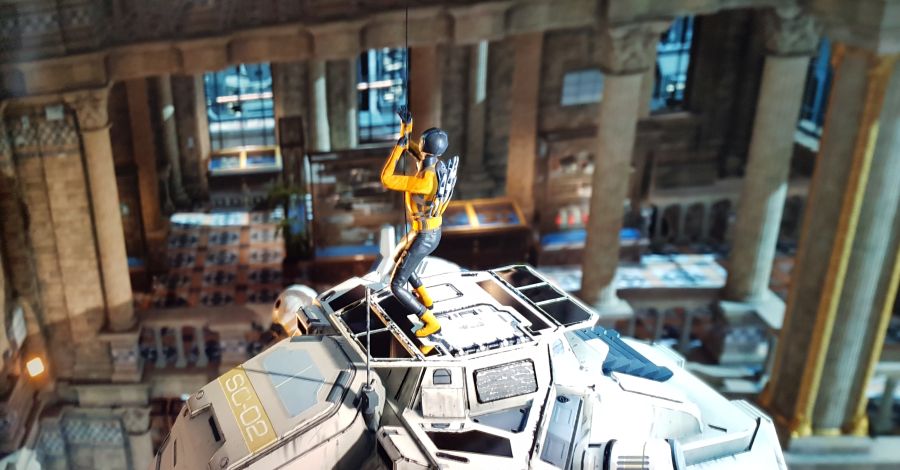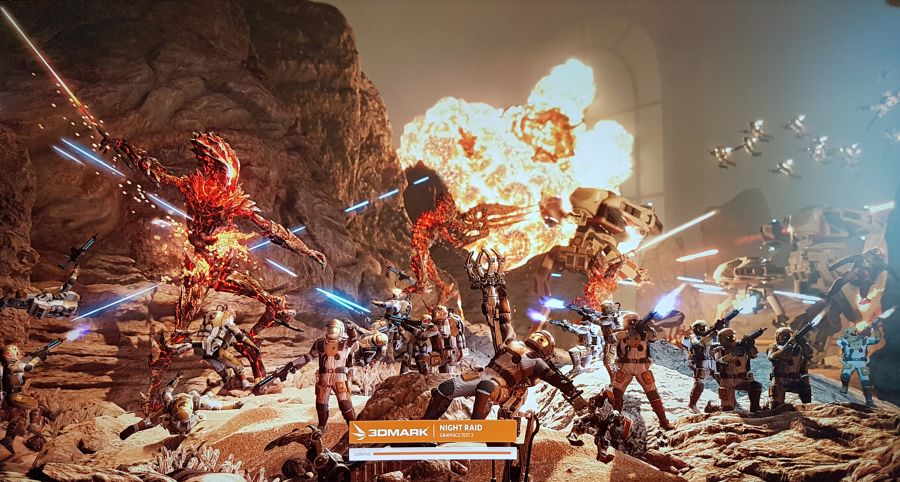 I tested this new version on a gaming notebook, the ROG Strix GL553VD that includes an Intel HD Graphics 630 (Core i7 7700HQ) and a GeForce GTX 1050.
And of course, since it's a benchmark for small GPUs, I added in the test a Radeon RX Vega 56 and a GeForce GTX 1070 driven by a Ryzen 7 1700…
On the notebook, Night Raid has selected the Intel HD 630 GPU (it's the integrated GPU). Here is the score:


4967 points… My notebook is in 3DMark reference range (5000).
Let's see how this benchmark for baby GPUs handle serious graphics hardware:
Radeon RX Vega 56 + Ryzen 7 1700: 31225 points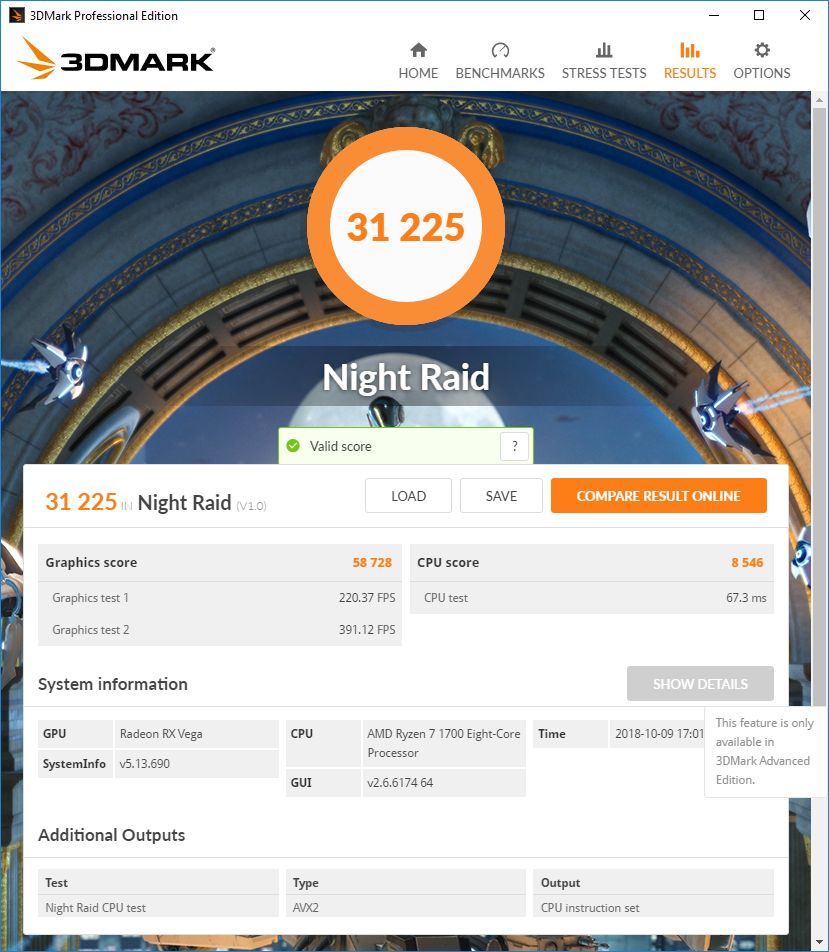 GeForce GTX 1070 + Ryzen 7 1700: 29113 points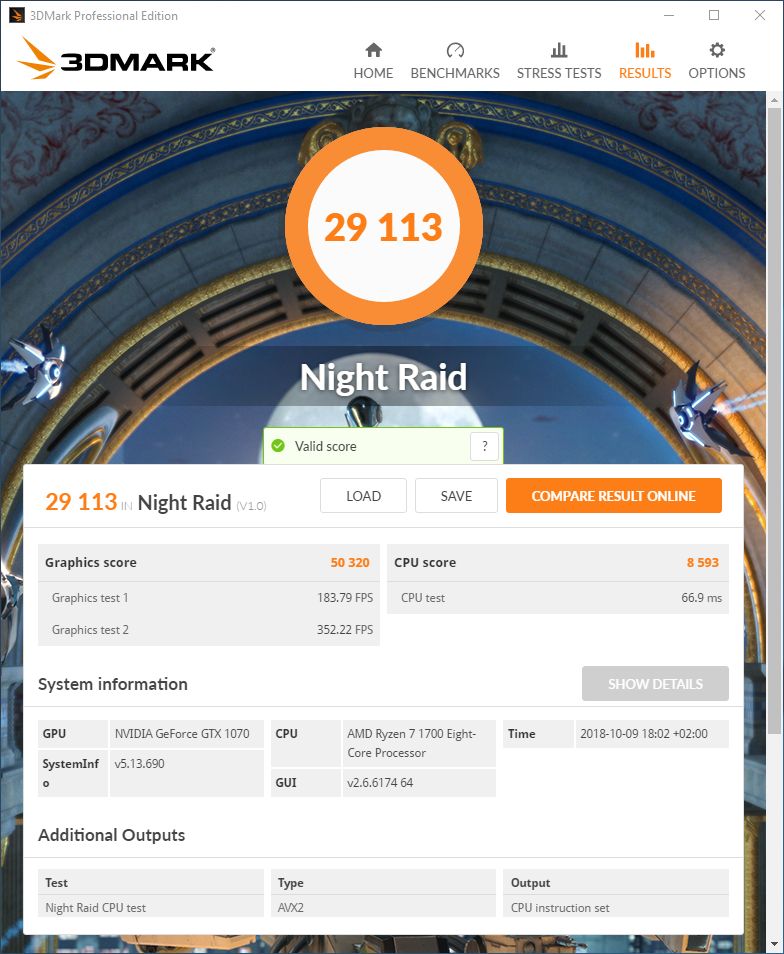 So for integrated GPUs, it's an heavy benchmark (average framerate is 20 in the first graphics test) while serious gaming rigs eat it for breakfast (more than 200 FPS in the first test). It's a cool benchmark and I will use in my next GPU reviews.