Intel's driver team has published a new graphics driver for all recent GPUs (Intel 6th, 7th and 8th Gen processors) on Windows 10. This new driver (version 24.20.100.6286) brings support for Strange Brigade and Pro Evolution Soccer 2019 and comes with the following new features:
– Performance improvements and optimizations for World of Warcraft: Battle for Azeroth* (for both DirectX* 11 and 12 versions) and Jurassic World Evolution* on 6th Generation Intel® Core processors or higher

– Playability improvements for Vampyr* and Monster Hunter: World*

– Media streaming improvements while using the AVC* codec at low bitrates for 6th Generation Intel® Core processors or higher

– Power optimizations when dynamically switching to lower refresh rates during video playback
Bugfixes
– Steam* overlay may not work in Dota 2* when running in Vulkan* mode

– Minor Graphics anomalies may be observed in Titanfall® 2 (6th Gen Intel® Core™ Only), Minecraft*, and LEGO NINJAGO* Movie Video Game

– Intermittent crashes or hangs may occur in Unravel 2*

– While using two displays, the arrangement settings in Windows* may reset if the resolution of the second display is changed.

– Inaccurate color may be observed during YouTube* playback in web browsers when hardware acceleration is turned on

– Sketchup* application may become unresponsive

– Stereoscopic 3D may not work when viewing a 3D video

– Remote desktop protocol (RDP) and Virtual Network Computing (VNC) applications show a black screen when updating the graphics driver in guest user mode
Downloads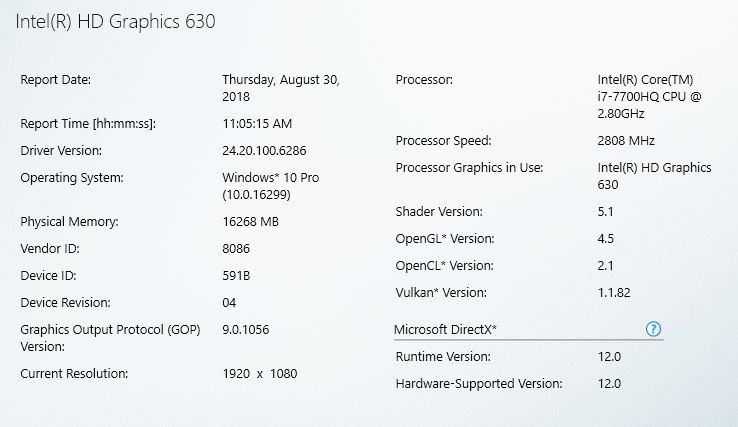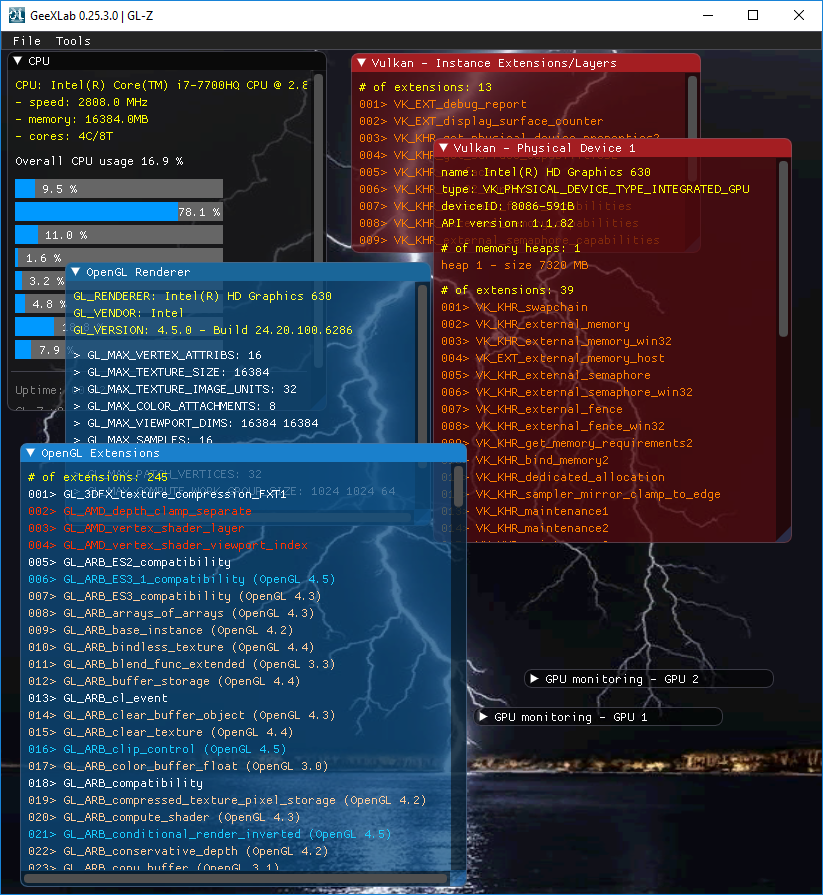 GL-Z 0.4.1
OpenGL support
Intel v6286 is an OpenGL 4.5 driver and exposes the same OpenGL support than v4944 (245 OpenGL extensions).
Vulkan support
Intel v6286 exposes Vulkan 1.1.82. Here is the report from GPU Caps Viewer 1.39:

- Instance extensions: 13
  - VK_EXT_debug_report (version: 9)
  - VK_EXT_display_surface_counter (version: 1)
  - VK_KHR_get_physical_device_properties2 (version: 1)
  - VK_KHR_get_surface_capabilities2 (version: 1)
  - VK_KHR_surface (version: 25)
  - VK_KHR_win32_surface (version: 6)
  - VK_KHR_external_fence_capabilities (version: 1)
  - VK_KHR_external_memory_capabilities (version: 1)
  - VK_KHR_external_semaphore_capabilities (version: 1)
  - VK_NV_external_memory_capabilities (version: 1)
  - VK_KHR_device_group_creation (version: 1)
  - VK_EXT_swapchain_colorspace (version: 3)
  - VK_EXT_debug_utils (version: 1)
- Instance layers: 2
  - VK_LAYER_NV_optimus (version: 1.0.65, impl: 1)
  - VK_LAYER_LUNARG_standard_validation (version: 1.0.77, impl: 1)
- Physical devices: 1
  - [Vulkan device 0]: Intel(R) HD Graphics 630 ------------------
    - API version: 1.1.82
    - vendorID: 32902
    - deviceID: 22811
    - driver version: 1644686
  - memory heap count: 2
    - heap1: 3660MB
    - heap2: 3660MB
  - memory type count: 3
    - mem type 0 - heap index : 0 - property flag : 1
      > mem property: VK_MEMORY_PROPERTY_DEVICE_LOCAL_BIT
    - mem type 1 - heap index : 1 - property flag : 7
      > mem property: VK_MEMORY_PROPERTY_DEVICE_LOCAL_BIT
      > mem property: VK_MEMORY_PROPERTY_HOST_VISIBLE_BIT
      > mem property: VK_MEMORY_PROPERTY_HOST_COHERENT_BIT
    - mem type 2 - heap index : 1 - property flag : 15
      > mem property: VK_MEMORY_PROPERTY_DEVICE_LOCAL_BIT
      > mem property: VK_MEMORY_PROPERTY_HOST_VISIBLE_BIT
      > mem property: VK_MEMORY_PROPERTY_HOST_COHERENT_BIT
      > mem property: VK_MEMORY_PROPERTY_HOST_CACHED_BIT
  - extensions: 39
    - VK_KHR_swapchain (version: 70)
    - VK_KHR_external_memory (version: 1)
    - VK_KHR_external_memory_win32 (version: 1)
    - VK_EXT_external_memory_host (version: 1)
    - VK_KHR_external_semaphore (version: 1)
    - VK_KHR_external_semaphore_win32 (version: 1)
    - VK_KHR_external_fence (version: 1)
    - VK_KHR_external_fence_win32 (version: 1)
    - VK_KHR_get_memory_requirements2 (version: 1)
    - VK_KHR_bind_memory2 (version: 1)
    - VK_KHR_dedicated_allocation (version: 3)
    - VK_KHR_sampler_mirror_clamp_to_edge (version: 1)
    - VK_KHR_maintenance1 (version: 2)
    - VK_KHR_maintenance2 (version: 1)
    - VK_KHR_maintenance3 (version: 1)
    - VK_KHR_shader_draw_parameters (version: 1)
    - VK_KHR_push_descriptor (version: 2)
    - VK_KHR_descriptor_update_template (version: 1)
    - VK_KHR_multiview (version: 1)
    - VK_KHR_16bit_storage (version: 1)
    - VK_KHR_8bit_storage (version: 1)
    - VK_EXT_shader_subgroup_ballot (version: 1)
    - VK_EXT_shader_subgroup_vote (version: 1)
    - VK_KHR_storage_buffer_storage_class (version: 1)
    - VK_KHR_variable_pointers (version: 1)
    - VK_KHR_relaxed_block_layout (version: 1)
    - VK_EXT_sampler_filter_minmax (version: 1)
    - VK_KHR_device_group (version: 3)
    - VK_KHR_sampler_ycbcr_conversion (version: 1)
    - VK_EXT_post_depth_coverage (version: 1)
    - VK_EXT_shader_viewport_index_layer (version: 1)
    - VK_EXT_shader_stencil_export (version: 1)
    - VK_EXT_conservative_rasterization (version: 1)
    - VK_EXT_sample_locations (version: 1)
    - VK_KHR_draw_indirect_count (version: 1)
    - VK_KHR_image_format_list (version: 1)
    - VK_EXT_vertex_attribute_divisor (version: 2)
    - VK_EXT_descriptor_indexing (version: 2)
    - VK_KHR_create_renderpass2 (version: 1)
  - device layers: 1
    - VK_LAYER_NV_optimus (version: 1.0.65, impl: 1)
  - device features:
    - robustBufferAccess: true
    - fullDrawIndexUint32: true
    - imageCubeArray: true
    - independentBlend: true
    - geometryShader: true
    - tessellationShader: true
    - sampleRateShading: true
    - dualSrcBlend: true
    - logicOp: true
    - multiDrawIndirect: true
    - drawIndirectFirstInstance: true
    - depthClamp: true
    - depthBiasClamp: true
    - fillModeNonSolid: true
    - depthBounds: false
    - wideLines: true
    - largePoints: true
    - alphaToOne: true
    - multiViewport: true
    - samplerAnisotropy: true
    - textureCompressionETC2: true
    - textureCompressionASTC_LDR: true
    - textureCompressionBC: true
    - occlusionQueryPrecise: true
    - pipelineStatisticsQuery: true
    - vertexPipelineStoresAndAtomics: true
    - fragmentStoresAndAtomics: true
    - shaderTessellationAndGeometryPointSize: true
    - shaderImageGatherExtended: true
    - shaderStorageImageExtendedFormats: true
    - shaderStorageImageMultisample: true
    - shaderStorageImageReadWithoutFormat: false
    - shaderStorageImageWriteWithoutFormat: true
    - shaderUniformBufferArrayDynamicIndexing: true
    - shaderSampledImageArrayDynamicIndexing: true
    - shaderStorageBufferArrayDynamicIndexing: true
    - shaderStorageImageArrayDynamicIndexing: true
    - shaderClipDistance: true
    - shaderCullDistance: true
    - shaderFloat64: true
    - shaderInt64: true
    - shaderInt16: true
    - shaderResourceResidency: true
    - shaderResourceMinLod: false
    - sparseBinding: true
    - sparseResidencyBuffer: true
    - sparseResidencyImage2D: true
    - sparseResidencyImage3D: true
    - sparseResidency2Samples: true
    - sparseResidency4Samples: true
    - sparseResidency8Samples: true
    - sparseResidency16Samples: true
    - sparseResidencyAliased: true
    - variableMultisampleRate: true
    - inheritedQueries: true
  - device limits
    - maxImageDimension1D: 16384
    - maxImageDimension2D: 16384
    - maxImageDimension3D: 2048
    - maxImageDimensionCube: 16384
    - maxImageArrayLayers: 2048
    - maxTexelBufferElements: 134217728
    - maxUniformBufferRange: 65536
    - maxStorageBufferRange: 134217728
    - maxPushConstantsSize: 256
    - maxMemoryAllocationCount: 1874157
    - maxSamplerAllocationCount: 4000
    - bufferImageGranularity: 1
    - sparseAddressSpaceSize: 17592186044416
    - maxBoundDescriptorSets: 8
    - maxPerStageDescriptorSamplers: 64
    - maxPerStageDescriptorUniformBuffers: 200
    - maxPerStageDescriptorSampledImages: 200
    - maxPerStageDescriptorStorageImages: 16
    - maxPerStageDescriptorInputAttachments: 8
    - maxPerStageResources: 200
    - maxDescriptorSetSamplers: 384
    - maxDescriptorSetUniformBuffers: 1200
    - maxDescriptorSetUniformBuffersDynamic: 16
    - maxDescriptorSetStorageBuffers: 1200
    - maxDescriptorSetStorageBuffersDynamic: 16
    - maxDescriptorSetSampledImages: 1200
    - maxDescriptorSetStorageImages: 96
    - maxDescriptorSetInputAttachments: 8
    - maxVertexInputAttributes: 16
    - maxVertexInputBindings: 16
    - maxVertexInputAttributeOffset: 2047
    - maxVertexInputBindingStride: 4095
    - maxVertexOutputComponents: 128
    - maxTessellationGenerationLevel: 64
    - maxTessellationPatchSize: 32
    - maxTessellationControlPerVertexInputComponents: 128
    - maxTessellationControlPerVertexOutputComponents: 128
    - maxTessellationControlPerPatchOutputComponents: 120
    - maxTessellationControlTotalOutputComponents: 4096
    - maxTessellationEvaluationInputComponents: 128
    - maxTessellationEvaluationOutputComponents: 128
    - maxGeometryShaderInvocations: 32
    - maxGeometryInputComponents: 128
    - maxGeometryOutputComponents: 128
    - maxGeometryOutputVertices: 256
    - maxGeometryTotalOutputComponents: 1024
    - maxFragmentInputComponents: 128
    - maxFragmentOutputAttachments: 8
    - maxFragmentDualSrcAttachments: 1
    - maxFragmentCombinedOutputResources: 16
    - maxComputeSharedMemorySize: 32768
    - maxComputeWorkGroupCount: [65536; 65536; 65536]
    - maxComputeWorkGroupInvocations: 1024
    - maxComputeWorkGroupSize: [1024; 1024; 64]
    - subPixelPrecisionBits: 8
    - subTexelPrecisionBits: 8
    - mipmapPrecisionBits: 8
    - maxDrawIndexedIndexValue: 4294967295
    - maxDrawIndirectCount: 4294967295
    - maxSamplerLodBias: 16.000000
    - maxSamplerAnisotropy: 16.000000
    - maxViewports: 16
    - maxViewportDimensions: [32768; 32768]
    - viewportBoundsRange: [-65536.000000 ; 65535.000000]
    - viewportSubPixelBits: 8
    - minMemoryMapAlignment: 64
    - minTexelBufferOffsetAlignment: 16
    - minUniformBufferOffsetAlignment: 32
    - minStorageBufferOffsetAlignment: 16
    - minTexelOffset: 4294967288
    - maxTexelOffset: 7
    - minTexelGatherOffset: 4294967264
    - maxTexelGatherOffset: 31
    - minInterpolationOffset: -0.500000
    - maxInterpolationOffset: 0.437500
    - subPixelInterpolationOffsetBits: 4
    - maxFramebufferWidth: 16384
    - maxFramebufferHeight: 16384
    - maxFramebufferLayers: 2048
    - framebufferColorSampleCounts: 31
    - framebufferDepthSampleCounts: 31
    - framebufferStencilSampleCounts: 31
    - framebufferNoAttachmentsSampleCounts: 31
    - maxColorAttachments: 8
    - sampledImageColorSampleCounts: 31
    - sampledImageIntegerSampleCounts: 31
    - sampledImageDepthSampleCounts: 31
    - sampledImageStencilSampleCounts: 31
    - storageImageSampleCounts: 31
    - maxSampleMaskWords: 1
    - timestampComputeAndGraphics: 1
    - timestampPeriod: 83.333000
    - maxClipDistances: 8
    - maxCullDistances: 8
    - maxCombinedClipAndCullDistances: 8
    - discreteQueuePriorities: 2
    - pointSizeRange: [0.125000 ; 255.875000]
    - lineWidthRange: [0.000000 ; 7.992188]
    - pointSizeGranularity: 0.125000
    - lineWidthGranularity: 0.007813
    - strictLines: 0
    - standardSampleLocations: 1
    - optimalBufferCopyOffsetAlignment: 16
    - optimalBufferCopyRowPitchAlignment: 16
    - nonCoherentAtomSize: 1