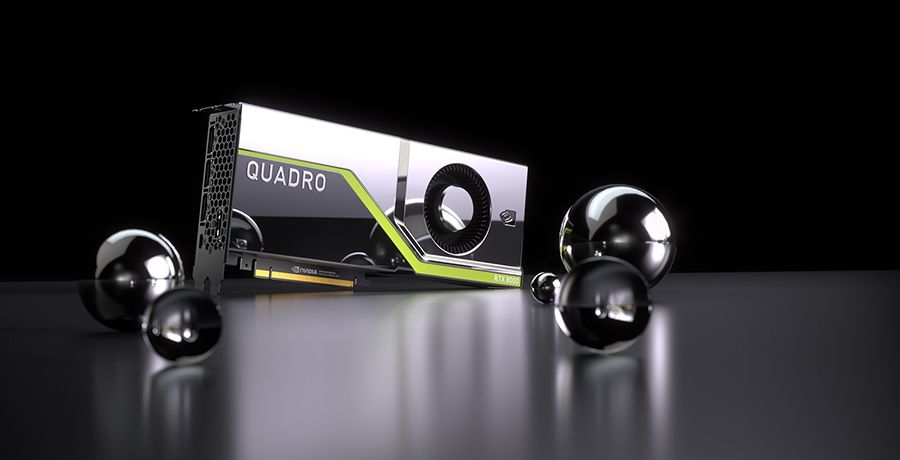 NVIDIA has unveiled yesterday during SIGGRAPH 2018, the new family of Quadro professional graphics cards: the Quadro RTX 8000, Quadro RTX 6000 and Quadro RTX 5000. These cards are based on the new Turing architecture, also unveiled during the SIGGRAPH event.
Real time ray-tracing is currently a hot topic and the new Quadro RTX family is clearly focused on this field. The RTX letters come from NVIDIA RTX platform that brings software technology for ray tracing, deep learning and rasterization. What's more, the Turing architecture has some dedicated ray-tracing processors called RT Cores that accelerate ray-tracing computing and are able to cast up to 10 Giga Rays / sec.
All Quadro RTX integrate Samsung high speed GDDR6 memory technology. The high-end Quadro RTX 8000 comes with a whooping 48GB of GDDR6 memory and will cost more or less USD $10'000!
Quadro RTX cards will be available later this year (Q4 2018).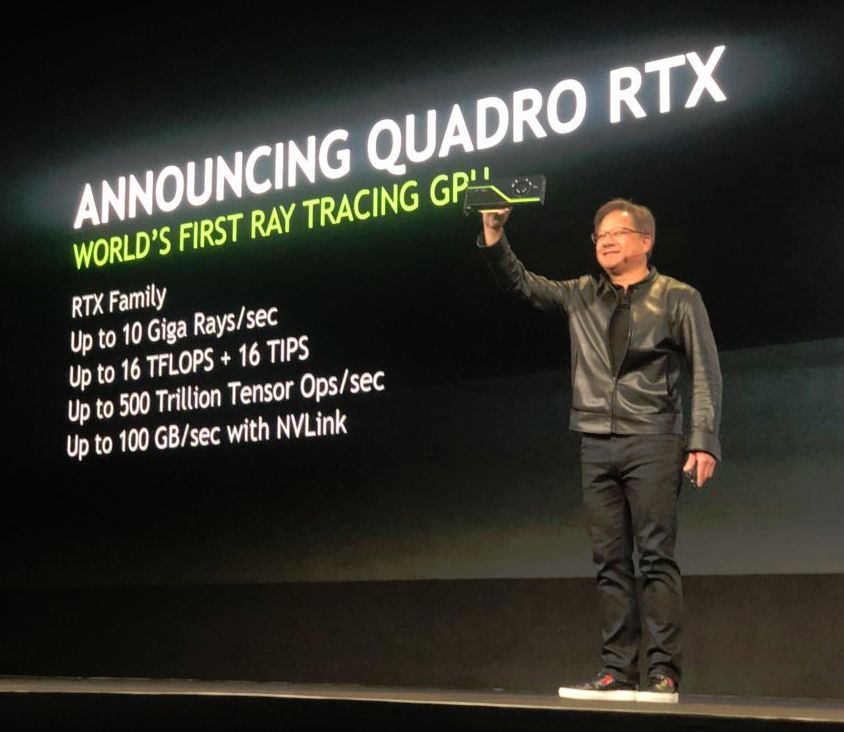 NVIDIA Quadro RTX 8000
– GPU: GTxxx (GT100 or GT102 ?)
– CUDA cores: 4608 (576 Tensor cores)
– RT cores: 72
– Memory: 48GB GDDR6 ECC – 384-bit memory interface
– Ray Tracing speed: 11 GigaRays/sec
– TDP: 295W
– Price: $10'000 $5,500.00
– Quadro RTX 8000 homepage
NVIDIA Quadro RTX 6000
– GPU: GTxx
– CUDA cores: 4608 (576 Tensor cores)
– RT cores: 72
– Memory: 24GB GDDR6 – 384-bit memory interface
– Ray Tracing speed: 10 GigaRays/sec
– TDP: 295W
– Price: $6'300 $4,000.00
– Quadro RTX 6000 homepage
NVIDIA Quadro RTX 5000
– GPU: GTxxx
– CUDA cores: 3072 (384 Tensor cores)
– RT cores: 48
– Memory: 16GB GDDR6 – 256-bit memory interface
– Ray Tracing speed: 8 GigaRays/sec
– TDP: 265W
– Price: $2'300
– Quadro RTX 5000 homepage

Links: