AMD has published a new graphics driver for all Radeon based graphics cards. Adrenalin 18.6.1 comes performance improvements in Warhammer: Vermintide 2 and updates the Vulkan API to version 1.1.73 (latest version of the specifications is 1.1.77). All fixed and opened issues, are available in the release notes.
Radeon Adrenalin 18.6.1 Downloads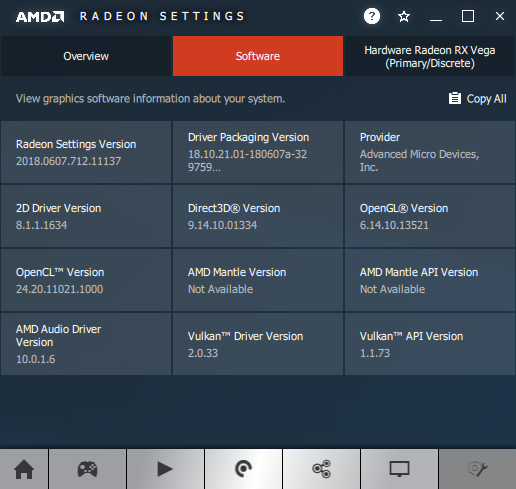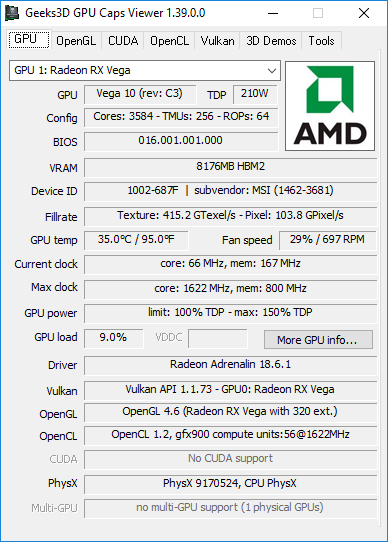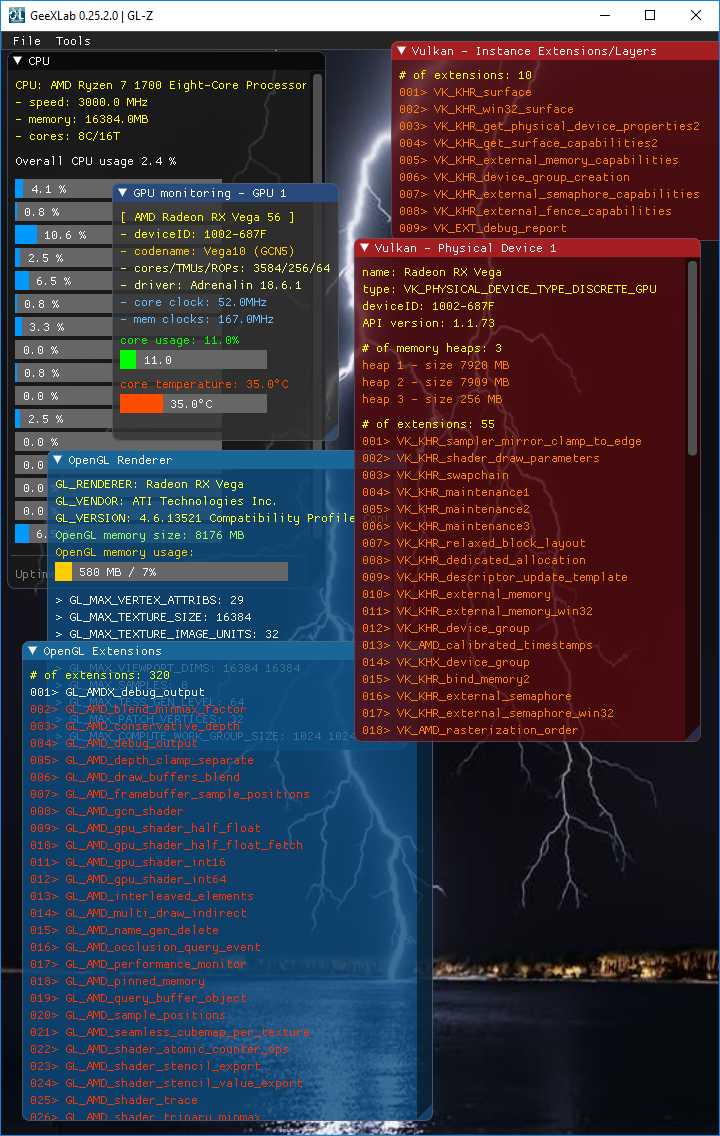 GL-Z
OpenGL support
Adrenalin 18.6.1 exposes OpenGL 4.6 and 320 OpenGL extensions like 18.4.1.

- GL_VENDOR: ATI Technologies Inc.
- GL_RENDERER: Radeon RX Vega
- GL_VERSION: 4.6.13521 Compatibility Profile/Debug Context 24.20.11001.5003
- OpenGL Extensions: 320 extensions (GL=295 and WGL=25)

Vulkan support
Report from GPU Caps Viewer.

- Instance extensions: 10
  - VK_KHR_surface (version: 25)
  - VK_KHR_win32_surface (version: 6)
  - VK_KHR_get_physical_device_properties2 (version: 1)
  - VK_KHR_get_surface_capabilities2 (version: 1)
  - VK_KHR_external_memory_capabilities (version: 1)
  - VK_KHR_device_group_creation (version: 1)
  - VK_KHR_external_semaphore_capabilities (version: 1)
  - VK_KHR_external_fence_capabilities (version: 1)
  - VK_EXT_debug_report (version: 9)
  - VK_EXT_debug_utils (version: 1)
- Instance layers: 3
  - VK_LAYER_AMD_switchable_graphics (version: 1.1.70, impl: 1)
  - VK_LAYER_VALVE_steam_overlay (version: 1.0.3, impl: 1)
  - VK_LAYER_LUNARG_standard_validation (version: 1.0.70, impl: 1)
- Physical devices: 1
  - [Vulkan device 0]: Radeon RX Vega ------------------
    - API version: 1.1.73
    - vendorID: 4098
    - deviceID: 26751
    - driver version: 8388641
  - memory heap count: 3
    - heap1: 7920MB
    - heap2: 768MB
    - heap3: 256MB
  - memory type count: 4
    - mem type 0 - heap index : 0 - property flag : 1
      > mem property: VK_MEMORY_PROPERTY_DEVICE_LOCAL_BIT
    - mem type 1 - heap index : 1 - property flag : 6
      > mem property: VK_MEMORY_PROPERTY_HOST_VISIBLE_BIT
      > mem property: VK_MEMORY_PROPERTY_HOST_COHERENT_BIT
    - mem type 2 - heap index : 2 - property flag : 7
      > mem property: VK_MEMORY_PROPERTY_DEVICE_LOCAL_BIT
      > mem property: VK_MEMORY_PROPERTY_HOST_VISIBLE_BIT
      > mem property: VK_MEMORY_PROPERTY_HOST_COHERENT_BIT
    - mem type 3 - heap index : 1 - property flag : 14
      > mem property: VK_MEMORY_PROPERTY_HOST_VISIBLE_BIT
      > mem property: VK_MEMORY_PROPERTY_HOST_COHERENT_BIT
      > mem property: VK_MEMORY_PROPERTY_HOST_CACHED_BIT
  - extensions: 55
    - VK_KHR_sampler_mirror_clamp_to_edge (version: 1)
    - VK_KHR_shader_draw_parameters (version: 1)
    - VK_KHR_swapchain (version: 70)
    - VK_KHR_maintenance1 (version: 2)
    - VK_KHR_maintenance2 (version: 1)
    - VK_KHR_maintenance3 (version: 1)
    - VK_KHR_relaxed_block_layout (version: 1)
    - VK_KHR_dedicated_allocation (version: 3)
    - VK_KHR_descriptor_update_template (version: 1)
    - VK_KHR_external_memory (version: 1)
    - VK_KHR_external_memory_win32 (version: 1)
    - VK_KHR_device_group (version: 3)
    - VK_AMD_calibrated_timestamps (version: 1)
    - VK_KHX_device_group (version: 2)
    - VK_KHR_bind_memory2 (version: 1)
    - VK_KHR_external_semaphore (version: 1)
    - VK_KHR_external_semaphore_win32 (version: 1)
    - VK_AMD_rasterization_order (version: 1)
    - VK_AMD_shader_ballot (version: 1)
    - VK_AMD_shader_trinary_minmax (version: 1)
    - VK_AMD_shader_explicit_vertex_parameter (version: 1)
    - VK_AMD_gcn_shader (version: 1)
    - VK_AMD_draw_indirect_count (version: 1)
    - VK_AMD_negative_viewport_height (version: 1)
    - VK_AMD_gpu_shader_half_float (version: 1)
    - VK_AMD_shader_info (version: 1)
    - VK_AMD_gpu_shader_half_float_fetch (version: 1)
    - VK_EXT_sampler_filter_minmax (version: 1)
    - VK_AMD_shader_fragment_mask (version: 1)
    - VK_AMD_wave_limits (version: 1)
    - VK_AMD_texture_gather_bias_lod (version: 1)
    - VK_AMD_mixed_attachment_samples (version: 1)
    - VK_EXT_sample_locations (version: 1)
    - VK_AMD_gpu_shader_int16 (version: 1)
    - VK_EXT_shader_subgroup_vote (version: 1)
    - VK_KHR_16bit_storage (version: 1)
    - VK_KHR_storage_buffer_storage_class (version: 1)
    - VK_AMD_gpa_interface (version: 1)
    - VK_EXT_shader_subgroup_ballot (version: 1)
    - VK_EXT_shader_stencil_export (version: 1)
    - VK_EXT_shader_viewport_index_layer (version: 1)
    - VK_KHR_get_memory_requirements2 (version: 1)
    - VK_KHR_image_format_list (version: 1)
    - VK_KHR_multiview (version: 1)
    - VK_KHR_external_fence (version: 1)
    - VK_KHR_external_fence_win32 (version: 1)
    - VK_KHR_win32_keyed_mutex (version: 1)
    - VK_EXT_global_priority (version: 2)
    - VK_AMD_buffer_marker (version: 1)
    - VK_AMD_shader_image_load_store_lod (version: 1)
    - VK_EXT_external_memory_host (version: 1)
    - VK_EXT_depth_range_unrestricted (version: 1)
    - VK_AMD_shader_core_properties (version: 1)
    - VK_EXT_queue_family_foreign (version: 1)
    - VK_KHR_variable_pointers (version: 1)
  - device layers: 1
    - VK_LAYER_AMD_switchable_graphics (version: 1.1.70, impl: 1)
  - device features:
    - robustBufferAccess: true
    - fullDrawIndexUint32: true
    - imageCubeArray: true
    - independentBlend: true
    - geometryShader: true
    - tessellationShader: true
    - sampleRateShading: true
    - dualSrcBlend: true
    - logicOp: true
    - multiDrawIndirect: true
    - drawIndirectFirstInstance: true
    - depthClamp: true
    - depthBiasClamp: true
    - fillModeNonSolid: true
    - depthBounds: true
    - wideLines: true
    - largePoints: true
    - alphaToOne: false
    - multiViewport: true
    - samplerAnisotropy: true
    - textureCompressionETC2: false
    - textureCompressionASTC_LDR: false
    - textureCompressionBC: true
    - occlusionQueryPrecise: true
    - pipelineStatisticsQuery: true
    - vertexPipelineStoresAndAtomics: true
    - fragmentStoresAndAtomics: true
    - shaderTessellationAndGeometryPointSize: true
    - shaderImageGatherExtended: true
    - shaderStorageImageExtendedFormats: true
    - shaderStorageImageMultisample: true
    - shaderStorageImageReadWithoutFormat: true
    - shaderStorageImageWriteWithoutFormat: true
    - shaderUniformBufferArrayDynamicIndexing: true
    - shaderSampledImageArrayDynamicIndexing: true
    - shaderStorageBufferArrayDynamicIndexing: true
    - shaderStorageImageArrayDynamicIndexing: true
    - shaderClipDistance: true
    - shaderCullDistance: true
    - shaderFloat64: true
    - shaderInt64: true
    - shaderInt16: true
    - shaderResourceResidency: false
    - shaderResourceMinLod: false
    - sparseBinding: false
    - sparseResidencyBuffer: false
    - sparseResidencyImage2D: false
    - sparseResidencyImage3D: false
    - sparseResidency2Samples: false
    - sparseResidency4Samples: true
    - sparseResidency8Samples: false
    - sparseResidency16Samples: false
    - sparseResidencyAliased: false
    - variableMultisampleRate: true
    - inheritedQueries: true
  - device limits
    - maxImageDimension1D: 16384
    - maxImageDimension2D: 16384
    - maxImageDimension3D: 2048
    - maxImageDimensionCube: 16384
    - maxImageArrayLayers: 2048
    - maxTexelBufferElements: 4294967295
    - maxUniformBufferRange: 4294967295
    - maxStorageBufferRange: 4294967295
    - maxPushConstantsSize: 128
    - maxMemoryAllocationCount: 4096
    - maxSamplerAllocationCount: 1048576
    - bufferImageGranularity: 1
    - sparseAddressSpaceSize: 17592186044415
    - maxBoundDescriptorSets: 32
    - maxPerStageDescriptorSamplers: 4294967295
    - maxPerStageDescriptorUniformBuffers: 4294967295
    - maxPerStageDescriptorSampledImages: 4294967295
    - maxPerStageDescriptorStorageImages: 4294967295
    - maxPerStageDescriptorInputAttachments: 4294967295
    - maxPerStageResources: 4294967295
    - maxDescriptorSetSamplers: 4294967295
    - maxDescriptorSetUniformBuffers: 4294967295
    - maxDescriptorSetUniformBuffersDynamic: 8
    - maxDescriptorSetStorageBuffers: 4294967295
    - maxDescriptorSetStorageBuffersDynamic: 8
    - maxDescriptorSetSampledImages: 4294967295
    - maxDescriptorSetStorageImages: 4294967295
    - maxDescriptorSetInputAttachments: 4294967295
    - maxVertexInputAttributes: 64
    - maxVertexInputBindings: 32
    - maxVertexInputAttributeOffset: 4294967295
    - maxVertexInputBindingStride: 16383
    - maxVertexOutputComponents: 128
    - maxTessellationGenerationLevel: 64
    - maxTessellationPatchSize: 32
    - maxTessellationControlPerVertexInputComponents: 128
    - maxTessellationControlPerVertexOutputComponents: 128
    - maxTessellationControlPerPatchOutputComponents: 120
    - maxTessellationControlTotalOutputComponents: 4096
    - maxTessellationEvaluationInputComponents: 128
    - maxTessellationEvaluationOutputComponents: 128
    - maxGeometryShaderInvocations: 127
    - maxGeometryInputComponents: 128
    - maxGeometryOutputComponents: 128
    - maxGeometryOutputVertices: 1024
    - maxGeometryTotalOutputComponents: 16384
    - maxFragmentInputComponents: 128
    - maxFragmentOutputAttachments: 8
    - maxFragmentDualSrcAttachments: 1
    - maxFragmentCombinedOutputResources: 4294967295
    - maxComputeSharedMemorySize: 32768
    - maxComputeWorkGroupCount: [65535; 65535; 65535]
    - maxComputeWorkGroupInvocations: 1024
    - maxComputeWorkGroupSize: [1024; 1024; 1024]
    - subPixelPrecisionBits: 8
    - subTexelPrecisionBits: 8
    - mipmapPrecisionBits: 8
    - maxDrawIndexedIndexValue: 4294967295
    - maxDrawIndirectCount: 4294967295
    - maxSamplerLodBias: 15.996094
    - maxSamplerAnisotropy: 16.000000
    - maxViewports: 16
    - maxViewportDimensions: [16384; 16384]
    - viewportBoundsRange: [-32768.000000 ; 32767.000000]
    - viewportSubPixelBits: 8
    - minMemoryMapAlignment: 64
    - minTexelBufferOffsetAlignment: 1
    - minUniformBufferOffsetAlignment: 16
    - minStorageBufferOffsetAlignment: 4
    - minTexelOffset: 4294967232
    - maxTexelOffset: 63
    - minTexelGatherOffset: 4294967264
    - maxTexelGatherOffset: 31
    - minInterpolationOffset: -2.000000
    - maxInterpolationOffset: 2.000000
    - subPixelInterpolationOffsetBits: 8
    - maxFramebufferWidth: 16384
    - maxFramebufferHeight: 16384
    - maxFramebufferLayers: 2048
    - framebufferColorSampleCounts: 15
    - framebufferDepthSampleCounts: 15
    - framebufferStencilSampleCounts: 15
    - framebufferNoAttachmentsSampleCounts: 15
    - maxColorAttachments: 8
    - sampledImageColorSampleCounts: 15
    - sampledImageIntegerSampleCounts: 15
    - sampledImageDepthSampleCounts: 15
    - sampledImageStencilSampleCounts: 15
    - storageImageSampleCounts: 15
    - maxSampleMaskWords: 1
    - timestampComputeAndGraphics: 1
    - timestampPeriod: 37.037037
    - maxClipDistances: 8
    - maxCullDistances: 8
    - maxCombinedClipAndCullDistances: 8
    - discreteQueuePriorities: 2
    - pointSizeRange: [0.000000 ; 8191.875000]
    - lineWidthRange: [0.000000 ; 8191.875000]
    - pointSizeGranularity: 0.125000
    - lineWidthGranularity: 0.125000
    - strictLines: 0
    - standardSampleLocations: 1
    - optimalBufferCopyOffsetAlignment: 1
    - optimalBufferCopyRowPitchAlignment: 1
    - nonCoherentAtomSize: 128

—
via