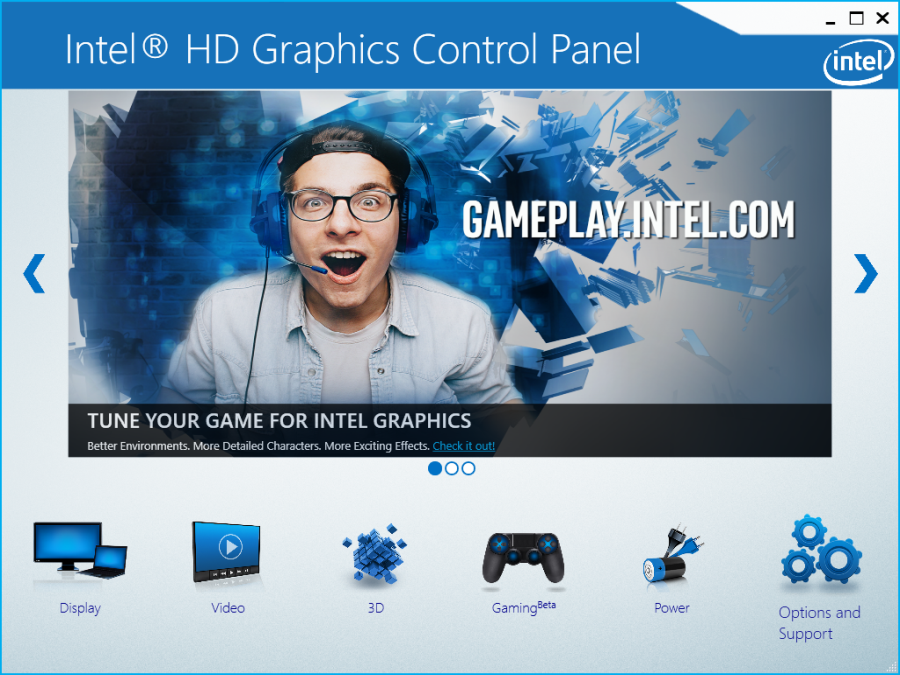 Intel has released a new graphics driver for GPUs integrated in Intel 6th Gen (Skylake), 7th Gen (Kaby Lake), 8th Gen (Kaby Lake R, Coffee Lake) and Apollo Lake Core processors. This new driver (version 15.65.3.4944) adds the support of Age of Empires: Definitive Edition and Final Fantasy XII: The Zodiac Age HD.
v4944 comes with a new feature: the control panel now configures game settings automatically.
Intel is introducing a new feature with the ability to automatically configure game settings for Intel® Graphics on 6th Gen Core Processors or higher (including upcoming systems with 8th Gen Core Processors with Radeon™ RX Vega M Graphics). Look for the 'Gaming icon' in the Graphics Control Panel. This feature is still in beta so game availability and functionality is limited.
This new driver also introduces many other improvements:
– Enhanced performance of graphics workloads for 6th Gen Intel® Core™ processors or higher with intelligent power management under maximum load.

– Improved performance in video encoding for all codecs.

– Power saving optimizations during video playback and UHD gaming is now available on all 7th Gen Intel Core processors and higher.
Downloads
OpenGL support
Intel v4944 is an OpenGL 4.5 driver and exposes 245 OpenGL extensions (GL=224 and WGL=21). Compared to v4877, v4944 adds two OpenGL 4.6 extensions:

- GL_ARB_shader_atomic_counter_ops
- GL_ARB_shader_group_vote

Here is the complete list of all OpenGL extensions exposed for a HD 630 GPU (Core i7 7700K):

- GL_VENDOR: Intel
- GL_RENDERER: Intel(R) HD Graphics 630
- GL_VERSION: 4.5.0 - Build 23.20.16.4944
- OpenGL Extensions: 245 extensions (GL=224 and WGL=21)
- GL_3DFX_texture_compression_FXT1
  - GL_AMD_depth_clamp_separate
  - GL_AMD_vertex_shader_layer
  - GL_AMD_vertex_shader_viewport_index
  - GL_ARB_ES2_compatibility
  - GL_ARB_ES3_1_compatibility
  - GL_ARB_ES3_compatibility
  - GL_ARB_arrays_of_arrays
  - GL_ARB_base_instance
  - GL_ARB_bindless_texture
  - GL_ARB_blend_func_extended
  - GL_ARB_buffer_storage
  - GL_ARB_cl_event
  - GL_ARB_clear_buffer_object
  - GL_ARB_clear_texture
  - GL_ARB_clip_control
  - GL_ARB_color_buffer_float
  - GL_ARB_compatibility
  - GL_ARB_compressed_texture_pixel_storage
  - GL_ARB_compute_shader
  - GL_ARB_conditional_render_inverted
  - GL_ARB_conservative_depth
  - GL_ARB_copy_buffer
  - GL_ARB_copy_image
  - GL_ARB_cull_distance
  - GL_ARB_debug_output
  - GL_ARB_depth_buffer_float
  - GL_ARB_depth_clamp
  - GL_ARB_depth_texture
  - GL_ARB_derivative_control
  - GL_ARB_direct_state_access
  - GL_ARB_draw_buffers
  - GL_ARB_draw_buffers_blend
  - GL_ARB_draw_elements_base_vertex
  - GL_ARB_draw_indirect
  - GL_ARB_draw_instanced
  - GL_ARB_enhanced_layouts
  - GL_ARB_explicit_attrib_location
  - GL_ARB_explicit_uniform_location
  - GL_ARB_fragment_coord_conventions
  - GL_ARB_fragment_layer_viewport
  - GL_ARB_fragment_program
  - GL_ARB_fragment_program_shadow
  - GL_ARB_fragment_shader
  - GL_ARB_fragment_shader_interlock
  - GL_ARB_framebuffer_no_attachments
  - GL_ARB_framebuffer_object
  - GL_ARB_framebuffer_sRGB
  - GL_ARB_geometry_shader4
  - GL_ARB_get_program_binary
  - GL_ARB_get_texture_sub_image
  - GL_ARB_gpu_shader5
  - GL_ARB_gpu_shader_fp64
  - GL_ARB_half_float_pixel
  - GL_ARB_half_float_vertex
  - GL_ARB_indirect_parameters
  - GL_ARB_instanced_arrays
  - GL_ARB_internalformat_query
  - GL_ARB_internalformat_query2
  - GL_ARB_invalidate_subdata
  - GL_ARB_map_buffer_alignment
  - GL_ARB_map_buffer_range
  - GL_ARB_multi_bind
  - GL_ARB_multi_draw_indirect
  - GL_ARB_multisample
  - GL_ARB_multitexture
  - GL_ARB_occlusion_query
  - GL_ARB_occlusion_query2
  - GL_ARB_pixel_buffer_object
  - GL_ARB_point_parameters
  - GL_ARB_point_sprite
  - GL_ARB_polygon_offset_clamp
  - GL_ARB_post_depth_coverage
  - GL_ARB_program_interface_query
  - GL_ARB_provoking_vertex
  - GL_ARB_query_buffer_object
  - GL_ARB_robust_buffer_access_behavior
  - GL_ARB_robustness
  - GL_ARB_robustness_isolation
  - GL_ARB_sample_shading
  - GL_ARB_sampler_objects
  - GL_ARB_seamless_cube_map
  - GL_ARB_seamless_cubemap_per_texture
  - GL_ARB_separate_shader_objects
  - GL_ARB_shader_atomic_counter_ops
  - GL_ARB_shader_atomic_counters
  - GL_ARB_shader_bit_encoding
  - GL_ARB_shader_draw_parameters
  - GL_ARB_shader_group_vote
  - GL_ARB_shader_image_load_store
  - GL_ARB_shader_image_size
  - GL_ARB_shader_objects
  - GL_ARB_shader_precision
  - GL_ARB_shader_stencil_export
  - GL_ARB_shader_storage_buffer_object
  - GL_ARB_shader_subroutine
  - GL_ARB_shader_texture_image_samples
  - GL_ARB_shading_language_100
  - GL_ARB_shading_language_420pack
  - GL_ARB_shading_language_packing
  - GL_ARB_shadow
  - GL_ARB_stencil_texturing
  - GL_ARB_sync
  - GL_ARB_tessellation_shader
  - GL_ARB_texture_barrier
  - GL_ARB_texture_border_clamp
  - GL_ARB_texture_buffer_object
  - GL_ARB_texture_buffer_object_rgb32
  - GL_ARB_texture_buffer_range
  - GL_ARB_texture_compression
  - GL_ARB_texture_compression_bptc
  - GL_ARB_texture_compression_rgtc
  - GL_ARB_texture_cube_map
  - GL_ARB_texture_cube_map_array
  - GL_ARB_texture_env_add
  - GL_ARB_texture_env_combine
  - GL_ARB_texture_env_crossbar
  - GL_ARB_texture_env_dot3
  - GL_ARB_texture_float
  - GL_ARB_texture_gather
  - GL_ARB_texture_mirror_clamp_to_edge
  - GL_ARB_texture_mirrored_repeat
  - GL_ARB_texture_multisample
  - GL_ARB_texture_non_power_of_two
  - GL_ARB_texture_query_levels
  - GL_ARB_texture_query_lod
  - GL_ARB_texture_rectangle
  - GL_ARB_texture_rg
  - GL_ARB_texture_rgb10_a2ui
  - GL_ARB_texture_stencil8
  - GL_ARB_texture_storage
  - GL_ARB_texture_storage_multisample
  - GL_ARB_texture_swizzle
  - GL_ARB_texture_view
  - GL_ARB_timer_query
  - GL_ARB_transform_feedback2
  - GL_ARB_transform_feedback3
  - GL_ARB_transform_feedback_instanced
  - GL_ARB_transpose_matrix
  - GL_ARB_uniform_buffer_object
  - GL_ARB_vertex_array_bgra
  - GL_ARB_vertex_array_object
  - GL_ARB_vertex_attrib_64bit
  - GL_ARB_vertex_attrib_binding
  - GL_ARB_vertex_buffer_object
  - GL_ARB_vertex_program
  - GL_ARB_vertex_shader
  - GL_ARB_vertex_type_10f_11f_11f_rev
  - GL_ARB_vertex_type_2_10_10_10_rev
  - GL_ARB_viewport_array
  - GL_ARB_window_pos
  - GL_ATI_separate_stencil
  - GL_EXT_abgr
  - GL_EXT_bgra
  - GL_EXT_blend_color
  - GL_EXT_blend_equation_separate
  - GL_EXT_blend_func_separate
  - GL_EXT_blend_minmax
  - GL_EXT_blend_subtract
  - GL_EXT_clip_volume_hint
  - GL_EXT_compiled_vertex_array
  - GL_EXT_direct_state_access
  - GL_EXT_draw_buffers2
  - GL_EXT_draw_range_elements
  - GL_EXT_fog_coord
  - GL_EXT_framebuffer_blit
  - GL_EXT_framebuffer_multisample
  - GL_EXT_framebuffer_object
  - GL_EXT_geometry_shader4
  - GL_EXT_gpu_program_parameters
  - GL_EXT_gpu_shader4
  - GL_EXT_multi_draw_arrays
  - GL_EXT_packed_depth_stencil
  - GL_EXT_packed_float
  - GL_EXT_packed_pixels
  - GL_EXT_polygon_offset_clamp
  - GL_EXT_rescale_normal
  - GL_EXT_secondary_color
  - GL_EXT_separate_specular_color
  - GL_EXT_shader_framebuffer_fetch
  - GL_EXT_shader_integer_mix
  - GL_EXT_shadow_funcs
  - GL_EXT_stencil_two_side
  - GL_EXT_stencil_wrap
  - GL_EXT_texture3D
  - GL_EXT_texture_array
  - GL_EXT_texture_compression_s3tc
  - GL_EXT_texture_edge_clamp
  - GL_EXT_texture_env_add
  - GL_EXT_texture_env_combine
  - GL_EXT_texture_filter_anisotropic
  - GL_EXT_texture_integer
  - GL_EXT_texture_lod_bias
  - GL_EXT_texture_rectangle
  - GL_EXT_texture_sRGB
  - GL_EXT_texture_sRGB_decode
  - GL_EXT_texture_shared_exponent
  - GL_EXT_texture_snorm
  - GL_EXT_texture_storage
  - GL_EXT_texture_swizzle
  - GL_EXT_timer_query
  - GL_EXT_transform_feedback
  - GL_IBM_texture_mirrored_repeat
  - GL_INTEL_conservative_rasterization
  - GL_INTEL_fragment_shader_ordering
  - GL_INTEL_framebuffer_CMAA
  - GL_INTEL_map_texture
  - GL_INTEL_multi_rate_fragment_shader
  - GL_INTEL_performance_query
  - GL_KHR_blend_equation_advanced
  - GL_KHR_blend_equation_advanced_coherent
  - GL_KHR_context_flush_control
  - GL_KHR_debug
  - GL_KHR_texture_compression_astc_hdr
  - GL_KHR_texture_compression_astc_ldr
  - GL_NV_blend_square
  - GL_NV_conditional_render
  - GL_NV_primitive_restart
  - GL_NV_texgen_reflection
  - GL_SGIS_generate_mipmap
  - GL_SGIS_texture_edge_clamp
  - GL_SGIS_texture_lod
  - GL_SUN_multi_draw_arrays
  - GL_WIN_swap_hint
  - WGL_EXT_swap_control
  - WGL_EXT_depth_float
  - WGL_ARB_buffer_region
  - WGL_ARB_extensions_string
  - WGL_ARB_make_current_read
  - WGL_ARB_pixel_format
  - WGL_ARB_pbuffer
  - WGL_EXT_extensions_string
  - WGL_ARB_multisample
  - WGL_ARB_pixel_format_float
  - WGL_ARB_framebuffer_sRGB
  - WGL_ARB_create_context
  - WGL_ARB_create_context_profile
  - WGL_EXT_pixel_format_packed_float
  - WGL_EXT_create_context_es_profile
  - WGL_EXT_create_context_es2_profile
  - WGL_NV_DX_interop
  - WGL_WGL_INTEL_cl_sharing
  - WGL_NV_DX_interop2
  - WGL_ARB_create_context_robustness
  - WGL_ARB_context_flush_control

Vulkan support
Intel v4944 exposes Vulkan 1.0.66. Here is the complete report from GPU Caps Viewer:

- Instance extensions: 11
  - VK_KHR_surface (version: 25)
  - VK_KHR_win32_surface (version: 6)
  - VK_KHR_external_memory_capabilities (version: 1)
  - VK_KHR_external_semaphore_capabilities (version: 1)
  - VK_KHR_external_fence_capabilities (version: 1)
  - VK_KHR_get_physical_device_properties2 (version: 1)
  - VK_KHR_get_surface_capabilities2 (version: 1)
  - VK_EXT_debug_report (version: 9)
  - VK_EXT_display_surface_counter (version: 1)
  - VK_KHX_device_group_creation (version: 1)
  - VK_NV_external_memory_capabilities (version: 1)
- Instance layers: 2
  - VK_LAYER_NV_optimus (version: 1.0.65, impl: 1)
  - VK_LAYER_LUNARG_standard_validation (version: 1.0.65, impl: 1)
- Physical devices: 1
  - [Vulkan device 0]: Intel(R) HD Graphics 630 ------------------
    - API version: 1.0.66
    - vendorID: 32902
    - deviceID: 22811
    - driver version: 65538
  - memory heap count: 2
    - heap1: 3660MB
    - heap2: 3660MB
  - memory type count: 3
    - mem type 0 - heap index : 0 - property flag : 1
      > mem property: VK_MEMORY_PROPERTY_DEVICE_LOCAL_BIT
    - mem type 1 - heap index : 1 - property flag : 7
      > mem property: VK_MEMORY_PROPERTY_DEVICE_LOCAL_BIT
      > mem property: VK_MEMORY_PROPERTY_HOST_VISIBLE_BIT
      > mem property: VK_MEMORY_PROPERTY_HOST_COHERENT_BIT
    - mem type 2 - heap index : 1 - property flag : 15
      > mem property: VK_MEMORY_PROPERTY_DEVICE_LOCAL_BIT
      > mem property: VK_MEMORY_PROPERTY_HOST_VISIBLE_BIT
      > mem property: VK_MEMORY_PROPERTY_HOST_COHERENT_BIT
      > mem property: VK_MEMORY_PROPERTY_HOST_CACHED_BIT
  - extensions: 29
    - VK_KHR_swapchain (version: 70)
    - VK_KHR_external_memory (version: 1)
    - VK_KHR_external_memory_win32 (version: 1)
    - VK_EXT_external_memory_host (version: 1)
    - VK_KHR_external_semaphore (version: 1)
    - VK_KHR_external_semaphore_win32 (version: 1)
    - VK_KHR_external_fence (version: 1)
    - VK_KHR_external_fence_win32 (version: 1)
    - VK_KHR_get_memory_requirements2 (version: 1)
    - VK_KHR_bind_memory2 (version: 1)
    - VK_KHR_dedicated_allocation (version: 3)
    - VK_KHR_sampler_mirror_clamp_to_edge (version: 1)
    - VK_KHR_maintenance1 (version: 1)
    - VK_KHR_maintenance2 (version: 1)
    - VK_KHR_shader_draw_parameters (version: 1)
    - VK_KHR_push_descriptor (version: 2)
    - VK_KHR_descriptor_update_template (version: 1)
    - VK_KHR_16bit_storage (version: 1)
    - VK_EXT_shader_subgroup_ballot (version: 1)
    - VK_EXT_shader_subgroup_vote (version: 1)
    - VK_KHR_storage_buffer_storage_class (version: 1)
    - VK_KHR_variable_pointers (version: 1)
    - VK_KHR_relaxed_block_layout (version: 1)
    - VK_EXT_sampler_filter_minmax (version: 1)
    - VK_KHR_sampler_ycbcr_conversion (version: 1)
    - VK_EXT_post_depth_coverage (version: 1)
    - VK_EXT_shader_viewport_index_layer (version: 1)
    - VK_EXT_shader_stencil_export (version: 1)
    - VK_EXT_sample_locations (version: 1)
  - device layers: 1
    - VK_LAYER_NV_optimus (version: 1.0.65, impl: 1)
  - device features:
    - robustBufferAccess: true
    - fullDrawIndexUint32: true
    - imageCubeArray: true
    - independentBlend: true
    - geometryShader: true
    - tessellationShader: true
    - sampleRateShading: true
    - dualSrcBlend: true
    - logicOp: true
    - multiDrawIndirect: true
    - drawIndirectFirstInstance: true
    - depthClamp: true
    - depthBiasClamp: true
    - fillModeNonSolid: true
    - depthBounds: false
    - wideLines: true
    - largePoints: true
    - alphaToOne: true
    - multiViewport: true
    - samplerAnisotropy: true
    - textureCompressionETC2: true
    - textureCompressionASTC_LDR: true
    - textureCompressionBC: true
    - occlusionQueryPrecise: true
    - pipelineStatisticsQuery: true
    - vertexPipelineStoresAndAtomics: true
    - fragmentStoresAndAtomics: true
    - shaderTessellationAndGeometryPointSize: true
    - shaderImageGatherExtended: true
    - shaderStorageImageExtendedFormats: true
    - shaderStorageImageMultisample: true
    - shaderStorageImageReadWithoutFormat: false
    - shaderStorageImageWriteWithoutFormat: true
    - shaderUniformBufferArrayDynamicIndexing: true
    - shaderSampledImageArrayDynamicIndexing: true
    - shaderStorageBufferArrayDynamicIndexing: true
    - shaderStorageImageArrayDynamicIndexing: true
    - shaderClipDistance: true
    - shaderCullDistance: true
    - shaderFloat64: true
    - shaderInt64: true
    - shaderInt16: true
    - shaderResourceResidency: true
    - shaderResourceMinLod: true
    - sparseBinding: true
    - sparseResidencyBuffer: true
    - sparseResidencyImage2D: true
    - sparseResidencyImage3D: true
    - sparseResidency2Samples: true
    - sparseResidency4Samples: true
    - sparseResidency8Samples: true
    - sparseResidency16Samples: true
    - sparseResidencyAliased: true
    - variableMultisampleRate: true
    - inheritedQueries: true
  - device limits
    - maxImageDimension1D: 16384
    - maxImageDimension2D: 16384
    - maxImageDimension3D: 2048
    - maxImageDimensionCube: 16384
    - maxImageArrayLayers: 2048
    - maxTexelBufferElements: 134217728
    - maxUniformBufferRange: 65536
    - maxStorageBufferRange: 134217728
    - maxPushConstantsSize: 256
    - maxMemoryAllocationCount: 1874157
    - maxSamplerAllocationCount: 4000
    - bufferImageGranularity: 1
    - sparseAddressSpaceSize: 17592186044416
    - maxBoundDescriptorSets: 8
    - maxPerStageDescriptorSamplers: 64
    - maxPerStageDescriptorUniformBuffers: 200
    - maxPerStageDescriptorSampledImages: 200
    - maxPerStageDescriptorStorageImages: 16
    - maxPerStageDescriptorInputAttachments: 8
    - maxPerStageResources: 200
    - maxDescriptorSetSamplers: 384
    - maxDescriptorSetUniformBuffers: 1200
    - maxDescriptorSetUniformBuffersDynamic: 16
    - maxDescriptorSetStorageBuffers: 1200
    - maxDescriptorSetStorageBuffersDynamic: 16
    - maxDescriptorSetSampledImages: 1200
    - maxDescriptorSetStorageImages: 96
    - maxDescriptorSetInputAttachments: 8
    - maxVertexInputAttributes: 16
    - maxVertexInputBindings: 16
    - maxVertexInputAttributeOffset: 2047
    - maxVertexInputBindingStride: 4095
    - maxVertexOutputComponents: 128
    - maxTessellationGenerationLevel: 64
    - maxTessellationPatchSize: 32
    - maxTessellationControlPerVertexInputComponents: 128
    - maxTessellationControlPerVertexOutputComponents: 128
    - maxTessellationControlPerPatchOutputComponents: 120
    - maxTessellationControlTotalOutputComponents: 4096
    - maxTessellationEvaluationInputComponents: 128
    - maxTessellationEvaluationOutputComponents: 128
    - maxGeometryShaderInvocations: 32
    - maxGeometryInputComponents: 128
    - maxGeometryOutputComponents: 128
    - maxGeometryOutputVertices: 256
    - maxGeometryTotalOutputComponents: 1024
    - maxFragmentInputComponents: 128
    - maxFragmentOutputAttachments: 8
    - maxFragmentDualSrcAttachments: 1
    - maxFragmentCombinedOutputResources: 16
    - maxComputeSharedMemorySize: 32768
    - maxComputeWorkGroupCount: [65536; 65536; 65536]
    - maxComputeWorkGroupInvocations: 1024
    - maxComputeWorkGroupSize: [1024; 1024; 64]
    - subPixelPrecisionBits: 8
    - subTexelPrecisionBits: 8
    - mipmapPrecisionBits: 8
    - maxDrawIndexedIndexValue: 4294967295
    - maxDrawIndirectCount: 4294967295
    - maxSamplerLodBias: 16.000000
    - maxSamplerAnisotropy: 16.000000
    - maxViewports: 16
    - maxViewportDimensions: [32768; 32768]
    - viewportBoundsRange: [-65536.000000 ; 65535.000000]
    - viewportSubPixelBits: 8
    - minMemoryMapAlignment: 64
    - minTexelBufferOffsetAlignment: 16
    - minUniformBufferOffsetAlignment: 32
    - minStorageBufferOffsetAlignment: 16
    - minTexelOffset: 4294967288
    - maxTexelOffset: 7
    - minTexelGatherOffset: 4294967264
    - maxTexelGatherOffset: 31
    - minInterpolationOffset: -0.500000
    - maxInterpolationOffset: 0.437500
    - subPixelInterpolationOffsetBits: 4
    - maxFramebufferWidth: 16384
    - maxFramebufferHeight: 16384
    - maxFramebufferLayers: 2048
    - framebufferColorSampleCounts: 31
    - framebufferDepthSampleCounts: 31
    - framebufferStencilSampleCounts: 31
    - framebufferNoAttachmentsSampleCounts: 31
    - maxColorAttachments: 8
    - sampledImageColorSampleCounts: 31
    - sampledImageIntegerSampleCounts: 31
    - sampledImageDepthSampleCounts: 31
    - sampledImageStencilSampleCounts: 31
    - storageImageSampleCounts: 31
    - maxSampleMaskWords: 1
    - timestampComputeAndGraphics: 1
    - timestampPeriod: 83.333000
    - maxClipDistances: 8
    - maxCullDistances: 8
    - maxCombinedClipAndCullDistances: 8
    - discreteQueuePriorities: 2
    - pointSizeRange: [0.125000 ; 255.875000]
    - lineWidthRange: [0.000000 ; 7.992188]
    - pointSizeGranularity: 0.125000
    - lineWidthGranularity: 0.007813
    - strictLines: 0
    - standardSampleLocations: 1
    - optimalBufferCopyOffsetAlignment: 16
    - optimalBufferCopyRowPitchAlignment: 16
    - nonCoherentAtomSize: 1

—
via