NVIDIA has released a new set of graphics drivers for all GeForce graphics cards. GeForce 390.77 driver comes with support and optimizations for Kingdom Come: Deliverance, War Thunder, Black Desert Online, and Metal Gear Survive (see HERE for more information).
The following issues have been fixed in GeForce 390.77:

- [SLI][Dirt 4]: There is corruption and flickering in the game with SLI enabled. 
- [Neverwinter Nights]: Some graphics are missing. 
- [Optimus Notebook]: GeForce Experience may launch with a black screen. 
- [3DMark]: There is a drop in the benchmark performance.
- [GeForce GTX 1080][G-SYNC]: Performance issues occurred with G-SYNC windowed mode enabled. 
- [GeForce GTX 1070 Ti][NVIDIA Control Panel]: The NVIDIA Control Panel->Output Dynamic Range setting does not persist but switches from Full to Limited after rebooting the system.

The following issues have been fixed in Quadro 390.77:

- [Quadro 4000M][Workstaton Stereo]: Black shadows appear around stereo images after exiting and then re-launching the OpenGL application.


GeForce 390.77 Desktop Downloads

GeForce 390.77 Notebook Downloads

Quadro 390.77 Desktop/Notebook Downloads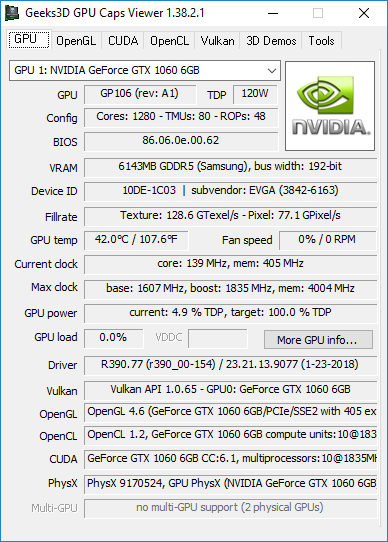 The GeForce 390.77 driver exposes OpenGL 4.6 (with 405 OpenGL extensions) and Vulkan 1.0.65 APIs. OpenGL / Vulkan support is similar to previous version GeForce 390.65.
—
via