I recently tested a 2-way CrossFire of Radeon RX Vega 64. The RX Vega 64 has been launched in July 2017 and so far, Vega based cards were (and are still) hard to find.
Since my time with the RX Vega 64 cards was limited, I just tested FurMark 1.19.1 in P1080 preset with CrossFire enabled and disabled to get an idea of the performance. More or less at the same period, I tested a 2-way SLI of GTX 1080 and then we can compare the RX Vega 64 and the GTX 1080 since the RX Vega 64 targets the GTX 1080 market.
Here are some specs of the test system:
– AMD Ryzen 7 1800X CPU
– 32 GB DDR4
– Windows 10 64-bit
– Radeon Adrenalin 17.12.1 graphics drivers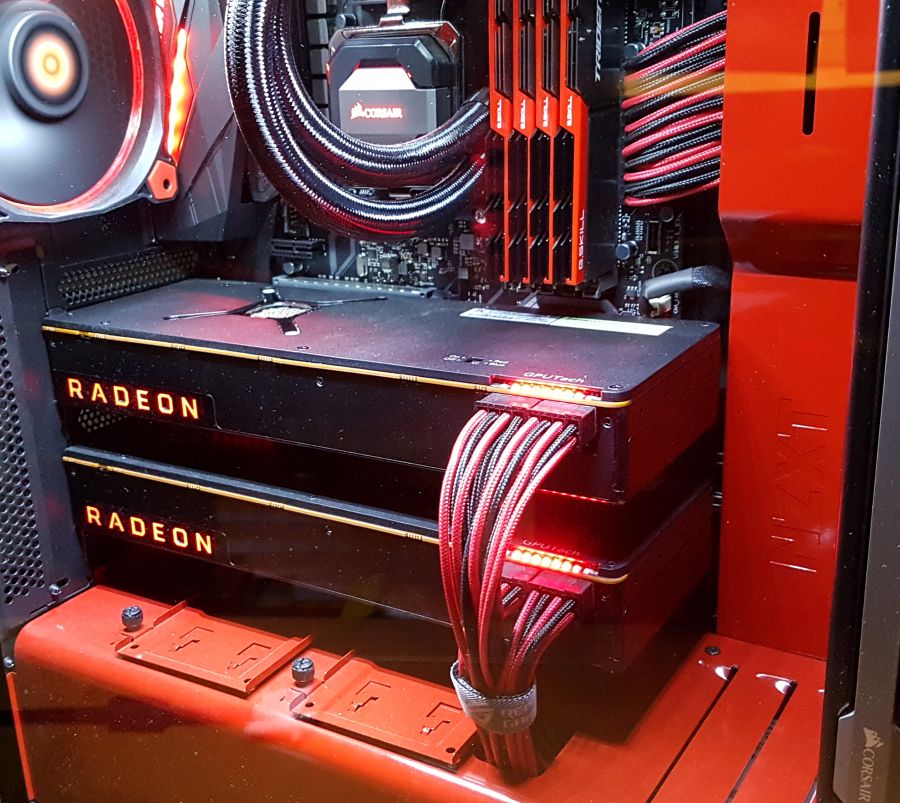 FurMark is very handy to have an overview of the performance of a graphics card. The benchmark lasts 60 seconds ans scales well with CrossFire or SLI setups.
FurMark P1080 scores (1920×1080)
12173 points (202 FPS) – GeForce GTX 1080 SLI (GeForce 388.59)


11707 points (195FPS) – Radeon RX Vega 64 CrossFire (Adrenalin 17.12.1)


7765 points (129FPS) – Radeon RX Vega 64 (Adrenalin 17.12.1)


7151 points (119 FPS) – GeForce GTX 1080 (GeForce 388.59)


Very nice scores. In single GPU mode, the RX Vega 64 beats the GTX 1080 while in dual-GPU, the GTX 1080 is faster. This simple benchmark shows that the RX Vega 64 is a serious alternative to The GeForce GTX 1080 even if Pascal-based graphics cards are on the market since more than one year… Better late than never!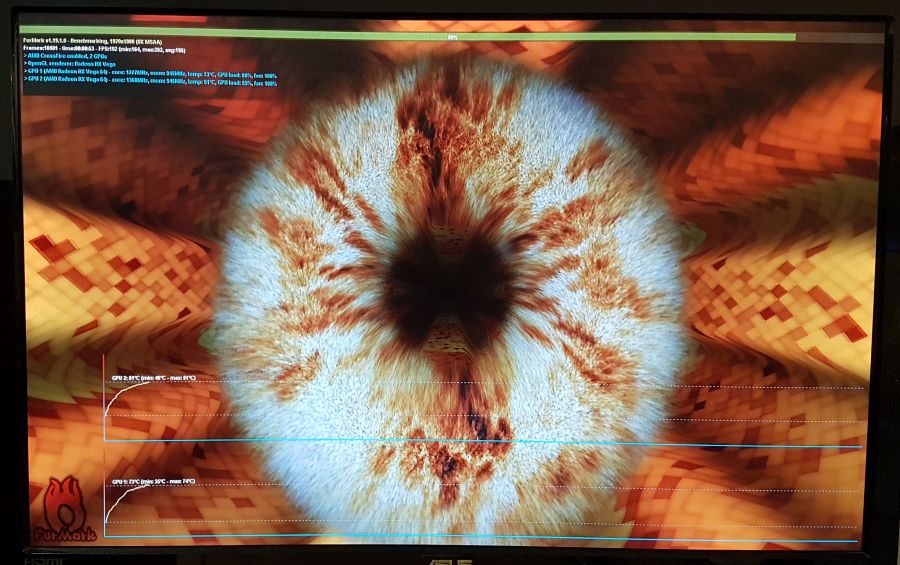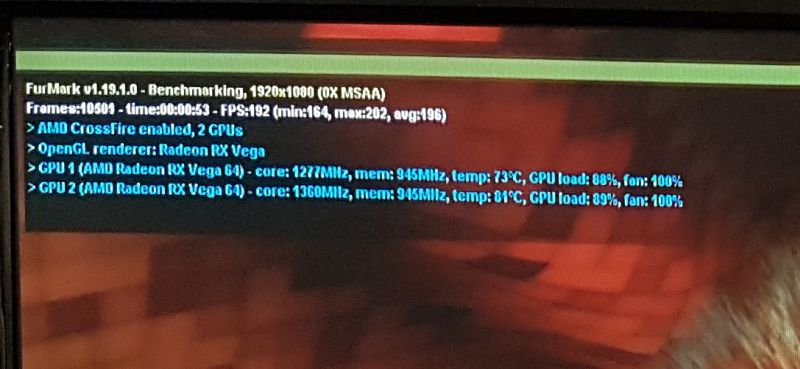 The Radeon RX Vega features a GPUTach that shows the GPU load. The GPUTach is a strip of LEDs right next to the PCI-E power connectors. As you can see on the following picture, all LEDs of both RX Vega 64 are lit when FurMark is running.