Bitcoin mining is currently a very hot topic and here are new hardware solutions launched by Manli and ASUS for your mining needs.
1 – Manli GPU Mining System P104-100
Manli has launched a new mining system that includes 9 graphics cards based on NVIDIA GP104-100 GPU. The GP104-100 is a GPU specifically aimed at cryptocurrency mining and is a variation of the GP104-200, the GPU behind the GeForce GTX 1070. Thanks to the 9 GP104-100 GPUs, the hashrate for ethereum mining is around 335 Mh/s (a GTX 1080 alone has a hashrate around 20 Mh/s). A 2200W PSU is required.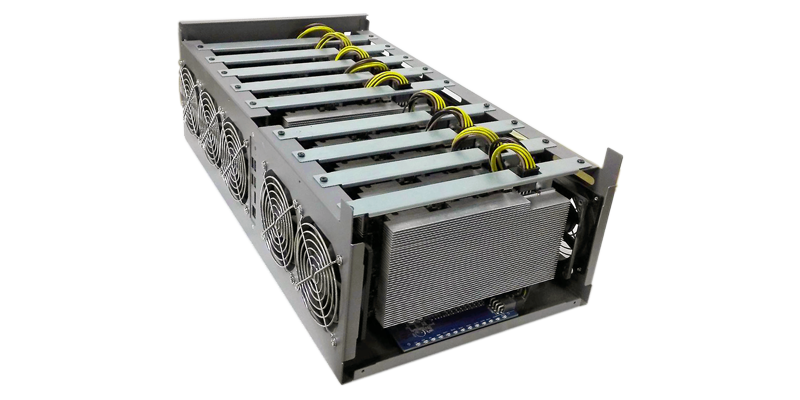 Key features of the GP104-100 GPU:
> Special designed GPU and circuit board for mining purpose
> Maximized GPU and memory clocks setting
> Distinctive mining performance on ZEC (~4300Sol/s) and XMR (~6000H/s)
> Large heatsink with heatpipes for heat dissipation
> Reasonable power consumption compared with other market solutions
> Balanced performance and power to maximize mining return
Links:
2 – ASUS B250 Mining Expert Motherboard
ASUS B250 Mining Expert is a new motherboard for cryptocurrency mining that comes with 19 PCI-E slots.
ASUS B250 Mining Expert is the world's first mining motherboard to feature 19 PCI Express® (PCIe®) slots. With 18 PCIe X1 and one PCIe X16 slots on board, plus three zoned ATX12V power connectors, B250 Mining Expert lets you run up to 19* NVIDIA or AMD GPUs in parallel to max out your megahash rates!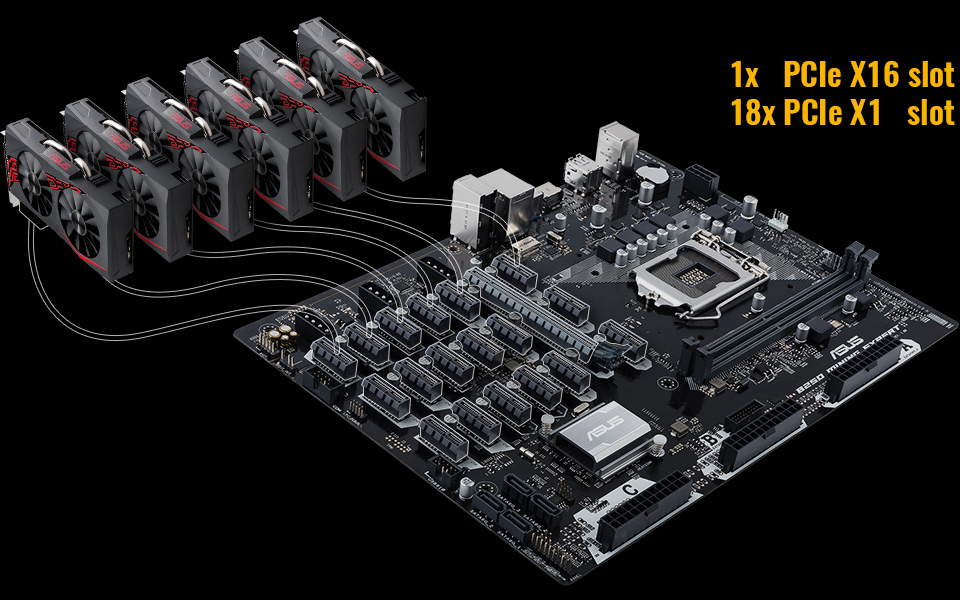 But currently, the B250 Mining Expert supports only 8 GPUs:
B250 Mining Expert currently supports a total of up to eight NVIDIA and AMD GPUs. An unlimited number of GPUs will be supported following a driver update that is planned for Q4 2017.
Links: