NVIDIA has published a new set of WHQL graphics drivers for all GeForce-based graphics cards. 388.31 adds support and optimizations for Star Wars Battlefront II, Injustice 2, and Destiny 2.
R388.13 fixes the following issues:
– Micro-stuttering occurs in games when GPU monitoring tools are monitoring GPU power ("Power" monitoring enabled). [2016377]
– [GeForce GTX 1080][eGPU][notebook]: NVIDIA driver could not find compatible graphics hardware on the Alienware Amplifier. 2010511]
– [3D Vision Notebook]: There is no "Set stereoscopic 3D" link available in the NVIDIA Control Panel. [200341834]
-[GeForce GTX 970M][]Notebook][Pattern Design Software]: Objects drawn in the application are not visible. [1992543]
R388.31 adds support for the following GPUs:

NVIDIA_DEV_174D = "NVIDIA GeForce MX130"
NVIDIA_DEV_174E = "NVIDIA GeForce MX110"

R388.31 Desktop Downloads
R388.31 Notebook Downloads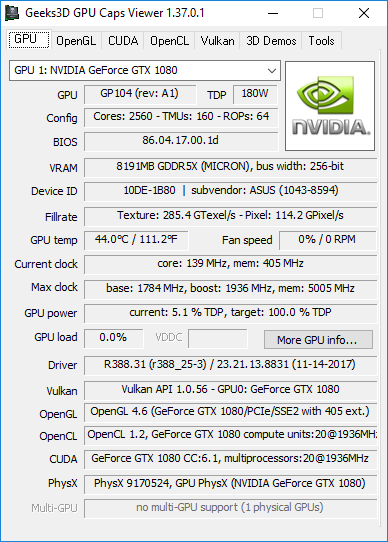 R388.31 exposes the same OpenGL and Vulkan features than R387.92:
– OpenGL 4.6 with 405 OpenGL extensions and 10 OpenGL SPIR-V extensions
– Vulkan API 1.0.56
—
via