Compared to this monster, my ASUS G752 looks like a toy… Acer has unveiled today (at IFA/Berlin) the Predator 21X, a new laptop (if we can call this machine a laptop) that exhibits a curved 21-inch screen with a resolution of 2560×1080 pixels, two GeForce GTX 1080, an Intel Core i7 (7th generation Kaby Lake), up to 64GB of system memory, a mechanical keyboard with illumination. This gaming weapon weighs 8kg, requires two power supplies (really abusive!) and will cost an arm and a leg: $4000 or $5000.
Acer plans to launch this beast in 2017.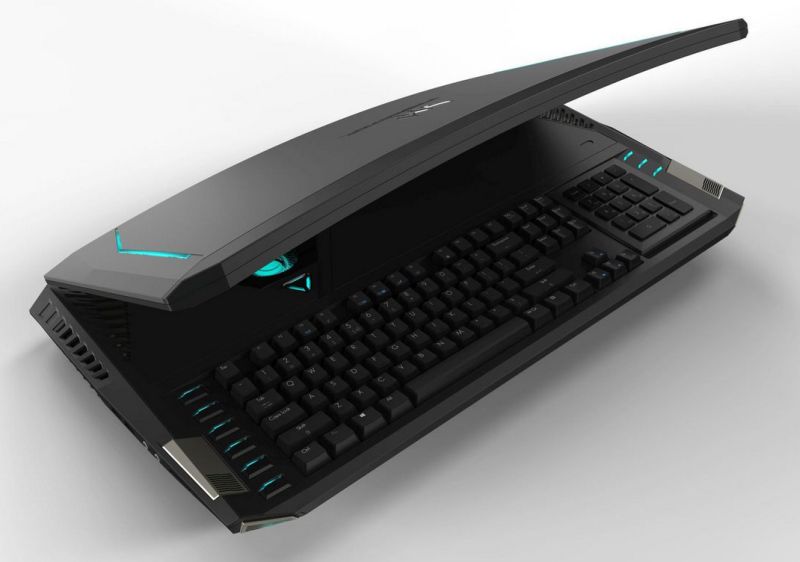 The press release:
The Predator 21 X takes the flagship spot in Acer's gaming notebook series and is advanced beyond anything on the market today. It's the world's first notebook to offer a curved 21-inch IPS display (2560 x 1080), and when combined with wide-angle viewing, it delivers a truly immersive gaming experience. To bring gameplay immersion to the next level, the notebook also integrates Tobii eye-tracking technology for a new method of control that's more intuitive and natural. Built-in eye-tracking hardware (infrared sensors and software) unlocks a completely new facet in gaming. By tracking a gamer's eye with software, the notebook introduces new interactions like aiming, identifying enemies and taking cover simply by gazing at objects on the screen. Eye tracking also enhances the experience by providing infinite views whilst navigating treacherous paths and roads in a game.

With 7th Generation Intel® Core™ processors and dual NVIDIA® GeForce® GTX 1080 graphic cards in SLI, the Predator 21 X takes the AAA gaming experience to new heights. The curved screen also features NVIDIA® G-SYNC™ technology to ensure smooth and sharp gameplay in every scenario. Visuals aren't the only star of the show: the Predator 21 X also ships with SoundPound 4.2+ (4 speakers and 2 subwoofers), 3-way audio and Dolby® Audio for truly pristine aural enjoyment. The notebook also features an advanced cooling architecture with 5 system fans, 3 of which are ultra-thin AeroBlade™ metal fans, to dissipate excess heat effectively for uninterrupted performance during intense gaming sessions.

The Predator 21 X has a full-sized mechanical keyboard featuring Cherry® MX switches, with customizable RGB backlight settings for each individual key. Aside from its unique curved form factor, the Predator 21 X's numeric keypad also touts a unique design that allows it to be flipped over and turned into a Precision Touchpad.