A new version of GPU Caps Viewer is available. GPU Caps Viewer 1.30.0 comes with several new features and changes.
1 – Overview
Here is an overview of the new features:
1/ the most important feature is the support of Vulkan API. After OpenGL, OpenCL and CUDA, GPU Caps Viewer adds a dedicated panel to Vulkan: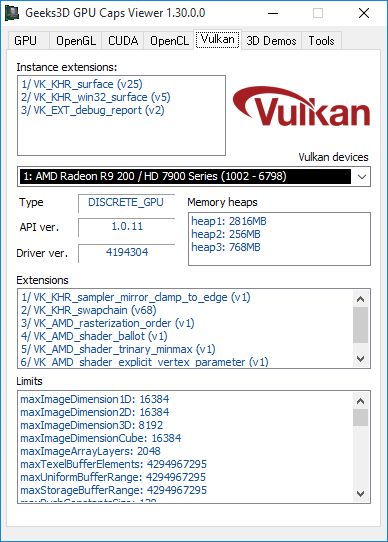 2/ a new 3D Demos panel that gather all previous OpenGL and OpenCL demos and adds new demos based on GeeXLab SDK. The GeeXLab engine is embedded in GPU Caps Viewer, and this integration allows to quickly load and play GeexLab demos based on Vulkan and Direct3D 12 (and OpenGL of course).

Here are the first GeeXLab test demos included with GPU Caps Viewer:

3/ the first panel has been reorganized and new fields have been added: Vulkan API level and texture and pixel fillrates:

4/ GPU Caps Viewer 1.30.0 adds the support of NVIDIA's new baby, the GeForce GTX 1080. The support of recent Radeon has been improved too.
2 – Dowloads

2.2 – Zip archive (no installation required):


3 – What is GPU Caps Viewer?
GPU Caps Viewer is a graphics card information utility focused on the OpenGL, Vulkan, OpenCL and CUDA API level support of the main (primary) graphics card. For Vulkan, OpenCL and CUDA, GPU Caps Viewer details the API support of each capable device available in the system. GPU Caps Viewer offers also a simple GPU monitoring facility (clock speed, temperature, GPU usage, fan speed) for NVIDIA GeForce and AMD Radeon based graphics cards. GPU data can be submitted to an online GPU database.
4 – Changelog


C:\>====== v1.30.2.0 ======[ 2016.08.05 ]
+ added support of NVIDIA TITAN X (Pascal).
+ added support of GeForce GTX 1070, GTX 1060.
+ added support of GeForce GTX 980M (1617) and GTX 980 (161A).
+ added partial support of Radeon RX 480, RX 470 and RX 460.

C:\>====== v1.30.0.0 ======[ 2016.05.25 ]
+ added Vulkan API support (Vulkan panel).
+ added new 3D demos (OpenGL, Vulkan and Direct3D 12)
  based on GeeXLab SDK.
+ added support of GeForce GTX 1080.
+ added texture and pixel fillrate for NVIDIA and AMD GPUs.
+ added GPU revision ID in the GPU codename field.
* fixed report in XML format.
! log filename is now _log.txt