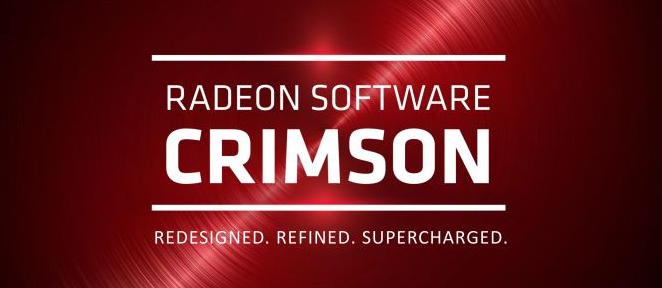 Like NVIDIA did it with R364.47, AMD has added the Vulkan API to the non-developer version of its Crimson driver.
Crimson 16.3 comes with optimizations for recent games (Gears of War Ultimate Edition, Rise of the Tomb Raider, Hitman) as well as a new feature for CrossFire setups: a status indicator. Users can toggle the status indicator on their screen when running in AMD Crossfire mode.
Crimson 16.3 complete changelog is available HERE.
Crimson Desktop Downloads
Here is the complete Vulkan report from VK-Z (Radeon R9 290X on Win10 64-bit):

==========================================================
VK-Z 0.1.2
==========================================================
Vulkan capabilities and extensions viewer
(C)2016 Geeks3D - http://www.geeks3d.com/vkz/

Instance extensions: 4
- 1/ VK_KHR_swapchain (spec version: 0.0.67)
- 2/ VK_KHR_surface (spec version: 0.0.25)
- 3/ VK_KHR_win32_surface (spec version: 0.0.5)
- 4/ VK_EXT_debug_report (spec version: 0.0.1)

# Vulkan devices: 1

[ Device 1 ]--------------------------------------
- Device name: AMD Radeon R9 200 Series
- DeviceID: 1002-67B0
- Raw driver version: 1
- Vulkan API version: 0.0.1
- Device type: VK_PHYSICAL_DEVICE_TYPE_DISCRETE_GPU
- Memory heap count: 3
	heap 0 - size: 3840 MB
	heap 1 - size: 256 MB
	heap 2 - size: 3804 MB
- Device extensions: 1
	1/ VK_KHR_swapchain (spec version: 0.0.67)
- Device limits:
	maxImageDimension1D: 16384
	maxImageDimension2D: 16384
	maxImageDimension3D: 8192
	maxImageDimensionCube: 16384
	maxImageArrayLayers: 2048
	maxTexelBufferElements: 4294967295
	maxUniformBufferRange: 4294967295
	maxStorageBufferRange: 4294967295
	maxPushConstantsSize: 128
	maxMemoryAllocationCount: 4096
	maxSamplerAllocationCount: 1048576
	bufferImageGranularity: 1
	sparseAddressSpaceSize: 68719476735
	maxBoundDescriptorSets: 32
	maxPerStageDescriptorSamplers: 4294967295
	maxPerStageDescriptorUniformBuffers: 4294967295
	maxPerStageDescriptorSampledImages: 4294967295
	maxPerStageDescriptorStorageImages: 4294967295
	maxPerStageDescriptorInputAttachments: 4294967295
	maxPerStageResources: 4294967295
	maxDescriptorSetSamplers: 4294967295
	maxDescriptorSetUniformBuffers: 4294967295
	maxDescriptorSetUniformBuffersDynamic: 8
	maxDescriptorSetStorageBuffers: 4294967295
	maxDescriptorSetStorageBuffersDynamic: 8
	maxDescriptorSetSampledImages: 4294967295
	maxDescriptorSetStorageImages: 4294967295
	maxDescriptorSetInputAttachments: 4294967295
	maxVertexInputAttributes: 4294967295
	maxVertexInputBindings: 32
	maxVertexInputAttributeOffset: 4294967295
	maxVertexInputBindingStride: 16383
	maxVertexOutputComponents: 128
	maxTessellationGenerationLevel: 64
	maxTessellationPatchSize: 32
	maxTessellationControlPerVertexInputComponents: 128
	maxTessellationControlPerVertexOutputComponents: 128
	maxTessellationControlPerPatchOutputComponents: 120
	maxTessellationControlTotalOutputComponents: 4096
	maxTessellationEvaluationInputComponents: 128
	maxTessellationEvaluationOutputComponents: 128
	maxGeometryShaderInvocations: 127
	maxGeometryInputComponents: 128
	maxGeometryOutputComponents: 128
	maxGeometryOutputVertices: 1024
	maxGeometryTotalOutputComponents: 16384
	maxFragmentInputComponents: 64
	maxFragmentOutputAttachments: 8
	maxFragmentDualSrcAttachments: 1
	maxFragmentCombinedOutputResources: 4294967295
	maxComputeSharedMemorySize: 32768
	maxComputeWorkGroupCount: [65535; 65535; 65535]
	maxComputeWorkGroupInvocations: 1024
	maxComputeWorkGroupSize: [1024; 1024; 1024]
	subPixelPrecisionBits: 8
	subTexelPrecisionBits: 8
	mipmapPrecisionBits: 8
	maxDrawIndexedIndexValue: 4294967295
	maxDrawIndirectCount: 4294967295
	maxSamplerLodBias: 15.996094
	maxSamplerAnisotropy: 16.000000
	maxViewports: 16
	maxViewportDimensions: 16384 x 16384
	viewportBoundsRange: -16384.000000 x 16383.000000
	viewportSubPixelBits: 8
	minMemoryMapAlignment: 64
	minTexelBufferOffsetAlignment: 1
	minUniformBufferOffsetAlignment: 16
	minStorageBufferOffsetAlignment: 4
	minTexelOffset: 4294967232
	maxTexelOffset: 63
	minTexelGatherOffset: -32
	maxTexelGatherOffset: 31
	minInterpolationOffset: -2.000000
	maxInterpolationOffset: 2.000000
	subPixelInterpolationOffsetBits: 8
	maxFramebufferWidth: 16384
	maxFramebufferHeight: 16384
	maxFramebufferLayers: 2048
	framebufferColorSampleCounts: 15
	framebufferDepthSampleCounts: 15
	framebufferStencilSampleCounts: 15
	framebufferNoAttachmentsSampleCounts: 0
	maxColorAttachments: 8
	sampledImageColorSampleCounts: 0
	sampledImageIntegerSampleCounts: 0
	sampledImageDepthSampleCounts: 0
	sampledImageStencilSampleCounts: 15
	storageImageSampleCounts: 0
	maxSampleMaskWords: 1
	timestampComputeAndGraphics: 0
	timestampPeriod: 37.037037
	maxClipDistances: 8
	maxCullDistances: 8
	maxCombinedClipAndCullDistances: 8
	discreteQueuePriorities: 2
	pointSizeRange: [0.000000 ; 8191.875000]
	lineWidthRange: [0.000000 ; 8191.875000]
	pointSizeGranularity: 0.125000
	lineWidthGranularity: 0.125000
	strictLines: 0
	standardSampleLocations: 1
	optimalBufferCopyOffsetAlignment: 1
	optimalBufferCopyRowPitchAlignment: 1
	nonCoherentAtomSize: 128

---
More news about Vulkan:
http://www.geeks3d.com/category/technologies/vulkan/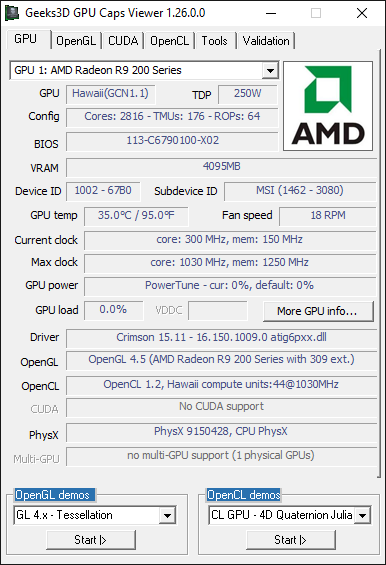 Crimson 16.3 is an OpenGL 4.5 driver and exposes 309 OpenGL extensions (GL=285 and WGL=24) on Win10 64-bit for a Radeon R9 290X:

- OpenGL vendor: ATI Technologies Inc.
- OpenGL renderer: AMD Radeon R9 200 Series
- OpenGL Version: 4.5.13430 Compatibility Profile/Debug Context 16.150.1009.0
- GLSL (OpenGL Shading Language) Version: 4.50

GL_AMDX_debug_output
GL_AMD_blend_minmax_factor
GL_AMD_conservative_depth
GL_AMD_debug_output
GL_AMD_depth_clamp_separate
GL_AMD_draw_buffers_blend
GL_AMD_framebuffer_sample_positions
GL_AMD_gcn_shader
GL_AMD_gpu_shader_int64
GL_AMD_interleaved_elements
GL_AMD_multi_draw_indirect
GL_AMD_name_gen_delete
GL_AMD_occlusion_query_event
GL_AMD_performance_monitor
GL_AMD_pinned_memory
GL_AMD_query_buffer_object
GL_AMD_sample_positions
GL_AMD_seamless_cubemap_per_texture
GL_AMD_shader_atomic_counter_ops
GL_AMD_shader_stencil_export
GL_AMD_shader_stencil_value_export
GL_AMD_shader_trace
GL_AMD_shader_trinary_minmax
GL_AMD_sparse_texture
GL_AMD_sparse_texture_pool
GL_AMD_stencil_operation_extended
GL_AMD_texture_cube_map_array
GL_AMD_texture_texture4
GL_AMD_transform_feedback3_lines_triangles
GL_AMD_transform_feedback4
GL_AMD_vertex_shader_layer
GL_AMD_vertex_shader_viewport_index
GL_ARB_ES2_compatibility (OpenGL 4.1)
GL_ARB_ES3_1_compatibility (OpenGL 4.5)
GL_ARB_ES3_compatibility (OpenGL 4.3)
GL_ARB_arrays_of_arrays (OpenGL 4.3)
GL_ARB_base_instance (OpenGL 4.2)
GL_ARB_bindless_texture (OpenGL 4.4)
GL_ARB_blend_func_extended (OpenGL 3.3)
GL_ARB_buffer_storage (OpenGL 4.4)
GL_ARB_clear_buffer_object (OpenGL 4.3)
GL_ARB_clear_texture (OpenGL 4.4)
GL_ARB_clip_control (OpenGL 4.5)
GL_ARB_color_buffer_float (OpenGL 3.0)
GL_ARB_compatibility (OpenGL 3.2)
GL_ARB_compressed_texture_pixel_storage (OpenGL 4.2)
GL_ARB_compute_shader (OpenGL 4.3)
GL_ARB_conditional_render_inverted (OpenGL 4.5)
GL_ARB_conservative_depth (OpenGL 4.2)
GL_ARB_copy_buffer (OpenGL 3.1)
GL_ARB_copy_image (OpenGL 4.3)
GL_ARB_cull_distance (OpenGL 4.5)
GL_ARB_debug_output (OpenGL 3.0)
GL_ARB_depth_buffer_float (OpenGL 3.0)
GL_ARB_depth_clamp (OpenGL 3.2)
GL_ARB_depth_texture (OpenGL 1.4)
GL_ARB_derivative_control (OpenGL 4.5)
GL_ARB_direct_state_access (OpenGL 4.5)
GL_ARB_draw_buffers (OpenGL 2.0)
GL_ARB_draw_buffers_blend (OpenGL 4.0)
GL_ARB_draw_elements_base_vertex (OpenGL 3.2)
GL_ARB_draw_indirect (OpenGL 4.0)
GL_ARB_draw_instanced (OpenGL 3.1)
GL_ARB_enhanced_layouts (OpenGL 4.4)
GL_ARB_explicit_attrib_location (OpenGL 3.3)
GL_ARB_explicit_uniform_location (OpenGL 4.3)
GL_ARB_fragment_coord_conventions (OpenGL 3.2)
GL_ARB_fragment_layer_viewport (OpenGL 4.3)
GL_ARB_fragment_program (OpenGL 1.3)
GL_ARB_fragment_program_shadow (OpenGL 1.3)
GL_ARB_fragment_shader (OpenGL 2.0)
GL_ARB_framebuffer_no_attachments (OpenGL 4.3)
GL_ARB_framebuffer_object (OpenGL 3.0)
GL_ARB_framebuffer_sRGB (OpenGL 3.0)
GL_ARB_geometry_shader4 (OpenGL 3.2)
GL_ARB_get_program_binary (OpenGL 4.1)
GL_ARB_get_texture_sub_image (OpenGL 4.5)
GL_ARB_gpu_shader5 (OpenGL 4.0)
GL_ARB_gpu_shader_fp64 (OpenGL 4.0)
GL_ARB_half_float_pixel (OpenGL 3.0)
GL_ARB_half_float_vertex (OpenGL 2.1)
GL_ARB_imaging
GL_ARB_indirect_parameters (OpenGL 4.3)
GL_ARB_instanced_arrays (OpenGL 3.3)
GL_ARB_internalformat_query (OpenGL 4.2)
GL_ARB_internalformat_query2 (OpenGL 4.3)
GL_ARB_invalidate_subdata (OpenGL 4.3)
GL_ARB_map_buffer_alignment (OpenGL 4.2)
GL_ARB_map_buffer_range (OpenGL 2.1)
GL_ARB_multi_bind (OpenGL 4.4)
GL_ARB_multi_draw_indirect (OpenGL 4.3)
GL_ARB_multisample (OpenGL 1.3)
GL_ARB_multitexture (OpenGL 1.3)
GL_ARB_occlusion_query (OpenGL 1.5)
GL_ARB_occlusion_query2 (OpenGL 3.3)
GL_ARB_pipeline_statistics_query (OpenGL 4.5)
GL_ARB_pixel_buffer_object (OpenGL 2.1)
GL_ARB_point_parameters (OpenGL 1.4)
GL_ARB_point_sprite (OpenGL 2.0)
GL_ARB_program_interface_query (OpenGL 4.3)
GL_ARB_provoking_vertex (OpenGL 3.2)
GL_ARB_query_buffer_object (OpenGL 4.4)
GL_ARB_robust_buffer_access_behavior (OpenGL 4.3)
GL_ARB_sample_shading (OpenGL 4.0)
GL_ARB_sampler_objects (OpenGL 3.3)
GL_ARB_seamless_cube_map (OpenGL 3.2)
GL_ARB_seamless_cubemap_per_texture (OpenGL 4.3)
GL_ARB_separate_shader_objects (OpenGL 4.1)
GL_ARB_shader_atomic_counters (OpenGL 4.2)
GL_ARB_shader_ballot (OpenGL 4.5)
GL_ARB_shader_bit_encoding (OpenGL 3.3)
GL_ARB_shader_draw_parameters (OpenGL 4.3)
GL_ARB_shader_group_vote (OpenGL 4.3)
GL_ARB_shader_image_load_store (OpenGL 4.2)
GL_ARB_shader_image_size (OpenGL 4.3)
GL_ARB_shader_objects (OpenGL 2.0)
GL_ARB_shader_precision (OpenGL 4.1)
GL_ARB_shader_stencil_export (OpenGL 4.0)
GL_ARB_shader_storage_buffer_object (OpenGL 4.3)
GL_ARB_shader_subroutine (OpenGL 4.0)
GL_ARB_shader_texture_image_samples (OpenGL 4.5)
GL_ARB_shader_texture_lod (OpenGL 2.0)
GL_ARB_shading_language_100 (OpenGL 2.0)
GL_ARB_shading_language_420pack (OpenGL 4.2)
GL_ARB_shading_language_packing (OpenGL 4.1)
GL_ARB_shadow (OpenGL 1.4)
GL_ARB_shadow_ambient (OpenGL 1.3)
GL_ARB_sparse_buffer (OpenGL 4.5)
GL_ARB_sparse_texture (OpenGL 4.3)
GL_ARB_stencil_texturing (OpenGL 4.3)
GL_ARB_sync (OpenGL 3.2)
GL_ARB_tessellation_shader (OpenGL 4.0)
GL_ARB_texture_barrier (OpenGL 4.5)
GL_ARB_texture_border_clamp (OpenGL 1.3)
GL_ARB_texture_buffer_object (OpenGL 3.1)
GL_ARB_texture_buffer_object_rgb32 (OpenGL 4.0)
GL_ARB_texture_buffer_range (OpenGL 4.3)
GL_ARB_texture_compression (OpenGL 1.3)
GL_ARB_texture_compression_bptc (OpenGL 4.2)
GL_ARB_texture_compression_rgtc (OpenGL 3.0)
GL_ARB_texture_cube_map (OpenGL 1.3)
GL_ARB_texture_cube_map_array (OpenGL 4.0)
GL_ARB_texture_env_add (OpenGL 1.3)
GL_ARB_texture_env_combine (OpenGL 1.3)
GL_ARB_texture_env_crossbar (OpenGL 1.4)
GL_ARB_texture_env_dot3 (OpenGL 1.3)
GL_ARB_texture_float (OpenGL 3.0)
GL_ARB_texture_gather (OpenGL 4.0)
GL_ARB_texture_mirror_clamp_to_edge (OpenGL 4.4)
GL_ARB_texture_mirrored_repeat (OpenGL 1.4)
GL_ARB_texture_multisample (OpenGL 3.2)
GL_ARB_texture_non_power_of_two
GL_ARB_texture_query_levels (OpenGL 4.3)
GL_ARB_texture_query_lod (OpenGL 4.0)
GL_ARB_texture_rectangle (OpenGL 3.1)
GL_ARB_texture_rg (OpenGL 3.0)
GL_ARB_texture_rgb10_a2ui (OpenGL 3.3)
GL_ARB_texture_snorm
GL_ARB_texture_stencil8 (OpenGL 4.4)
GL_ARB_texture_storage (OpenGL 4.2)
GL_ARB_texture_storage_multisample (OpenGL 4.3)
GL_ARB_texture_swizzle (OpenGL 3.3)
GL_ARB_texture_view (OpenGL 4.3)
GL_ARB_timer_query (OpenGL 3.3)
GL_ARB_transform_feedback2 (OpenGL 4.0)
GL_ARB_transform_feedback3 (OpenGL 4.0)
GL_ARB_transform_feedback_instanced (OpenGL 4.2)
GL_ARB_transform_feedback_overflow_query (OpenGL 4.5)
GL_ARB_transpose_matrix (OpenGL 1.3)
GL_ARB_uniform_buffer_object (OpenGL 3.1)
GL_ARB_vertex_array_bgra (OpenGL 3.2)
GL_ARB_vertex_array_object (OpenGL 2.1)
GL_ARB_vertex_attrib_64bit (OpenGL 4.1)
GL_ARB_vertex_attrib_binding (OpenGL 4.3)
GL_ARB_vertex_buffer_object (OpenGL 1.5)
GL_ARB_vertex_program (Requires OpenGL 1.3)
GL_ARB_vertex_shader (OpenGL 2.0)
GL_ARB_vertex_type_10f_11f_11f_rev (OpenGL 4.4)
GL_ARB_vertex_type_2_10_10_10_rev (OpenGL 3.3)
GL_ARB_viewport_array (OpenGL 4.1)
GL_ARB_window_pos (OpenGL 1.4)
GL_ATI_draw_buffers (Requires OpenGL 1.3)
GL_ATI_envmap_bumpmap
GL_ATI_fragment_shader (Requires OpenGL 1.2.1)
GL_ATI_separate_stencil (Requires OpenGL 1.2.1)
GL_ATI_texture_compression_3dc (Requires X800 and higher graphics card)
GL_ATI_texture_env_combine3 (Requires OpenGL 1.2)
GL_ATI_texture_float (Requires OpenGL 1.3)
GL_ATI_texture_mirror_once (Requires OpenGL 1.2.1)
GL_EXT_abgr
GL_EXT_bgra (OpenGL 1.2)
GL_EXT_bindable_uniform (OpenGL 2.0)
GL_EXT_blend_color (OpenGL 1.4 OpenGL 1.4)
GL_EXT_blend_equation_separate
GL_EXT_blend_func_separate (Requires OpenGL 1.2 / Core Feature of OpenGL 1.4)
GL_EXT_blend_minmax (Requires OpenGL 1.2)
GL_EXT_blend_subtract (Requires OpenGL 1.2)
GL_EXT_compiled_vertex_array (Requires OpenGL 1.1)
GL_EXT_copy_buffer (OpenGL 3.0)
GL_EXT_copy_texture
GL_EXT_depth_bounds_test
GL_EXT_direct_state_access
GL_EXT_draw_buffers2 (OpenGL 3.0)
GL_EXT_draw_instanced (Requires OpenGL 2.0)
GL_EXT_draw_range_elements (Requires OpenGL 1.2 / Core Feature of OpenGL 1.4)
GL_EXT_fog_coord (Requires OpenGL 1.2 / Core Feature of OpenGL 1.4)
GL_EXT_framebuffer_blit (OpenGL 3.0)
GL_EXT_framebuffer_multisample (OpenGL 3.0)
GL_EXT_framebuffer_object (Requires OpenGL 3.0)
GL_EXT_framebuffer_sRGB (OpenGL 3.0)
GL_EXT_geometry_shader4 (Requires OpenGL 2.0)
GL_EXT_gpu_program_parameters (Requires OpenGL 2.0)
GL_EXT_gpu_shader4 (OpenGL 3.0)
GL_EXT_histogram
GL_EXT_multi_draw_arrays (OpenGL 1.2 / Core Feature of OpenGL 1.4)
GL_EXT_packed_depth_stencil (OpenGL 3.0)
GL_EXT_packed_float (OpenGL 3.0)
GL_EXT_packed_pixels (Requires OpenGL 1.2)
GL_EXT_pixel_buffer_object
GL_EXT_point_parameters
GL_EXT_polygon_offset_clamp
GL_EXT_provoking_vertex
GL_EXT_rescale_normal (Requires OpenGL 1.2)
GL_EXT_secondary_color (Requires OpenGL 1.2 / Core Feature of OpenGL 1.4)
GL_EXT_separate_specular_color (Requires OpenGL 1.2)
GL_EXT_shader_image_load_store
GL_EXT_shader_integer_mix
GL_EXT_shadow_funcs (Requires OpenGL 1.3 / Core Feature of OpenGL 1.5)
GL_EXT_stencil_wrap (Requires OpenGL 1.4)
GL_EXT_subtexture
GL_EXT_texgen_reflection
GL_EXT_texture3D (Requires OpenGL 1.2)
GL_EXT_texture_array (OpenGL 3.0)
GL_EXT_texture_buffer_object (Requires OpenGL 2.0)
GL_EXT_texture_compression_bptc
GL_EXT_texture_compression_latc
GL_EXT_texture_compression_rgtc (OpenGL 3.0)
GL_EXT_texture_compression_s3tc (Requires OpenGL 1.2.1)
GL_EXT_texture_cube_map (See GL_ARB_texture_cube_map)
GL_EXT_texture_edge_clamp
GL_EXT_texture_env_add
GL_EXT_texture_env_combine
GL_EXT_texture_env_dot3
GL_EXT_texture_filter_anisotropic (Requires OpenGL 1.2)
GL_EXT_texture_integer (OpenGL 3.0)
GL_EXT_texture_lod
GL_EXT_texture_lod_bias (Requires OpenGL 1.2 / Core Feature of OpenGL 1.4)
GL_EXT_texture_mirror_clamp (Requires OpenGL 1.4)
GL_EXT_texture_object (Requires OpenGL 1.1)
GL_EXT_texture_rectangle (Requires OpenGL 1.3)
GL_EXT_texture_sRGB
GL_EXT_texture_sRGB_decode
GL_EXT_texture_shared_exponent (OpenGL 3.0)
GL_EXT_texture_snorm
GL_EXT_texture_storage
GL_EXT_texture_swizzle (OpenGL 2.1)
GL_EXT_timer_query (Requires OpenGL 1.5)
GL_EXT_transform_feedback (OpenGL 3.0)
GL_EXT_vertex_array (Requires OpenGL 1.1)
GL_EXT_vertex_array_bgra
GL_EXT_vertex_attrib_64bit
GL_IBM_texture_mirrored_repeat
GL_INTEL_fragment_shader_ordering
GL_KHR_context_flush_control (OpenGL 4.5)
GL_KHR_debug (OpenGL 4.3)
GL_KHR_robust_buffer_access_behavior
GL_KHR_robustness (OpenGL 4.5)
GL_KTX_buffer_region
GL_NV_blend_square (Requires OpenGL 1.2.1 / Core Feature of OpenGL 1.4)
GL_NV_conditional_render (OpenGL 3.0)
GL_NV_copy_depth_to_color
GL_NV_copy_image
GL_NV_depth_buffer_float (OpenGL 3.0)
GL_NV_explicit_multisample
GL_NV_float_buffer
GL_NV_half_float (OpenGL 3.0)
GL_NV_primitive_restart (OpenGL 3.1)
GL_NV_texgen_reflection (Requires OpenGL 1.3)
GL_NV_texture_barrier
GL_OES_EGL_image
GL_SGIS_generate_mipmap (Requires OpenGL 1.4)
GL_SGIS_texture_edge_clamp (Requires OpenGL 1.2)
GL_SGIS_texture_lod (Requires OpenGL 1.2)
GL_SUN_multi_draw_arrays
GL_WIN_swap_hint
WGL_EXT_swap_control (Requires OpenGL 1.2)
WGL_ARB_extensions_string
WGL_ARB_pixel_format
WGL_ATI_pixel_format_float (Requires OpenGL 1.3)
WGL_ARB_pixel_format_float
WGL_ARB_multisample
WGL_EXT_swap_control_tear
WGL_ARB_pbuffer
WGL_ARB_render_texture (Requires OpenGL 1.1)
WGL_ARB_make_current_read
WGL_EXT_extensions_string
WGL_ARB_buffer_region
WGL_EXT_framebuffer_sRGB (OpenGL 2.0)
WGL_ATI_render_texture_rectangle
WGL_EXT_pixel_format_packed_float (OpenGL 2.0)
WGL_I3D_genlock (OpenGL 1.2.1)
WGL_NV_swap_group
WGL_ARB_create_context (OpenGL 3.0)
WGL_AMD_gpu_association
WGL_AMDX_gpu_association
WGL_ARB_create_context_profile
WGL_ARB_context_flush_control (OpenGL 4.5)
WGL_NV_DX_interop
WGL_NV_DX_interop2