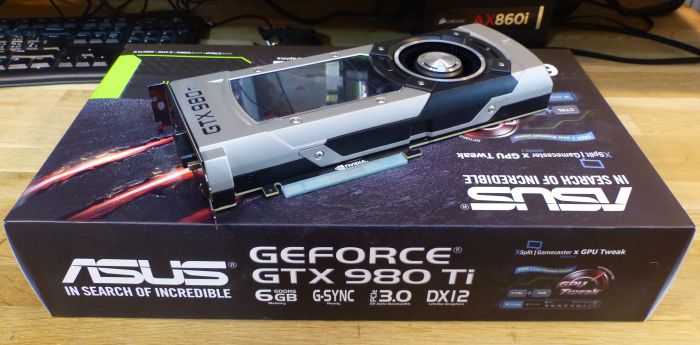 Article Index:
Today, a quick review about the GTX 980 Ti, the latest big GeForce GPU that has been released 10 days ago. I tested a sample from ASUS few hours yesterday afternoon.
ASUS GTX 980 Ti is based on the big Maxwell GPU, the GM200 like the GTX Titan X. But compared to the Titan X, the GTX 980 Ti has less CUDA cores (only 2816) and less texture units (176). The GTX 980 Ti has twice less VRAM: 6GB of GDDR5 graphics memory. But these limitations do not prevent this card to be one of the fastest graphics hardware on the market.
1 – Gallery
Let's start with the unboxing and bundle: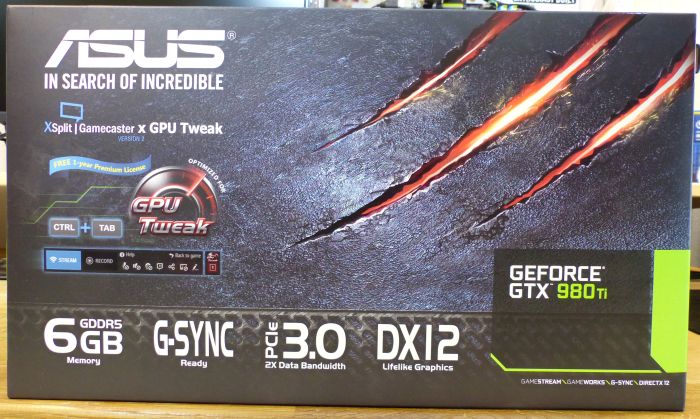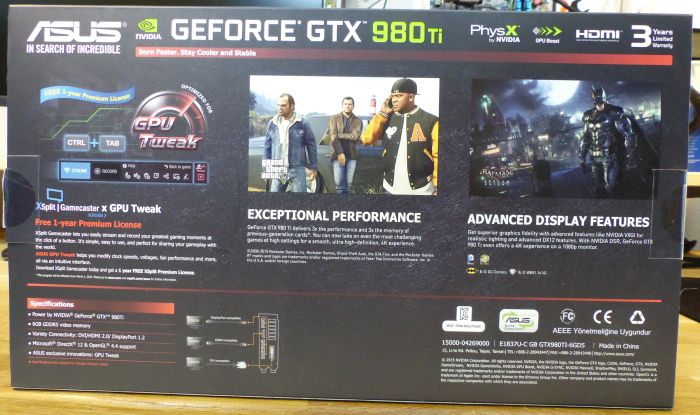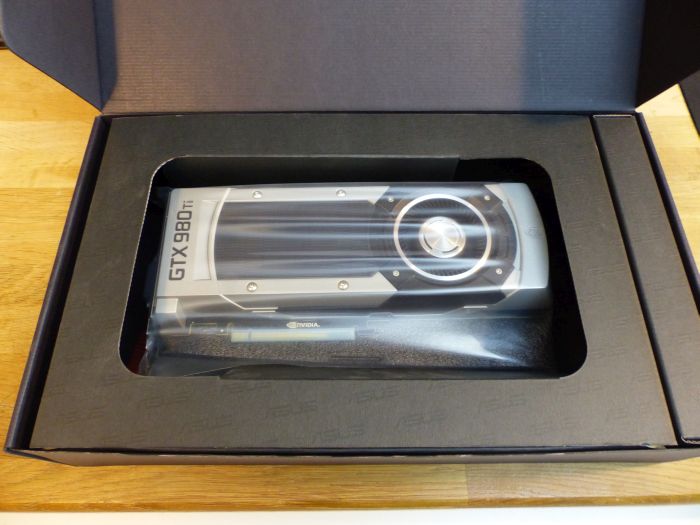 The bundle is simple, no fantasy or geeky stuff, we are serious at ASUS. The bundle includes the graphics card, a HDMI 2 DVI converter, a power connector, a quick doc and a CDROM with drivers and utils (GPU Tweak).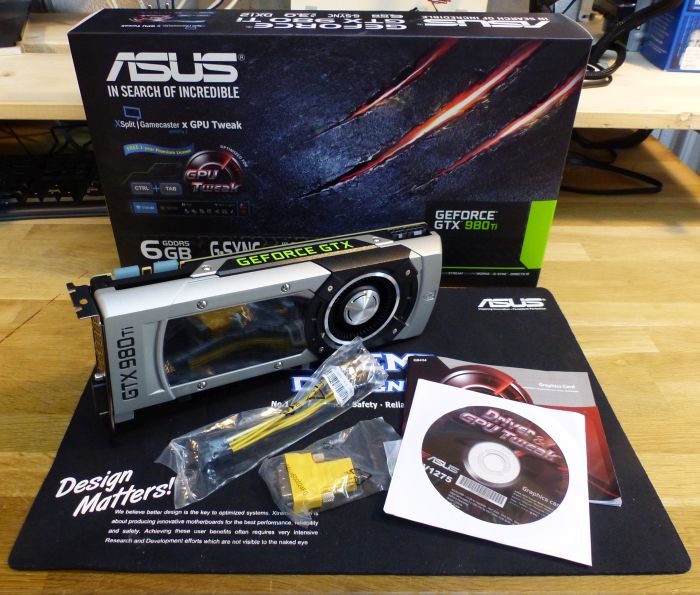 ASUS GTX 980 Ti comes with NVIDIA's reference VGA cooler. This VGA cooler has a LED GEFORCE GTX logo that can be controlled by various software as well as by programming (see this GLSL Hacker demo that synchronize the LED with music!):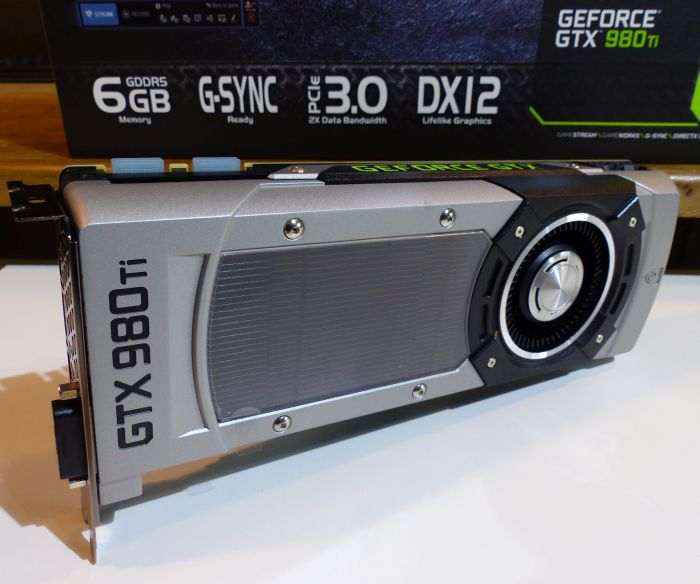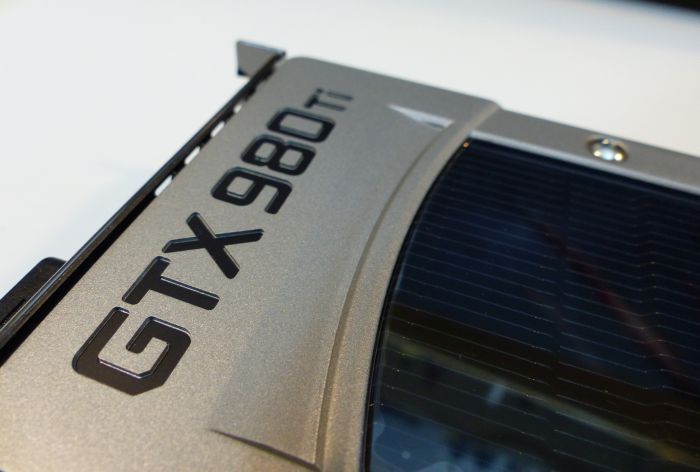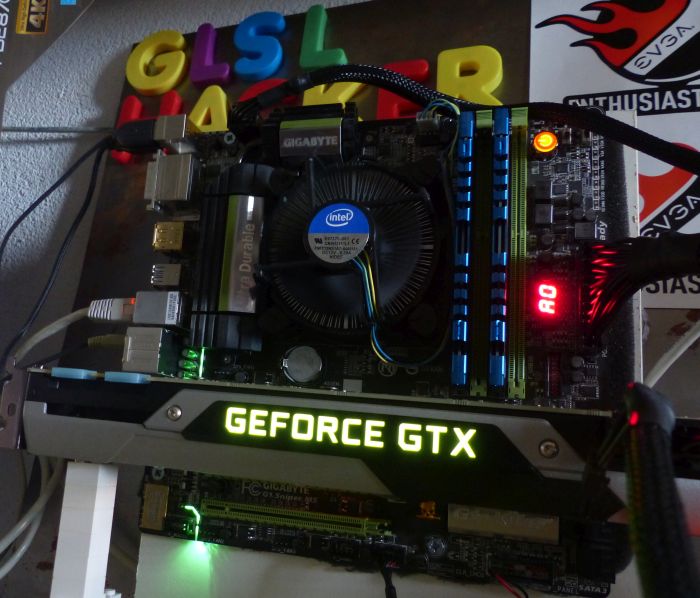 The GTX 980 Ti has 3 x DisplayPort 1.2 ports, 1 x HDMI 2.0 (useful for 4K @ 60Hz) and 1 x DVI: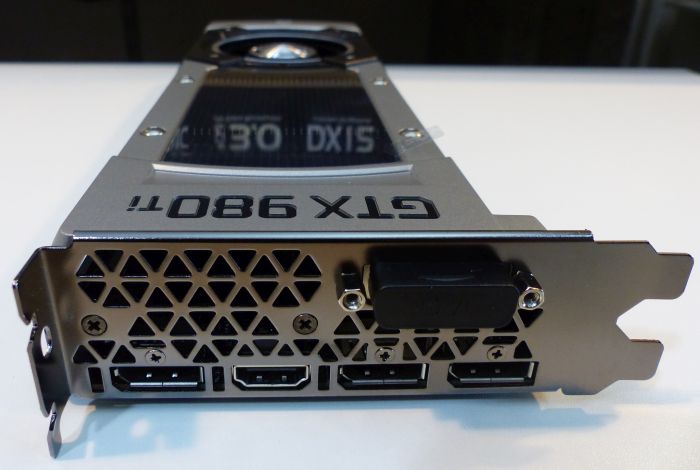 This GTX 980 Ti card does not have a backplate that brings both mechanical protection and heat dissipation. Too bad for this kind of high end gaming weapon: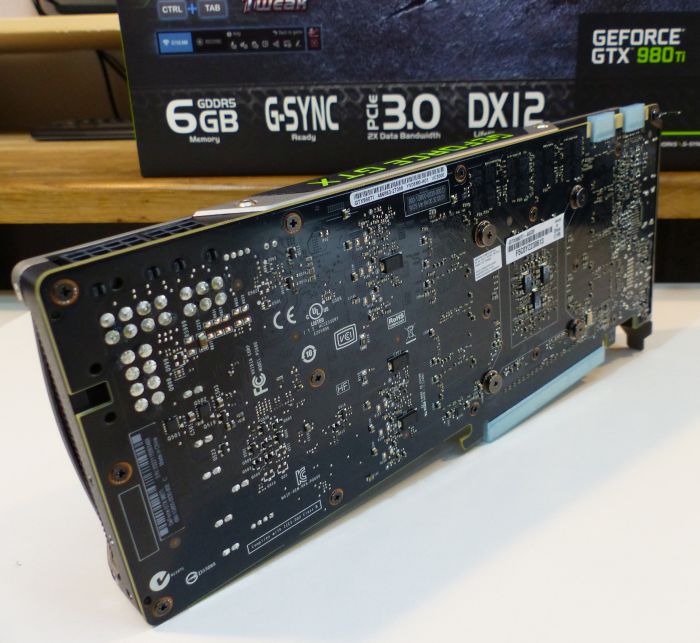 The board requires two additional power connectors: 1 x 8-pin and 1 x 6-pin. The 8-pin power connector can supply up to 150W while the 6-pin is limited to 75W. Summed to the 75W of the PCI-Express slot, the board can draw up to 250W which is the TDP… I think and I hope that custom versions of the GTX 980 Ti will be available with two 8-pin connectors.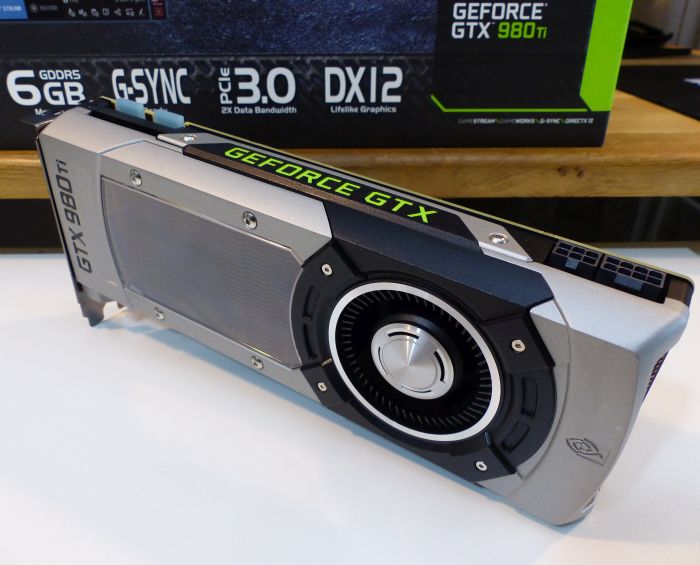 2 – GPU Info
Here is a quick recap of the main values reported by GPU Shark, GPU Caps Viewer and GPU-Z:
Power target – min: 60.0 % TDP, max: 110.0 % TDP
Core clock – base: 1000MHz, boost: 1075MHz
Idle GPU temperature: 37°C
CUDA Cores: 2816 (22 SMX units)
Texture units: 176
ROPs: 80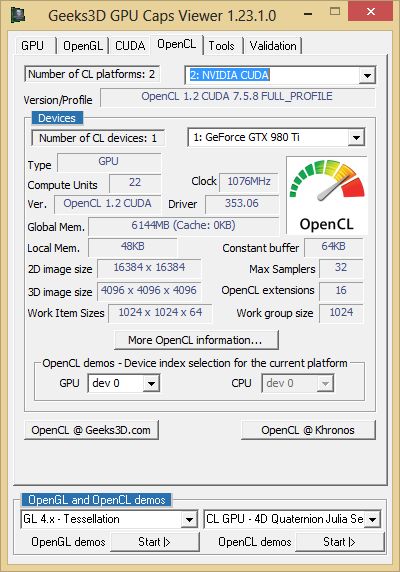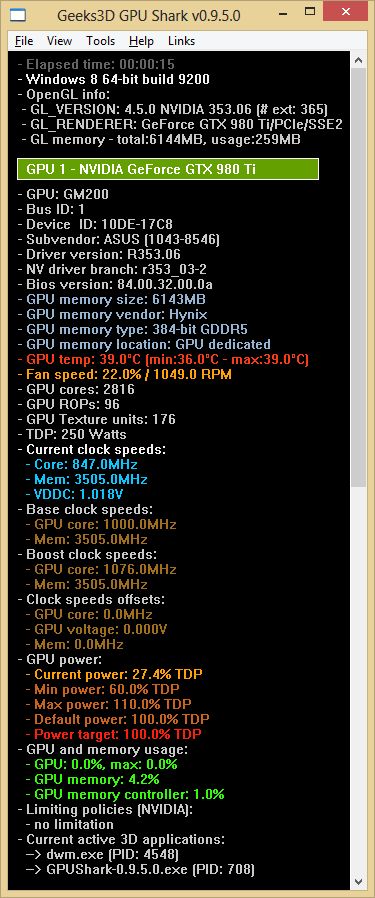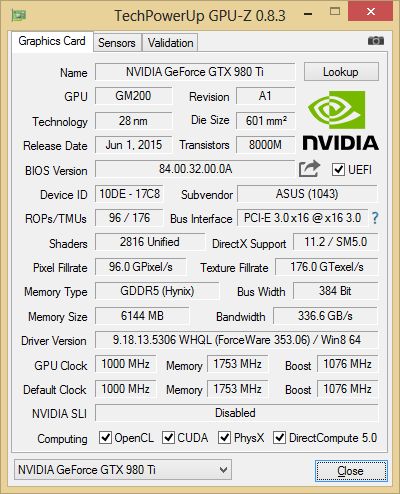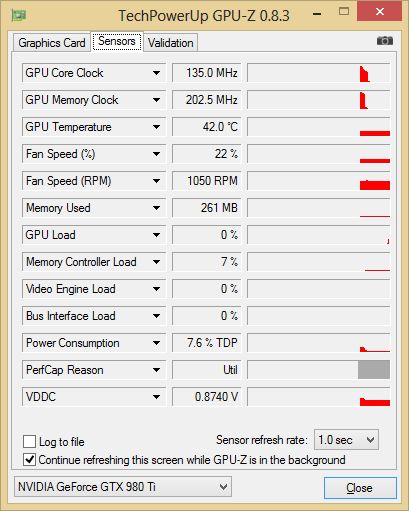 3 – Benchmarks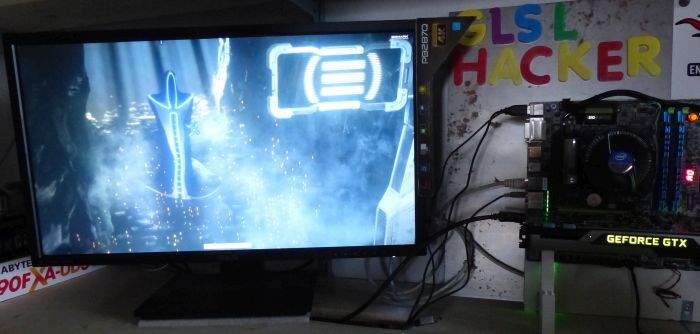 I benchmarked ASUS GTX 980 Ti with several GPU tests (FurMark, 3DMark, Unigine Valley, Catzilla, AvP and Resident Evil 6). See THIS PAGE for all results in 1920×1080 fullscreen mode. I also tested the GTX 980 Ti with MSI Kombustor 3.5 (Plasma + Julia4D OpenCL) and GPU Test 0.7.0 (Volplosion, Julia FP32/FP64)
In all benchmarks, the GTX 980 Ti is the fastest graphics card.
4 – Burn-in Test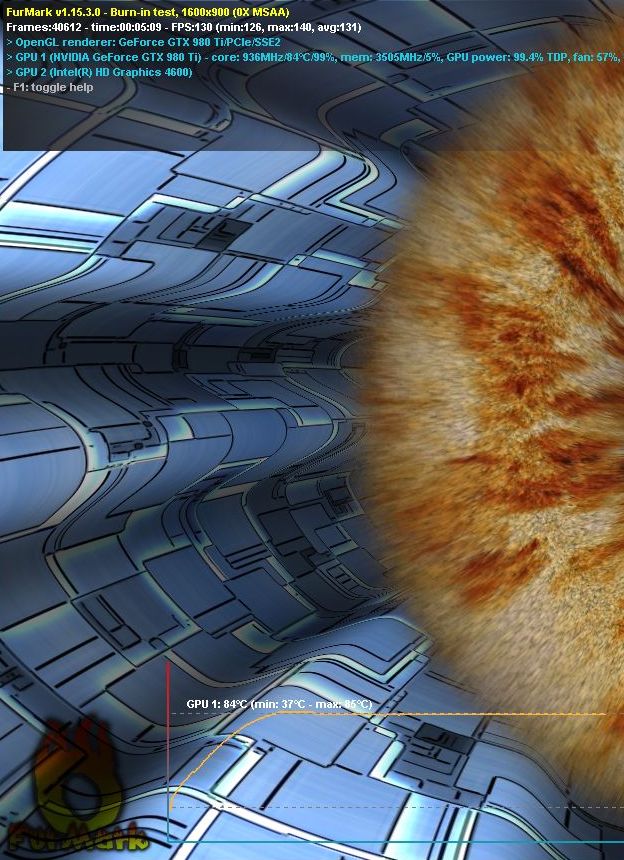 I did a quick burn-in test with the latest FurMark. The GPU core clock is throttled down a bit. I recently saw a video where NVIDIA's Tom Petersen explained that the base clock is the minimal core clock speed and it won't never go below this limit. The base clock for the GTX 980 Ti is 1000MHz. So why do we have 936MHz with FurMark? The throttling is not as sever as on the GiGABYTE BRIX GTX 760, but it's there.
In idle, the total power consumption of the testbed was 50W and the GPU temperature was 37°C which is good for a big GPU.
When FurMark is running, the CPU pulls around 25W and the total power consumption was 335W (the GPU temperature reached 85°C after few minutes). The efficiency factor of the Corsair AX 860i is 0.92. An estimation of the power consumption of the GTX 980 Ti is:
P = (335-50-25) * 0.92
P = 240W
Here is an infra-red thermal image of the GTX 980 Ti at idle and under load with FurMark: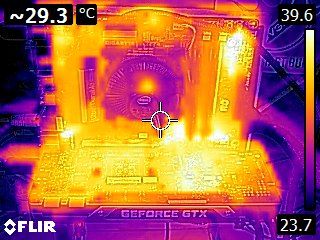 GTX 980 Ti – idle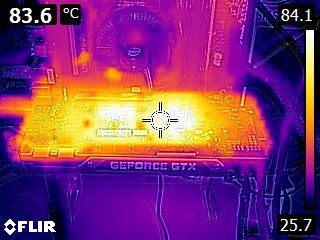 GTX 980 Ti – stress test

Under load I measured a noise of 49dB at around 30cm of the graphics card. It's not a loud noise and it's acceptable but we clearly hear it.
5 – Conclusion
No surprise here, this GTX 980 Ti is fast, really fast. This card is very quiet at idle and I appreciate it. Under heavy load the card produces some noise but it's acceptable. In a closed case and in serious gaming, I'm sure we forget that noise.
This GTX 980 Ti comes with reference clock speeds and reference VGA cooler. Nothing particular here. ASUS is certainly working on a custom GTX 980 Ti so wait and see (Matrix…).
Final Verdict
8/10
PROS:
– GM200 GPU (Maxwell)
– 6GB of GDDR5 VRAM
– fastest graphics card tested at Geeks3D's lab
– HDMI 2.0 for 4k @ 60 Hz
– correct GPU temperature at idle state (37°C)
– three DisplayPort connectors and one HDMI connector
– quiet VGA cooler at idle

CONS:
– simple bundle
– no backplate for mechanical protection / heat disspation
– high GPU temperature under load (85°C)
– Slight noise under heavy load
This GTX 980 Ti is great card. But to deserve 9/10 or better 10/10, we have to wait for custom versions by ASUS, MSI, GIGABYTE or EVGA (which has already a GTX 980 Ti with a Hybrid VGA cooler) in order to sweep the few CONS I reported…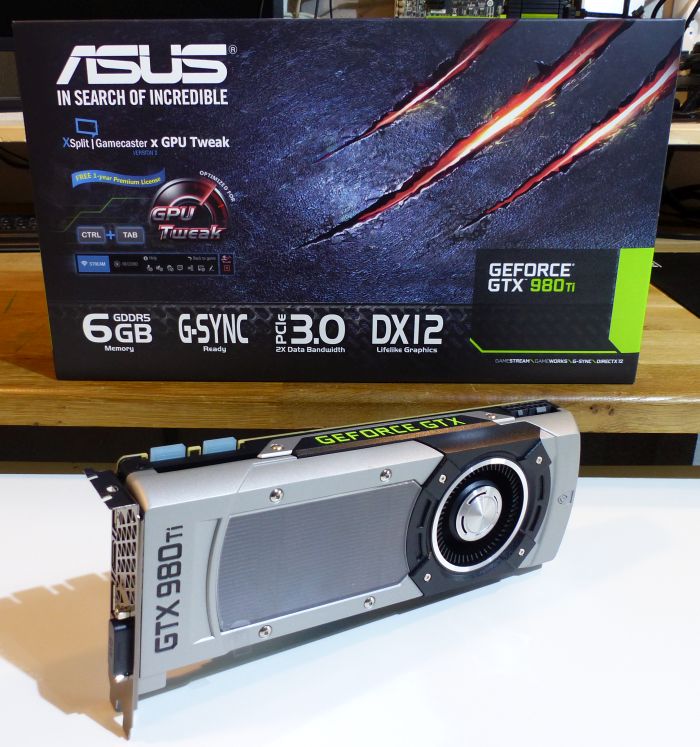 I'd like to thank the Internex's team for this sample.