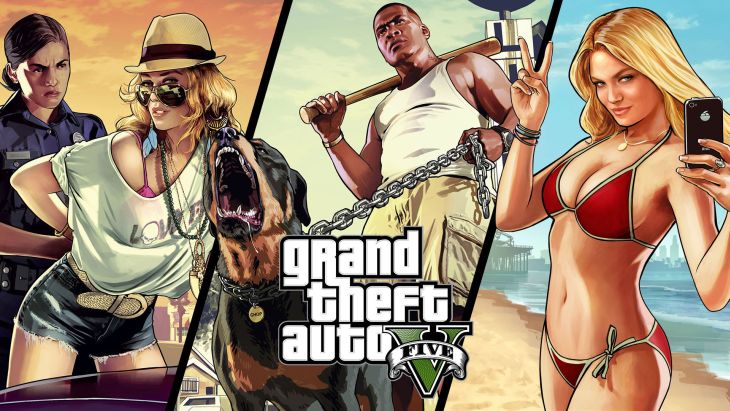 NVIDIA has published yesterday a new set of WHQL certified graphics drivers for Windows:
Just in time for the highly anticipated title Grand Theft Auto V, this new GeForce Game Ready driver ensures you'll have the best possible gaming experience. With support for GeForce SLI technology and one-click game setting optimizations within GeForce Experience, you'll have the best possible performance and image quality during gameplay. In addition, this driver is aligned with today's launch of the world's fastest gaming GPU; the GeForce GTX Titan X.
More information about R350.12 can be found HERE.
R350.12 Desktop Downloads
R350.12 Notebook Downloads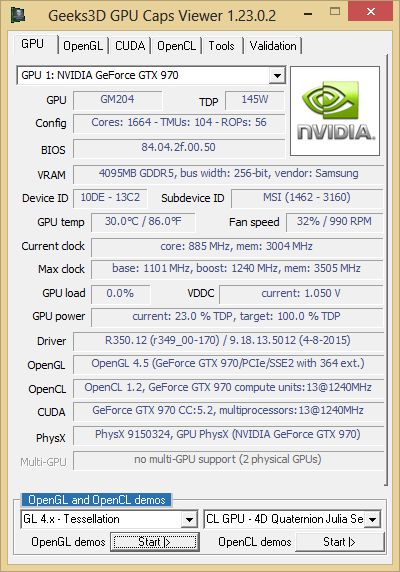 R350.12 is an OpenGL 4.5 driver and exposes the same 364 OpenGL extensions than R347.88.
R350.12 supports OpenCL 1.2 API and here is a part of GPU Caps Viewer report:

- CL_PLATFORM_NAME: NVIDIA CUDA
- CL_PLATFORM_VENDOR: NVIDIA Corporation
- CL_PLATFORM_VERSION: OpenCL 1.2 CUDA 7.0.0
- CL_PLATFORM_PROFILE: FULL_PROFILE
- Num devices: 1

	- CL_DEVICE_NAME: GeForce GTX 970
	- CL_DEVICE_VENDOR: NVIDIA Corporation
	- CL_DRIVER_VERSION: 350.12
	- CL_DEVICE_PROFILE: FULL_PROFILE
	- CL_DEVICE_VERSION: OpenCL 1.2 CUDA
	- CL_DEVICE_TYPE: GPU
	- CL_DEVICE_VENDOR_ID: 0x10DE
	- CL_DEVICE_MAX_COMPUTE_UNITS: 13
	- CL_DEVICE_MAX_CLOCK_FREQUENCY: 1240MHz
	- CL_NV_DEVICE_COMPUTE_CAPABILITY_MAJOR: 5
	- CL_NV_DEVICE_COMPUTE_CAPABILITY_MINOR: 2
	- CL_NV_DEVICE_REGISTERS_PER_BLOCK: 65536
	- CL_NV_DEVICE_WARP_SIZE: 32
	- CL_NV_DEVICE_GPU_OVERLAP: 1
	- CL_NV_DEVICE_KERNEL_EXEC_TIMEOUT: 1
	- CL_NV_DEVICE_INTEGRATED_MEMORY: 0
	- CL_DEVICE_ADDRESS_BITS: 32
	- CL_DEVICE_MAX_MEM_ALLOC_SIZE: 1048576KB
	- CL_DEVICE_GLOBAL_MEM_SIZE: 4096MB
	- CL_DEVICE_MAX_PARAMETER_SIZE: 4352
	- CL_DEVICE_GLOBAL_MEM_CACHELINE_SIZE: 128 Bytes
	- CL_DEVICE_GLOBAL_MEM_CACHE_SIZE: 208KB
	- CL_DEVICE_ERROR_CORRECTION_SUPPORT: NO
	- CL_DEVICE_LOCAL_MEM_TYPE: Local (scratchpad)
	- CL_DEVICE_LOCAL_MEM_SIZE: 47KB
	- CL_DEVICE_MAX_CONSTANT_BUFFER_SIZE: 64KB
	- CL_DEVICE_MAX_WORK_ITEM_DIMENSIONS: 3
	- CL_DEVICE_MAX_WORK_ITEM_SIZES: [1024 ; 1024 ; 64]
	- CL_DEVICE_MAX_WORK_GROUP_SIZE: 1024
	- CL_EXEC_NATIVE_KERNEL: 12040640
	- CL_DEVICE_IMAGE_SUPPORT: YES
	- CL_DEVICE_MAX_READ_IMAGE_ARGS: 256
	- CL_DEVICE_MAX_WRITE_IMAGE_ARGS: 16
	- CL_DEVICE_IMAGE2D_MAX_WIDTH: 16384
	- CL_DEVICE_IMAGE2D_MAX_HEIGHT: 16384
	- CL_DEVICE_IMAGE3D_MAX_WIDTH: 4096
	- CL_DEVICE_IMAGE3D_MAX_HEIGHT: 4096
	- CL_DEVICE_IMAGE3D_MAX_DEPTH: 4096
	- CL_DEVICE_MAX_SAMPLERS: 32
	- CL_DEVICE_PREFERRED_VECTOR_WIDTH_CHAR: 1
	- CL_DEVICE_PREFERRED_VECTOR_WIDTH_SHORT: 1
	- CL_DEVICE_PREFERRED_VECTOR_WIDTH_INT: 1
	- CL_DEVICE_PREFERRED_VECTOR_WIDTH_LONG: 1
	- CL_DEVICE_PREFERRED_VECTOR_WIDTH_FLOAT: 1
	- CL_DEVICE_PREFERRED_VECTOR_WIDTH_DOUBLE: 1
	- CL_DEVICE_EXTENSIONS: 16
	- Extensions:
		- cl_khr_byte_addressable_store
		- cl_khr_icd
		- cl_khr_gl_sharing
		- cl_nv_compiler_options
		- cl_nv_device_attribute_query
		- cl_nv_pragma_unroll
		- cl_nv_d3d9_sharing
		- cl_nv_d3d10_sharing
		- cl_khr_d3d10_sharing
		- cl_nv_d3d11_sharing
		- cl_nv_copy_opts
		- cl_khr_global_int32_base_atomics
		- cl_khr_global_int32_extended_atomics
		- cl_khr_local_int32_base_atomics
		- cl_khr_local_int32_extended_atomics
		- cl_khr_fp64