GPU Shark 0.9.3 DOWNLOAD

Webmasters: hotlinking is not allowed (and actually it does not work), please use the post url as download link.

[download#422#image]
This new version of GPU Shark adds the reading of the GPU memory vendor (Samsung, Hynix, etc.) for NVIDIA GPUs and fixes a typo in the internal database for the GeForce GTX 970M entry (thanks to Mickael / Materiel.net). GPU Shark 0.9.3 embeds the latest version of NVAPI (R346).
I don't know if it's a local issue on my machines, but it seems that the latest NVAPI requires R347.xx graphics driver. It was not possible to fetch the GPU core clock with R344 while everything is ok with latest R347.09. So do not hesitate to update your graphics drivers.
On the following screenshot, you can see that MSI GTX 970 uses Samsung VRAM modules: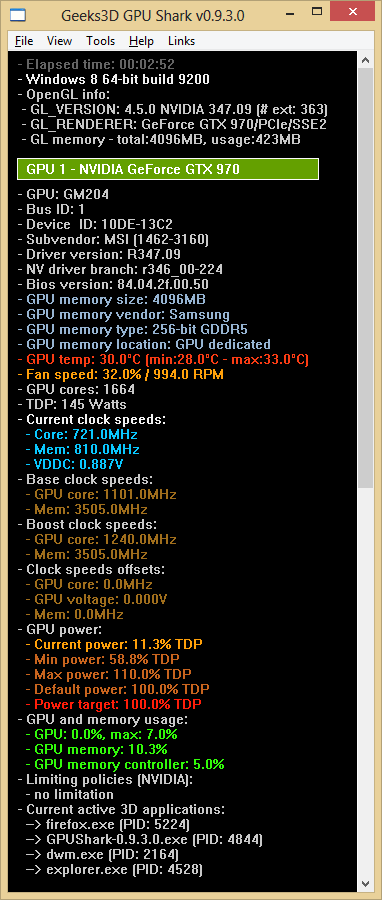 On this screenshot, the GTX 660 comes with Samsung memory while the GT 520 is based on MICRON modules: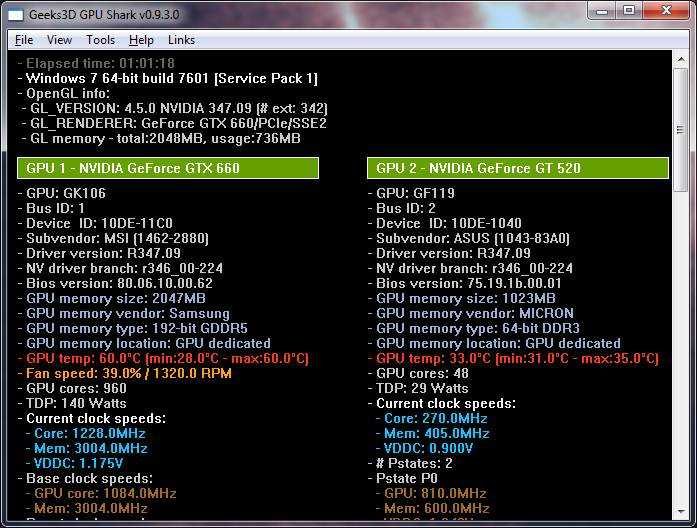 What is GPU Shark?
GPU Shark is a simple, lightweight and free GPU monitoring tool for GeForce and Radeon based graphics cards and is available for Windows only. GPU Shark offers a global view of all your graphics cards in a single window. More information HERE.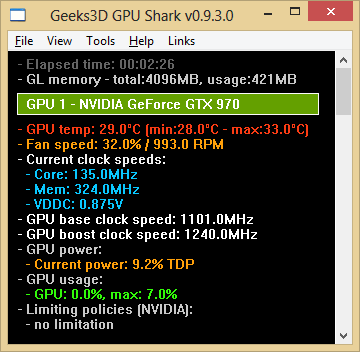 GPU Shark in simplified view mode
GPU Shark 0.9.3 changelog

Version 0.9.3.0 - 2015.01.08
---------------------------
. Note: this version of GPU Shark requires latest NVIDIA R347.09 to work correctly.
+ added the GPU RAM vendor info (Samsung, Hynix, etc.).
! updated: ZoomGPU 1.10.0 (with NVAPI R346).
* fixed typo in database for the GeForce GTX 970M (thanks to Mickael from Materiel.net).