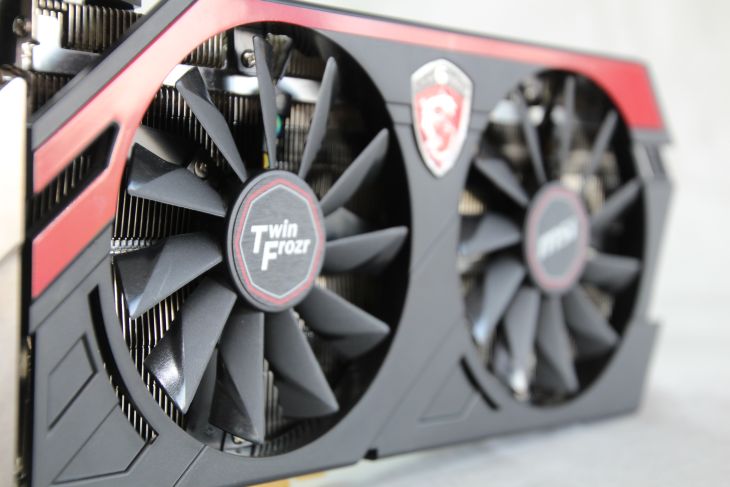 Review index:


I received this card several weeks ago but I didn't find the time to write about it. Even if Radeon R9 290X has been launched around one year ago, this card has no successor yet. So a quick review is still interesting, especially to update the benchmarking comparative tables for upcoming GTX 900 reviews…

MSI R9 290X Gaming 4G is a graphics card that belongs to MSI's Gaming Series. Here are all Series ranked from the top line (Lightning) to the bottom line (CLASSIC):

1 – Lightning Series: Built to be perfect
2 – Hawk Series: Essentials for overclockers
3 – Gaming Series: JUST GAME!
4 – CLASSIC Series: Classy and cool
This R9 Gaming is a card for gamers. Although you can overclock it, this card is not intended for overclockers because some OC features like voltage check points are missing. These features are available on the Hawk and Lightning series.
This card is based on the Hawaii XT GPU. More information about this GPU can be found on this page.
MSI R9 290X Gaming 4G homepage can be found HERE.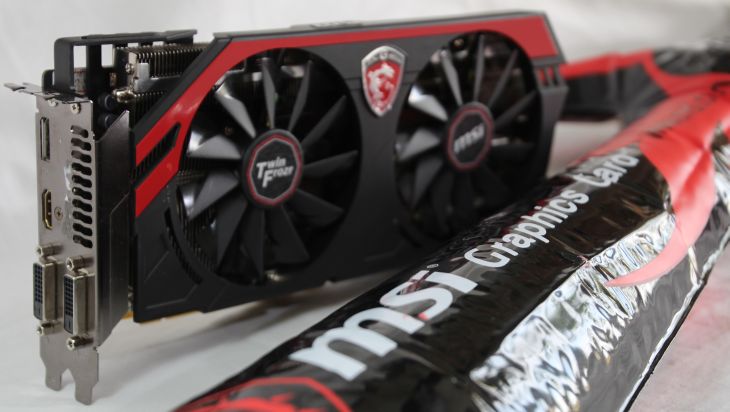 1 – Gallery
1.1 – Bundle
I received the card directly from MSI without bundle… so no picture!
1.2 – The Graphics Card
MSI has equipped its R9 290X with a custom VGA cooler based on the famous Twin Frozr IV cooler technology. This is a very efficient cooler that manages to keep low temperatures mor or less quietly: at idle, the VGA cooler is nearly noiseless while under heavy load the noise is tolerable.
MSI R9 290X comes with a backplate which is a good point, and includes the following output connectors:
– 1 x DisplayPort 1.2
– 1 x HDMI 1.4 (see HERE for the bandwidth of HDMI 1.4 interface).
– 2 x DVI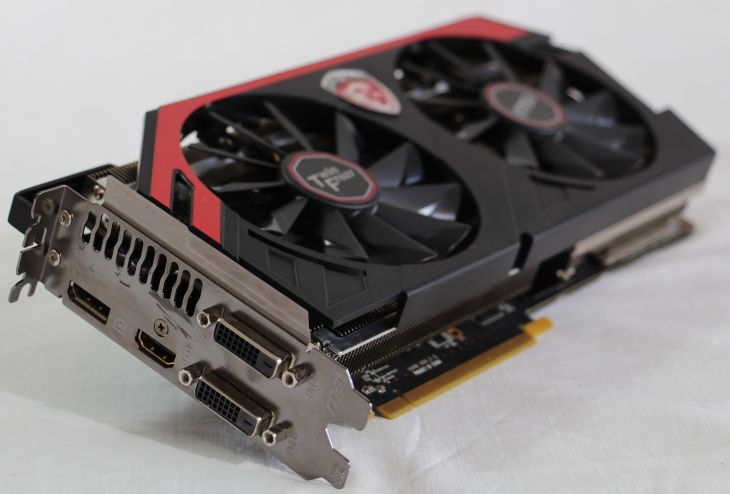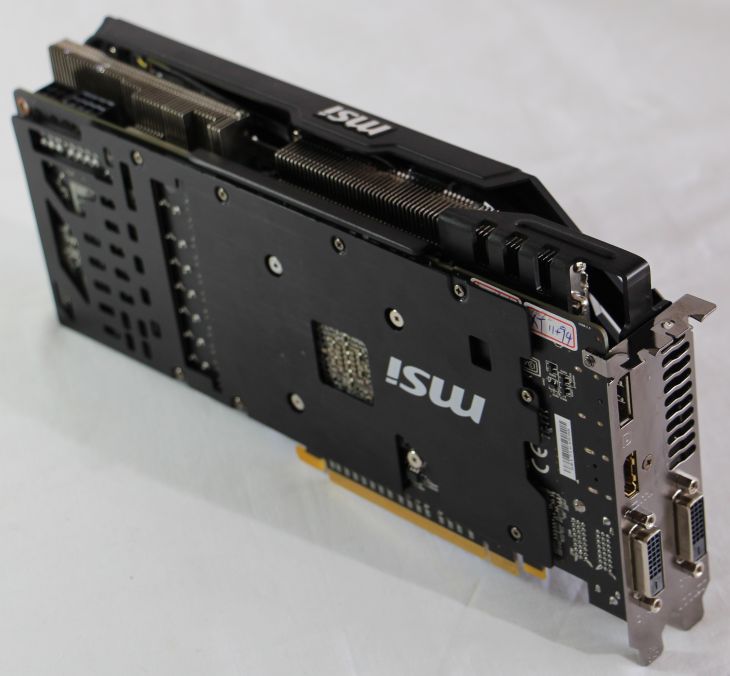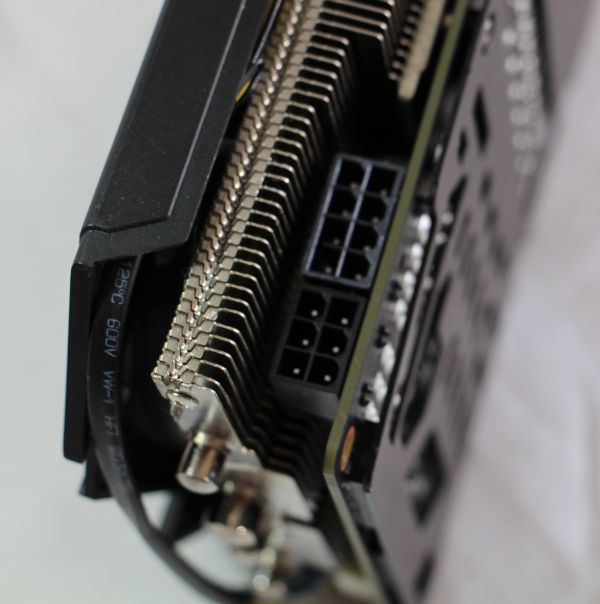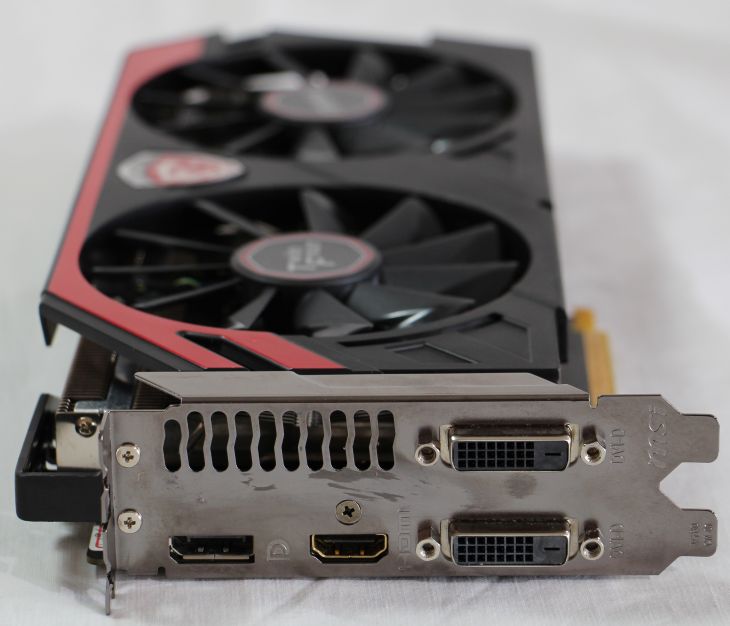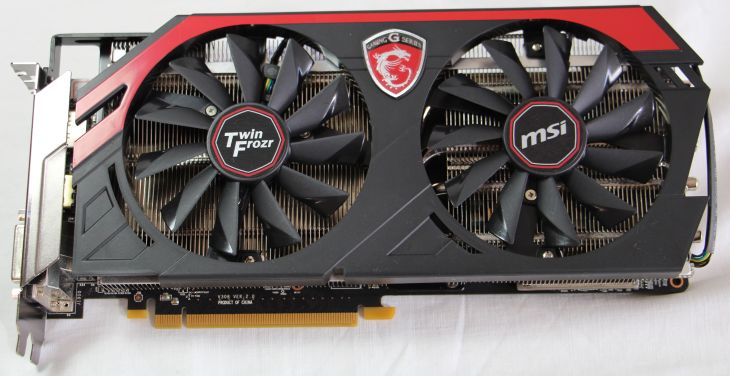 This card has however a little problem of design: once plugged, you can't easily unplug the PCI-E power cables because the heat sink to too near of the power connectors:

The dirty solution: just remove/break the small tie on each power connector!
Weird conception bug. Looks like nobody has tested this card at MSI labs before the launch day… or PSUs at MSI are all like my PSU, without the tie 😉
2 – GPU Info: GPU Caps Viewer, GPU-Z
Tools:
– GPU Caps Viewer 1.22.0
– GPU Shark 0.9.2
– GPU-Z 0.8.0
This MIS R9 290X has a GPU core clock of 1030MHz (reference clock: 1000MHz). The 4GB of GDDR5 memory are not overclocked and comes with the reference clock speed of 1250MHz real speed (or 5GHz effective speed).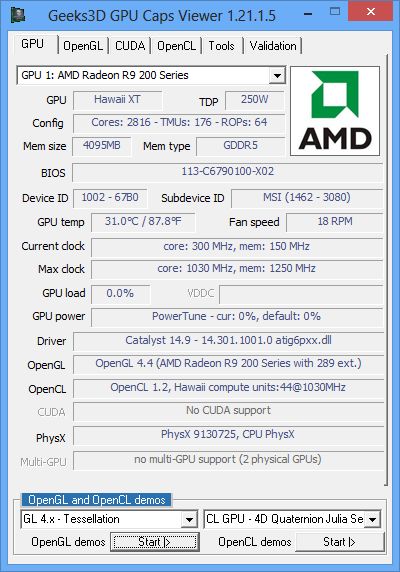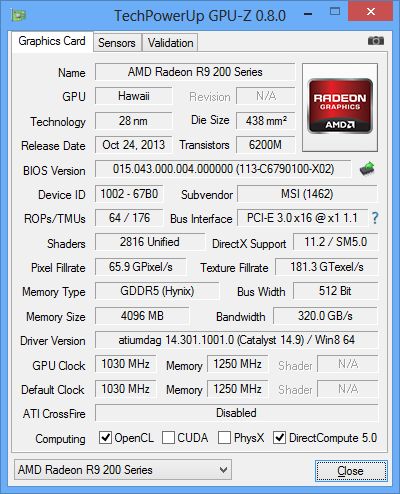 3 – Benchmarks
I benchmarked MSI's R9 290X with several GPU tests. See THIS PAGE for all results in 1920×1080 fullscreen mode.
4 – Burn-in Test and Throttling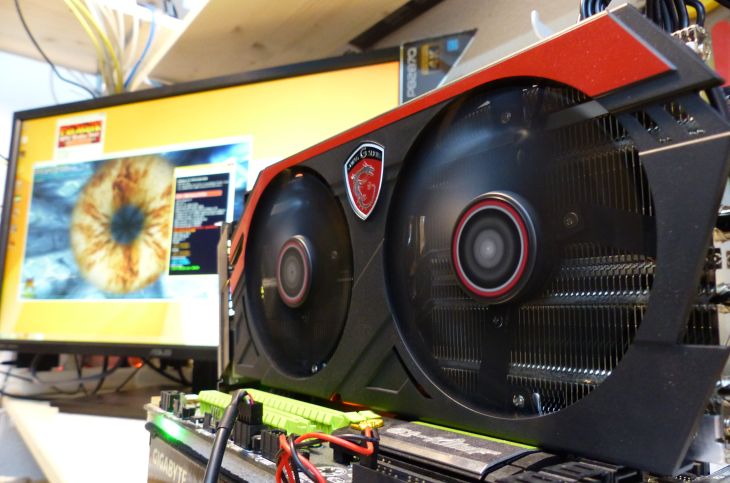 By default, Radeon cards work with the PowerTune set to 0% in the Overdrive section of the Catalyst Control Center. With this setting, the R9 290X runs at around 960 MHz when it's stressed by FurMark. 960Mhz is lower than the normal 3D clock speed (1030MHz). Why? Because PowerTune tries to keep the power consumption under a threshold defined by the PowerTune setting.
At idle, the total power consumption of the testbed is 55W and the GPU temperature is 31°C which is a nice temperature.
With a PowerTune of 0%, the total power consumption of the testbed is 412W and the GPU temperature reaches 82°C.
When FurMark is running, the CPU pulls around 25W and the total power. The efficiency factor of the Corsair AX 860i is 0.92. An estimation of the power consumption of the R9 290X is:
P = (412-25-50) * 0.92
P = 305W
To unleash the beast hidden behind the Twin Frozr IV cooler, you have to set the PowerTune to 20%: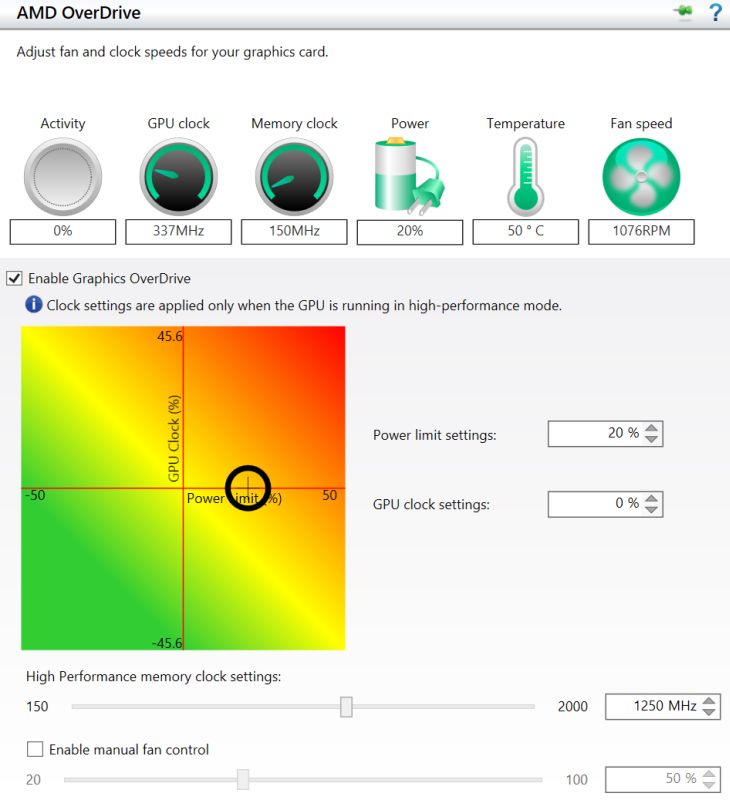 Let's see the numbers after a 5-min burn-in test session:
– total power consumption: 462W
– GPU temperature: 86°C
With a PowerTune of +20%, an estimation of the power consumption of the R9 290X is:
P = (462-25-50) * 0.92
P = 351W
351W!!! It's an insane power consumption. But the card is designed to resist and it resists. The Twin Frozr IV does it job by evacuating the heat produced by the GPU. But to correctly cool the GPU the VGA cooler has to do some noise…
The R9 290X Gaming 4G has successfully passed the FurMark stress test. This card is FurMark-proof.
5 – Conclusion
This R9 290X Gaming 4G is a great product by MSI. The card is built with a solid mechanical structure (backplate, Twin Frozr IV), does not suffer from throttling when it's under heavy graphics load and has a nice design.
Final Verdict
8/10
PROS:
– 4GB of graphics memory
– nice GPU temperature at idle state (31°C)
– quiet VGA cooler at idle
– factory-overclocked
– strong power cicuitry, no GPU throttling
– backplate for mechanical protection
– DisplayPort 1.2 for 4K gaming

CONS:
– VGA Cooler is noisy under heavy load
– PCI-E power cables hard to unplug