AMD has published a special edition of its Catalyst graphics driver codenamed Omega. With this release, AMD wishes to bring a high quality driver with a stack of new features:
Introducing the AMD Catalyst™ Omega driver for Windows, a "Special Edition" driver delivered to enhance the AMD GPU and APU experience. The AMD Catalyst™ Omega driver contains over 20 new features, performance improvements, and significant number of bug fixes and improvements. All improvements will be carried forward in subsequent driver releases.

Virtual Super Resolution (VSR): Render games at higher resolution and display them at lower resolution. Up to 4k quality gaming on 1080p HD displays.

5K Monitor Support: Unparalleled display performance for professionals and gamers who require the highest resolution available and silky-smooth, fatigue-free graphics – 5120×2880 at 60Hz.

Alienware Graphics Amplifier: Support for AMD Radeon™ Graphics in Alienware Graphics Amplifier.

Perfect Picture Enhancements: AMD Fluid Motion Video (Smooth Blu-ray playback with lower power APUs) and Contour Removal – Improved algorithm for compressed videos.

Perfect Picture Additions: 1080p Detail Enhancement now for APUs and Ultra HD-Like Experience – Makes 1080P videos 4K-like.

Frame Pacing Enhancements for AMD Dual Graphics

AMD CrossFire™ Frame Pacing improvements

OpenCL 2.0 Support

Performance Optimizations versus AMD Catalyst™ 14.9 WHQL

Driver Efficiency Improvement: Driver optimization for multi core CPUs allows up to 15% more performance for some AMD platforms
The complete release notes are available HERE.
Related links:
Catalyst 14.12 Desktop Downloads
Catalyst 14.12 Notebook Downloads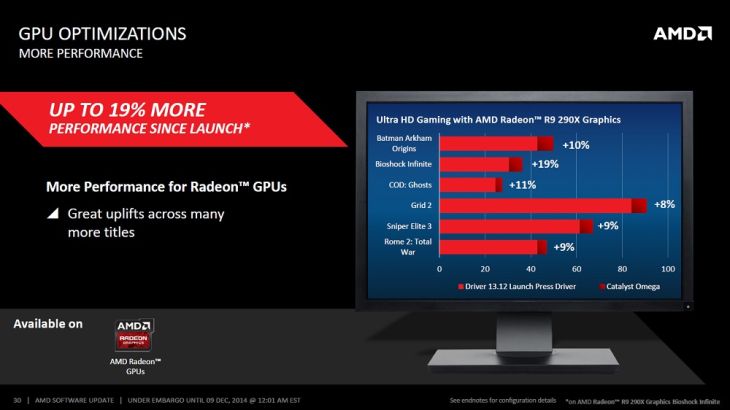 Catalyst 14.12 is an OpenGL 4.4 driver and exposes 295 OpenGL extensions for a Radeon R9 290X on Win8 64-bit. All details are available in THIS ENTRY of the GPU Database.