GeForce GTX 980/970 are great graphics cards and one of the cool features is the support of HDMI 2.0. Why HDMI 2.0 is cool? Because it allows to have an insane 3840×2160 resolution at 60Hz on a 4K TV. That's a crazy experience to work on a 49-inch monitor with a 4k resolution at 60Hz!
To display a 4k resolution at 60Hz, the video interface (HDMI, DisplayPort) needs to transfert 12Gbits/second of data:
– bit_per_channel = 8
– num_channels = 3 (RGB)
– resolution = 3840 * 2160
– 60Hz = 60 times per second
– bandwidth = 3840 * 2160 * 8 * 3 * 60
– bandwidth 4k@60Hz = 11.94 Gbits/sec
– bandwidth 4k@30Hz = 5.97 Gbits/sec
Here is a quick recap of HDMI and DisplayPort (DP) bandwidths:
HDMI 1.2: up to 4.95 Gbits/sec
HDMI 1.4: up to 10.2 Gbits/sec
HDMI 2.0: up to 18.0 Gbits/sec
DisplayPort 1.2: 17.28 Gbit/sec
DisplayPort 1.3: 32.4 Gbit/sec
As you can see, 4k @ 60Hz requires 12Gbits/sec so only HDMI 2.0 or DisplayPort 1.2 (and higher) can offer such a bandwidth. In 2014 and 2015, all new graphics cards should support HDMI 2.0 and DP 1.2 and all new TV screens should have HDM 2.0 inputs. Otherwise it's a… rip-off!
I recently received this GTX 970 from MSI and one of the first test I instantly did (after installing latest R344.75) is to connect it to the LG 49UB850V. It worked like a charm: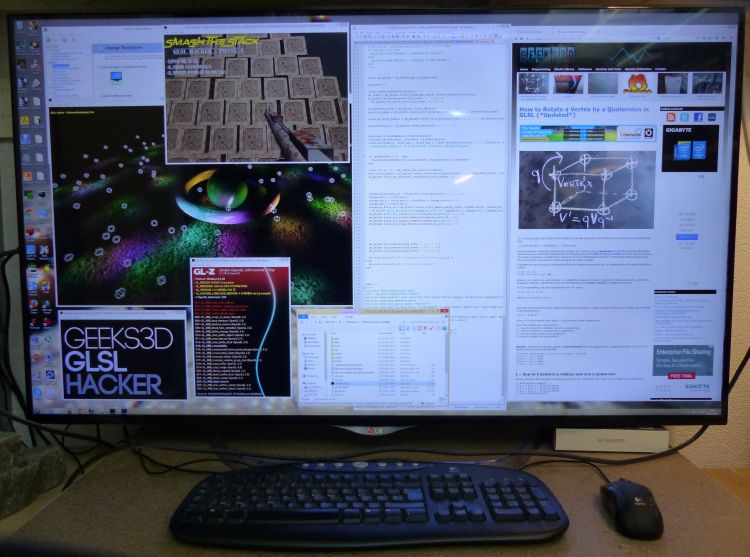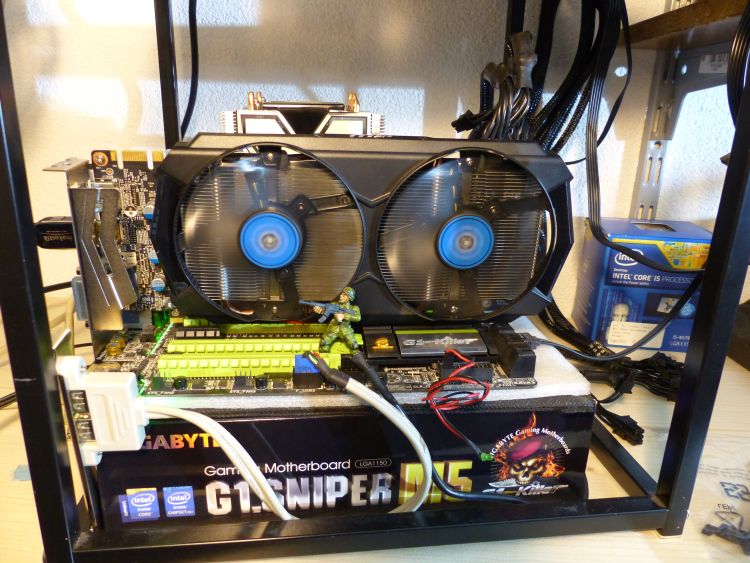 The NVIDIA control panel has two choices: 4k @ 30Hz (Ultra HD section) and 4k @ 60Hz (PC section):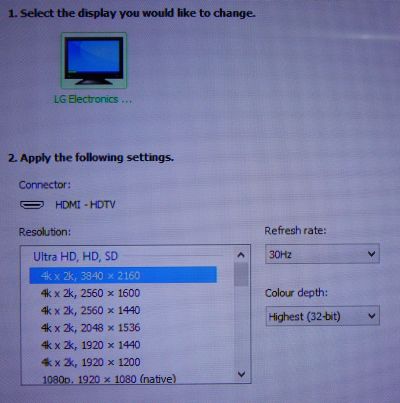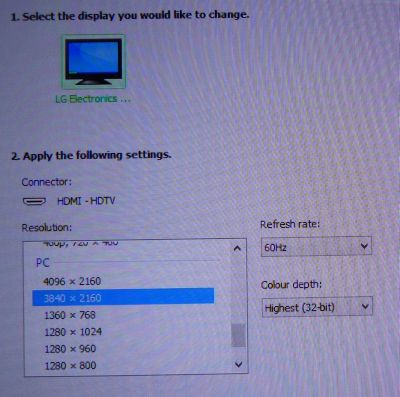 LG 49UB850V HDMI inputs: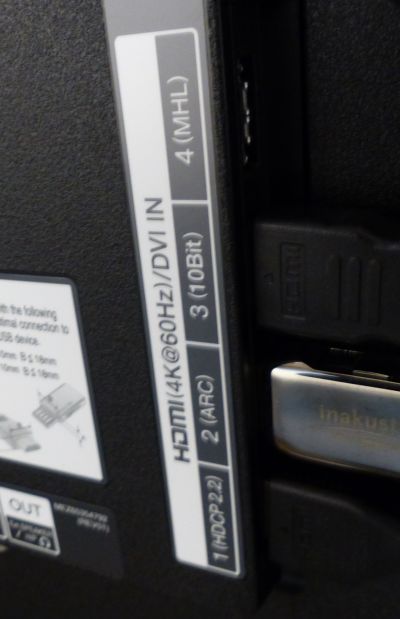 A thing remains a bit mysterious for me: it's not clear if it is 4k @ 60Hz with 4:4:4 chroma subsampling ratio or it is rather 4:2:0 chroma? According to some sources (like this one) over the Net, LG UB850 supports 4k @ 60Hz 8-bit 4:4:4:
When it comes to native 4K content, the UB8200 supports 4K @ 60Hz, albeit only 8-bit 4:2:0, on all HDMI inputs. The UB8500, on the other hand, supports 4K @ 60Hz feeds with higher color depth (10 and 12-bit) and chroma subsampling ratio (4:2:2), as well as 8-bit 4:4:4, albeit only on the HDMI 3 input (the remaining HDMI inputs support 4K @ 60Hz, 8-bit 4:2:0).
I didn't find this information in the TV settings. I tested the GTX 970 on all HDMI ports and I didn't notice difference in image quality. Actually there is a big improvement in image quality when I set 4k @ 30Hz in NVIDIA control panel. That's why I have some doubts about what chroma subsampling ratio is used in 4k @ 60Hz because the image is very slightly degraded compared to 30Hz…
References