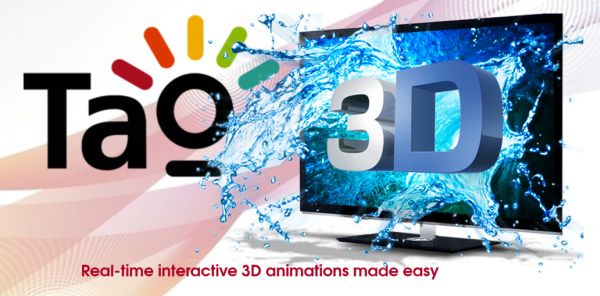 Tao3D, a tool for real time 3D animations, has been open-sourced few days ago. Tao3D is available for Windows, OS X and Linux. Here a better definition of what is Tao3D:
Tao3D lets you quickly develop interactive 3D animations, presentations or applications. It uses accelerated 3D, but unlike a game engine, it focuses on the presentation of information: text, videos, charts, etc.

Tao3D is a dynamic document description language designed specifically for real-time 3D animations. It can be used to present complex information in an entertaining and interactive way.

Tao3D includes support for the following features:

A complete programming language, with loops, tests, functions, and more.
Real-time, capable of displaying complex animations at 60FPS.
Sophisticated 2D and 3D text layout, 2D and 3D shapes, extrusion.
3D objects from a variety of formats, including .OBJ and .3DS
3D point clouds supporting hundreds of thousands of points
Integrated audio and movie support based on industry standard VLC
Real-time updates based on external data files in .CSV format
Fetch data, pictures or movies directly over HTTP
Tao3D is a software developed by a french team (5 developers working on Tao3D) based in Sophia Antipolis / France. Tao3D is based on XL, a programming language developed by the authors of Tao3D:
XL stands for "Extensible Language". It's a programming language designed to address the challenges faced by programmers today. It addresses these challenges not by adding language features, but by making it easy and safe for any programmer to add features themselves.
Here are some demos I quickly tested with the Windows version of Tao3D:

Mandelbrot demo
Links:
Introduction to the Tao language:

Dali's clock with Tao3D: