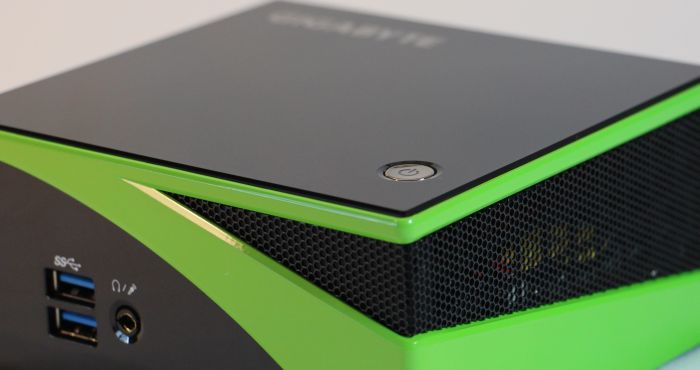 Article index:
1 – Overview
I quickly presented GIGABYTE's BRIX in this news. The BRIX is a gaming PC that fits on a small case (13cm x 12cm x 6cm). In this article, I tested the latest variant of the BRIX, the one that comes with a NVIDIA GeForce GTX 760 and an Intel Core i5 4200H (with 2 physical CPU cores).
More marketing information about the BRIX GTX 760 can be found here: GB-BXi5G-760 (rev. 1.0).
The BRIX is a DIY-style PC but don't expect to update everything, you can actually customize the CPU memory and the main drive (SSD) only.
The GeForce GTX 760 that is included in the BRIX is a special version of the GTX 760. It's unclear if it's a mobile or discrete version of the GTX 760. The device ID (0x1199) is the same than the GeForce GTX 870M and that's why GPU Caps Viewer for example, shows a GK104M GPU. This GTX 760 has the same GPU features than the GTX 870M: 1344 CUDA cores, 112 TMUs and 24 ROPs. The regular GeForce GTX 760 has 1152 CUDA cores, 96 TMUs and 32 ROPs. As you can see, it's not a real GTX 760. What's more, to make things a little bit complicated, GIGABYTE added a whopping 6GB of GDDR5 memory (only GTX Titan has this amount of memory) to that GTX 760.
One of the biggest challenges of the BRIX GTX 760 will be the heat dissipation. Is it possible to cool both the GTX 760 and the Core i5 in a quiet way?
Article index: