But currently, Metal is limited to Apple's A7 processors (iPhone 5S) under the new iOS 8. According to Apple, Metal allows to get 10x faster draw rates than OpenGL. Metal offers a more direct access to the CPU and GPU. Metal seems to follow the new rule in 3D programming launched by AMD with Mantle. I hope we'll see Metal on OS X (desktop GPUs) in not too distant future!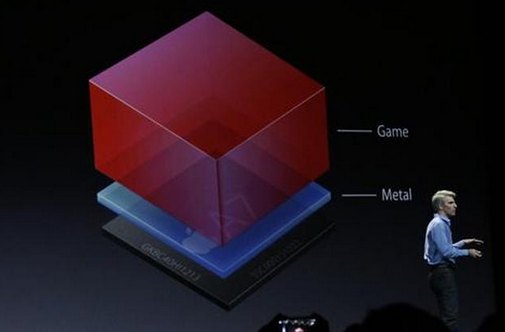 Links
Metal is a low-overhead framework for managing, committing, and executing both graphics and compute operations. Metal is designed to eliminate "hidden" performance bottlenecks such as implicit state validation. You get control over the asynchronous behavior of the GPU. You can use multithreading efficiently to create and commit command buffers in parallel.

The Metal shading language is a unified programming language for writing both graphics and compute functions that are used by apps written with the Metal framework.

The Metal shading language is a C++ based programming language that developers can use to write code that is executed on the GPU for graphics and general-purpose data-parallel computations. Since the Metal shading language is based on C++, developers will find it familiar and easy to use. With the Metal shading language, both graphics and compute programs can be written with a single, unified language, which allows tighter integration between the two.