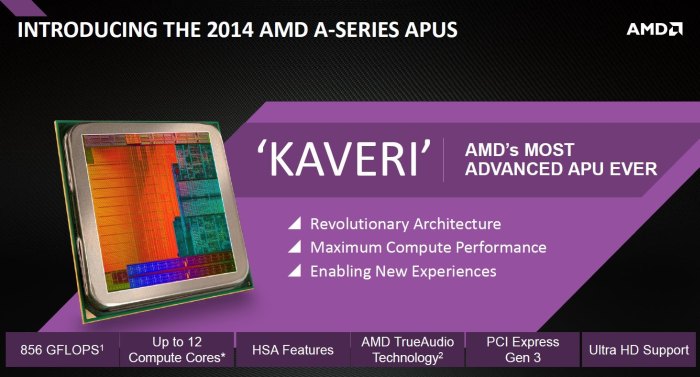 AMD has officially launched its new APU (Accelerated Processing Unit) codenamed Kaveri. The first and most powerful member is the A10-7850K that packs 12 compute cores. The A10-7850K includes a 4-core CPU (two dual-core Streamroller modules) and a Radeon R7 GPU with 8 GCN 1.1 compute units (or 512 stream processors, each compute unit having 64 stream processors). The A10-78050K Radeon R7 is equivalent to Radeon HD 7750.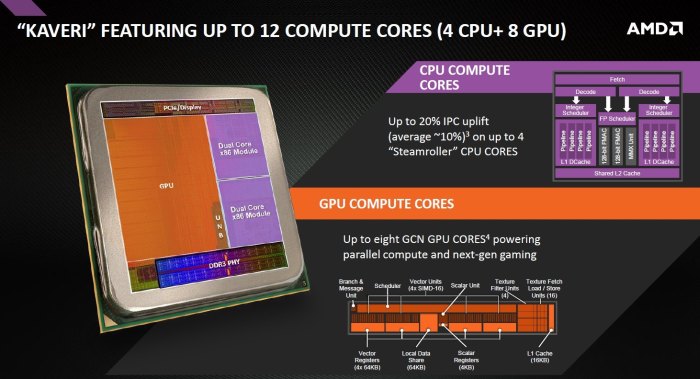 The CPU is clocked at 3.7GHz while the GPU is clocked at 720MHz. The total processing power is 856 GFLOPS. AMD determined the processing power with the following relations:
A10-7850K GFLOPS = CPU GFLOPS + GPU GFLOPS

CPU GFLOPS = cpu_clock_speed x core_count x 8
CPU GFLOPS = 3.7 x 4 x 8
CPU GFLOPS = 118.4

GPU GFLOPS = gpu_clock_speed x stream_processor_count x 2
GPU GFLOPS = 0.72 x 512 x 2
GPU GFLOPS = 737.28

A10-7850K GFLOPS = 118.4 + 737.28
A10-7850K GFLOPS = 855.68
Here is AMD's definition of a compute core:
A compute core is an HSA-enabled hardware block, that is programmable, capable of running at least one process in its own context and virtual memory space, independently from other cores
Kaveri's HSA (Heterogeneous System Architecture) and HUMA (Heterogeneous Unified Memory Architecture)
will allow applications to run threads on different compute cores (CPU or GPU). So compute cores are they a new marketing word just to have more compute things on slides?
The A10-7850K is not announced alone. AMD also introduced the A10-7700K (4 GPU cores and 6 GPU cores) as well as the A8-7600 (4 GPU cores and 6 GPU cores):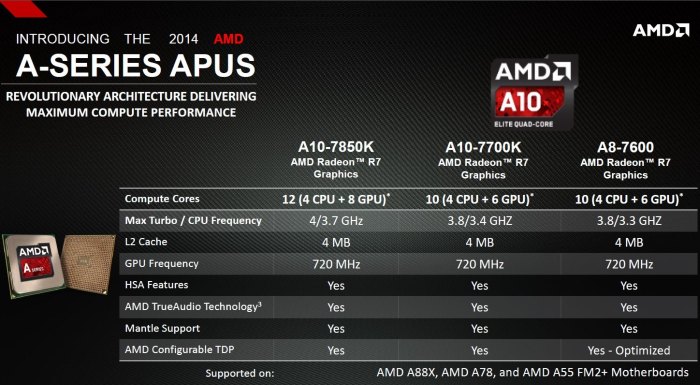 AMD Kaveri APU A10-7850K specifications
Socket: FM2+
CPU: 4 cores @ 3.7GHz (base) or 4.0GHz (turbo), 28nm
GPU: 512 stream processors (8 GCN 1.1 CUs) @ 654MHz (base clock) or 720MHz (boost clock)
Texture units: 32
ROPs: 8
TrueAudio: YES
Memory: up to 64GB of DDR3-2133MHz
TDP: 95W
Computing: OpenCL 2.0
3D: Direct3D 11.2, OpenGL 4.3/4.4, Mantle
Launch price: USD $173
References and related links:
Reviews: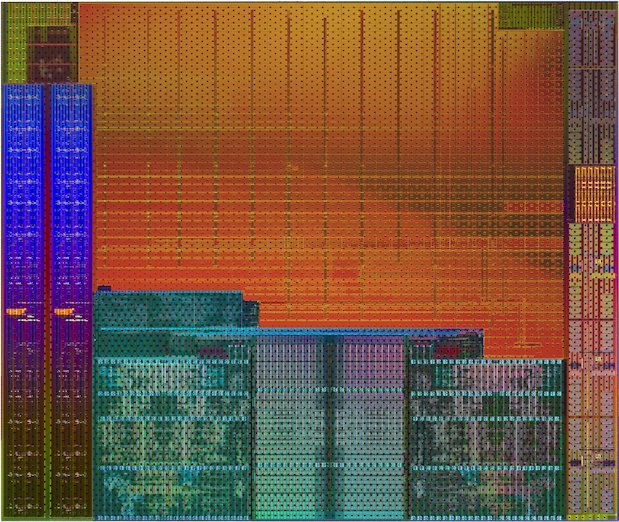 AMD Kaveri silicon