NVIDIA has released a set of certified drivers for Linux, Solaris and FreeBSD. R319.23 adds the support of the brand new GeForce GTX 780 and brings bugfixes.
You can download R319.23 here:
If you are under Linux Mint and need some help to install R319.23, just check this article: How to quickly Install NVIDIA R302.11 Drivers Under Linux Mint 13).
R319.23 changelog:
Added support for the following GPUs: GeForce GTX 780
Fixed a regression that could cause X to crash when querying GPU information through NV-CONTROL on multi-GPU systems where some GPUs failed to be initialized for X.
Fixed a bug that could cause X to crash when using Vertex Buffer Objects (VBOs) with indirect rendering.
Fixed a bug that prevented some drop-down menus in nvidia-settings from working correctly when using older versions of GTK+.
Fixed RandR panning reporting when the current MetaMode is smaller than the X screen.
Fixed a regression that caused nvidia-installer to attempt post-processing of non-installed files.
Added the "ForceCompositionPipeline" and "ForceFullCompositionPipeline" MetaMode options. See the README for details.
Added support for HDMI 4K resolutions. Using a 4K resolution with an HDMI display requires a Kepler or later GPU.
Added support in VDPAU for 4k resolution MPEG-1/2 and H.264 video decoding, up to 4032×4048 for MPEG-1/2 and 4032×4080 for H.264, and up to 65536 macroblocks for both.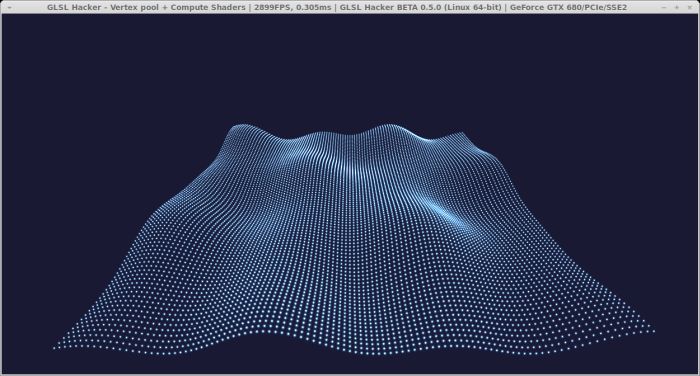 GLSL Hacker 0.5.0 – OpenGL 4.3 compute shaders demo under Linux
R319.23 is an OpenGL 4.3 driver and exposes 274 OpenGL extensions + 28 GLX extensions:
– GL_RENDERER: GeForce GTX 680/PCIe/SSE2
– GL_VENDOR: NVIDIA Corporation
– GL_VERSION: 4.3.0 NVIDIA 319.23
– GL_SHADING_LANGUAGE_VERSION: 4.30 NVIDIA via Cg compiler
GL_AMD_multi_draw_indirect
GL_AMD_seamless_cubemap_per_texture
GL_ARB_arrays_of_arrays
GL_ARB_base_instance
GL_ARB_blend_func_extended
GL_ARB_clear_buffer_object
GL_ARB_color_buffer_float
GL_ARB_compatibility
GL_ARB_compressed_texture_pixel_storage
GL_ARB_conservative_depth
GL_ARB_compute_shader
GL_ARB_copy_buffer
GL_ARB_copy_image
GL_ARB_debug_output
GL_ARB_depth_buffer_float
GL_ARB_depth_clamp
GL_ARB_depth_texture
GL_ARB_draw_buffers
GL_ARB_draw_buffers_blend
GL_ARB_draw_indirect
GL_ARB_draw_elements_base_vertex
GL_ARB_draw_instanced
GL_ARB_ES2_compatibility
GL_ARB_ES3_compatibility
GL_ARB_explicit_attrib_location
GL_ARB_explicit_uniform_location
GL_ARB_fragment_coord_conventions
GL_ARB_fragment_layer_viewport
GL_ARB_fragment_program
GL_ARB_fragment_program_shadow
GL_ARB_fragment_shader
GL_ARB_framebuffer_no_attachments
GL_ARB_framebuffer_object
GL_ARB_framebuffer_sRGB
GL_ARB_geometry_shader4
GL_ARB_get_program_binary
GL_ARB_gpu_shader5
GL_ARB_gpu_shader_fp64
GL_ARB_half_float_pixel
GL_ARB_half_float_vertex
GL_ARB_imaging
GL_ARB_instanced_arrays
GL_ARB_internalformat_query
GL_ARB_internalformat_query2
GL_ARB_invalidate_subdata
GL_ARB_map_buffer_alignment
GL_ARB_map_buffer_range
GL_ARB_multi_draw_indirect
GL_ARB_multisample
GL_ARB_multitexture
GL_ARB_occlusion_query
GL_ARB_occlusion_query2
GL_ARB_pixel_buffer_object
GL_ARB_point_parameters
GL_ARB_point_sprite
GL_ARB_program_interface_query
GL_ARB_provoking_vertex
GL_ARB_robust_buffer_access_behavior
GL_ARB_robustness
GL_ARB_sample_shading
GL_ARB_sampler_objects
GL_ARB_seamless_cube_map
GL_ARB_separate_shader_objects
GL_ARB_shader_atomic_counters
GL_ARB_shader_bit_encoding
GL_ARB_shader_image_load_store
GL_ARB_shader_image_size
GL_ARB_shader_objects
GL_ARB_shader_precision
GL_ARB_shader_storage_buffer_object
GL_ARB_shader_subroutine
GL_ARB_shader_texture_lod
GL_ARB_shading_language_100
GL_ARB_shading_language_420pack
GL_ARB_shading_language_include
GL_ARB_shading_language_packing
GL_ARB_shadow
GL_ARB_stencil_texturing
GL_ARB_sync
GL_ARB_tessellation_shader
GL_ARB_texture_border_clamp
GL_ARB_texture_buffer_object
GL_ARB_texture_buffer_object_rgb32
GL_ARB_texture_buffer_range
GL_ARB_texture_compression
GL_ARB_texture_compression_bptc
GL_ARB_texture_compression_rgtc
GL_ARB_texture_cube_map
GL_ARB_texture_cube_map_array
GL_ARB_texture_env_add
GL_ARB_texture_env_combine
GL_ARB_texture_env_crossbar
GL_ARB_texture_env_dot3
GL_ARB_texture_float
GL_ARB_texture_gather
GL_ARB_texture_mirrored_repeat
GL_ARB_texture_multisample
GL_ARB_texture_non_power_of_two
GL_ARB_texture_query_levels
GL_ARB_texture_query_lod
GL_ARB_texture_rectangle
GL_ARB_texture_rg
GL_ARB_texture_rgb10_a2ui
GL_ARB_texture_storage
GL_ARB_texture_storage_multisample
GL_ARB_texture_swizzle
GL_ARB_texture_view
GL_ARB_timer_query
GL_ARB_transform_feedback2
GL_ARB_transform_feedback3
GL_ARB_transform_feedback_instanced
GL_ARB_transpose_matrix
GL_ARB_uniform_buffer_object
GL_ARB_vertex_array_bgra
GL_ARB_vertex_array_object
GL_ARB_vertex_attrib_64bit
GL_ARB_vertex_attrib_binding
GL_ARB_vertex_buffer_object
GL_ARB_vertex_program
GL_ARB_vertex_shader
GL_ARB_vertex_type_2_10_10_10_rev
GL_ARB_viewport_array
GL_ARB_window_pos
GL_ATI_draw_buffers
GL_ATI_texture_float
GL_ATI_texture_mirror_once
GL_S3_s3tc
GL_EXT_texture_env_add
GL_EXT_abgr
GL_EXT_bgra
GL_EXT_bindable_uniform
GL_EXT_blend_color
GL_EXT_blend_equation_separate
GL_EXT_blend_func_separate
GL_EXT_blend_minmax
GL_EXT_blend_subtract
GL_EXT_compiled_vertex_array
GL_EXT_Cg_shader
GL_EXT_depth_bounds_test
GL_EXT_direct_state_access
GL_EXT_draw_buffers2
GL_EXT_draw_instanced
GL_EXT_draw_range_elements
GL_EXT_fog_coord
GL_EXT_framebuffer_blit
GL_EXT_framebuffer_multisample
GL_EXTX_framebuffer_mixed_formats
GL_EXT_framebuffer_multisample_blit_scaled
GL_EXT_framebuffer_object
GL_EXT_framebuffer_sRGB
GL_EXT_geometry_shader4
GL_EXT_gpu_program_parameters
GL_EXT_gpu_shader4
GL_EXT_multi_draw_arrays
GL_EXT_packed_depth_stencil
GL_EXT_packed_float
GL_EXT_packed_pixels
GL_EXT_pixel_buffer_object
GL_EXT_point_parameters
GL_EXT_provoking_vertex
GL_EXT_rescale_normal
GL_EXT_secondary_color
GL_EXT_separate_shader_objects
GL_EXT_separate_specular_color
GL_EXT_shader_image_load_store
GL_EXT_shadow_funcs
GL_EXT_stencil_two_side
GL_EXT_stencil_wrap
GL_EXT_texture3D
GL_EXT_texture_array
GL_EXT_texture_buffer_object
GL_EXT_texture_compression_dxt1
GL_EXT_texture_compression_latc
GL_EXT_texture_compression_rgtc
GL_EXT_texture_compression_s3tc
GL_EXT_texture_cube_map
GL_EXT_texture_edge_clamp
GL_EXT_texture_env_combine
GL_EXT_texture_env_dot3
GL_EXT_texture_filter_anisotropic
GL_EXT_texture_integer
GL_EXT_texture_lod
GL_EXT_texture_lod_bias
GL_EXT_texture_mirror_clamp
GL_EXT_texture_object
GL_EXT_texture_shared_exponent
GL_EXT_texture_sRGB
GL_EXT_texture_sRGB_decode
GL_EXT_texture_storage
GL_EXT_texture_swizzle
GL_EXT_timer_query
GL_EXT_transform_feedback2
GL_EXT_vertex_array
GL_EXT_vertex_array_bgra
GL_EXT_vertex_attrib_64bit
GL_EXT_x11_sync_object
GL_EXT_import_sync_object
GL_IBM_rasterpos_clip
GL_IBM_texture_mirrored_repeat
GL_KHR_debug
GL_KTX_buffer_region
GL_NV_bindless_texture
GL_NV_blend_square
GL_NV_compute_program5
GL_NV_conditional_render
GL_NV_copy_depth_to_color
GL_NV_copy_image
GL_NV_depth_buffer_float
GL_NV_depth_clamp
GL_NV_draw_texture
GL_NV_ES1_1_compatibility
GL_NV_explicit_multisample
GL_NV_fence
GL_NV_float_buffer
GL_NV_fog_distance
GL_NV_fragment_program
GL_NV_fragment_program_option
GL_NV_fragment_program2
GL_NV_framebuffer_multisample_coverage
GL_NV_geometry_shader4
GL_NV_gpu_program4
GL_NV_gpu_program4_1
GL_NV_gpu_program5
GL_NV_gpu_program5_mem_extended
GL_NV_gpu_program_fp64
GL_NV_gpu_shader5
GL_NV_half_float
GL_NV_light_max_exponent
GL_NV_multisample_coverage
GL_NV_multisample_filter_hint
GL_NV_occlusion_query
GL_NV_packed_depth_stencil
GL_NV_parameter_buffer_object
GL_NV_parameter_buffer_object2
GL_NV_path_rendering
GL_NV_pixel_data_range
GL_NV_point_sprite
GL_NV_primitive_restart
GL_NV_register_combiners
GL_NV_register_combiners2
GL_NV_shader_atomic_counters
GL_NV_shader_atomic_float
GL_NV_shader_buffer_load
GL_NV_shader_storage_buffer_object
GL_NV_texgen_reflection
GL_NV_texture_barrier
GL_NV_texture_compression_vtc
GL_NV_texture_env_combine4
GL_NV_texture_expand_normal
GL_NV_texture_multisample
GL_NV_texture_rectangle
GL_NV_texture_shader
GL_NV_texture_shader2
GL_NV_texture_shader3
GL_NV_transform_feedback
GL_NV_transform_feedback2
GL_NV_vdpau_interop
GL_NV_vertex_array_range
GL_NV_vertex_array_range2
GL_NV_vertex_attrib_integer_64bit
GL_NV_vertex_buffer_unified_memory
GL_NV_vertex_program
GL_NV_vertex_program1_1
GL_NV_vertex_program2
GL_NV_vertex_program2_option
GL_NV_vertex_program3
GL_NVX_conditional_render
GL_NVX_gpu_memory_info
GL_NVX_nvenc_interop
GL_SGIS_generate_mipmap
GL_SGIS_texture_lod
GL_SGIX_depth_texture
GL_SGIX_shadow
GL_SUN_slice_accum
GLX extensions:
GLX_ARB_get_proc_address
GLX_ARB_multisample
GLX_EXT_visual_info
GLX_EXT_visual_rating
GLX_EXT_import_context
GLX_SGI_video_sync
GLX_NV_swap_group
GLX_NV_video_out
GLX_SGIX_fbconfig
GLX_SGIX_pbuffer
GLX_SGI_swap_control
GLX_EXT_swap_control
GLX_EXT_swap_control_tear
GLX_EXT_buffer_age
GLX_ARB_create_context
GLX_ARB_create_context_profile
GLX_NV_float_buffer
GLX_ARB_fbconfig_float
GLX_EXT_fbconfig_packed_float
GLX_EXT_texture_from_pixmap
GLX_EXT_framebuffer_sRGB
GLX_NV_present_video
GLX_NV_copy_image
GLX_NV_multisample_coverage
GLX_NV_video_capture
GLX_EXT_create_context_es_profile
GLX_EXT_create_context_es2_profile
GLX_ARB_create_context_robustness