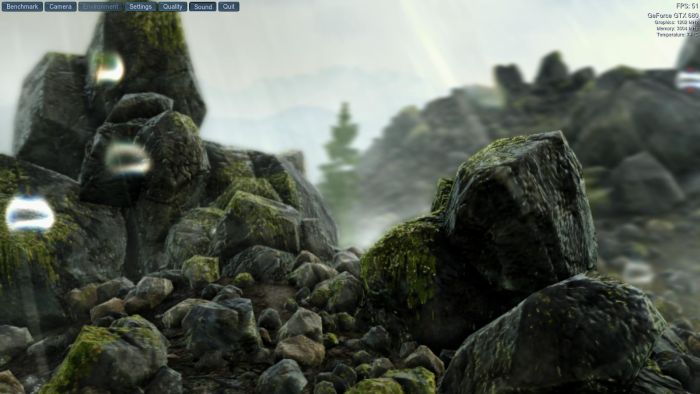 Few days after
Heaven 4.0
, Unigine Corps publishes its new graphics benchmark
Valley
for Windows, Linux and OSX:
Valley Benchmark is a new GPU stress-testing tool from the developers of the very popular and highly acclaimed Heaven Benchmark. The forest-covered valley surrounded by vast mountains amazes with its scale from a bird's-eye view and is extremely detailed down to every leaf and flower petal. This non-synthetic benchmark powered by the state-of-the art UNIGINE Engine showcases a comprehensive set of cutting-edge graphics technologies with a dynamic environment and fully interactive modes available to the end user.
You can download Valley 1.0 from this page.
As usual, I did a quick test with a GTX 680 and a HD 7970. I don't understand why the presets of Valley benchmark (same thing for Heaven 4.0) are not in fullscreen but it doesn't matter, custom settings are fortunately available!
Testbed and graphics drivers:
– Radeon HD 7970: Catalyst 13.1 WHQL.
– GeForce GTX 680: R313.96.
Win7, Direct3D 11, Preset Extreme (not preset Extreme HD!):
GeForce GTX 680 – FPS: 54.2, Scores: 2267
Radeon HD 7970 (Cat 13.1 WHQL) – FPS: 47.5, Scores: 1986
Win7, Direct3D 11, Preset Extreme HD:
GeForce GTX 680 – FPS: 42.0, Scores: 1759 (R314.07)
GeForce GTX 680 – FPS: 42.1, Scores: 1761 R313.96)
Radeon HD 7970 (Cat 13.1 WHQL) – FPS: 36.5, Scores: 1527
Win7, custom settings (Preset Extreme HD in OpenGL): 1920×1080 fullscreen, quality: ultra, antialiasing: 8X
GeForce GTX 680 – OpenGL – FPS: 35.4, Scores: 1482
Radeon HD 7970 – OpenGL – FPS: 16.0, Scores: 669
Win7, custom settings: 1920×1080 fullscreen, quality: ultra, antialiasing: 4X
GeForce GTX 680 – Direct3D 11 – FPS: 53.8, Scores: 2249
GeForce GTX 680 – OpenGL – FPS: 44.7, Scores: 1869
Radeon HD 7970 – Direct3D 11 – FPS: 45.1, Scores: 1886
Radeon HD 7970 – OpenGL – FPS: 24.6, Scores: 1028
I don't know how to interpret the bad OpenGL score of the Radeon card… Unigine engine ? Catalyst 13.1 ? …