The devteam of Unigine Corp. has released the fourth version of their popular graphics benchmark Heaven. Heaven benchmark is available on Windows, Linux and OS X (10.8+). The version 4.0 brings the following new stuff:
– Benchmarking presets for convenient comparison of results
– GPU temperature and clock monitoring
– Drastic improvement of SSDO
– Stars at nighttime
– Improvement of lens flares
– New, improved version of UNIGINE Engine under the hood
– Detection of multiple GPUs
– Anti-aliasing support on Mac OS X
– Enhancement of automation scripts in Pro version
– New Advanced edition
– Russian and Chinese localization
You can download Heaven 4.0 from this page. More information about this new release can be found here.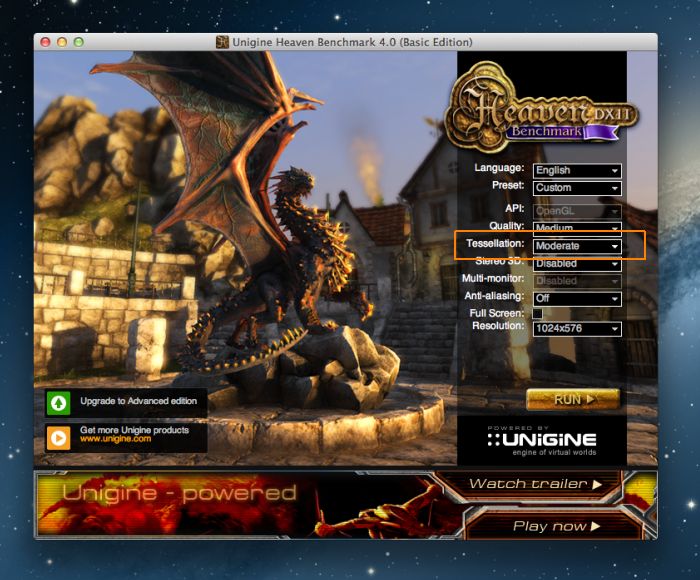 On OSX, the tessellation level should not be available…
I tested Heaven 4.0 on Win7 and OSX. Here are the results with the followinf custom settings:
Win7: 1920×1080, tessellation: normal, quality: ultra, antialiasing: 4X
OSX: 1440×900, tessellation: disabled, quality: high, antialiasing: 4X
Win7 (testbed)
GeForce GTX 680 – Direct3D 11 – FPS: 47.8, Scores: 1204
GeForce GTX 680 – OpenGL 4 – FPS: 38.8, Scores: 977
Radeon HD 7970 – Direct3D 11 – FPS: 46.4, Scores: 1168
Radeon HD 7970 – OpenGL 4 – FPS: 34.8, Scores: 875
OSX (MacBook Pro Retina 15-inch)
GeForce GT 650M – OpenGL – FPS: 21.1, Scores: 531
Intel HD 4000 – OpenGL – FPS: 4.5, Scores: 113