AMD has released the August 2012 edition of its Catalyst graphics drivers.Catalyst 12.8 supports all Radeon from HD 5000 up to HD 7900 series. Radeon HD 2000, HD 3000 and HD 4000 have their own driver HERE.
Catalyst 12.8 Desktop Downloads:
Catalyst 12.8 release notes are available HERE.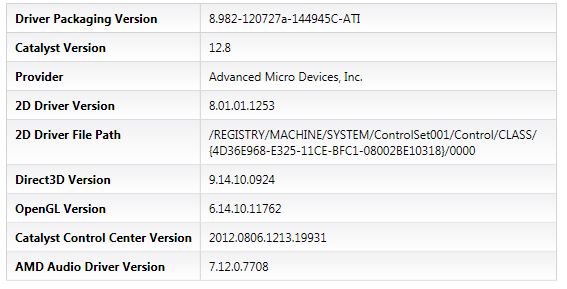 Catalyst 12.8 exposes 240 openGL extensions (GL=219 and WGL=21) for a Radeon HD 7970 (Win7 64-bit) and brings one new extension compared to Catalyst 12.6-beta:
GL_EXT_texture_sRGB_decode
Catalyst 12.8 is an OpenGL 4.2 driver (exact version: 4.2.11762). For OpenCL stuff, see Cat 12.6-beta, the caps are the same.