Review Index
2 – Meet ASUS's GTX 680 DirectCU II TOP
You can find ASUS GTX 680 DC2 TOP official page HERE.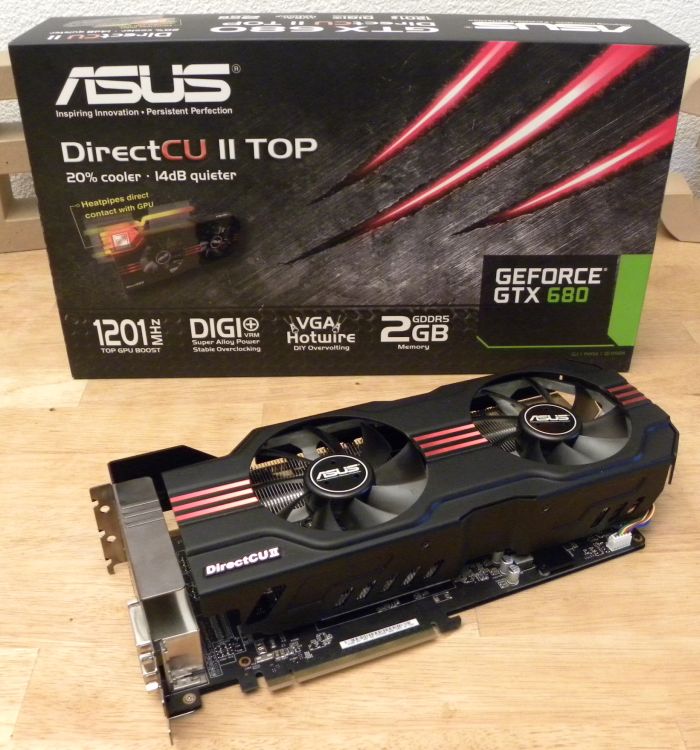 ASUS' TOP graphics cards are ASUS' finest graphics cards. They are based on carrefully selected components, especially the GPU, and the cards, once assembled, must pass severe stress tests. More details in this article: The Makings Of ASUS TOP Graphics Cards. The following screenshot shows Geeks3D's FurMark used to stress test TOP cards at ASUS Lab: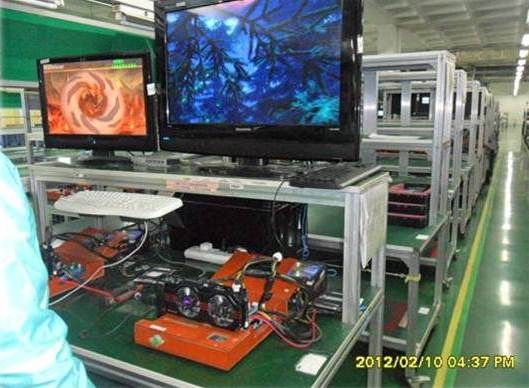 We start the discovery of the GTX 680 DC2 TOP with the VGA cooler because it's the first thing we see. The DirectCU II (or DC2) VGA cooler is a whopping cooler: three-slot height. But it's not a new thing, it's rather common for ASUS' high-end graphics cards (see HERE and HERE).This bulky cooler is nice because it is quiet: its size makes it possible to reduce the fan speed and even under load the noise level is low. Five heatpipes are in direct contact with the surface of the GPU for a better heat dissipation (up to 20% cooler compared to the reference cooling system).

The GTX 680 DC2 TOP is a factory overclocked card. The base clock is 1137MHz (+131MHz / ref board) and the boost clock is 1201MHz (+143MHz / ref board). If wee look at the power target, the range of possible values has been enlarged: you can set the power target to 68% TDP up to 158% TPD (see the GPU Shark screenshot HERE).
To properly handle the overclocked clock speed and power consumption, the GTX 680 DC2 TOP has one 8-pin and one 6-pin additional power connectors (the reference board has two 6-pin). 8-pin + 6-pin means the GTX 680 DC2 TOP board can handle a maximal power consumption of 300W (this is not the TDP of the card).

The protection of the rear side of the PCB is done with a nice backplate: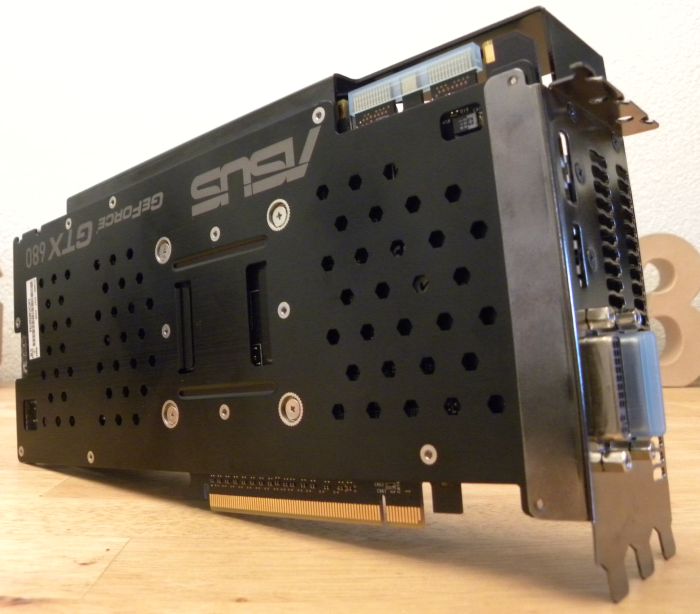 The backplate comes with some cutouts: two for the power connectors LEDs and one for the VGA Hotwire feature.
The power connector LEDs are green is poer supply is ok or red is there is a problem: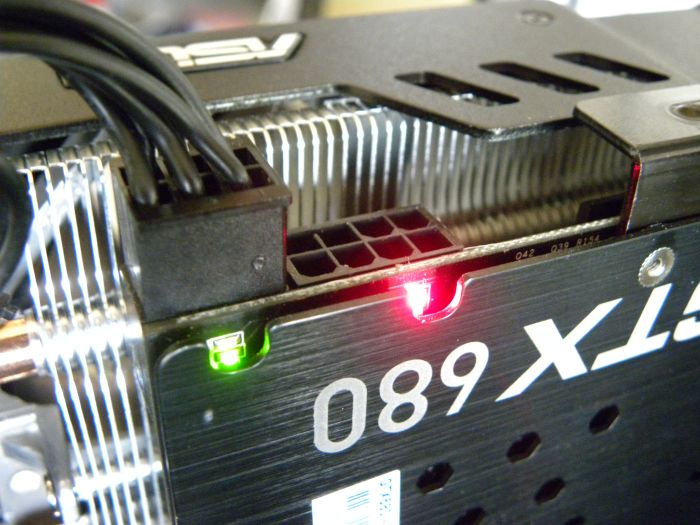 The VGA Hotwire is intended for overclockers that want to check the different voltages: GPU, mem and PLL. You have to plug and solder wires and connect these wires to a ROG motherboard. I quickly connected a voltmeter to the GPU check points but the only thing I read was 0.59V…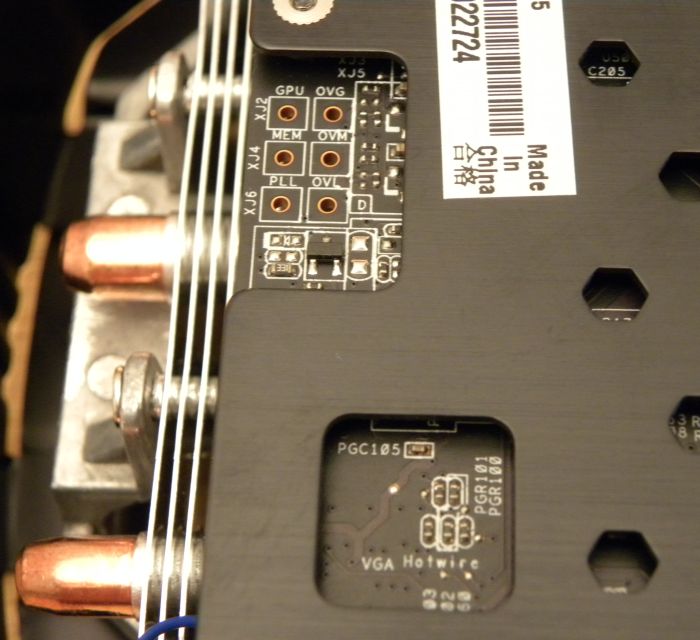 Here is a comparison between the GTX 680 DC2 TOP and a GTX 680 reference board: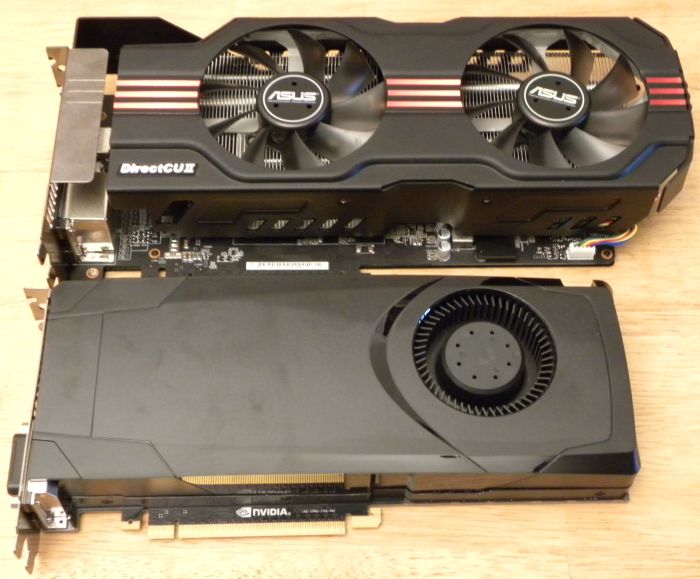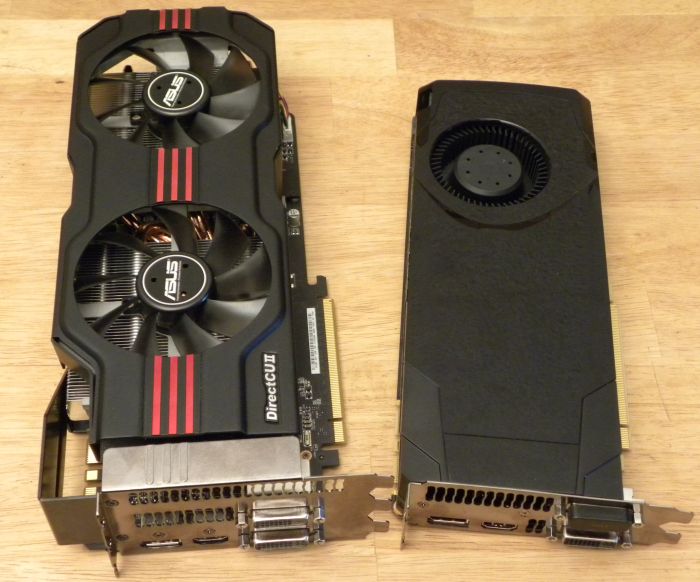 Review Index