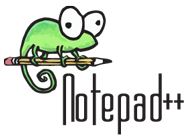 A new major version of Notepad++, the free source code editor for Windows, has been released today. Here are the new features of the version 6.0:
PCRE (Perl Compatible Regular Expressions) is supported.
Add Document Map feature (via Menu "View->Document Map").
Enhance the loading performance for the large file.
You can download Norepad++ 6.0 HERE.