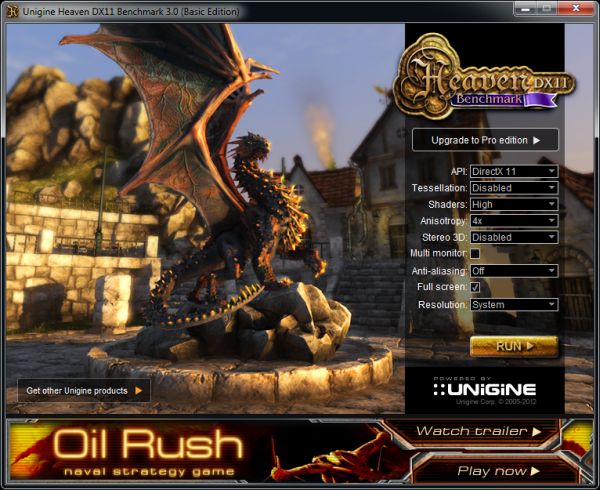 The guys at Unigine Corp have update their popular tessellation oriented benchmark for Direct3D (11) and OpenGL (4). This new version adds the support of Mac OS X 10.7+ as well as Intel HD 3000 processors. MacOSX and Intel HD 3000 do not support tessellation (I should release a version of TessMark without tessellation too 😉 )…
More information can be found HERE and download links are available HERE.
Here is the comparison between Heaven 2.1 and Heaven 3.0 with an ASUS Radeon HD 7770 DC with Catalyst 12.2:
Settings: 1920×1080 fullscreen, tessellation normal, anisotropy: X16, MSAA: X4, shaders: high.
Heaven 2.1
OpenGL 4 result – FPS: 20.1, Scores: 506
Direct3D 11 result – FPS: 28.6, Scores: 720
Heaven 3.0
OpenGL 4 result – FPS: 21.9, Scores: 551
Direct3D 11 result – FPS: 36.2, Scores: 911
The difference in Direct3D results is a bit too important. I think I will keep Heaven 2.1 for my graphics cards reviews, don't have time to rebench all cards…
Source: Geeks3D forum